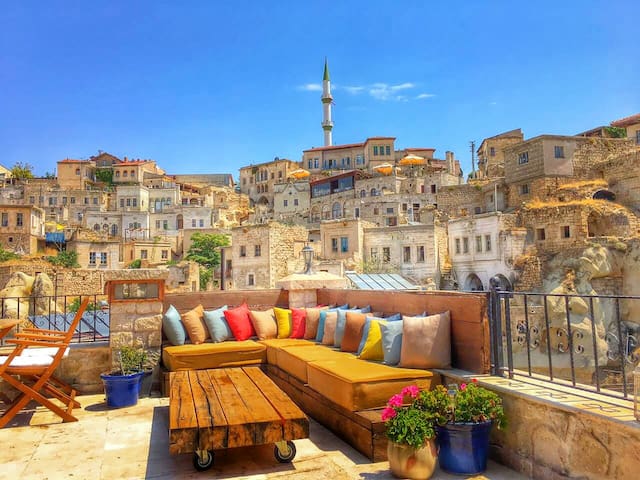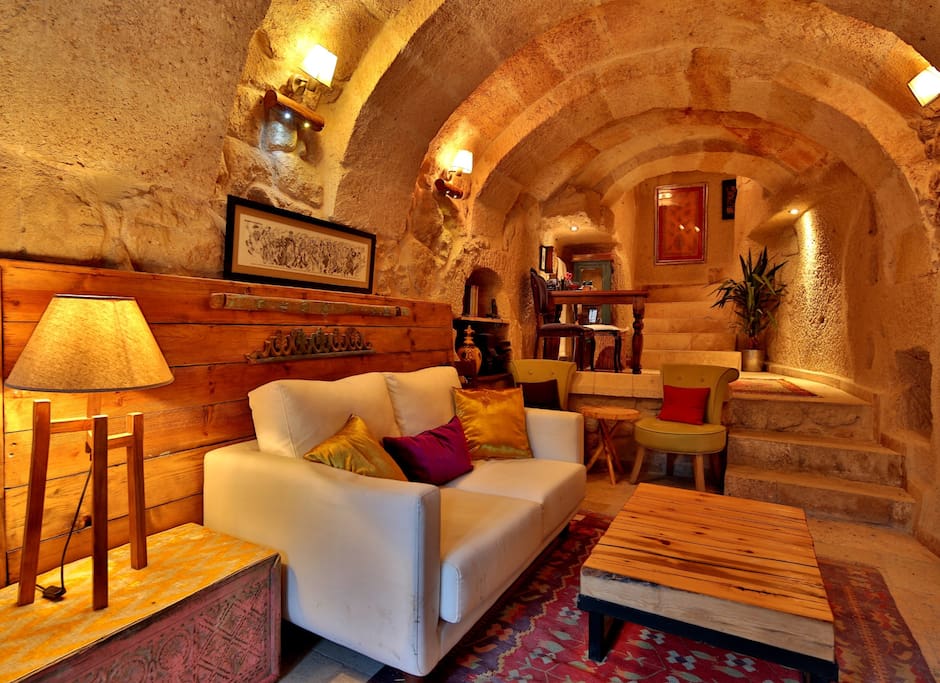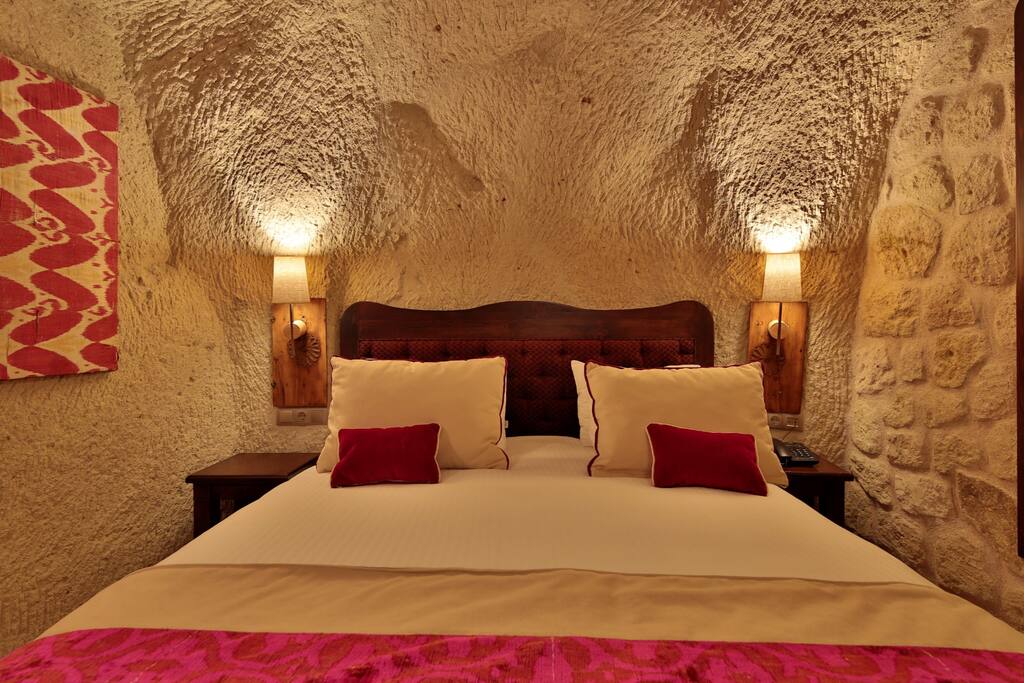 Elaa Cave Hotel酒店是一家美麗的精品酒店,坐落在一座經過修復的村莊內。我們的5間客房擁有獨特的風格,配有現代化的設施和裝潢,內部保留傳統的魅力。服務熱情和專業,我們靠近所有主要旅遊景點。客房設有戶外休息區;壯觀的上層露台享有著名的Ortahisar Rock'城堡和村莊周邊的全景。完美的放鬆在日落時和神奇的時候觀看熱氣球在日出!
Elaa Cave Hotel is a beautiful boutique hotel set in a restored village home. Our 5 rooms are individually styled with modern facilities & decor yet interiors retain traditional charm. Service is warm & professional and we are close to all major tourist sites.Rooms have outdoor seating areas;the spectacular upper terraces have panoramic views of the famous Ortahisar Rock 'castle' and village surrounds. Perfect for relaxing at sunset and magical when viewing the hot air balloons at Sunrise !
房源
我們歡迎您享受EIaa洞穴酒店。 我們是一家時尚而美麗的地道洞穴酒店,坐落在卡帕多西亞(Cappadocia)經過修復的傳統村莊之家。我們的客房擁有獨特的風格,所有現代化的設施和洞穴內飾,反映了拱形天花板和裝飾壁龕迷人的當地建築。 每間客房均可進入安靜的戶外休息區,壯觀的上層露台享有著名的Ortahisar Rock'城堡和村莊周邊的全景。完美的放鬆在日落時,就像在日出時看熱氣球一樣神奇! 我們位於歷史悠久的Ortahisar村莊,交通便利,靠近Cappadcia的所有主要旅遊景點。比較而言,Ortahisar與其友好的居民,風景如畫的石屋和美麗的山穀保持著很多正宗的村莊魅力。 所有者,露絲洛克伍德和Cemal Koksal是個性化的方式,每一位客人,並有近30年的當地旅遊,他們很高興確保您在Elaa洞穴酒店的住宿是令人難忘的各種方式。 請他們協助您組織當地的一日遊,熱氣球遊樂設施,或為當地最好的餐館,商店和咖啡館提供見解。
We welcome you to enjoy EIaa Cave Hotel.
We are a stylish and beautifully authentic cave hotel set in a restored traditional village home in Cappadocia. Our rooms are uniquely styled with all modern facilities and cave interiors that reflect the fascinating local architecture of vaulted ceilings and decorative niches.
Each room has access to quiet outdoor seating areas and the spectacular upper terraces have panoramic views of the famous Ortahisar Rock 'castle' and village surrounds. Perfect for relaxing at sunset and just as magical when viewing the hot air balloons at sunrise!
We are located in the historic village of Ortahisar, conveniently close to all the major tourism sites in Cappadcia.Comparatively untouched by tourism,Ortahisar maintains much of its authentic village charm with its friendly inhabitants, picturesque stone houses,and beautiful valleys
Owners, Ruth Lockwood and Cemal Koksal are personalized in their approach to every guest and with nearly 30 yrs in local tourism they are happy to ensure your stay at Elaa Cave Hotel is memorable in every way.
Ask them to assist you with organizing local Day Tours, Hot Air Balloon rides or to provide insights for the best of the local restaurants, shops and cafes.
房客使用權限
客人可以使用所有空間,包括我們華麗的上層露台,享有最佳視野!
Guests have access to all spaces including our gorgeous upper terraces that have the best view !
與房客互動
我們總是樂意以任何方式幫助您,但如果您在上午8點至晚上10點之間與我們聯繫,我們將不勝感激。非常感謝 :)
We are always happy to help you in whatever way we can but would appreciate if you contact us between 8am and 10pm . Many thanks :)
其他注意事項
在卡帕多西亞看到許多驚人的景點,您可以花幾個星期探索這個地區的歷史和自然景觀。卡帕多西亞是世界上最迷人的地區之一,也是聯合國教科文組織世界遺產名錄之一,因其以"仙女煙囪"為特徵的火山凝灰岩的超現實景觀而聞名遐邇,並附有拜占庭式教堂和修道院。 我們有地圖和所需的活動,旅遊和觀光所需的信息。 我們很樂意為您提供從機場班車到當地餐館的一切預訂和預訂
With so many amazing sights to see in Cappadocia you could spend weeks exploring this region's historic and natural highlights. Famed for its surreal landscape of volcanic tuff valleys studded with "fairy chimneys" and speckled with Byzantine churches and monasteries hewn out of the rock, Cappadocia is one of the world's most fascinating regions and an important UNESCO World Heritage site.
We have maps available and all the information you need for activities, tours and sightseeing .
We are happy to make bookings and reservations for you for everything from Airport shuttles to local restaurants
---
---
---
We have no house rules because we really want you to (EMAIL HIDDEN) we are living in an authentic village we would appreciate if our customers were respectful with the local community and we only ask if you would be discreet when sunbathing on the terraces . Thank you.
您還必須確認
需要走樓梯 - All our rooms are directly off the courtyard so there are no stair .This is 8 stairs to the breakfast room and another 8 stairs to the stunning roo
---
---
---
I'm a New Zealander who just adores Turkey and the gorgeous area of Cappadocia where I live I am also a passionate textile and oriental carpet expert, and a bit of a culture diva who has survived and thrived as a foreign businesswoman in a fascinating, cave-dwelling Anatolian village for nearly three decades.
From my early days in Turkey - when I arrived as an ex-corporate manager/ backpacker - to my current business as the long-time owner of Tribal Collections - Nomadic Rugs &Textile Gallery, I have navigated my way through a maze of cross-cultural challenges and learned a new life along the way!
I find Turkey to be a truly amazing country which continues to fascinate me, with its warm and generous people, its convoluted politics, and its rich culture and traditions.
My greatest passion is for the beautiful hand-woven oriental carpets, kilims and traditional tribal weavings of this region as I always see these fascinating weavings as an enduring symbol of art.
Coming a very close second is my passion for the unique and fascinating region that is Cappadocia.I know what it feels like to be a tourist traveling through the sometimes-bewildering world of Turkey so I am happy to share my 26 yrs of knowledge and tips on all the lesser known sites,great restaurants and fun activities in Cappadocia and surrounds.Just ask and I am happy to help !
I manage this gorgeous house with Cemal Koksal who is a local from Ortahisar and also the owner of Cemal Ranch.Cemal Ranch is located in just minutes from the house and the centre of Ortahisar village and is in a gorgeous natural setting away from the crowds where you can choose to enjoy highly recommended horse tours as well as a traditional Turkish breakfast. Cemal's mother personally cares for every breakfast guest, serving a rich array of local dishes accompanied with homemade organic jams, grape syrups and Turkish spicy tomato salsa. Breakfast with us at the Ranch is a great way to meet the local family.
So with two of us who have worked in tourism for so long , we hope that our local experience and knowledge can make your stay comfortable in every way !