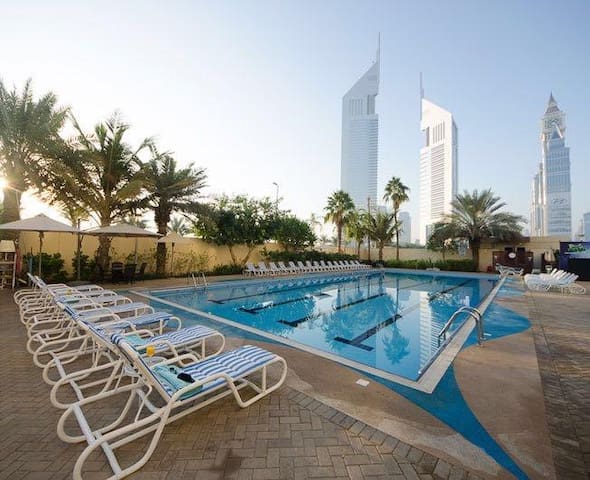 這是一間全面服務的2臥室酒店公寓。這個地方在樓下有一個雜貨店,很多餐館,健身房,游泳池,桑拿浴室,地方在地鐵站對面。
---
The landlord is very good, when I arrive in dubai, the taxi driver didn't give me the change, the staff of the hotel paid the taxi for me money, hotel staff and give me a call the landlord, the landlord took a taxi to the hotel staff, I thank you very much for the hotel staff, also thank you very much my landlord, people are very kind, let me feel the first time to dubai friendly, very moved! 房东非常好,当我到达迪拜的时候,出租车司机没有零钱找给我,酒店的工作人员为我支付了出租车钱,酒店的工作人员又打电话给我的房东,房东又把出租车钱给了酒店工作人员,我非常感谢那位酒店工作人员,也非常感谢我的房东,人很善良,第一次来迪拜就让我感觉到了这里的友善,非常感动!
---
Very nice clean place and the location is great those are the only two good thing. You have to share the room with some indian guy permanently residing in the room. There is no bathroom amenities that come with it. Absolutely no breakfast other than make your own coffee. I would say it's better to go to a hostel for cheap. They don't give you a key to the house. There is no locker so you are limited to the host's friend's work time on when you can enter or leave. The real host was never there and no number or contact of the current resident of the apartment was provided so I had to literally lie to the receptionist that I am a friend and just go up to the apartment and figure things out. Would not recommend since you get better option at Marina dream hostel for cheap. The hours for check in and out is extremely bad who moves in at 1pm and checks out at 8am? So early?? This was very annoying.
Our Listing clearly mentions its a single room with twin bed occupancy and you are booking just one bed not the whole room. Unfortunately, your ignorance to detail cannot compensate for your expectations. However let me highlight that firstly you have a wrong number fed in to your AirBnB account (please provide correct information for hosts to reach you) despite that we have contacted you several times over email and (SENSITIVE CONTENTS HIDDEN) you choose to ignore the instructions and walk into the house with an entourage of people. Your choice of lack of communication is not our mistake. Secondly, we have all the basic amenities provided and the same has been listed on Airbnb. Thirdly, we have been more than accommodating to agree to keep your luggage for a day without any additional charges whats your expectation to utilise the resources the host provides for free. I'm sorry we are not performing charity here. Fourthly,I do see your frustration cos you choose to book your dates wrongly on Airbnb and expected us to extend your accommodation at the very last minute, that too for free unfortunately, our place was already booked. Interestingly, thats some amount of expectation you have from the host. THIS IS THE VERY REASON HOSTS DREAD LISTING THIER HOME TO SOME SPECIAL GUESTS, but we were still patient and considerate to be awake and hand over your luggage at your convenient time not ours. Fifth, I'm sorry your laziness to not prepare a good breakfast for yourself even after providing all the required resources not just coffee but bread and toast and what not (I guess you were expecting a buffet). Sixth, if you were ignorant of the checkin and checkout time and decided to not adhere to the house rules and checkout at your convenient time !!! I'm sorry we totally DO NOT RECOMMEND SUCH Free Loaders.
---
I am a complete travel freak and would lose an arm, maybe even a few of my toes in exchange for travel! I have been living and working in Dubai for about 5 years. I work in Human Resources and have been an active member on couch surfing for 6 here I am on airbnb! I love the concept. I rent my place when I am away travelling.