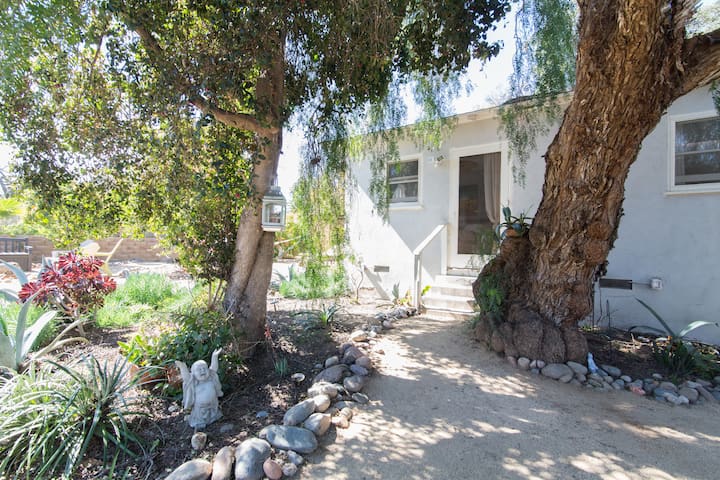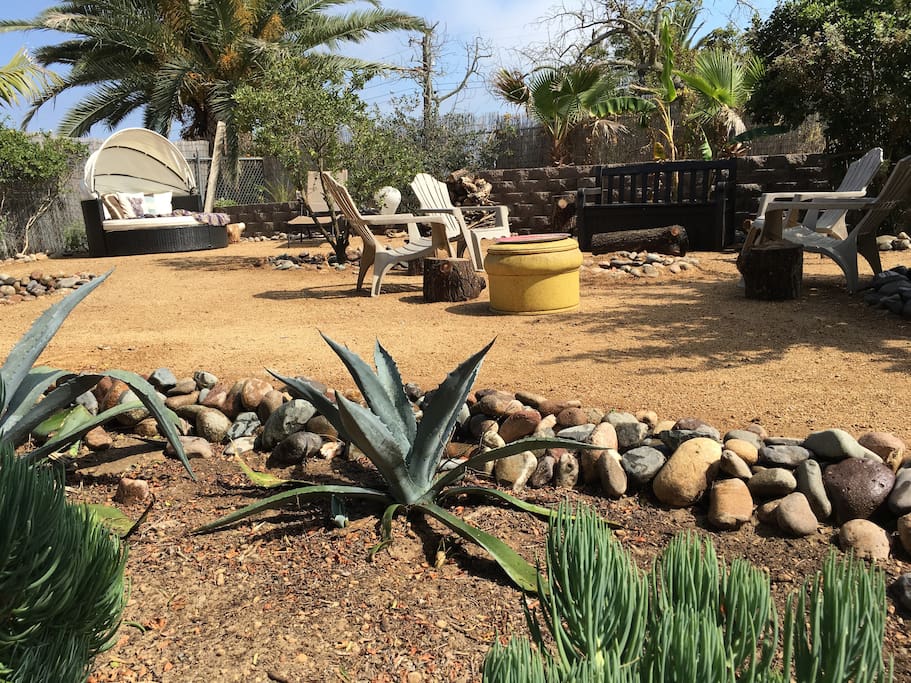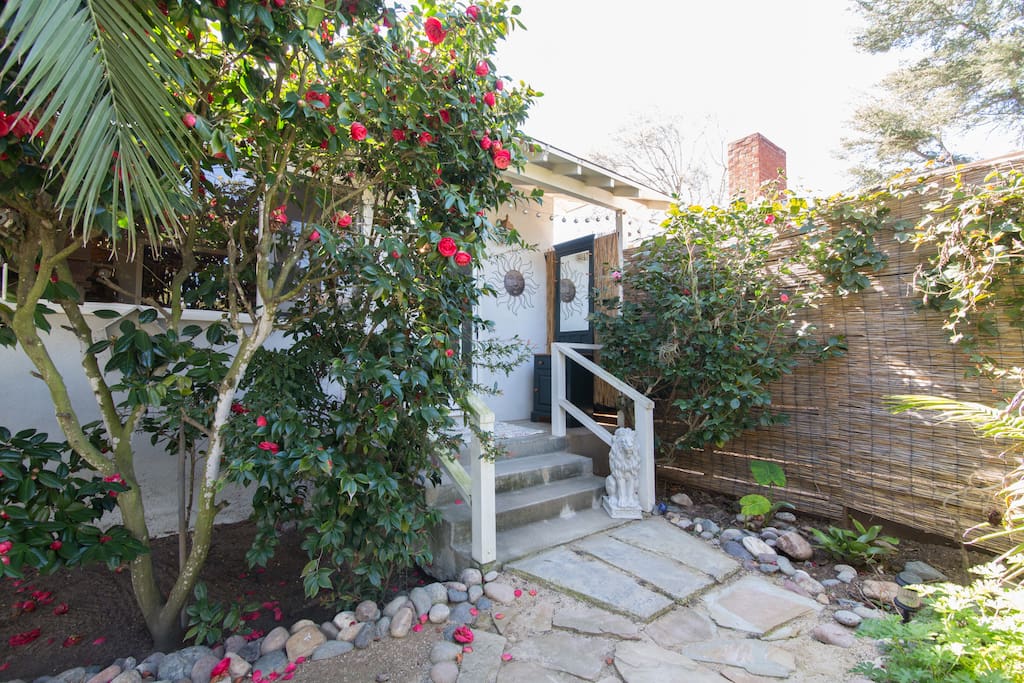 1/4 acre Encinitas Oasis. Private Tropical Bungalow (1BR/1Bath) in a country setting on the top of the hill just 1.5 miles from the beach.
Huge rare outdoor space to enjoy the SD weather. Outdoor Couch, Firetable, TV, Fire pit, Day bed, Hammock, Lounge Chairs. The house and property are yours to enjoy!
Fruit Trees: Orange, Kumquat, Apple, Lemon and Guava. Take whatever is ripe!
10 chicken. Often free fresh eggs for guests.
Extra Queen size raise frame air mattress on request.
房源
Welcome and make yourself at home!! I hope you enjoy this bungalow and property. Please call me if you have any questions or concerns – David (PHONE NUMBER HIDDEN)
***There are 2 house with the same address. Apt B is behind the front house and you enter through the white carport***
Wifi – DDW(PHONE NUMBER HIDDEN) Password – D(PHONE NUMBER HIDDEN) (all caps)
Check in: 2pm/ Check out: Noon
If I can't be there to check you in or you arrive before I do, please let yourself in. The lock box is at the gate. Open it and you will find the key. When you leave, please lock the door and put the key back in the lock box or leave it in the house.
Please take your shoes of when possible so that you do not track dirt into the house, but I know it is not always realistic or convenient.
Apple TV: HBOGO, Showtime, Netflix, ESPN, CNN, NFL Network, NBC Sports YouTube, etc. Contact me if you have any problem logging in. Please don't purchase anything. The main remote also controls the apple TV. Point the remote at the Apple TV and press the center D-Pad to turn it on. The light will go on.
Roku: If you press the HDMI button on the remote it will toggle through the inputs and allow you to access Roku
Amazon Echo - Alexa: Voice command music, timer, news and other features. Just say "Alexa (and your request)". You can ask the volume to be up or down but the top of the device (over the sink) also turns to control volume.
People on Property- David and Lisa live in the front house. They have kids, so please don't be loud. The landscapers come every other Thursday. The gardener may come and go depending on the project we have. Chicken caretakers will be there for 10 minutes once in the morning around 9-11am to open the coop and 6-8pm to close it. None of these people will interact with you unless you want to. Please let me know if you need more privacy and I can adjust their schedule.
Noise: Make sure you are not loud after 10pm as we have a nice environment up here. Call me if you have any issues (PHONE NUMBER HIDDEN)
Yard – Please replace all outdoor furniture covers after using them. There is a power cord that runs out to the table. Great place to work! The outdoor lights are plugged in by the brown cord. Please unplug before you go to sleep. Please do not touch or use the kayak or Stand Up Paddle.
Outdoor Living Room – I have recently bought a full sofa set for outside. As well as, a 50" TV that is mounted to the tree. Please make sure to cover the TV after use. The Remotes are on the back of the TV cover in a pocket
Fire Table – In front of the couch is a propane fire pit. I do not provide propane but. I do provide a empty propane tank for you to fill up if you want to use the table. I do apologize for this inconvenience but it is not financially feasible for me to provide unless charging an additional charge. I can have it filled before your visit upon request and a $20 fee. I do provide free firewood for the fire pit. Use as much as you want!
**DO NOT COVER FIRE PIT UNTIL IT HAS FULLY COOLED. 1-2 HOURS AFTER USE!!!!***
Bonfire – Please close all bedroom windows before having a bonfire. There is free wood on the wall near the bonfire. There is also extra wood behind the carport in the dirt lot. Please make sure the fire is complete out before leaving it.
Outdoor heather - Removed the panel. Turn on the gas. Turn to ignite and press red button, close the gas tank when you are done.
ART: I have a lot of art on the walls. Many are originals. Please Thanks!!
BBQ- The BBQ on the property is yours to use.
Coffee- There is an empty pod in the Keurig. You can fill it up with the FREE coffee in the cabinet.
Vitamix- its located under the glasses. Great for Smoothies. Please clean after every use.
Fruit – Please enjoy any ripe fruit you find. Apple, Orange, Cumquat, Strawberry Guava and Lemons
Eggs – I try to leave eggs for every guest. Please test all eggs before using them. To test eggs, fill up a bowl of water and gently place the egg in the bowl. If it sinks, its fresh. If it stands up on its point, It is beginning to go bad. If the egg floats, please throw it away.
Kitchen: NEW granite countertops and large sink. Free Coffee and Water. Eat any eggs that are in the refrigerator. Use any oil or seasoning you need for cooking. Help yourself to any condiments in the refrigerator. Help yourself to any food that is there. Please check if it is still good as it may be left over from a previous guest. If the stove doesn't light there is a lighter in the draw next to the stove
Washing dishes: Please wash anything you use. Please don't place glasses in the sink. The bottom of the sink is rounded and the glass will break. A dish rack is under the sink. Pots and pans are in the pull out cabinet next to the stove.
Trash & Recycling: Black bin between water cooler and trash is for recycling. Trash bins are outside the carport, blue for recycling and gray for trash.
Hallway closet: Ironing Board and Iron, Fuse box, Vacuum, broom, dust pan
Thermostat: The thermostat does not control the heater. A fan or heater will be left for you depending on weather. The house can get hot at times. I recommend opening all windows at night and closing them when you leave during the day. Closing or opening the sliding hallway door can help too.
Bathroom – Shampoo, conditioner and soap are yours to use. Please don't flush any wipes or feminine products, just toilet paper. There is a trash can next to the toilet. Please leave all dirty towels on floor when you leave. Bottom left cabinet: Towels, Toilet paper, Paper towels, garbage bags. They is also a blow dryer in the cabinet to the right of the sink.
Air-mattress- You'll find the air mattress under the green cloth near the couch under the window. Tip the coffee table on its side and move it to the desk near the glasses. Place the mattress near the east wall. Unzip so cover extends toward couch. Plug in and turn switch to inflate. It will automatically inflate. You may have to move it around a little to utilize the space. When finished, turn to deflate. It will deflate automatically but you need to push it together to pack it back up. I have additional bedding for the couch if needed. (URL HIDDEN)

Sunglasses- Next to the air mattress and chair are to black sleeves of sunglass. You get 1 for FREE if you leave me a good review or don't leave me a bad review…haha! If you more, they are $3 each or 4 for $10. Its all just by honor system. So take what you want and leave what you owe.
Animals on Property include: Rabbits, Bunnies, Lizards, Squirrels, Humming Birds, Finch, Owls, Hawks, variety of other birds and of course Chickens.
Chickens – The 10 chickens no longer roam the whole property. We have built a 16' X 13' extensions to the original 13' X 13' coop. You can view them and give the treats at the side of the coop.
Checking Out- Clean your dishes if possible. Leave any towels you used on the floor. Leave the key in the house and lock the door when you leave.
Don't forget your FREE sunglasses! Hope you enjoyed your stay and visit again!
Please let me know if you have any questions or need anything else. Enjoy! David (PHONE NUMBER HIDDEN)
房客使用權限
The entire property is yours to enjoy. A very private fenced in 1/4 acre. Make yourself at home!
與房客互動
I'm always available by phone, text or email. I'm usually available to greet the guests but if not, I have a lock box so you can let yourself in. No interaction required but I always enjoy meeting travelers!
其他注意事項
See the house manual for more details. Please let me know if you have any questions