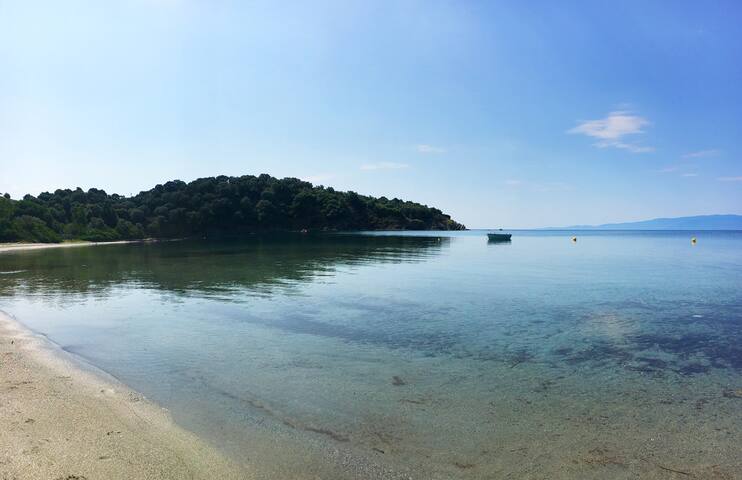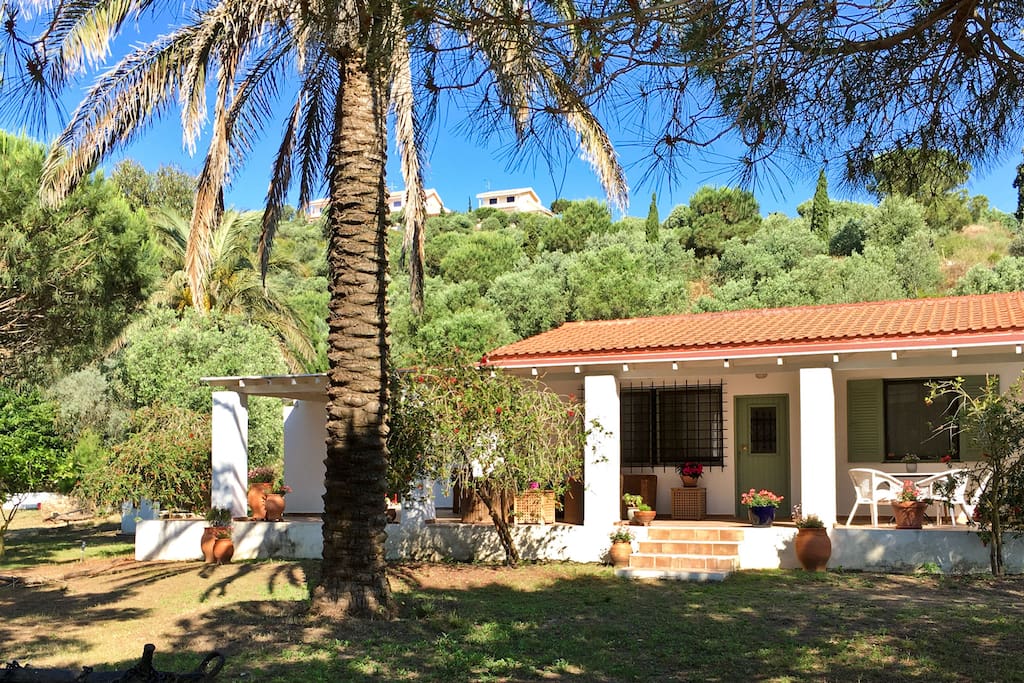 Ammouliani Olive bay retreat beach house is a wonderful villa for those seeking relaxation and the ultimate greek 'sea and sun' experience on Kalopigado Beach, Ammouliani Island of Halkidiki.
房源
The house is part of a large olive grove estate with 6 diferent properties on the west side of Kalopigado beach.
It has approximately 200 sq.m. of indoor and outdoor living spaces.
It benefits from a great layout, consisting of a main house which has one double bedroom with a bathroom and an open plan kitchen with a dining and living area, as well as 2 double bedrooms with ensuite bathrooms that are adjacent to the main house but have their own entrance doors, thus making them separate and adding privacy to all guests.
Sleeps 6/ 12 - (6 in separate double bedrooms and 2 in single beds in mainhouse living room , 2 in a foldout sofa bed in also in mainhouse living room and 1 in single sofa also in the main house living room- a baby cot/bed is also available on demand ).
There is also a very well equiped open kitchen enhancing that great outdoors and summer feel of the place. If you wish- you can also have your showers in the outdoors too by the beach under the pine trees, in our specially designed outdoor shower!
This place is ideal for families- loads of garden space for kids (and adults!) to run around and stress free and immediate access to the beach where sun beds and umbrellas are provided.
The beach is sandy with the seabed deepening gradually, providing a very pleasant swimming experience as well as making it a very child friendly beach.
There are an other 4 smaller apartments up the hill which we also rent out and an other 2 that we live in that share some of the common grounds and access to the beach.
Ammouliani is an ideal location for those who want to leave it all behind and truly rest, enjoy the unbeatable sea of the Halkidiki Region - as all locals will never fail to remind you … "there is no place like Halkidiki!"
房客使用權限
Situated directly on the secluded beach of Kalopigado in Ammouliani, which can be reached by car on a quiet dirt road just 1,5 km from the island's port.
Most shops, tavernas, bars, supermarkets etc. can be found at the island center which is situated by the port.
The closest airport to Ammouliani is in Thessaloniki, which is 115 km from Tripiti Port. There is a frequent 15 minute Ferry crossing between Tripiti and Ammouliani Port.
Ammouliani is best reached by car but there is also a bus connection to Tripiti Port. There is no public transport on the island, but one can hire motorbikes or bicycles if they wish to.
其他注意事項
If you have a pet - a well behaved one we hope!- it is welcome!
If you have a boat, it is possible for you to moor it outside the house, it's a very calm bay.
If you enjoy water sports and will be bringing your equipment with you (wind surfing, canoing, sup, kite surfing, fishing etc) - we have loads of storage space by the beach as well as fresh water to wash your gear after use.
If you are lucky and and our crops are doing well you will be invited to taste the goodness of our organically grown fresh vegetables and herbs directly from our garden.
There is wifi access across all areas of the beach house. A smart tv is also available.
Cleaning and fresh linen are provided once per week and if you need extra services it can be arranged at an extra cost.
Looking forward to having you at Ammouliani Olive Bay Retreat!
---
---
Security deposit is $5683
Please treat our place with respect and as if it were your own! We find that common sense can take you a long way! If there is anything you are not sure about- just ask!
We would appreciate it if you refrain from smoking indoors- there's loads of space outdoors and amazing weather- so no excuses please!
---
Everything was as expecting: -semi private beach in front of the house -clean and comfortable rooms -everything you would need in a house for long stays -the host was very attentive, helping in every way -the island is very nice -3 shops and some tavernas not far way from the house (1.5 km) The only thing that was disturbing was the noise and the dust made by the nearby construction of a stadium , but that didn't bother much. Thank you, Vasso, for a nice vacation
Thank you Ramona for the kind words and it was a pleasure to have you. I am very sorry you got disturbed by the noise and dust of the construction; It was unfortunate the council decided to start working on the football field close by when you were here. I hope they will be over soon and it will be quiet again! Thank you for the understanding , will be happy to have you anytime again!
---
1. Our host. Vasso is an excellent host and we loved staying at the Ammouliani Olive Bay Retreat Beach House. She was really helpful and she answered all our question very promptly. Our communication was really good all the time! 2. Location When I think about our stay three words come first to me: location, location, location! We were three families with small kids (1-4 years) and the location of the house was pure gold for us. Zero hassle when going or returning from the beach. Just walking through our courtyard to the beach is probably the best selling point of this house :) Access to the island city is also pretty fast so we could go out for an ice cream in the evening. 3. House The house is also really nice, with inside and outside kitchen (we used the outside one most of the time). It has clean and good proportioned rooms and it's well equipped with pretty much everything you would need. As a bonus the huge courtyard and the clean terrace were a nice playground for the kids when the sun on the beach was too bright. The outside shower just after you leave the was also very useful. 4. Beach and sea water The semi-private beach was probably the next big hit after the location. When everyone is crowded on all other beaches, here you have quick access to a semi-private beach where you won't see too often more than a couple of other families on the other side of the beach or in the middle of it (we had access to one of the corners of this beach). The water is really clear in the morning and very warm especially in the afternoon and because is not too deep it's also fit for the little kids. 5. Island Ammouliani is really a nice island with many places to visit and very lively "city center". Renting a boat for one day and visiting all the other hidden beaches or smaller islands around it is my best hint for your stay on this island. Conclusion: we loved our stay here and we would definitely consider to go there again. P.S. Thank you Vasso for being such a great host - we really enjoyed our stay at Ammouliani Olive Bay Retreat Beach House! Hope to see you again ;)
---
Ещё раз хотим поблагодарить Вас за тёплый п риём, за возможность видеть синее, чистое море, звездное небо при полной луне, аккуратную заботу и помощь Автондиля, качественную уборку. Нас было 10 человек(2младенца) и все удачно расположились: детям были предоставлены детские кроватки, очень удобно скомбинированная кухня, пр ичём в обоих домах. Была возможность совершать пешие прогулки в разных направлениях. В поселке ( 5 минут езды) мы посетили несколько уютных кафе, детские аттракционы и сувенирные лавки, и везде нас радушно встреч али. Отдых удался!
---
We live up the hill and there is always someone around to assist you with any of your enquiries during your stay.
I absolutely love traveling! I am born and bred in Greece, studied and lived in the UK for 9 years. Since 2004 I have been based in Athens. I love the Arts, good food and wine (the occasional cocktail too!) and I don' t think i could live without coffee and the greek sea! I love meeting new people and sharing tips about places I' ve been to.
語言:
English、Ελληνικά