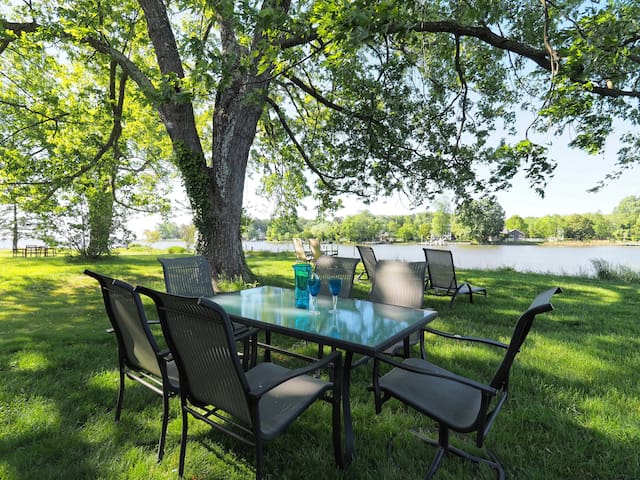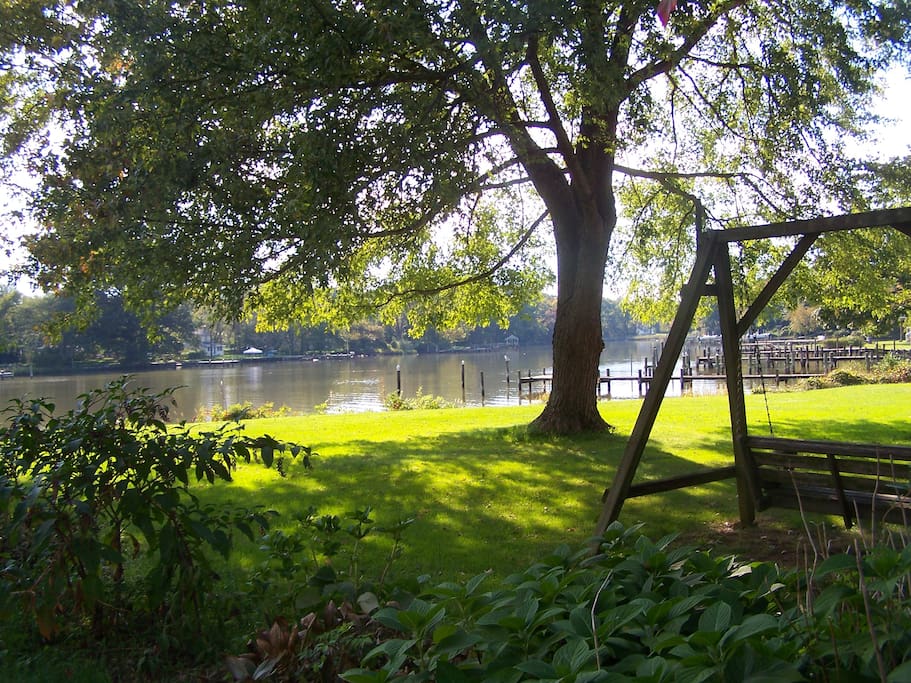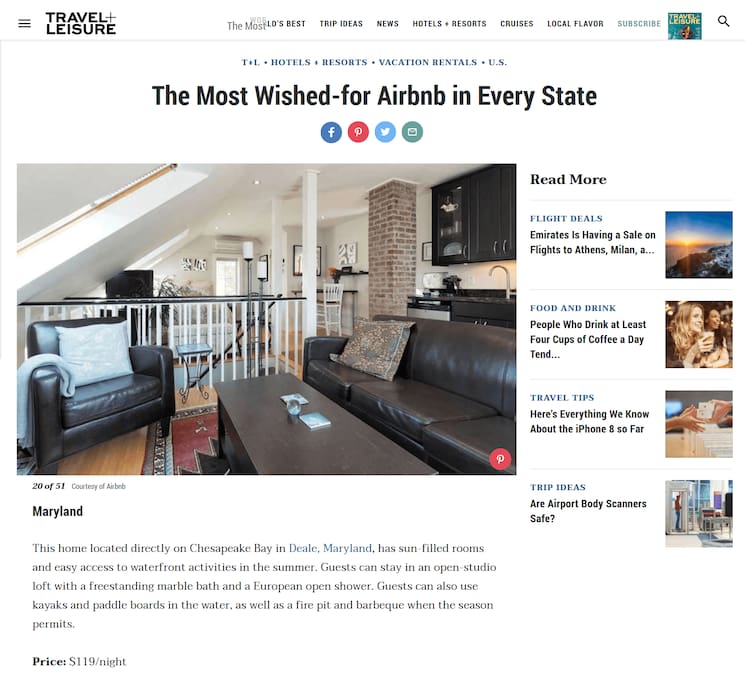 Celebrating that we were named by TRAVEL & LEISURE as top Airbnb in Maryland! Just the spot for a scenic get-away with other couples or your entire family! Nestled on 2 country-like acre in a convenient corner of the Chesapeake Bay, this unique spot offers relaxation, nature, proximity to sights, dining, amenities.
房源
This 3 bedroom/2 bath cottage is just the spot for a get-away with other couples or your entire family! Nestled on 2 country-like acres in a surprisingly convenient corner of the Chesapeake Bay, this unique area is just over 20 minutes south of Annapolis and 45 minutes from Wash DC, Alexandria VA, or Baltimore.
Couples, groups, or families can easily converge here right after work on any given afternoon, and travelers can use it as a relaxing waterfront "home" while you're touring the area. After a quick trip from these cities or local airports, all you need to do upon check-in is the following:
* hang out and chat or snooze under the large shady trees,
* swing or kayak or yoga to your heart's content,
* play Frisbee, football, soccer w/ your dog, friends, or kids,
* read or work on your tan as you gaze at the water,
* cook out, cook in, or pick crabs at a table on the lawn,
* savor the nearby waterfront dining,
* cozy up, watch DVDs, or play games by a wood fire.
Or just settle in to the pace of the birds and the bay breeze for a week or two. :-) With a washer/dryer, 2-car garage, BBQ, and full galley kitchen, it's all right here--complete with view.
Despite it's country-like location (no street lights--only stars!), all the services you need are within minutes, including 4 quiet little burbs (Deale, Galesville, Shadyside, Churchton) with
*a great grocery store,
*'famous' consignment shops,
*fishing boat excursions,
*fitness club or Bay history museums,
*little walks, drives, and sights,
AND
*lots of waterfront and other dining options--whether you want a casual crab-picking feast with live music, carryout sushi/pizza, or a long romantic dinner.
Nearby historic Annapolis is also full of great sights, shops, and restaurants, as well as movies and the mall (but people just don't seem to care as much about those things when they're here!)
As your host, I have been sharing my lovely place next door for over 7 years with the greatest crew of happy Airbnb guests, who have been so much fun to host (See reviews below for "Lovely Chesapeake Waterfront Flat", since the cottage has only had a few!). Since many are return guests who would like to come back with their couple friends, their kids, or their dogs, I decided to jump on the opportunity to buy the cottage next door!!!.
We have now had a few years of amazingly fun, relaxed, connected, and memorable times for guests of this solid little yellow stucco cottage -- so many return guests who find our special spot such an incredible well-kept secret!
In terms of sleeping, it has a queen-sized bedroom that shares a charming tub/shower with the room that has a full sized bed. There is also another queen-sized bed in a room that is a bit more separate from the others, and has it's own small bath with shower only (with gorgeous new tile job and fixtures that we just finished in the renovation!). Finally, there is an L-shaped Ikea couch that easily becomes a queen-sized bed or huge chaise lounge, allowing the cottage to sleep a total of 8 (if the last 2 are OK to be in the living room).
There is $30 charge for each person over 4. Bringing a dog incurs a basic charge of $40, plus $8 per dog per night, added after your basic reservation request (see House Rules about how to keep you dog safe and our house nice. There is a completely refundable $350 doggie deposit, which just means I don't want you to bring a dog you don't fully trust. So far, people haven't and get it all back! Just bring a check, and I tear it up when you leave. We can take care of the actual fees through a change request, or you can give me a separate check so it doesn't increase your Airbnb fee).
Please feel free to contact us by putting in any date you see open (click on the tab above the large photo to see our calendar) and write to express your interest in coming to stay for a short get-away, or grab a range of dates as as you plan a longer stay. If it's booked and you are a small group, my Lovely Chesapeake Waterfront Flat next door or our Carriage House, who share this lovely two acre spot are also amazing. And if you're a big party, I sometimes even rent out my own home, "Shawn's Amazing Waterfront Digs" and even our adorable camper. We are happy to answer any questions you may have, as we love sharing this amazing spot with our guests!
房客使用權限
Waterfront lawns with both sun and shade, pier, huge screened porch with gas and charcoal bbq at my house, gas bbq at the cottage, outdoor table and chairs, lounge chairs, 2 firepits, 2 single kayaks and one two-seater ocean kayak, canoe, 2 acres to play on or explore, nearby walks through woods or by Chesapeake Bay, country-like setting with plenty of waterfront dining, amenities, and sights nearby.
與房客互動
I interact with guests based on their needs. Most reviews say it was perfect--some wanted more privacy; others liked to hear about the history of the area or get to know us better--sometimes even have dinner together. Very individualized.
其他注意事項
There are 3 listings on this 2-acre property at LIght Landing that also share the amenities, so far with no problems. There is also the Lovely Chesapeake Waterfront Flat next door, which is a separate 'romantic apartment' upstairs from my house. We have often hosted wedding night and honeymoon guests at our flat nearby, and now with the Cottage, we are beginning to host events or serve as a base for wedding parties, family reunions, or educational retreats. Extra accommodations are also possible for larger groups in the new for 2016 Carriage House Retreat or for those who wish to camp or sleep on screened porch, or rent my entire house as well as the cottage.
Please note: there is a two night minimum stay for the Cottage.
"CANCELLATION: Airbnb only gives me the choice of very strict and too lax cancellation policies, so this overrides the policy stated on the Airbnb site.:
For a full refund, cancellation must be made 14 full days prior to listing's local check-in time (or 3:30 PM if not specified).
If the guest cancels less than 14 days in advance, the first night is non-refundable but the remaining nights will be 50% refunded.
No refund If the guests cancels less than 7 days in advance.
A reservation is officially cancelled when the guests sends the owner a message via Airbnb message string stating they will not be coming.
---
---
---
WELCOME!! Important Rule: Relax, Have FUN, and be sure to Let me Know if You need Absolutely Anything!
SUNSCREEN and LINENS:
I know it seems weird--and I'm really NOT super picky--but we have had to replace many white sheets and towels because they turn orange from people using them with sunscreen on! Please shower first, esp. if you have light sheets, and use regular pillows for your head, not the decorative ones with pillow shams. Thanks! Also, the seats on our couch don't zip off for washing, so we really appreciate minimal food or spills on them as a good dose of red wine would mean replacing the couch. Thanks so much, again.
ARRIVING/PARKING:
When you come in the driveway, our cottage is the one on the left (the driveway is shared). Just pull in and park in front of our two-car garage. Feel free to call or text (phone number hidden) or stop by my house next door (yellow with blue shutters) just to chat or to let me know if you have problems, questions, or need recommendations for sights or restaurants. (Also see guidebook and wonderful local map--on the dryer--for the latter.)
INTERNET AND TV/CABLE: See House Manual in Pink Notebook about wireless internet, password, etc, about cable or TV. :-)
THE WATER:
Please be safe. :-) ALL WATER ACTIVITIES ARE UNDERTAKEN AT YOUR OWN RISK.
****No children under 12 on the pier without life jacket or very close supervision of an adult. Children in the yard at any time must also have adult supervision.
!!!*** NO DIVING OFF PIER OR JUMPING OFF SIDES OF PIER!!!! You may jump off the end if you FIRST TEST WATER DEPTH as it can change with the tides and become very shallow (plus bottom is very muddy and could have glass in it so please wear water shoes if you put your feet down).
.**** Many guests enjoy swimming off the pier or floating on the inflatable raft or sur(SENSITIVE CONTENTS HIDDEN)oard. I do swim off the pier many months of the year; however, DO NOT GO IN THE WATER WITH A FRESH CUT OR SKIN LACERATION due to bacteria that is sometimes found in the Bay.
The ladder can be slippery and you can expect the bottom to be deep "silky mud" (I like it!)
FIRES:
No burning candles except what is provided in glass or 'pretend' candles. Never leave candles, firepits, or woodstove burning unattended, or let chairs be close enough to have sparks landing on them. Be sure to put caps on Tikki Torches and only burn firepit with cover on it and someone supervising. Douse it when no one is around.
Make sure door on woodstove are closed when no one is around. If there is any smoke coming into the room, it means the wood needs to be pushed back tuther do not use it as an open fire without a screen in front of it (unless embers are very quiet and nothing is likely to throw a spark into the room).
SMOKING:
No smoking in the house or garage, or within 100 feet of the house or waterfront. All our guests have lots of fun, but somehow they've done that without being super loud or drunk. I love that, and like it to be a continuing tradition that fits our peaceful setting.
LET US KNOW!: Since we just bought and renovated the cottage, there is still an occasional loose end that has not come together yet, which is why we are keeping the price low. So patience would be the first rule, and to let us know privately if something is not perfect so we can accommodate you immediately if possible, and also keep improving for future guests. So far, the guests have loved it, and have continued to let me know what they need as we are scrambling to make sure it's great.
DOGGIE RULES:
We do love doggies, and hope you have a fun, sweet time with yours and ours while you're here. We are also aware of the potential for damage and extra cleaning so I take it pretty seriously since we JUST remodeled!
Please bring a clean blanket or two to put under them if they will be on furniture, and close bedroom doors to keep them out of bedrooms unless they are in there with you.
Dogs should not be left alone in the house, unless they are crated. Also they need to stay out of the water and be on leashes all the time when outside (unless we are letting them play with our puppy Winnie and they are all engaged and supervised, or hanging with you and it's very clear they won't run off anywhere). Let us know ANYTIME they want to play--Winnie LOVES other doggies and LOVES to play.
Thanks, and let us know if you have any other questions! Again, If you need anything just text or call Shawn ((PHONE NUMBER HIDDEN)), or just stop by if she's home. If you really can't reach her and need urgent help, you may call Alice ((PHONE NUMBER HIDDEN)) or Claudia ((PHONE NUMBER HIDDEN)). Hope you have a lovely stay!
:-)
---
---
---
I'm thinking the best description of me for your purposes as potential guests appears in the reviews! I'm someone who is just here being incredibly grateful to live in this gorgeous, quiet, nature-filled spot on the Chesapeake Bay; to have this opportunity to share it with others; and to have connected through Air BnB with such lovely people. I'm always thrilled to see how much these individuals, couples, and families enjoy staying here, and am hoping that what they have said about me will tell you what you need to know.

We just were names TRAVEL AND LEISURE's best Airbnb in Maryland, and I've been an airbnb SuperHost for many years... not an easy position to earn, but I love sharing this spot with folks and just want you to have a good time. Folks also hold business and spiritual retreats and wedding here, and its fun for me to be in a position to share this great spot and see people so connected and transformed.

Beyond that.... I will be very happy to answer any questions you may have about my diverse interests and pursuits, as well as the travel destinations I am currently exploring. The most recent adventure was my college-aged daughter and I spending a portion of the summer living in China, her birthland, while she learned Mandarin and I worked on my latest book, "The RELIABLE SYMMETRY OF HAPPINESS: The MISSING PEACE We Were Never Taught"!

That brings me to my OTHER work as a life/author-coach. As a Certified Faciliator of The Work of Byron Katie, I love to share that and my own HAPPINESS HACKS with folks: simple, predictable tools that change your relationship to all your relationships and to your stressful emotions. They have helped me SO much in my life as well as my clients; when you have your own reliable way to capitalize on your stressful thoughts about the VERY person or thing that upsets you--and turn them into highly creative solutions and greater peace and love each time--it's a whole different world. Very Cool.

I hold my own wonderful waterfront retreats in this work here a few times a year, and even sometimes work with guests if they make an appointment to see me while they are here--or schedule their stay as a Symmetry of Happiness retreat (individual, couples, or groups/families). [See But NO PRESSURE! I won't bring it up unless you do!


語言:
Español、Sign Language