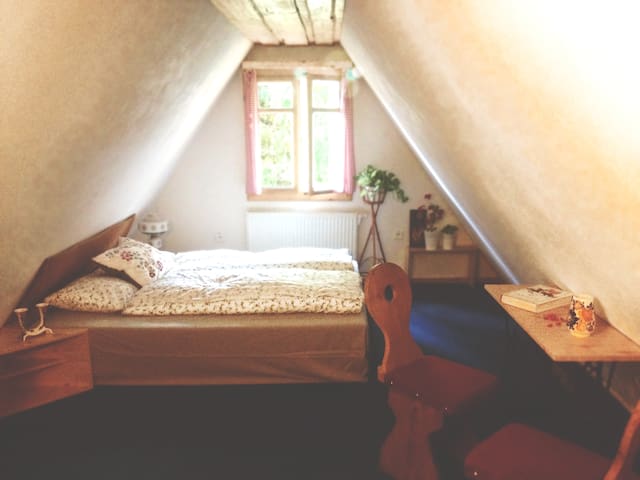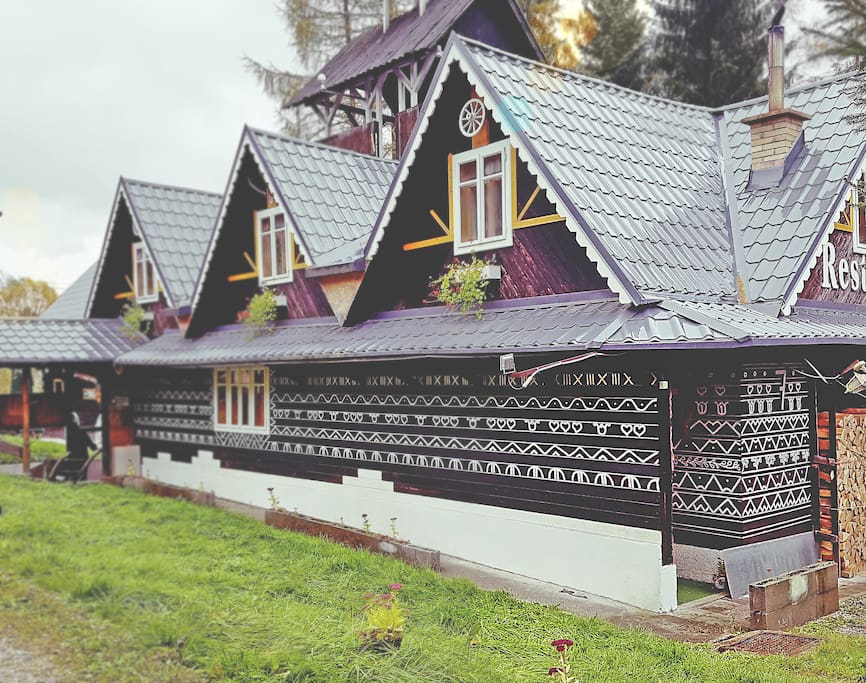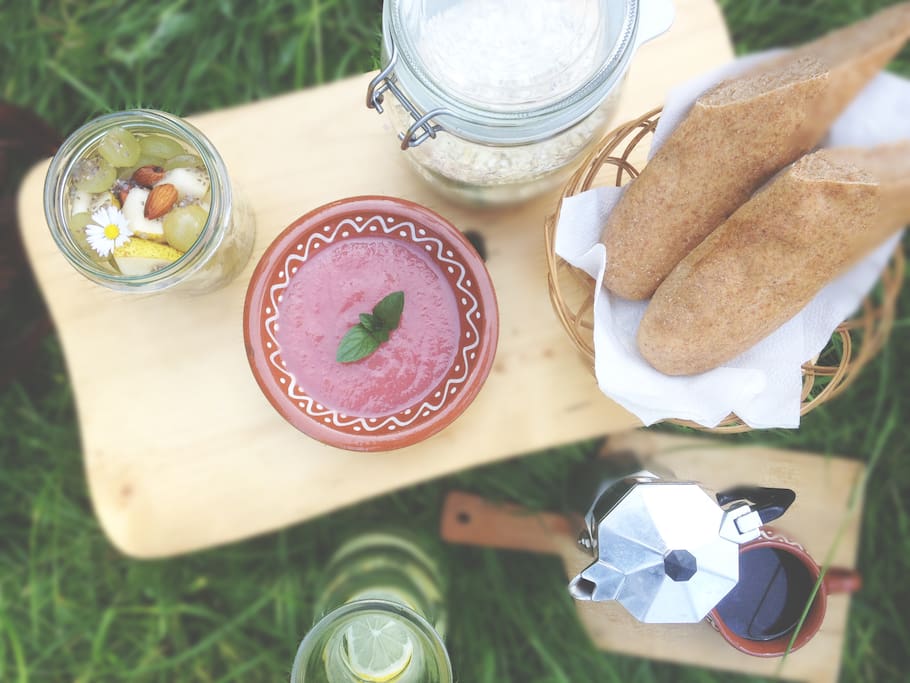 Experience authentic life of northern Slovakia! Spend night in a traditional 100-y old wooden chalet, where we run our bed&breakfast and this project: search for Koliba u Jogošíka on social media.
We are different. We love outdoor, nature, healthy food, are certified yoga teachers. Get a snap of it all with our healthy breakfast & optional yoga class included in the price. Enjoy the beauty of the nature surrounding us and let the smell of baking bread wake you up..
房源
We are a family run guest house with the capacity of 21 people. We do have 4 double rooms, 1 single room, 1 room for 3, 1 room for 4 and 1 for 5 guests. Every room has it´s own bathroom with hoot shower. Our bed & breakfast is situated into a traditional 100y old wooden mountain house. Entire accommodation is situated on the 2nd floor. On the first floor we do have a yoga studio, a restaurant (currently we only serve breakfast) and a bar. We are heating on a traditional way with wood in 2 fireplaces. You dont have to worry about temperature in your room – the are warm enough.
其他注意事項
You should note, that there is an ongoing community project in our guesthouse. We and our few participants are renovating the chalet and creating a great place for our sustainable life in our beloved mountains. We keep our calendar closed, if we are working on something, that could impact your stay. So if you are able to book, we guarantee you, that our renovation works will only take place in other areas than the accommodation floor or restaurant, where your breakfast time takes place. We are very grateful for every booking, because this is the only way we can finance the renovation. You are participating in something special, thank you!
---
---
- If planning to arrive with pets, has to consult with host
- Quite hours: 11pm-6am
---
staying here was great. the hosts are very kind, even altered their so to speak routine for me (with breakfast i mean). the place is nice, quiet. the room was small, but perfectly fitted my needs. great place to stay when you are visiting mala fatra alltogether. i even got to try joga :) when visting mala fatra again i will consider visiting again :)
---
Pre mna veľmi prijemne miesto, kde sa mi podarilo oddýchnuť si, stisit sa a vyčistiť hlavu. Penzion u jogosika ma pekný nápad a statočných a poctivých majiteľov. Strávili sme s nimi 4 dni, ráno sme vstávali pri voni čerstvo pečeného kvaskoveho chleba (to kde presne zažijete? Ak nebyvate nad pekarnou..), potom sme si dali hodinovú jogu (my ju bežne necvicime) - vonku do toho snezilo (mne to prišlo kúzelne), potom raňajky - ajurvedska kasa (ja som ju tiež nepoznala, ale je to veľmi dobrá vec s orieškami a čerstvým ovocím), cez deň viete zbehnut na lyže alebo turistiku (ale aj spat, citat,..) a večer (ak budete dobrí), dostanete opäť exkluzívnu večeru z kvalitných zdravých a poctivých surovín. Ak máte radi prijemnu nenutenu atmosféru, bezprostredných ľudí, zdravú a poctivú kuchyňu, sem sa ! Za nás pekne a prijemne, take skutočne miesto, ktorému veľmi držíme palce a kam sa radi vrátime. Z+M
---
This place is amazing! The hut in the middle of mountains was so beautiful and the interior was decorated in a way that reflected the charm of the area. And the views... just WOW! Zazriva and Terchova are my favourite spots in Slovakia. You should definitely stop here and explore the countryside. Thumbs up would return whenever I can! :)
---
Utulne prostredie, mili hostitelia a super jedlo. Skoda, ze sme nedali tu rannu jogu. Drzime palce s dokoncenim rekonstrukcie. Radi sa raz vratime (martina + vlado) Cozy environment, kind hosts and great food. Too bad we haven't done that morning yoga session. All the best with finishing of the reconstrucion. We'll be happy to return once again (martina+vlado)
---
We are a young couple (31 and 34), who after many years working and travelling abroad decided to move back home for couple of years. We are spending most of the week in our new home underneath the most beautiful mountains of Slovakia, trying to run our small hostel in there, grow…
語言:
Deutsch、English、Español、Čeština