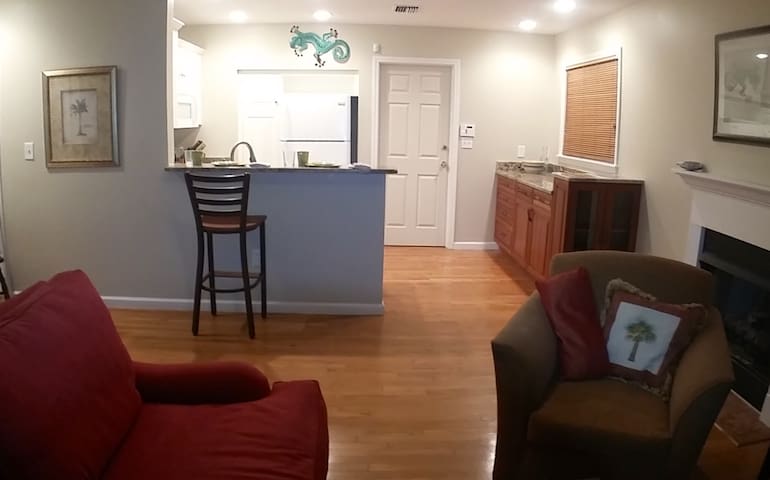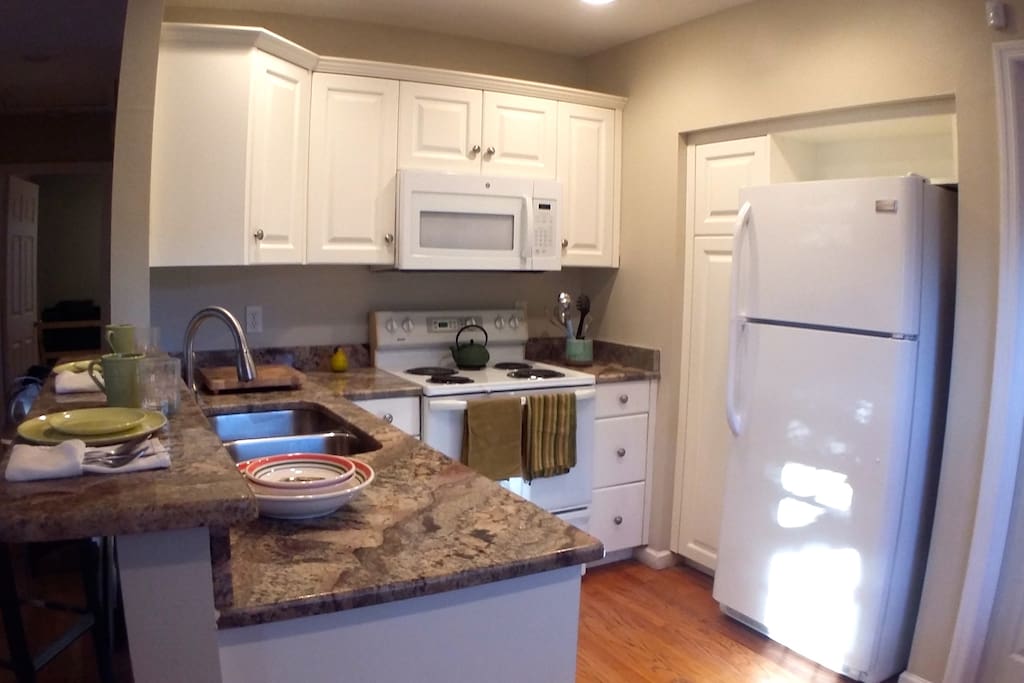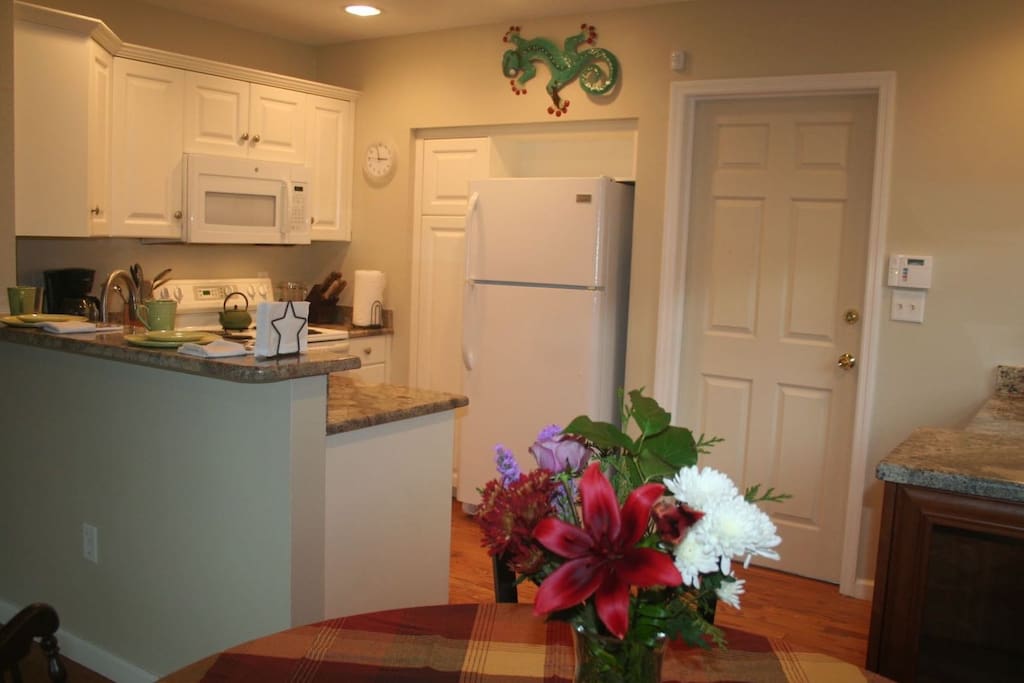 Turtle Cove, in the Heart of Gulfport Art Village
Turtle Cove is in the heart of downtown Gulfport, "the Art Village," an extraordinary small community, with warm and lively downtown full of boutiques, art galleries, more than 20 restaurants, and events everyday of the week.
Turtle Cove is a comfortable, spacious home, with a front porch where you can relax and enjoy the beautiful sunshine, inside there are hardwood floors, 2 bedrooms, one bathroom, and a fully-equipped kitchen with new appliances.
New listing, lower prices! Come enjoy!
房源
This space is very comfy and cute – you will find it very comfortable and spacious, lots of room to stretch, relax, live! The house has hardwood floors in the main living area, carpets in the bedrooms. When relaxing in the living room, kick back your feet and catch a movie on Netflix.
Turtle Cove provides high speed internet access (200 MPS), Netflix shows for relaxing in the living area, a dining area to eat, desk for writing home about your local adventures.
The waterfront and beach is only a few blocks (3!) and has 2 piers, a playground. There are more than 20 restaurants less than 10 minutes walking distance from the house and half are less than 3 minutes away! Plus shopping at boutiques, galleries, craft markets abound on Beach Boulevard, a few steps away.
房客使用權限
You will have full access to the home. The front is secured with a coded entry, and there is also a security system. If you need to do laundry, there is a shared space to get access to washer and dryer.
與房客互動
Like other properties in this neighborhood, there is a second house on the property where the host lives. There is a privacy fence separating the property, close enough to have quick turnaround on any issues, but units are separate and private enough to not even notice the adjacency. If there are issues or questions, please call or text, I want your stay to be comfortable, enjoyable and carefree!
其他注意事項
I can accommodate additional guests (more than 4), especially children, with notice. Please contact me for additional information.
---
---
---
---
No Smoking in house.
Pets allowed by approval only, additional fee for stay.
---
---
---
This was our first time in Gulfport. We loved Deb,s place.. I very easily rate it at 5 STARS! Deb was very gracious and even supplied us with coffee , creamer and fresh fruit. Her home is very comfortable and relaxing. It is lovely in presentation and spic and span clean. It is located just a block or so from the small downtown area ... so very easy to walk to many shops and restaurants . Do not even hesitate to stay here!
---
Deb's place was in such a perfect location. So close to be able to walk to great shops and places to eat! 15 Min from St. Pete beach and 15-20 Min from downtown St. Pete traffic pending. It was really easy to find and real cute for a couple or even a family with kids. We really only needed the one of two bedrooms. Her recommendations were awesome and we definitely want to come back! It was a best place to stop and relax!
---
A while ago, we visited the city of Gulfport and felt captivated by its pastel boutiques, painted palm trees on wooden houses, and arts and crafts stores. The whispering Spanish moss on the historic Peninsula Inn and the beachside casino reminded us of a quiet town ambiance that created a contrast to our fast-paced city life in Miami. For our annual vacation, we found a cozy home in Gulfport --- Deb's place --- just minutes of walking distance from the shops in the city. From the beginning, Deb accommodated us in every way. She was flexible with us as we talked about whether we wanted to change our vacation plans due to the fact that Hurricane Irma happened just a week before our vacation. This knocked down the power in Gulfport, but the city rejuvenated itself pretty quickly, and we were able to keep our vacation plans. We are so glad we went to Gulfport and not to our plan B: Orlando. Gulfport is cute and the opposite of Orlando which is very corporate and commercialized. Gulfport is relaxing, and I got to visit my favorite spot: the dock next to the casino. Here, the sky stretches into an epic view of the clouds, sailboats, and bay. The sun casts a translucent glow on the posts and pilings that make me feel like meditating and reflecting. The sky here is usually baby blue, but sometimes the clouds hover over the dock like mountains. I like to stand on the dock while it bobs to the waves. Nearby is a little park where people sometimes lounge on the sand, watching the waves, but this area is usually empty, and only the pilings stand watch of the bay, the changing landscape, the way the light moves, the blue hue of what peace would look like if it was personified. The relaxation we got in the area took us away from the hustle of Miami. Deb accommodated everything we needed: extension cord for our electric car, and even went looking for a charge port for us. The house comes with complimentary coffee, oranges, and even flowers. Everything you need to cook is available, and there are lots of fresh towels. The house has wooden floors, two rooms, a chilling couch where we fell asleep many times, and the bed was really comfortable. The furniture was all wood, and there was a Brita filter for water. While the house was really comfortable and looked good and well-maintained, what made the experience even better was Deb's assistance. When we forgot our beach chairs and umbrella (as the hurricane made us pack in a rush), Deb lent us hers. She was prompt in responding to our requests, and went out of her way to help us. She's friendly, and it was a pleasure to stay there. After the stress of dealing with Hurricane Irma, Deb's place was an oasis that we won't forget. We felt as if we were in our honeymoon again.
---
A very nice place to stay. Deb left coffee and cream for us. She offered suggestions for places to visit, restaurants to eat at. We drink lots of coffee and she had extra coffee when we asked for it. Also she let us use her laundry. The house is spacious. The kitchen has everything you need. Large fridge, dishwasher, pots pans dishes cutlery. A comfortable place to rest inside - couch, chair, a table for meals. And you can sit outside on the porch or at a table. Deb also did some research and found us the best deal for renting bicycles. We spent lots of time at the beach and checked out the Dali museum, the Chihuly exhibit, Sunken Gardens, Fort De Soto, Honeymoon Island and the South Florida museum. Head over to the Blue fin cafe or Omaddys. Both were delicious! We don't eat lots of pasta so we skipped Pias. But everyone says it's great too.
---