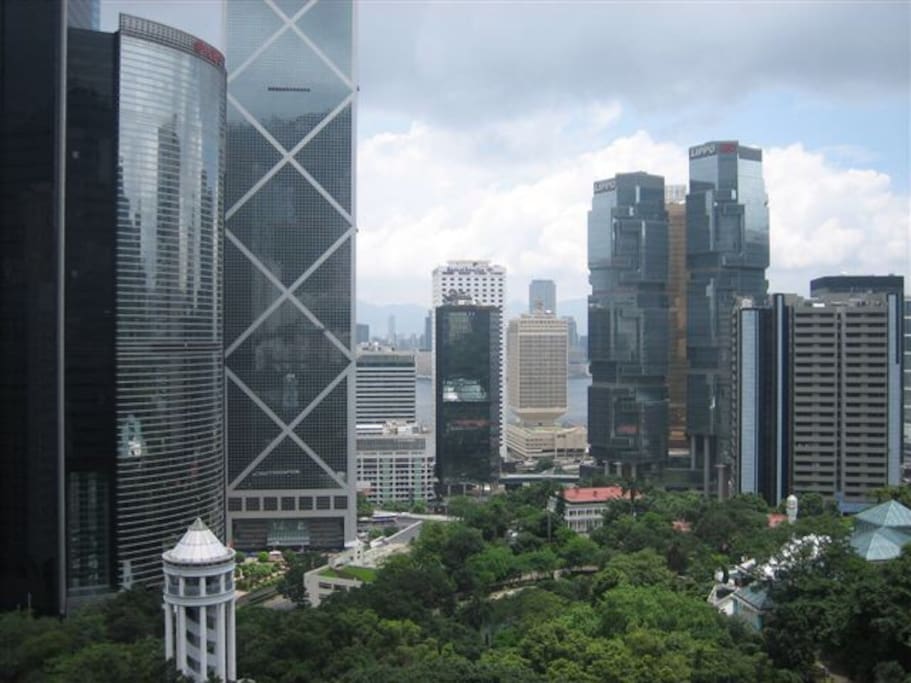 關於此房源
Nestled in the heart of Central. Stunning view of modern architecture & greenery of HK Park. Walking distance to CBD, Admiralty, Peak Tram, Lan Kwai Fong, further beyond SoHo, Exhibition & Convention Centre in Wan Chai. We also provide a full continental breakfast for you to start your day.
---
---
---
---
Nestled in the heart of Central. Stunning view of modern architecture & greenery of HK Park. Walking distance to CBD, Admiralty, Peak Tram, Lan Kwai Fong, further beyond SoHo, Exhibition & Convention Centre in Wan Chai. We also provide a full continental breakfast for you to start your day.
This is a colonial walk up building. There is no lift. We're on the 3rd floor. We will help to carry your luggage upstairs and downstairs, if you need assistance.
The apartment is 1,400 s.f. with 3 bedrooms and a balcony. The balcony opens to an expansive view of the green park and the Victoria Harbour. Your breakfast will be served at the balcony with cockatoos chirping .
I offer one bedroom with a double bed. The room is about 100 s.f. with a separate bathroom. It is air-conditioned.
This is a HOMESTAY accommodation. I live here too. We will share this cozy space together. My guest will have access to the living room, and the balcony. You can watch the TV in the living room. I have two wi-fi internet connections. You are welcome to borrow my guidebooks or other reading materials. You can use the fridge. There is a charge for laundry service by my housekeeper at US$5 per load. You can also use the office equipment. There will be a charge for printing documents of more than 5 pages.
I have a busy social life. I'll try my best to meet you and give you tips based on your own travel needs to enrich your local experience. However, it's best you plan ahead for your trip. My Filipino housekeeper has her own quarter. She works for me for 10 years. She is discreet & cheerful. She serves you a healthy breakfast and cleans your room daily.
The apartment locates in a prestigious area overlooks Hong Kong Park and across the Victoria Harbor. The neighborhood is rich with colonial history: the former Governor's House, St. John's Cathedral, Helena May Building, and the Peak Tram Terminal. You can also hike up to the Peak along the nearby tree lined Old Peak Road. We are 12 mins walk to Lan Kwai Fong, Escalator Walk, SoHo. 20 mins walk to Airport Express/IFC Mall, Star Ferry. 5 mins walk to HSBC headquarter and the heart of the central business district. It is approx 25 mins walk to the Exhibition and Convention Centre for international trade fairs and Art Basel in Wan Chai District, and the Computer Centre for latest i.t. gadgets are 4 tram stops away. This is the embassy district for the U.S. and the British embassies, the Chinese Foreign Office and the Offices of Former Chief Executives. It is the most convenient and ideal lodging for budget businessmen, and for travelers who want to chill in the hip places and crawl back home in the early wee hours to wake up and see birds and greenery.
Hong Kong Island cuts out from a rock. Be prepared to walk uphill and downhill a lot. There is MTR station through Kong Park. Taxi fare from Central to Kennedy Road is US$5. For budget traveler, Central & Admiralty MTR stations are 12 min walking distance. There are also public big buses and mini buses almost to the door. You can also travel on trams. It's an experience!
Transportation:
To and From Airport:
Airport Express : Hong Kong Station (Take taxi from there to my door)
There are many public big buses and green mini buses that come to my place. Please ask when you book.
IMPORTANT: (If you can't read English, please translate into your own language)
DOG: I have a dog, Roxy, who barks like any other dog when a stranger is at the door. She is a friendly guard dog.
RELIGION/DRESS CODE: I respect religious freedom. However, my place does not cater for any religious worship or practice. Please conform to the consistent international dress code for this neighborhood.
DISCREET: The collections of artwork, antiques and rare books are here for you to enjoy. Please be careful with them. NO PICTURES.
BATTERY CHARGER: If you use China-made portable charger for your mobile devices, please DO NOT leave it on overnight, or unattended. They are susceptible to overheating and may cause fire.
TOILETRIES: Please pack your own disposable toiletries and personal care items including toothbrush, toothpaste, shaving kit, and body lotion etc. We provide ONLY shampoo and body wash.
BREAKFAST: The healthy continental breakfast is NOT a buffet. There is no second serving or take-away.
---
NO un-registered person is allowed to stay overnight. Please strictly observe this Rule. I don't want to spoil your fun.
NO Smoking. If you are a leisure smoker, please use the balcony ONLY.
NO excessive drinking and definitely no illegal drugs.
NO durian, kimchi, curry, preserved food, or exotic food from your country that will leave a distinctive smell in the room to be brought to the apartment. Please understand It takes days for the odour to disappear.
NO walking around the apartment naked or half naked.
SAVE THE ENVIRONMENT: Keep your shower within 5 minutes. An 8 mins shower use up 62 litres of hot water. Save CLEAN water for our next generation.
中國大陸旅客須知
1. 浴室使用法:
在浴缸淋浴時,請把浴簾放在缸内,不是放在缸外。否則,淋浴的水會沿著浴簾流在地上。把地氈完全弄濕。若此情況發生,請閣下自行打理乾淨。
2. 環保留给下一代: 洗澡時只用5分鐘。8分鐘用水约浪費62公升熱水。下一代將沒有乾淨食水。 不要浪費衛生紙,不可兩天內用光一卷纸。
3. 若使用中國製電池或外國冒牌貨充電,若你外出或休息時,請把電池關掉,避免因電池短路,或過熱而發生火警。
4. 禮貌對待我的管家
我的管家替我打點家中一切,及弄早餐給你。希望你禮貌對待,也可以打賞她的工作。
5. 請閱讀以上以英文寫的其他手則。
---
---
I'm a local Chinese, but I'm more a global person due to my extensive travel and years of living abroad. I am an art consultant and the owner of Gallery of Objects. I paint, write and enjoy reading. I am knowledgeable with both ancient Chinese and local colonial history. I chose to become a host to meet people from all over the world. Meeting different people, learning their cultures, and listening to their life stories humble and enrich me. Similarly, I wish all my guests will take home with them a memorable home-stay experience and a better understanding of my culture and my part of the world. My favourite cities are New York, Melbourne, Istanbul, and Hong Kong. I'm a spiritual person. Every person that comes into my life has a very special reason and meaning, and I cherish this universal truth.