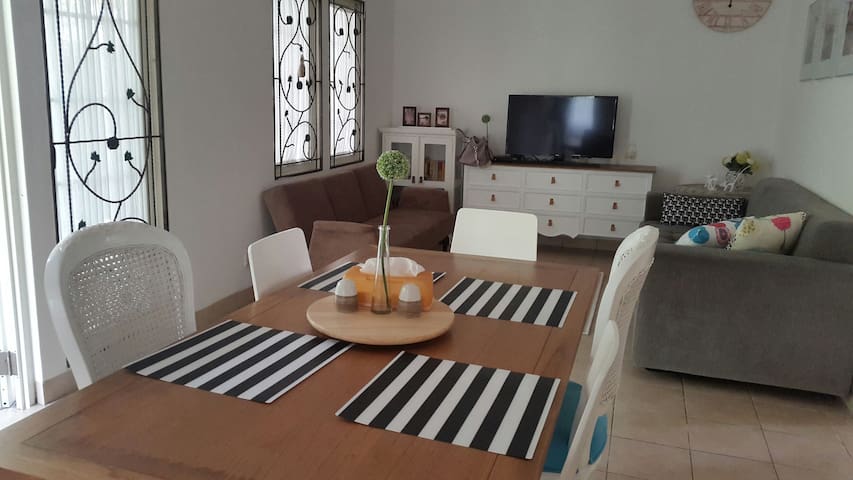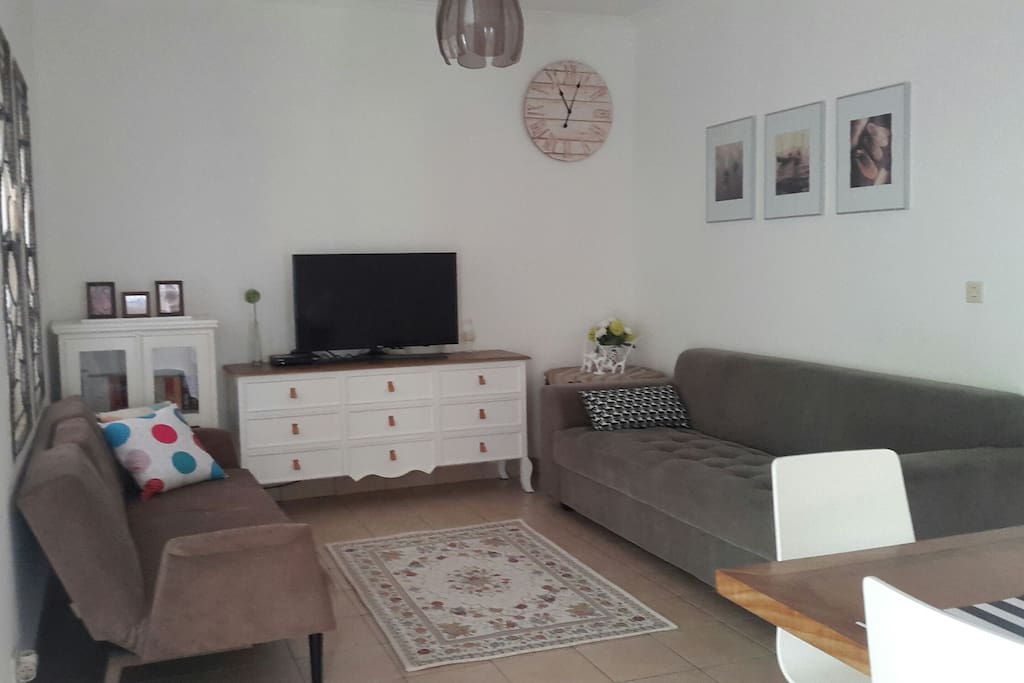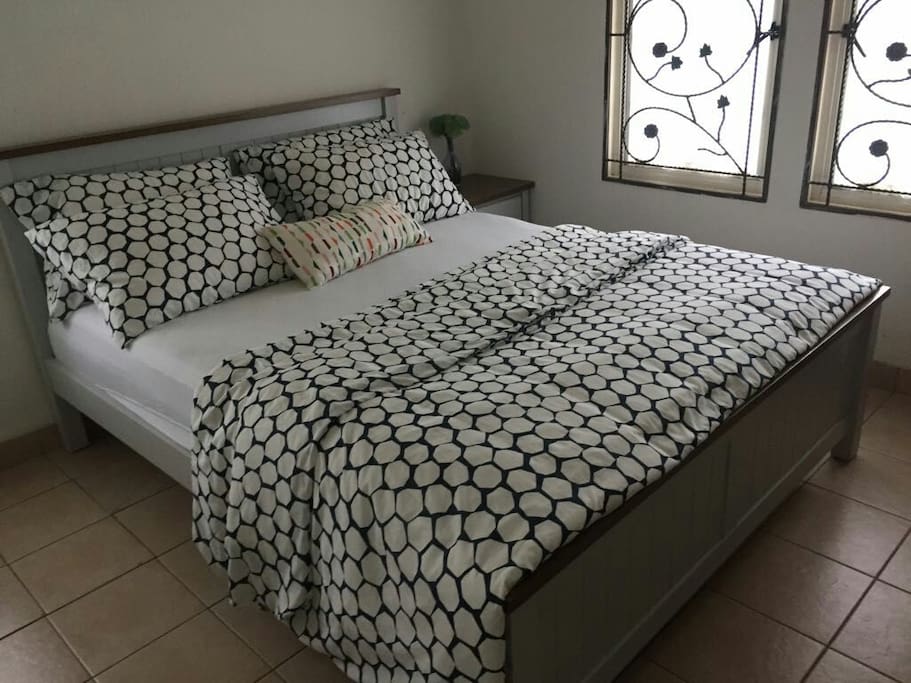 A bright, cozy and homey house in Sentul City with large back yard, fresh air and great view. Lovely chic home with 3 bedrooms, 2 clean bathrooms and some extra beds. Big patio/terrace to relax and enjoy the fresh air and fully equipped kitchen for you to use. There are also a BBQ grill and mini table games (fuss-ball, billiard, hockey, ping pong) that is provided at the back patio/terrace of the house to make your stay even more memorable moment to share with your friends and family.
房源
The house will comfortably fits up to 10 people. If more, please message me in advance.
房客使用權限
You will have the whole house as your own during your stay. But please stay out of service area at the side of the house/ back of the kitchen.
其他注意事項
1. There are 2 bedrooms upstairs and 1 bedroom on ground floor.
2. All bedrooms have AC and one main bathroom upstairs has water heater.
3. Kitchen is fully equipped with appliances (stove, refrigerator, water dispenser, rice cooker) and utensils.
Harap menerima kondisi di bawah sebelum melakukan pemesanan, Anda dianggap setuju jika pemesanan dilakukan:
1. Kami menghargai jika Anda menghormati dan memperlakukan rumah ini seperti Anda memperlakukan rumah Anda sendiri dengan penuh perhatian dan banyak cinta.
2. Karena saya ingin Anda tidak merokok di dalam rumah, Anda bisa meluangkan waktu Anda di area outdoor atau di teras belakang.
3. Untuk menghormati komunitas global di Airbnb dan menghormati semua agama jangan membawa, mengkonsumsi atau memasak makanan/ produk non halal (daging babi, dll).
4. Karena rumah ini memiliki tetangga yang baik dan lingkungan perumahan yg tenang, tolong jaga tingkat kebisingan seminimal mungkin. Tidak ada suara keras setelah pukul 9 malam.
5. Tolong tinggalkan rumah seperti saat anda memasukinya. Jika Anda kebetulan memecahkan atau merusak sesuatu, beritahu kami dan atur penggantian atau biaya perbaikan. Jika tidak, kami harus mengklaim biaya setoran jaminan Anda di airbnb atau meminta lebih banyak uang jika nilai kerusakan lebih dari deposit Anda.
6. Harga yang ditampilkan di sini hanya berlaku untuk menginap saja tanpa ada kegiatan dengan tujuan komersial (pengambilan gambar video, pemotretan, aktivitas periklanan digital, dll.). Silakan temukan kami di IG dengan nama rumah untuk rencana komersial dengan daftar harga yang berbeda.
Please accept condition below before making any booking, you considered agreed if booking has made:
1. We believe that no place like home, we do appreciate if you respect and treat the house as you treat your home with care and lots of love.
2. As I want you not to smoking inside the house, you can take your moment at the outdoor area or at the back patio.
3. To respect airbnb global community and religion please do not bring, consume or cook any non halal food/product (pork, etc).
4. As the house has nice and calm neighbours, please keep noise levels to minimum. No loud noise after 9PM.
5. Please leave the house as you found it. If you happen to break or damage something please let us know and arrange to replacement or repair. Otherwise we have to claim your security deposit fee at airbnb or request you some more money if the damage value more than your deposit.
6. The price shown here only applied for stay over night/s only without any kind of commercial purposes (video shooting, photo shooting, digital advertising activity, etc). Please find us at IG with house name for any commercial plan with different price list.