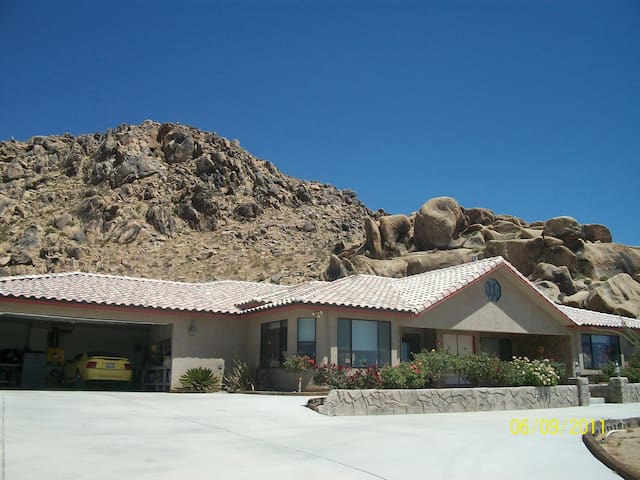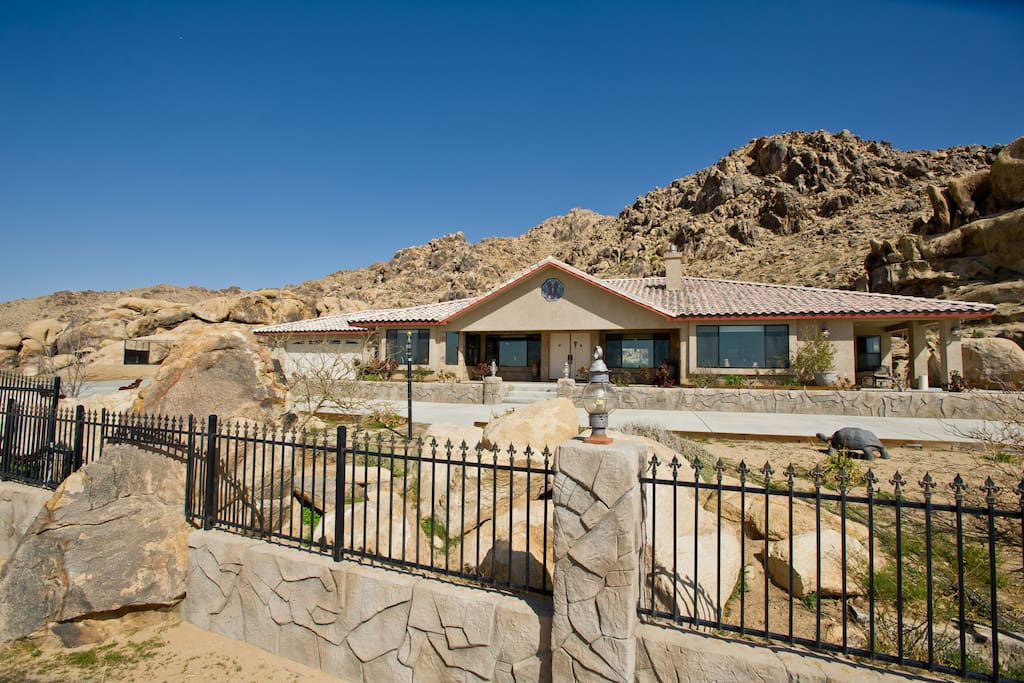 9 Foot Cliff Dive (POOL) @ $95 a night
This house is a clean house and is expected to treat it with respect as it would be like their own This house is in no way a party house
房源
3 bedrooms all with walk in closets, 2 Bathrooms,access to private laundry room, private access to pool (Nine foot cliff driving rock and large water slide), direct access to kitchen and great room, Prestige area in Apple Valley, Thier is Calico Ghost Town just North of Barstow. CA (less then 30 minutes away). A perfect stop to complete a weekend get away. We are located 1/2 way between Los Angeles, CA and Las Vegas, NV. A perfect stop for Out of Town guests who fly in/out of Las Vegas NV or a So Cal Airport and starting or ending a California Vacation Full hook ups for RV. Direct motorcycle and off road riding from property. Rock climbing and nature walking direct from property. Nestled in for a scenic rock backyard and views of the Victor Valley in front, Close to shopping (Outlet Centers in Lynwood on I-15). We also have FULL HOOK UPS for Motor-home/RV (Water,Sewer and Elec) Perfect for Snow Birds. My wife and I are California Natives and we know the area very good and are here to make your California experience the best that it can be. (Safe Travels)
A Continental Breakfast is provided in the Morning (Bagels, Coffee, Orange Juice, Etc....)
---
---
---
---
All we ask is to treat and take care of everything, like it was your own. Please report if you thing anything is not right. After using the towels in the bathroom please leave on the floor (so that we know that they are dirty). On your last night of stay their is no need to make the bed as the linens will be washed for the next guest. This home is not a party house and please respect the rules from the owner Just another side note pets are not allowed at this home.
---
---
---
---
Douglas' place was the best choice for me being commutable distance from the hospital I contracted to work with as a traveler, and providing reliable wifi to keep in touch with family and friends. As an added bonus, it has great views, it is close to the nature, provides swimming pool and jacuzzi. I had a private room, private bathroom just next door, and was able to use a laundry room across the hall. Douglas is very attentive host going the extra mile to make the guest feel at home. He is easily reachable and attends promptly any arising issues. I wish I could have the means to afford staying for my entire working contract of 13 weeks rather than just 2; unfortunately, my housing budget had to take the burden of fixing my car a/c - it is hard to drive a hot car in the desert. I would highly recommend Douglas' Oasis in the Desert to passing by travelers or people who have long term business in the area. Thank You again for Your Hospitality!
---
My initial inquiry was regarding the location. I have just accepted a travel assignment in the hospital in Apple Valley, and wondered whether Douglas' place was in commutable distance. Received quick response - and luckily it is a 15- minutes-drive! We agreed on 1 night stay, and I appreciated he let me check prior 2 pm. The room was wonderful, the sheets were freshly laundered and smelled nice. I really liked having my own private bathroom. Doug and I talked and he gave me a deal for the next 2 weeks, so I cancelled my motel stay reservation. I had a really good night sleep, and after my first day at work I returned here to my home-away from home. I am hoping to stay the entire 3 months of my job assignment pre-paying weekly. Doug's place is a gem. I would highly recommend it to anyone having business or other plans in the area. Thank you, Doug for letting me in your home, and thank you, Airbnb. Diana
---
This home is located kind of in the middle of no where but it is one of the most beautiful homes you will find on Airbnb. Doug was so friendly and beyond hospitable, he provided breakfast for us before we left. We spent most of our night in the backyard. There is a large pool with a slide, 9 ft cliff jump, and jacuzzi. The pool was clean, and so was the entire home! We couldn't have found a better place to stay!
---
This place is magical. The natural rock Hills in the back are a part of the rockslide in the pool. In the morning when you wake up you get to see the lizards in the quail and the Hawks. Not to mention the host Doug Vance, it felt like we were visiting one of our uncles. We felt so comfortable and at home and the atmosphere is just awesome. My kids say they want to do this once a year. I definitely recommend if you wanting some peace and quiet and serenity
---
Doug's place is amazing! We had a very late check-in and he was so accommodating and kind. Even offered to let us stay later! He had a continental breakfast ready in the morning. The pool and spa are amazing and he turned on the slide and waterfall much to my granddaughters delight! Definitely recommend a stay here!
---
I am a General Contractor for the last 25 years. My wife, children and I live, work and attend school in the high desert. My daughter Tiffany who is 23 now and has graduated from college at Indiana Institute of Technology and has moved back into our nice awesome home and my younger daughter is 19 and is a going to college at Humbolt State in Northern California. The other two kids in our profile picture were our foreign exchange students last year, Nayomi from Germany and Alek from Serbia. Our favorite things to do our hang out at the house either swimming or playing games. We also enjoy going to the river, wake boarding and the mountains, snow boarding. And we love to travel to all kind of places. In your travels, come join us and relax with us and enjoy the incredible view of our rock mountain or we can play horseshoes, volleyball, dive off the diving rock or slide down the slide into the refreshing pool. Whatever your preference or if you want to do it all. We would love to get to know you on your next trip to the SoCal.