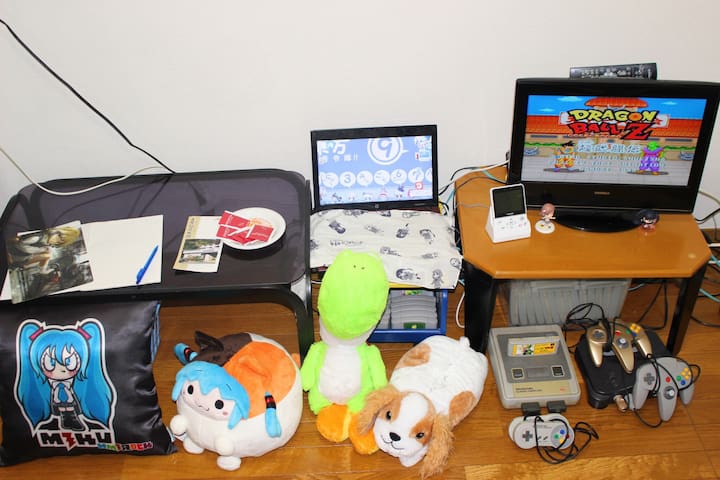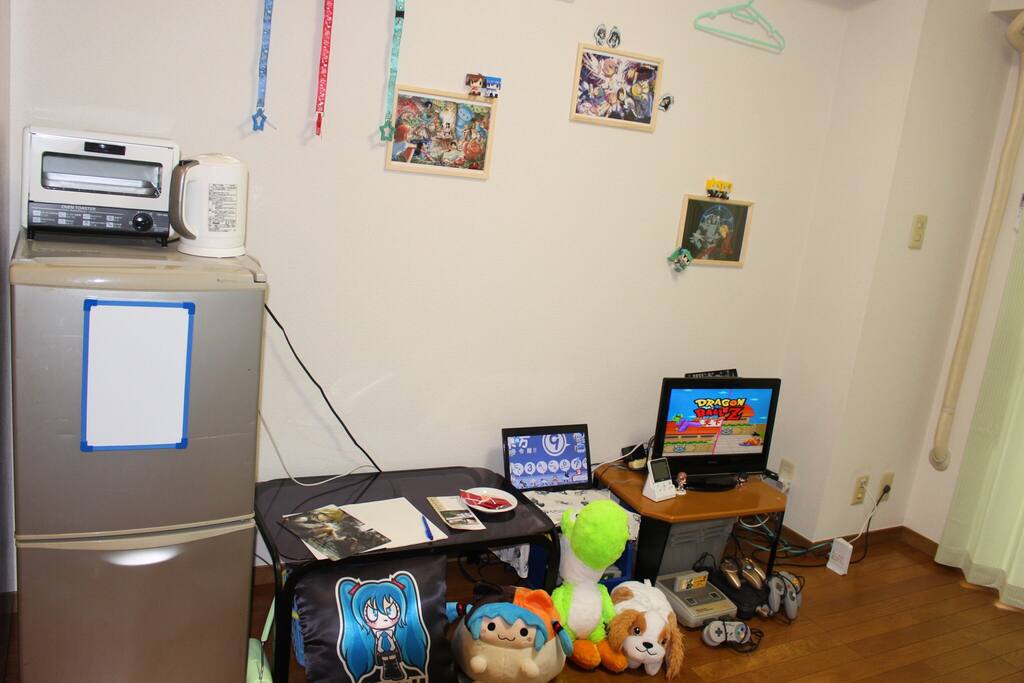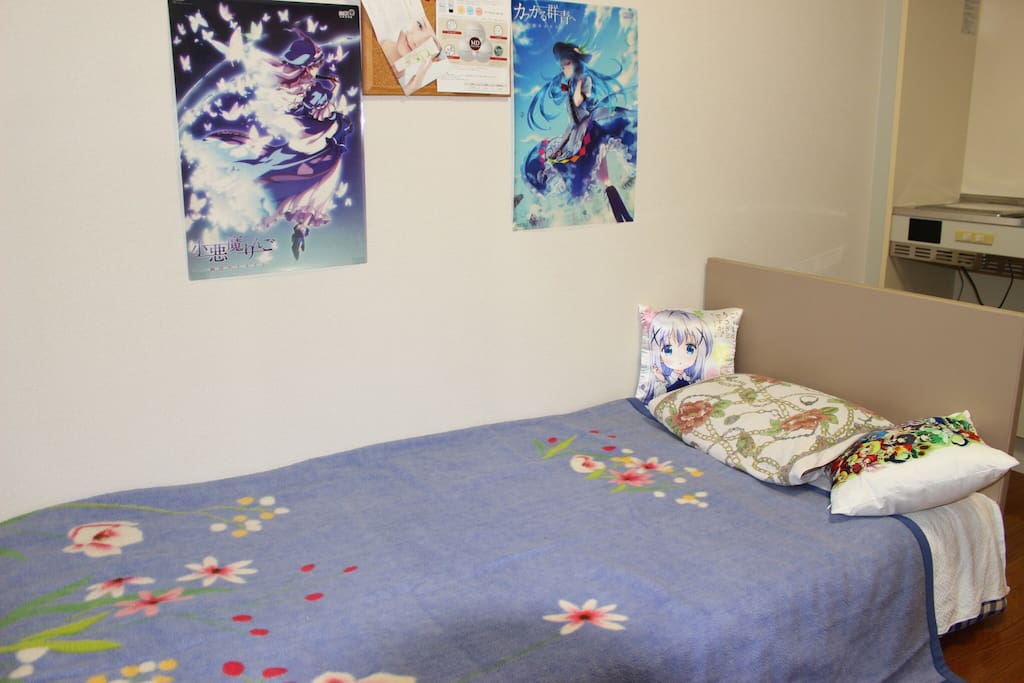 Sale Bus stop 5 minutes! Yokosuka tyuuou way to go
· Manga 100 or more
· Doujinshi 1000 or more
· Cosplay costume
· Game machine 【SNES, 64】
· Wi-Fi
· PC 【animation, movie, game (Toho series), song, etc】
· You can eat food in the room freely 【pasta, udon, somen, soba, etc】
· Nearby 【family mart】【Gast】【Hama Sushi】【Sukiya】
Kinugasa saizyou bus stop in 5 minutes from the room
Keikyu Line: Yokosuka tyuuou Station
JR line: Yokosuka station, Kinugasa station
Anime or games lovers, Yokosuka sightseeing
If you are traveling, you are welcome.
房源
我希望你能品嚐到日本動漫一樣[OTAKU]文化。 橫須賀是,我要你來旅遊,因為那裡是美妙的風景和文化 要禁用翻譯實時翻譯 5000分之52 日本動漫蘇基[OTAKU] BUNKAöajiwatte星。橫須賀WA,fūkei雅BUNKAガsubarashīnodeKANKOに風箏保 我喜歡日本動漫愛好者[OTAKU]我希望你能享受文化。 我想橫須賀前來觀光,因為風景和文化是妙
日本アニメ好き【OTAKU】文化を味わって欲しい。
横須賀は、風景や文化が素晴らしいので観光にきて欲しい
翻訳
リアルタイム翻訳を無効にする
52/5000
Nihon anime-suki [OTAKU] bunka o ajiwatte hoshī. Yokosuka wa, fūkei ya bunka ga subarashīnode kankō ni kite hoshī
I like Japanese animation lovers 【OTAKU】 I want you to enjoy the culture.
I want Yokosuka to come for sightseeing because the scenery and culture are wonderful
房客使用權限
請使用您的自由意志在房間裡 無線網絡連接,當然,是所有內置PC或類似的喜愛權利。 請隨時在房間內使用 這是正常使用的Wi-Fi以及安裝PC等等。
お部屋の中はご自由につかってください
Wi-Fiはもちろん、備え付けのPC等好きに使って大丈夫です。
Please feel free to use inside the room
It is okay to use Wi-Fi as well as installed PC etc.
與房客互動
SNS,電子郵件是在任何時候都正確。 然而,難以直接見面。 5000分之36 SNS。梅魯WA ITSU演示daijōbudesu。Shikashi,chokusetsu AU江東WA kon'nandearu。 SNS,郵件總是好的。 然而,難以直接見面。
SNS.メールはいつでも大丈夫です。
しかし、直接会うことは困難である。
36/5000
SNS. Mēru wa itsu demo daijōbudesu. Shikashi, chokusetsu au koto wa kon'nandearu.
SNS. Mail is always fine.
However, it is difficult to meet directly.
---
I was just visiting friends for the weekend and needed a place to sleep, Eat and shower. I'm not really into Japanese nerd culture. Having said that Ray advertises this place as I deal for Japanese culture nerds, and I must say it's pretty accurate. The hello Kitty plush stuff, super Nintendo, Nintendo 64, both complete with games, small assortment of cosplay outfits and massive assortment of manga and Japanese noodles and other foods in the fridge definitely will give you a feeling of what it's like to live in a Japanese mansion apartment inhabited by an otaku. Other than some dust and a pillow cover that smelled a bit oily the place was quite clean, and seriously, what hotel will give you four different kinds of noodles, miso soup, tea and some stuff I don't even recognize for This price!? Since I stay there by myself I Felt quite free to kick back and relax. If this is the normal experience at his place then it would be ideal for single girls or guys. I did not meet Ray face-to-face because he seems to usually be working, but I had no trouble getting the key from the post with the simple combination lock and password he gave me. When I had trouble getting on the wifi after 10 PM I called his cell phone and he did his best to help me. I can't say how well the game systems work since I didn't use them, but the Wi-Fi, refrigerator, microwave… basically everything seems to work fine. If I'm back in his area again I definitely plan to get in touch. He only speaks Japanese but can text in pretty understandable English. Thanks a lot Ray, I hope you are able to keep this place open for visitors for a long time to come! :-)
---
はじめましてrayです。
私はアニメやゲームが大好きです。
私は所謂【オタク】です。
そんな、私が色んな方に【オタク文化】を
知ってもらいたく漫画やゲーム、お部屋作りを
しました。
是非とも日本の文化を味わってください。
よかったら、コスプレもおいてあるので写真とか
とっていってください。
Hello, it is ray.
I love animation and games.
I am a so-called [otaku].
Such a thing, I will [Otaku culture] to various people
I want you to know Manga, games, making rooms
Did.
Please taste Japanese culture by all means.
If it's okay, there are also cosplays so you can see photos
Please take it.