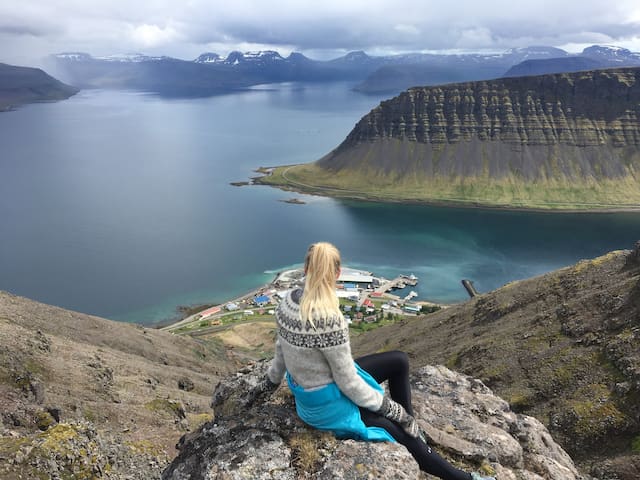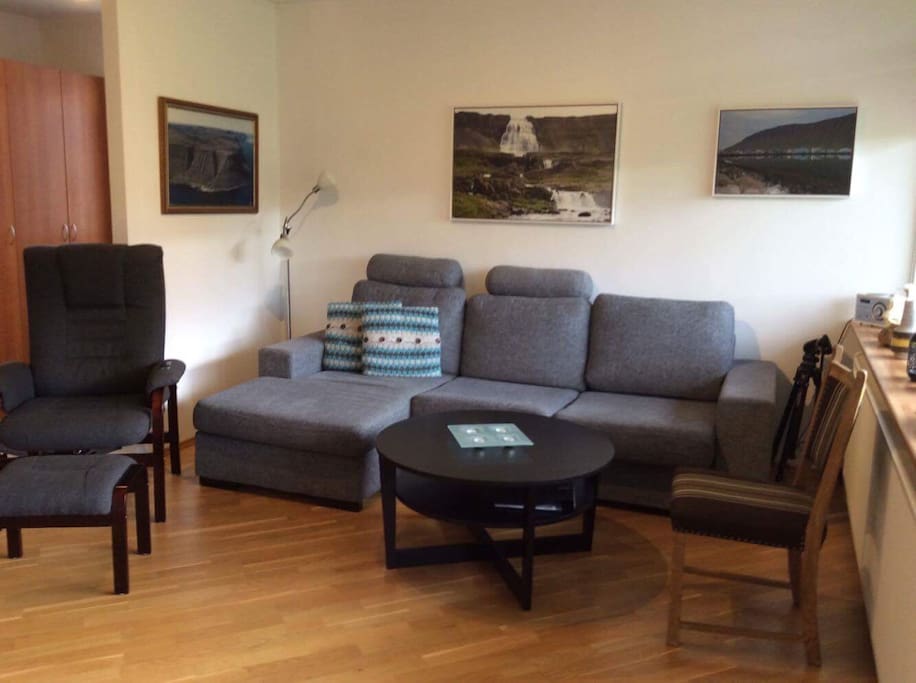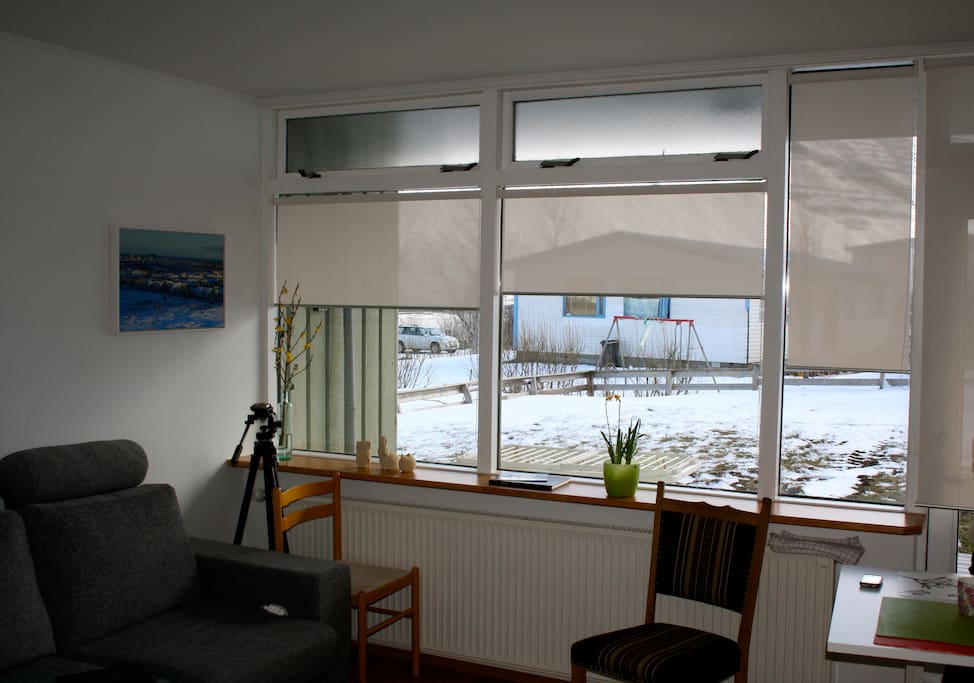 體驗冰島Westfjords的絕佳機會。獨特的地方與美麗的風景。 公寓設有獨立的入口。浴室相當大,帶淋浴和洗衣機。包括床單和毛巾。 HDMI電視,免費WI-FI
A great opportunity to experience Westfjords, Iceland. Unique place with beautiful landscape.
The apartment has a separate entrance. The bathroom is quite big with a shower and a washer. Bed linen and towels are included.
HDMI TV, free WI-FI
房源
Bíldudalur由峽灣Arnarfjörður嵌套,不僅美麗,而且還負責Bíldudalur作為"Westfjords的好天氣資本"的聲譽。這個風景如畫的村莊的主要產業是海洋礦物加工和養魚業,旅遊業也在不斷增加。雖然比爾杜達爾的人口只有約200人,音樂和文化在這裡已經繁榮了數十年。該村舉辦一年一度的民間音樂節,不要忘了參觀過去的旋律,這是冰島音樂紀念品的展覽。 峽灣Arnarfjörður以其眾多的海怪而聞名。這些生物的故事在冰島民間文化中發揮了多個世紀的作用。 Bíldudalur的冰島海怪物博物館提供了一個充滿活力的多媒體展示,這些故事是全家人可以一起享受的。
Bíldudalur is nested by the fjord Arnarfjörður, a location which is not only beautiful but also responsible for Bíldudalur's reputation as the "good-weather-capital of the Westfjords". The main industries in this picturesque village are sea mineral processing and fish farming, while tourism has also been increasing. Although the population of Bíldudalur is only about 200, music and culture have thrived there for decades. The village hosts an annual folk music festival and don't forget to visit Melodies of the Past, an exhibition of Icelandic music memorabilia.
The fjord Arnarfjörður is well known for its numerous sea monsters. Tales of such creatures have played a colorful role in Icelandic folk culture for centuries. The Icelandic Sea Monster Museum in Bíldudalur offers an action-packed multimedia display of such tales, something the whole family can enjoy together.
房客使用權限
The whole apartment, by themselves.
與房客互動
我住在雷克雅未克,所以我和客人的互動不是太多。但如果您有任何疑問,請聯繫我。鑰匙位於Bíldudalur。
I live in Reykjavik so my interaction with the guests are not very much. But if you have any questions dont hesitate to contact me. The keys are located at Bíldudalur.
其他注意事項
所有的基本服務都在鎮上提供,如小雜貨店,ATM,咖啡廳和餐廳。如果你想放鬆,那裡是一個熱水浴缸和桑拿浴室。 距離Bíldudalur到Latrabjarg約有90公里,世界上最大的鳥類懸崖可以找到,也是歐洲最西端的地區。 壯麗的瀑布Dynjandi距離城鎮約50公里。 Dynjandi,一個廢棄的農場。以上它是西峽灣最大的瀑布,也是冰島最好的瀑布之一,也叫Dynjandi ("響亮"),也被稱為Fjallfoss,本身高達100米,非常廣泛。下面還有五個瀑布:Háifoss,Úðafoss, Göngufoss,Hundafoss和Bæjarfoss。可以走在Göngufoss後面。從岸邊可以看到六個瀑布 到那裡怎麼走: 從布宜諾斯艾利斯通路。 62離開羅馬路。按照道路號60出口到路號621 您也可以開車前往雷克雅未克,您可以在那裡找到熱自然浴和游泳池。游泳池建於1975年,游泳池為(PHONE NUMBER HIDDEN)米。溫泉全年全天候開放。水來自一個不遠的井和溫泉。有各種改變設施,每邊有大約10個衣架,但在場地沒有淋浴。進入游泳池運行52°C熱水,但游泳池的溫度為32°C。 距離游泳池幾米的是一個(PHONE NUMBER HIDDEN)深的坐式鍋。鍋的溫度為45。 全國有一個熱水游泳池,您可以跟踪他們 游泳池COM
All basic services are available in town, such as little grocery shop, ATM, cafe and restaurant. In the town is a hot tub and sauna if you want to relax.
There are about 90 km from Bíldudalur to Latrabjarg where the biggest bird cliffs in the world can be found and also the most Western point of Europe.
The magnificent waterfall Dynjandi is about 50 km away from town. Dynjandi, an abandoned farm. Above it is the biggest waterfall in the Western fjords and one of finest in Iceland, also named Dynjandi
("Resounding"), also known as Fjallfoss, itself 100 m high and very broad. There are five more falls immediately below it: Háifoss, Úðafoss,
Göngufoss, Hundafoss and Bæjarfoss. It is possible to walk behind Göngufoss. All six falls can be seen from the shore
How to get there:
From Brjánslækur take road no. 62 to exit ro road no. 60. Follow road no. 60 to exit to road no. 621
You can also drive to Reykjarfjordur where you can find a hot nature bath and a swimming pool. The pool was built in 1975. The pool is 16.6 m, 10 m wide and 1.2-1.8 m deep. The hot spring is open 24/7 all year long. The water comes from a well and a hot spring not far away. There is changing facilities available which have about 10 hangers on each side but there is no shower on the premises. Into the pool runs 52°C hot water but the temperature of the pool is 32°C.
Few meters from the pool is a sitting pot which is 6 m long, 1-4 m wide and 0.2-0.5 deep. The temperature of the pot is 45°C.
There's a hot swimming pools all over the country, you can track them at
swimminginiceland . c o m
Hi my name is Vidir Orn and I am from Iceland. I rent out our family apartments occasionally. You can check me up on social media: Instagr -》vidirorn Faceb -》Víðir Örn
語言:
Dansk、English、Norsk