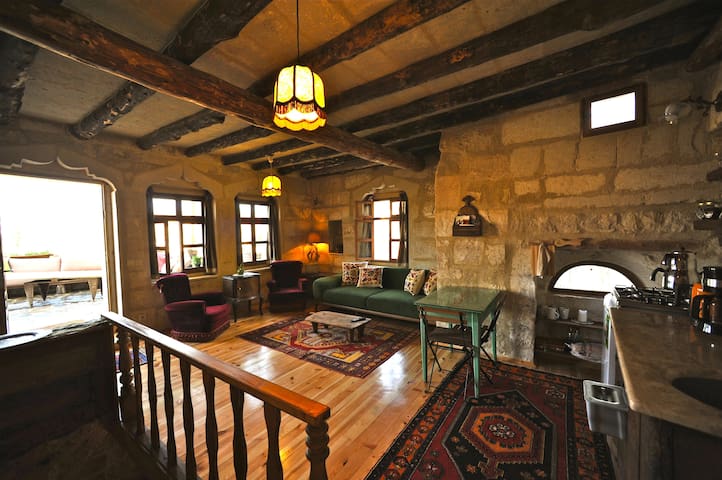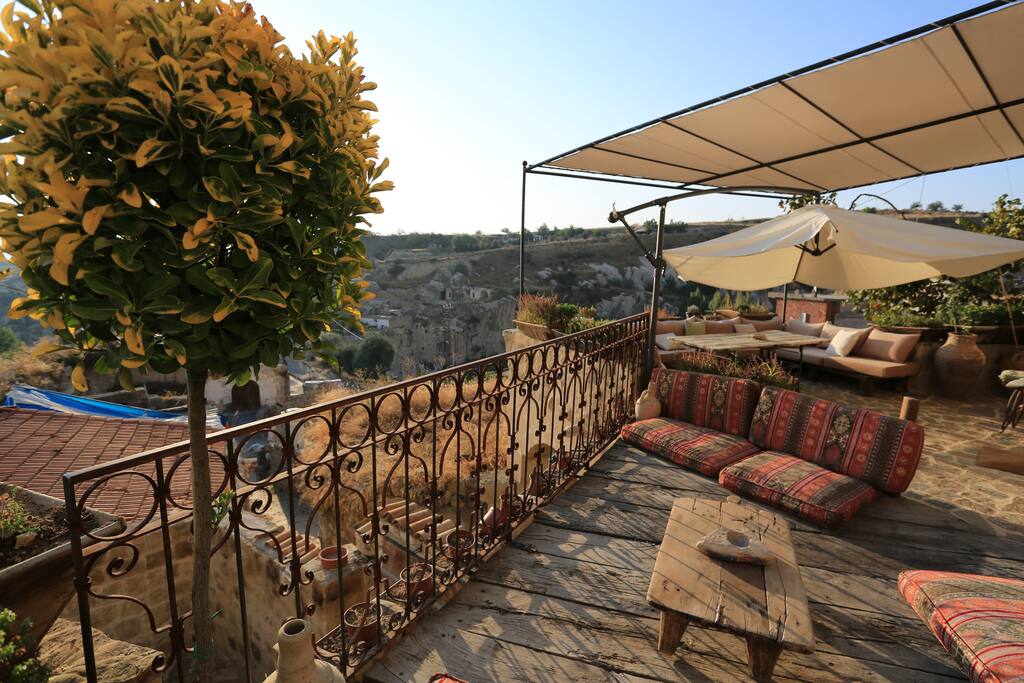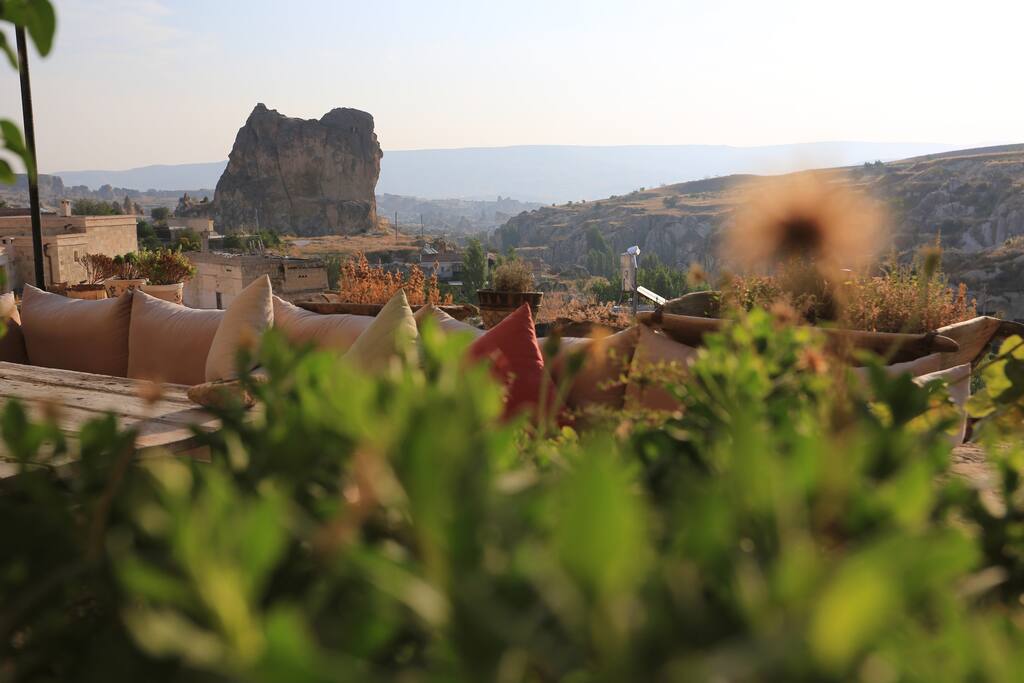 Anitya Dublex Stone House
Anitya Dublex Stone House
35平方米的複式石房子,配備了一個風景優美的露台,為您提供輕鬆愉快的假期。適合情侶或家庭入住。
A duplex stone house of 35 square meter, fully equipped with a scenic terrace is offered for a relaxing and enjoyable vacation.Best for couples or families.
房源
在卡帕多西亞的心臟地帶,奧塔希薩爾村(Ortahisar Village)自公元前1800年以來一直是赫梯,波斯人,羅馬人,拜占庭人,塞爾柱克人,奧斯曼帝國的家園,Anitya洞依然是這個豐富的歷史。最小的),"Ortahisar城堡"所在的地方,已經被Hittities挖掘(公元前1600年左右)
In the heart of Cappadocia, Ortahisar Village, which has been a homeland for Hittites, Persians, Romans, Byzantines, Seljuks, Ottoman Empire since 1800 BC's, Anitya caves had remained from this rich history.The house is near the center of village (5 min.) where the 'Ortahisar Castle' is located,which has been digged by Hittities (around 1600 BC)
房客使用權限
35平方米的雙層石房子,設有風景優美的露台,為您提供輕鬆愉快的假期。 完全建造和裝飾用手工,古董和傳統家具。 許多傳統的土耳其地毯在西裝。 設有沙龍,設備齊全的廚房,浴室,臥室和風景優美的露台。 複式石西裝是夫婦和家庭的理想之地。 有一張全尺寸的雙人床,可以打開沙龍的沙發,以容納2人以上.Max.1可以加床。最適合最大4人。房間在樓下,房子裡有浴室。客廳和臥室之間有樓梯。 廚房配有烤箱,炊具,冰箱,水壺,咖啡機和所有其他廚房設備供烹飪。客人可以根據自己的需要使用廚房。 提供草本茶,過濾咖啡,土耳其咖啡,紅茶和香料。
A duplex stone house of 35 square meter, fully equipped with a scenic terrace is offered for a relaxing and enjoyable vacation.
Fully built and decorated with handmade, antique and traditional furnitures.
Many traditional Turkish carpets in the Suit.
With a saloon, fully equipped kitchen, bathroom, bedroom and a scenic terrace.
Duplex Stone Suit is a perfect house for couples and families.
There is one full size double bed and it is possible to open the couch in the saloon to accomodate 2 more people.Max.1 extra bed is possible. Good for up to max. 4 people .Bedroom is in downstairs and there is the bathroom of the house.There is flight of stairs between living room and bedroom.
Kitchen with oven, cooker, fridge, kettle, coffee machine and all the other kitchen equipment for cooking available. Guests can use the kitchen as they wish.
Herbal teas, filter coffee, Turkish coffee, black tea and spices are provided.
---
This home is absolutely beautiful and with a wonderful deck to enjoy the spectacular view. It was comfortable and beautifully furnished and has the loveliest hosts who went out of their way to accommodate us when our flight was delayed. They also helped organise our balloon tour and airport shuttles even when they themselves were on holiday. Cannot thank them enough for these things. The area is filled with more locals than tourists compared to Goreme while only being a 5 minute drive away - this was perfect for us, it felt more authentic and quiet. Definitely hope to come back one day!
---
Stone house was absolutely wonderful. Came to spend a few days, and it was magical. The terrace is incredibly peaceful and dripping with vine leaves and lovely coloured flowers, making it incredibly easy to spend hours reading despite the plethora of sights in the region. Situated on the hill looking out to the country, with views of stone houses and felt secluded, away from hustle and bustle of town, despite being a stones throw away from the centre . Wonderful homely but distinctive decor with cute stone bedroom, cosy living room and modern feeling bathroom. Would recommend driving to neighbouring towns for food and drinks, which are all a short drive away (around 10- 15 minutes) although there are a few places to eat in Ortahisar. Beautiful country drives and walks along the way. The town felt much less touristy than charmless Goreme. Our host was very helpful and sweet, and quickly responded to all of our queries. I would love to come back.
---
Kerem and Anitya were fantastic hosts. They went out of their way to greet us and helped us maximize the most out of our stay in Kapadokya, by arranging various activities including hot air balloon ride. We particularly appreciated their warm hospitality and treating us more as guests than visitors. The house itself was gorgeous, clean and had a fantastic view. We highly recommend staying at Anitya Stone House!
---
Staying at Anitya's provided us the perfect feeling of living like locals in Cappadocia region. Ortahisar area is very quiet, mostly away from tourists but also very close to main attractions. The house is same as the photos, very cosy, clean and historical. Mr. Kerem was very kind and easy to communicate before we arrive there and afterwards Mr. Hayri helped us for all our needs during our stay. We'll definitely suggest here to all visitors of Cappadocia!
---
Thank you Kerem & Hayri for being such awesome and helpful hosts. They went the extra mile to help settle our car rental return, confirming our hot air balloon reservation and booking our overnight bus tickets! Hayri greeted us with a smile despite our late night arrival and continued to assist us even after we checked out. He made sure we found the bus terminal and collected our tickets as well. Kerem was a great help as well despite his hectic schedule and even when his son was ill. This made our stay in Cappadocia so much more enjoyable! The house was perfect. We enjoyed every single moment in there and felt right at home. Kept us extra warm in this freezing weather! The kitchenette was also well equipped with the spices we needed for making a simple breakfast before enjoying a cup of coffee on the porch while viewing the sunrise. As for the times the weather was too cold for the porch, there was plenty of space in the living area for us to relax in! The only downside was the duration as we wished we could have extended our stay there!
---
Anitya House is just beautiful. Kerem and Filiz made a wonderful home for someone who wants to fell the live in a traditional village. If you want nightlife it will better to stay somewhere else or you have to be with a car (Goreme is in 10 min. by car). The house has all the equipments of a modern house. We loved the terrace at the evening.
---
We are a family of 3. Kerem, Filiz and our son Ozan.
Kerem is a doctor. Kerem, with his friends, master hands from the village (one of them is Hayri) and Filiz who is an actress, together designed and renovated the house with their own tastes, with their own hands. After debating many ideas now it has turned out to be what you see on the photos. As the meaning of Anitya is 'impermanence', that nothing is permanent and fixed in life, everything is continuously changing in the flux; Anitya Cave House will change with your existence, as it will change our own lives also.

Experiencing to live in a cave which had kept all the histories and life energies in it and feeling the strength-softness-peace all together will be unforgettable. It has changed our life, we are learning a lot and we would like to share this special feeling with you.

We would be glad to welcome you in our house with an open heart and full of love…
Usually because of our jobs our dearest friend Hayri is taking care of everything. He is fun and friendly. He will love to help you about everything.
語言:
English、Türkçe、中文