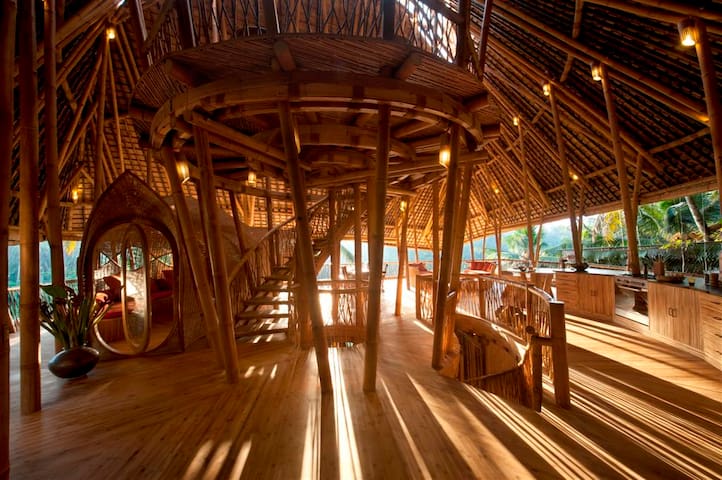 作為Airbnb的首選之一,Sunrise房子一直很喜歡其客人和名人。在這樣一個寧靜的環境中,我們的客人通常會輕輕鬆鬆地吹起來,舒緩地坐下來,放鬆和驚嘆。 XX特別注意:上午8點至下午5點,將BAMBOO MON加入鄰近建築物可能導致某些噪音XX
Selected as one of Airbnb's top picks, Sunrise house has been delighting its guests and celebrities from all over. In such a tranquil setting, often with a gentle breeze blowing, our guests are soothed into sitting back, relaxing and marveling.
XX SPECIAL NOTE: ONGOING ADJACENT CONSTRUCTION WITH BAMBOO MON TO FRI 8am to 5pm MAY CAUSE SOME NOISE XX
房源
這個全屋的竹屋位於神聖的艾榮河谷,是獨一無二的。首先成立於2010年,是具有獨特金髮屋頂的豪華竹別墅的主策劃社區的一部分。進入房子是眼睛的盛宴,還有一個展示廳,如何將黑色和白色的竹子組合成各種形狀和圖案,以創造一個令人驚嘆的豪華地板,牆壁,天花板,樓梯和欄杆的收藏。即使屋頂是竹瓦帶的創新安排。 日出屋位於Ayung河峽谷的邊緣,四層樓,3間雙人臥室,每間都配有連接浴室,廚房,休息室和餐飲空間,美景,小型游泳池,頂層(4層)的工作空間,和夢幻般的原始全景。客人可以通過三樓進入休息室,廚房和媒體室。樓梯下降到二樓通往北,南的臥室,每個都有冷卻風扇和連接浴室。最低層擁有交流冷卻主臥室。主臥室還設有帶除濕器的干燥室。所有的臥室都隱藏著竹百葉窗。客人可以從最低樓退出房屋,下樓去跳水池和私人花園,相當字面地位於河谷的邊緣。所有客房都配有精美的竹家具,完美地補充了裝飾。從房子的風景和景色讓客人感到驚奇。如果您是6歲以上的聚會,請告訴我們:我們可以安排額外的睡眠安排。 該房屋包括無線網絡,帶DVD播放機的電視(如果您想觀看DVD DVD)和衛星電視。公共空間也設有通道,其中包括一個天然游泳池,涼亭和一間餐廳 其他竹房子上市: 塔樓 https://www.airbnb.com/rooms/16442850 https://www.airbnb.com/rooms/16442850 不可思議的所有竹子家河 https://www.airbnb.com/rooms/1072746 和 竹3層家庭,游泳池,花園 https://www.airbnb.com/rooms/870094 和 壯觀的竹屋由河 https://www.airbnb.com/rooms/811798 和 異國情調,和平,竹天堂 https://www.airbnb.com/rooms/11379306 和 特別5樓竹宮 https://www.airbnb.com/rooms/1878334 和 驚人的4層竹家由河 https://www.airbnb.com/rooms/965408 客人可以在餐廳享用早餐,午餐和晚餐。如果您需要這項服務,請告訴我們前一天。第一天早上,這間公寓提供巴厘式或自助式西式早餐。我們還提供私人午餐/晚餐餐飲或巴厘島廚師在您的別墅做飯,並從Ubud餐廳的菜單中直接提供外賣飯菜。我們的吸引力是我們處於一個非常自然的環境中,而附近有幾家當地的鄉村商店,還有一些非常基本的用品,距離主要道路15分鐘路程。我們可以幫助客人購買用品,但我們建議客人攜帶您可能需要的任何個人用品,零食,水果,飲料。其他可用的服務是按摩,汽車與司機,竹子相關的車間和旅遊。 距離巴厘島的烏布文化中心有25分鐘路程,距離沙努爾海灘有30分鐘路程
Set on the sacred Ayung river valley, this all bamboo house is unique. First established in 2010, it is part of a master-planned community of luxurious bamboo villas with distinctive blonde roofs. Entering the house is a feast to the eyes and a showcase at how black and white bamboo can be combined in all shapes and pattern to create a stunning collection of luxurious floors, walls, ceiling, stairs and railings. Even the roof is an innovative arrangement of bamboo shingles.
Sunrise House, perched on the edge of the Ayung river gorge, comprises four floors, 3 double bed bedrooms each with ensuite bathrooms, kitchen, lounge and dining space with fabulous views, plunge pool, a work space on the top (4th) floor, and fantastic pristine panoramas. Guests enter via the 3rd floor, where the lounge, a kitchen and media room are situated. Descending the stairs to the second floor leads to the north and south bedrooms, each with cooling fans, and ensuite bathrooms. The lowest floor holds the AC cooled Master Bedroom. The master bedroom also includes a drying room with a de-humidifier. All the bedrooms have wind down bamboo blinds for privacy. From the lowest floor, guests can exit the house and descend the stairs to the plunge pool and private garden, perched quite literally on the edge of the river valley. All the rooms are furnished with exquisite bamboo furniture which perfectly complements the décor. The scenery and view from the house amazes guests. If you are a party of more than 6, let us know: we can arrange extra sleeping arrangements.
The house includes WIFI, TV with DVD player (bring DVDs if you want to watch), and Satellite TV. Access is also available to the communal space, which includes a natural pool, pavilion, and a restaurant
Other bamboo houses listed:
Tower House
https://www.airbnb.com/rooms/16442850
https://www.airbnb.com/rooms/16442850
Incredible All Bamboo Home by River
https://www.airbnb.com/rooms/1072746
and
Bamboo 3 storey Home, Pool, garden
https://www.airbnb.com/rooms/870094
and
Spectacular Bamboo House by River
https://www.airbnb.com/rooms/811798
and
Exotic, Peaceful, Bamboo Paradise
https://www.airbnb.com/rooms/11379306
and
Extraordinary 5 floor Bamboo Palace
https://www.airbnb.com/rooms/1878334
and
Amazing 4 storeyBamboo Home by River
https://www.airbnb.com/rooms/965408
For dining, guests can order breakfast, lunch and dinner from our menu. Just tell us the day before if you need this service. First morning, a Balinese or self catering Western breakfast is included in this rental. We also offer private lunch /dinner catering or a Balinese chef to cook at your villa and menus from Ubud restaurants who will deliver takeaway meals direct to this house! Part of our attraction is that we are set in a very natural environment, and whilst there a couple of local village stores nearby with some very basic supplies, we are 15 mins away the main road. We can help buy supplies for guests, but we do recommend guests bring along any personal supplies you may need, snacks, fruits, drinks. Other available services are massage, and car with driver, and Bamboo related workshops and tours.
We are located 25 minutes from Bali's cultural center of Ubud, and 30 minutes to Sanur beach
不適合嬰幼兒(2歲以下)或無法為嬰幼兒提供安全的住宿環境
Please treat the house as it it was your own. Respect for the owner please, and no smoking inside the house
Strictly no rowdy groups, loud music or loud noises
Our family of 4 from HK was seeking an exceptional, natural, unplugged holiday during Xmas & the Green Village definitely offered us more than what we expected! The Sunrise House is a fantastic architecture and a perfect home away from home for us to wind down, read, write & enjoy intimate moments with our kids. We never had such a large lodging for holidays and best was the rent! What exceeded most our expectation was the friendliness of all the staff there. Special thanks to Yusiana (our Villa Manager), Mirna & our driver Budi! First, I found my passport lost right after I checked in the Village and it was Mirna who kept being very positive & helpful in calming me down & checking things for me. Next day Yusiana & Budi drove me to the airport where they made some arrangement and got me back in the security checkpoint where I forgot to take my passport! I can't express more my thankfulness to them, not to mention the courtesy that they didn't charge me this transportation! Throughout our stay we felt we were so nicely taken care of! Mirna even spent hours to help my girl untangled her hair that was stuck in a comb; and Yusiana kept trying to secure tours for us at different other places (Green School, John Hardy Jewellery Factory) where we felt we got extra privilege only cos we were guests from the Green Village (private tour by the best guides - same fee!) Back to the house. The 1-foot long gekko, bugs and moths actually didn't 'bug' us a lot as we chose to experience this windowless bamboo house. It could have been better only if their breakfast can be improved...actually the first dinner there was delicious but the breakfast was a bit substandard (scramble eggs were tasteless and there's no option of fried eggs; pancake & french toast were rock hard). We did buy bread for ourselves (there's toaster) but once we finished it isn't on the menu (so we were basically fixing cereal & fruit everyday). I understand that not everyone can tolerate a windowless, air-con-less lodging in a warm place like Bali, but this experience definitely was one of the most memorable (and best) we had! We actually felt grateful that it didn't take long for all 4 of us to adjust to a '100% natural' setting, that we came to live with the insects as a visitor, and adapt to their habitat in the most stylish, luxurious way! We'd love to come back again, probably for summer Green Camps! Thank you once again for your hospitality!
---
The Bamboo House is itself exceptional! Fantastic design, 4 levels, almost completely made out of bamboo. Service was spotty. Airport transfer was not arranged properly and I could not get hold of anyone for 24hrs. The massage was great. Note: air-conditioning only in bed area of master bedroom. Lots of mosquitos. Driver is expensive ordered through them.
---
We are glad we spent the 2 nights and the money to experience this amazing structure. We also enjoyed the pool and we took a nice walk through the village across the river. It is a bit buggy being an open air design next to a river valley and the privacy is pretty minimal, but still worth a visit.
---