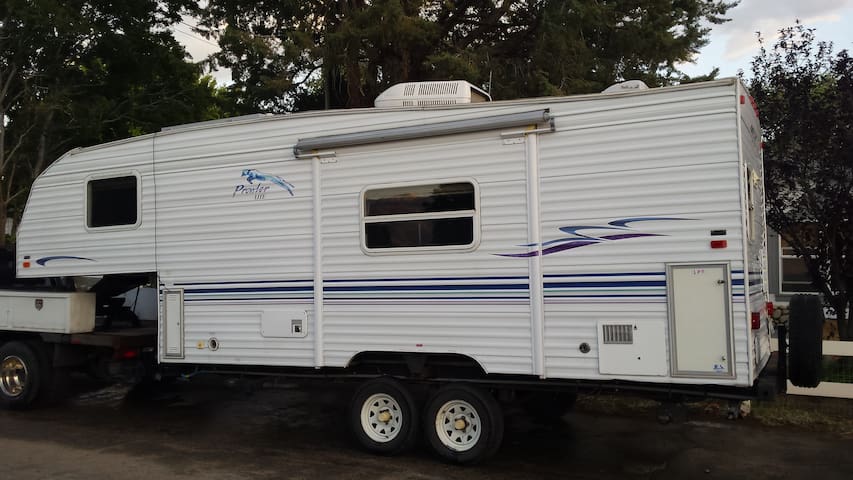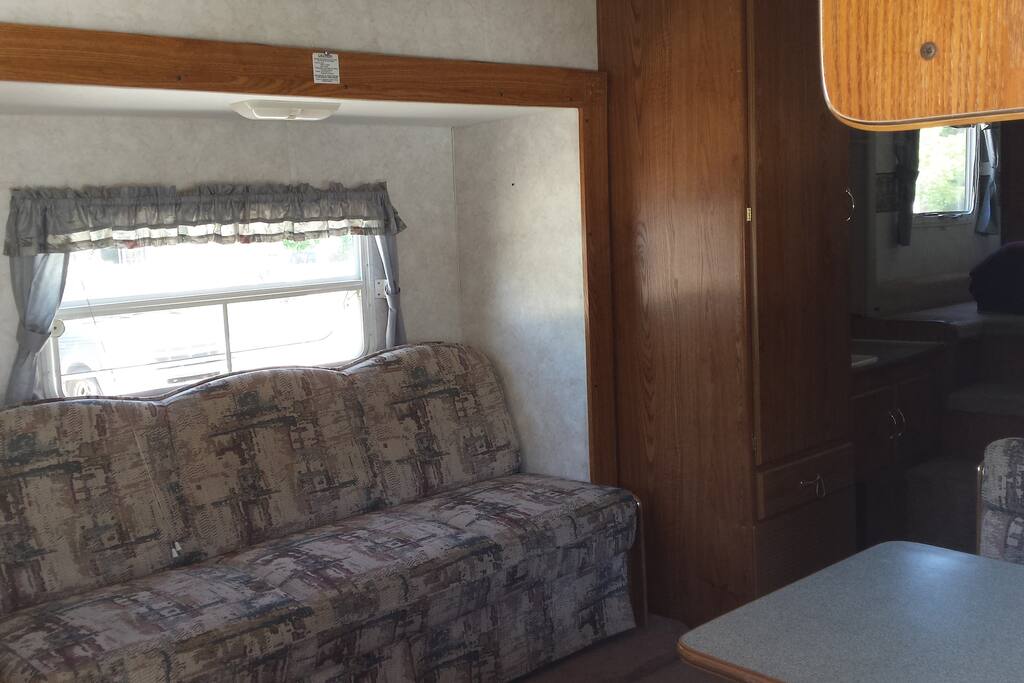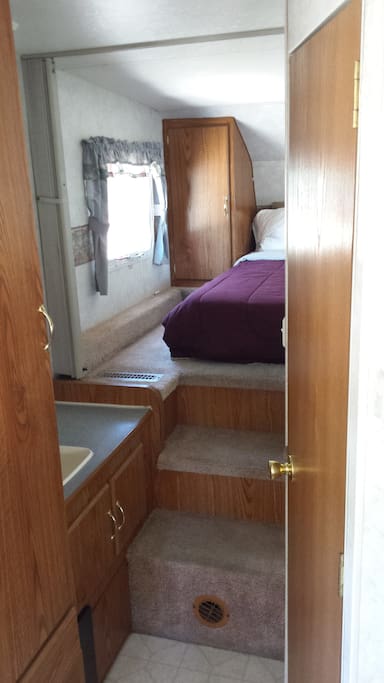 在Bishop地區的許多美麗的露營地之一預訂(見下面的地圖可供選擇),或向我們詢問有關點的地點。只需出現在您的位置,您的野營冒險等待,充分利用這個舒適的24英尺野營車!
Make your reservation at one of the many beautiful campgrounds in the Bishop area (see map below for choices) or ask us about a spot to boondock. Just show up to your spot and your camping adventure awaits, with full use of this cozy 24 foot camper!
房源
***請注意:露營僅在主教區。居住在外圍地區,例如高山,克勞利,猛oth湖等,是可能的,但需要額外的運輸費用為露營車,最少入住5晚,入住/退房必須是星期五,星期六,週日或週一或安排。清潔費包括罐裝和卸貨站費以及清潔和消耗品。*** 2000年Prowler第五輪旅行拖車,24英尺長,睡五。寬敞的內部配備了所有的設施和使用電池的boondock能力(水和節能需要boondocking,依賴於逗留時間和客人數量)。設施包括一個大型冰箱和冰櫃,三個燃燒爐/烤箱,微波爐(僅限連接),雙水槽,浴室和淋浴/浴缸。 睡覺:後臥室的私人全床睡覺兩個;客廳裡的沙發折疊起來睡一個成人或小孩; dinette轉換,也睡兩個。
***Please note: Camping is in the immediate Bishop area only. Stays in outlying areas, such as up in the mountains, Crowley, Mammoth Lakes, etc, is possible but requires an additional transport fee for the camper, a 5 night minimum stay and check-in/check-out must be Friday, Saturday, Sunday or Monday or as arranged. Cleaning fee includes tank fills and dump station fee as well as cleaning and consumable supplies.***
2000 Prowler 5th Wheel Travel Trailer, 24 feet long and sleeps five. Spacious interior with all the amenities and the ability to boondock with use of battery bank (water and energy conservation required for boondocking and dependent on length of stay and number of guests). Amenities include a large refrigerator and freezer, three burner stove/oven, Microwave (with hookup only),double sink, bathroom and shower/tub.
Sleeping: private full bed in rear bedroom sleeps two; couch in living room folds out to sleep one adult or kids; dinette converts and also sleeps two.
與房客互動
If I'm not out of the area camping I will be available to answer any questions.
---
---
---
We expect guests to leave the camper in the same condition they find it.
Well-behaved pets (no chewing or potty problems) are allowed with prior disclosure/permission. Pets may not be left unattended in the camper. NO SMOKING in or around camper.
---
---
---
I was excited to stay in Bishop and visit family and was looking forward to a convenient and comfortable stay in a local RV park in Mike's trailer. Based on positive reviews, I chose this option and had no concerns prior to my arrival, as Mike had communicated about the reservation and set-up. I've rented trailers before in other parts of the state with no issues, though this was my first (and last) AirBnB experience. After a 12-hour travel day on 7/20/17 I was extremely disappointed to find that though the a/c was running, the trailer had not been set up long enough to cool down in the 100+ degree weather. The refrigerator and freezer were still warm inside and I had no place to store a week's worth of food I'd purchased on my way in. As I inspected the trailer further, I found it to be dirty and even unsanitary. I knew from the description that it would be worn, as it was an older unit. But older does not have to equate to dirty. When I lifted the lid to the toilet not only was there a strong sewer smell (no deodorizer?) but I found dried urine and a pubic hair around the underside of the lid from previous users. The shower had been rinsed recently but there was still dirt on the bottom and in the corners. The rest of the trailer was dirty, as well. There was leftover food in a cupboard and an old ant trap sitting on the kitchen counter. An instruction sheet on the dinette said, "Please limit use of the bathroom and if using toilet paper put in waste basket, not in the toilet." Clearly, that was not something stated in the listing and had I known that prior, I would not have rented the trailer. I spent less than thirty minutes in it (simply surveying the time and energy it would take to clean it up) and contacted AirBnB customer service almost immediately regarding a refund. Being new to AirBnB, I was completely frustrated as to how to resolve something like this. (Especially since I was visiting family on a limited time (URL HIDDEN) was NOT something I wanted to be doing.) I took pictures and emailed them to customer service. I was then assigned a case manager, someone from the "experience team". I found other lodging and asked Mike on the morning of the 21st to pick up the trailer so that I would not incur any more campsite fees - which he did later that day though he ceased any direct communication with me. I was notified on 7/22 that a fair decision had been reached and Mike had agreed to refund me $200 - of the $534 that I had prepaid. Certainly, there was nothing "fair" about that decision and I proceeded to dispute the charge on my credit card. My AirBnB experience was something I hope others will not have to endure.
I believe this was a very unfortunate and stressful experience for all parties involved. It is the first such experience I have encountered while renting my camper for the past few years on Airbnb. I still do not fully understand what Robin expected or why she chose not to stay in a camper she reserved and paid for, unless she did not read the cancellation policy and expected to receive a full refund when she changed her mind about staying in the camper after her arrival. No accommodation will allow you to take possession of a unit and then expect a full refund for no valid reason. Additionally, the stated cancellation policy for renting this camper is one week notice to cancel prior to reservation with a 50% refund. We generously offered Robin $200 when we were obligated to offer $0 refund. And she still was not satisfied. Her rental was at an already discounted rate of $63/night, a rate less than 1/3 of the cost of other camper rentals and less than half of a motel room. A camper is not a house. It is moved from site to site for each renter. Therefore the fridge and A/C are not on 24/7 as they are in a house. When it is 100+ out it will take time to cool down the camper. If Robin expected a fully cooled camper she would have needed to rent an additional day in advance for the camper to be on-site, turned on and cooling down. Robin did not say anything about buying groceries ahead of time or I would have notified her to wait until the fridge was adequately cooled before doing so. Every hotel room I've ever stayed in with a fridge has it turned off and I turn it on when I arrive, and that's in an accommodation that has electricity 24/7 and does not move location for each guest. I turned the fridge and A/C on as soon as I set the camper up on-site. The camper is cleaned, surfaces wiped down, vacuumed and linens washed after every use. I did not see ants or an ant trap but if the previous camper guests did see ants and put a trap out, I would thank them for doing so. Camper guests do leave condiments and non-perishable food items and accessories behind from time to time and I leave those in the camper as future campers may appreciate not having to buy another set of those items for their stay. It is a camper and is most often in a camp site where people are using it for indoor/outdoor living. It sees more traffic and wear and tear than a house would. Also, being a camper, it has a molded plastic bathroom toilet, sink and shower, with limited water pressure and flow. They wear differently than house accommodations would. Under the toilet seat was an oversight on my part and for that I am sorry. Again, this is a camper and use of all facilities in the camper including water need to be conserved. Every liquid is held in a limited-size storage tank. Therefore it is wise to limit use of the bathroom, especially when a campground offers bathrooms. Odor can occur on occasion because everything is held in tanks under the camper. There was no odor in the bathroom when the camper was delivered. It is normal practice to dispose of toilet paper in the trash can (which is provided) as campers have holding tanks instead of city plumbing with septic systems and waste disposal. Robin made no attempt to resolve any of her issues with me directly. She immediately contacted Airbnb, who then contacted me. They instructed me to immediately cease contact with Robin as she had filed a complaint and requested a full refund. I followed Airbnb's instructions. Had Robin contacted me directly (through Airbnb messaging) I would have made every effort to work with her to remedy any issues she had, where a remedy was possible and realistic. Both the host (me) and the guest pay separate fees to Airbnb for the services they provide. As soon as Robin requested a refund with Airbnb, which she was not entitled to, they began arbitrating her dispute. I agree with their policy and request to cease communications between host and guest at that point.
---
The description of the camper was accurate. We had three adults in our party and everyone slept comfortably. Air conditioning worked like a charm. Mike was the perfect host, excellent with communication and replying to every message. Mike was able to deliver our camper earlier than scheduled. Compared to other trailer rental companies, this was such a good deal. I will definitely use Mike again.
---
Staying in Mike's trailer is such a pleasure and convenience. It is clean, roomy and all set up upon my arrival. I love the fact that all I have to do is unpack my clothes and go grocery shopping. Mike is very quick to respond if you need him and always helpful. This is my second year staying at his trailer and it felt like a home away from home. I highly recommend this experience.
---