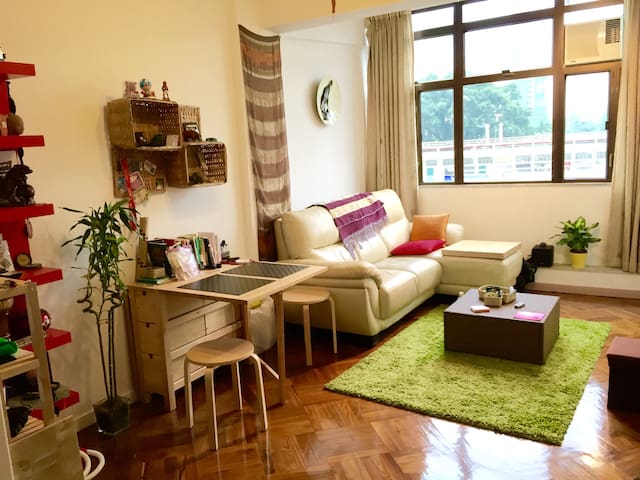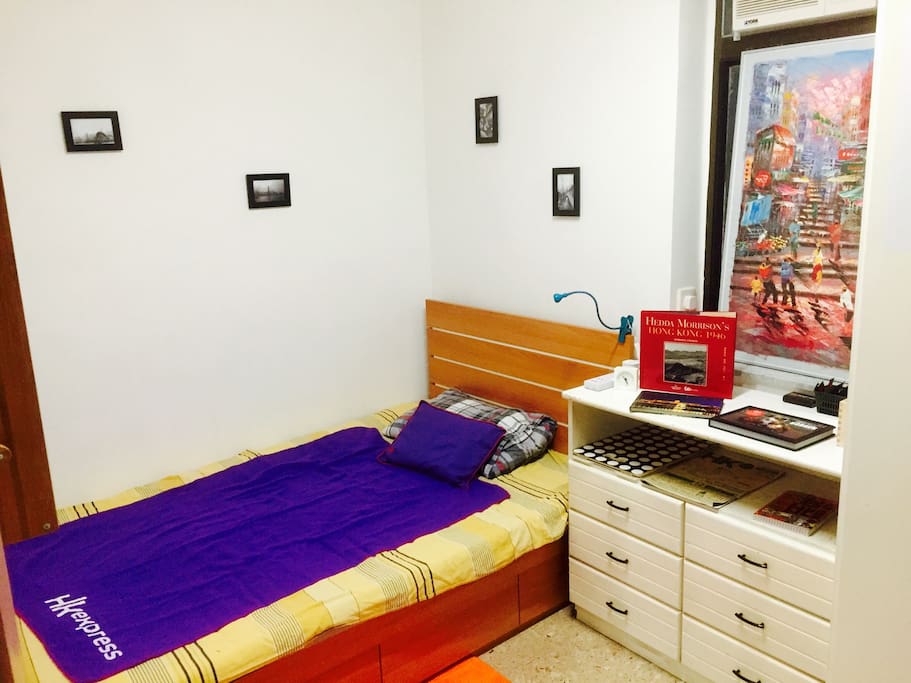 關於此房源
It is a quiet bedroom with a double bed, and a personal refrigerator, located just over 200 meters walking distance from the Tin Hau MTR Station's Exit A1. From my door...Hung Hom/TST is 10-15 minutes away and Central is 12 minutes away. Our guests are always pleasantly surprised with the convenience of our location. My Flat is situated within minutes of food, transportation, and cultural temples.
---
---
額外房客: $202 HKD / 晚 多於一個房客
---
It is a quiet bedroom with a double bed, and a personal refrigerator, located just over 200 meters walking distance from the Tin Hau MTR Station's Exit A1. From my door...Hung Hom/TST is 10-15 minutes away and Central is 12 minutes away. Our guests are always pleasantly surprised with the convenience of our location. My Flat is situated within minutes of food, transportation, and cultural temples.
Your room is a simple 1-2 person guest bedroom with a personal refrigerator, bed, chest, and a wardrobe. I always supply clean sheets, towels, and a cheery attitude. The wardrobe has ample room for your luggage, and the refrigerator is perfect for drinks/snacks.
I can accommodate an additional person if needed, but there is an extra charge.
Within 200 meters are the famous Hong Kong Tram and multiple bus routes that can take you to the Peak, TST, or New Territories. Great location - Only a very short walk to Victoria Park (tennis courts, swimming pool), Tin Hau MTR station, three bus stops including direct to the airport, tram stop, a huge range of food options, wet markets and supermarkets. Walking distance to Causeway Bay.
Also, my home is very clean and renovated.
Why you should rent:
a. The flat is Newly renovated.
b. City view.
c. Bright, quiet, and airy.
d. Beautiful rooftop
e. Many restaurants within 30-second walk.
Advantages:
- No extra costs for towels
- I give you your own keys to the flat
- Free Wifi
- Convenient transportation
Please have a way for me to contact you, This makes the coordination the simplest. It is easiest to get an HK Sim, as SIMS are übercheap here in HK. Just stop off at a 7/11 and grab one( under HK$100 or cheaper) for all that you will need. Having an HK SIM will make it easy for us to stay in touch if needed
***Yes I am pushing convenience as a factor, as everything is convenient to this location.***
You are sharing an apartment with me, and you do have your own private bedroom. You also have access to the rooftop to watch the birds and Sunsets. Since there is a grocery very close, you can save money by using the very large by HK standards kitchen.
In the mornings, I will be getting ready for work, but always can make time for a brief chat for directions or suggestions
I always try to help my guests/friends find the other side of HK. The one without the big buildings, the one with green, and sea, and birds!! If you want to know more details it is best to ask. I am rarely at home, mostly to sleep, and occasionally eat. Other than that, I lead a very active lifestyle.
At the street level below my home are multiple restaurants, dessert stores, fruit sellers, meat vendors, and convenience stores. Tin Hau/Tai Hang is known for being the place to find a wide variety of food, which would explain the multiple BMW's, Audi's, Ferrari's, etc. always parked during the evenings.
Around Tin Hau/Tai Hang:
Large choice of restaurants: Chinese, Japanese Ramen or Sushi, Vietnamese, Thai, Indian, Korean, Italian, Fast food, Café (Local or 3 different Starbucks, and a Pacific Coffee), Sweets
Grocery: 7/11 (45 seconds), Supermarkets (Wellcome or International) (1 min)
Others: Massage (1 min), Drugstore (1 min), Laundry shop (3 min), Victoria Park (3 min), Swimming pool (2 min), Basketball (3 min)
In the case that you have an evening departure flight:
Please note that you can check in your luggage at any time during the same day as your flight at the Hong Kong Station Airport Express, which is only a 5-minute taxi or bus ride from the apartment. That way you would be free to explore the city on your last day, not having to worry about your luggage or rushing to the airport since you have already checked in, you will not have to be at the airport as early as everyone else.
All airlines flying from Hong Kong airport offer In Town check in, EXCEPT the following:
Air Philippines
Angel Air
Cebu Pacific
Jetstar Asia Airlines
Oriental Thai
Pakistan International
Transaero
Are you arriving by plane? Or train?
I am normally out of the house but always make arrangements to get you in and settled. There is a chance I could be home when you arrive... Otherwise, I am out doing all of the outdoor things that HK has to offer.
Here & Away:
- Airport 60 min by direct Bus A11, E11 (HK$22), or MTR (HK$100 - 30 min via Airport Express then Island Line), Taxi (45 minutes - HK$300)
- About 3 min walk from Tin Hau MTR Station
- To shop: 10-minute walk or 1 station to Causeway Bay/Times Square
- To party/visit: 2 stations (10 min) to Wan Chai, 4 MTR stations (15 min) to Central/Financial District (Lan Kwai Fong, SOHO)
Bus & Tram stations downstairs and 100 meters
-30 minutes by bus to The Peak (B15)
-Three stations (15 min) to Tsim Sha Tsui, Kowloon
This is my home, not a hotel. My main purpose is making friends rather than making money. So, please briefly introduce yourself, your travel pace and rough check-in/out time before asking question or making reservation, thanks a lot :)
Also, when you arrive...
Once you arrive in Hong Kong, everything is quite simple, and all starts with a call from the FREE phones at the airport located in the hall immediately after you pass through baggage customs. There is also a Visitors Center there if you would like to pick up some maps, local travel guides, etc. to read on your way to the apartment. If you need a local SIM card, there is a 7-11 in the middle section of the main arrival hall where they see all types of SIM cards, I usually prefer the PCCW brand as it is the largest local operator.
If you're staying for more than a few days, consider buying an Octopus stored-value card, it is used at almost all convenience food places like 7/11, McD, etc. You won't need cash to carry most of the time, just an OCTOPUS card. Buy it at the MTR station. It is not only a travel card but it is also an NFC debit card. It can be used to pay for the MTR, buses, minibuses, trams and ferries and you can also buy things at 7-11 or Welcome grocery stores with them. The cards are available at service counters at any MTR station. The minimum price is HK$100 plus an HK$50 deposit (refundable when you leave Hong Kong, minus an HK$9 service charge). For travel, simply swipe the card on the unmissable yellow Octopus pad, and the fare is automatically deducted. Airport Express travel pass cards are HK$220 for a single Airport Express journey plus three days' unlimited travel on the MTR or pay HK$300 for two Airport Express trips plus three days' MTR travel.

DO NOT RELY on FREE WIFI outside my Home. Hong Kong has quite a few Wifi Spots, of which SOME are free, but you still need an HK PHONE NUMBER to activate the free service. Get a SIM, your life will be easier.
For more information, please check the Wikitravel page for Hong Kong
---
Overall, I hope to make your stay in Hong Kong enjoyable, and hopefully be able to recommend wonderful places to eat and visit. Also, please remember to turn off the AC when exiting the room.
I expect guests to realize that this is my home. I don't smoke and expect my guests not to smoke either. Please be neat and tidy.
I do have a washing machine and if you have clothes to wash, you are welcome to use it for free. However, please do not wash clothes in the sink. I am certain that you do not want to pay for a plumber ;-D
---
嚴格
提前旅程開始7天取消預訂可獲預訂費用50%的退款,且退還服務費。
---
---
Wir hatten einen sehr schönen Aufenthalt in Hongkong bei Gordon. Er war immer sehr entgegenkommend und ein fantastischer Gastgeber. Seine Empfehlungen für die Stadt waren super, wir hätten gerne noch mehr ausprobiert. Die Lage hätte kaum besser sein können, man konnte in alle Himmelsrichtungen Ausflüge starten, egal ob mit Bus, Metro oder Tram. We had a wonderful stay at Gordons place in Hongkong. He was very accomodating and a fantastic host. His recommendations for the city were great. We would have loved to try them all. The location could not have been better. You can start your trips in any direction (Bus, Metro, Tramway). Thank you so much :)
---
The place is as good as all the other reviews. The room is nice and clean, and has wifi, extra blankets, and A/C. The apartment is located proximal to a metro stop and isn't too far off Causeway Bay (lots of restaurants) and the Star Ferry to Kowloon. When I arrived at HKIA, Gordon made sure that I got to his apartment without any worry at all. He and his girlfriend also treated me to the BEST pork chop ramen in the neighborhood for my first meal after I arrived. Their kindness was truly spectacular and made my trip memorable.
---
This is an AWESOME stay! Gordon and Melissa care about your stay! They are the best! They are always there to make sure that you get whatever you want. If you are not sure about something, or have no clue where to visit, definitely ask them! They can give great advice. In terms of the apartment, it's convenient for sure, like 5 mins to the subway entrance. It's also just one stop away from Causeway, which means a lot is happening around where you stay. The best part is that the area is quiet at night, so you can get great rest! They are just so sweet and considerate that Gordon even sent me to the shuttle place, carrying my heavy luggage, and waited for the shuttle with me to make sure everything goes on smoothly. Love this place! Will stay here again if come to HK next time.
---
After staying in a handful of AirBnBs, I have to admit that Gordon is a true super host. He is engaging on current events, does everything he can to make sure his guests are comfortable, and is more than willing to go the extra mile to support his guests. My wife and I wouldn't have had the phenomenal week we had without having a host like him. I would recommend anyone interested in having a great experience to stay with him and Melissa.
---
"I am a lover, a dreamer, a believer of magic. I bought the copyrights on the fantasy of living happily ever after despite the monumental efforts of the real world to protect me from myself. I have taken every chance I have had to wonder. Perhaps it was 'wonder why I do this' or 'wonder when lunch is' but mostly it has been taking a big bite of the juiciness and letting it dribble down my chin kind of wondering. I laugh longer, cry louder, and dream deeper than ever before in my life and I wouldn't exchange a bit of the pain for a day of life inside the lines."

I am an upbeat outgoing person, with a passion for Inline Skating , as well as, Snow/Water Skiing, working out, rock climbing, cycling,... anything keeping me active. There is always a little kid in me saying "Act your shoe size, not your age." Very passionate about things that I believe in, Always working to grow as a person and to learn to not take "life" for granted, I like to read books promoting self-awareness. I also love to cook, just lay around sometimes, or get outdoors and work up a sweat. I work to LIVE, not live to WORK - I define myself not by my job, but by what I get pleasure in. Living for the moment, I enjoy each breath of fresh air, and try to not take life too seriously.