坐落在阿迪朗達克多邊貿易談判的山腳下。從薩拉託加溫泉,紐約州,只有9英里擁有安靜獨處。 該蜿蜒的樓梯通往睡眠區和覆蓋門廊它提供了一個好去處讀取,寫入或反射。 請記住,我們的樹屋的目的是為1-2人一個安靜的撤退。
這家私人林地環境,提供了許多獨特的功能,如:私人停車場,室外廚房和餐廳用木炭燒烤,冷熱自來水和室外照明。 圓形樓梯導致包括雙人床和一張單人床以及上面的閣樓舒適的睡眠區。外剛內的寢室是讀,寫或反映有蓋走廊。 電加熱器和風扇都包括在內。 請您帶上自己的床單(1全尺寸,2張單人床)和枕頭套。提供毛毯和枕頭。 完整的浴室僅數步之遙。請攜帶自己的毛巾和洗漱用品。 (提供紙產品香波) 4月15日 - 室外廚房,從11月15日關閉。然而,冰箱和微波爐可用。在此期間,水仍然可以通過室內浴場從樹屋只有幾步之遙獲得。
薩拉託加溫泉是一個兼收並蓄的城市,為大家提供的東西。在薩拉託加溫泉國家公園是公共游泳池,礦泉浴,高爾夫球場和步行道。音樂會在薩拉託加藝術表演中心舉行。有許多博物館在該地區,其中包括兒童博物館在薩拉託加,博物館賽馬,汽車博物館。薩拉託加賽馬場也是在城裡與兩個平坦的賽道和賽道線束賽馬。 Yaddo花園是一個藝術家的度假地點,美麗的理由是向公眾開放。國會公園是一個小而美麗的公園和家庭室內轉盤。著名的咖啡館莉娜是在城市,以其知名的藝術家和詩人的心臟。
Our short weekend getaway was exactly what my boyfriend and i needed. the tree house is so cute and quiet. the hosts were very friendly and had everything we forgot already at the treehouse. the bathroom being attached to the hosts home threw me off when we first arrived (being my fault as i didn't know what questions to ask prior to booking) but it wasn't a problem for either myself or my boyfriend. we really enjoyed our stay, we even took the 40 minute mineral bath at saratoga spa park (highly reccomend ) i would defiantly love to book again.
Elizabeth
2016-04-20T00:00:00Z
Tom was a great host. He is prompt with replies and ensures that your stay is comfortable. The treehouse is spotless, very charming and superbly constructed down to the small details. Absolutely loved the sunlight filtering through the skylight. And eating in the outdoor kitchen was a total treat! We had a great time!
Vyoma
2015-04-20T00:00:00Z
Thomas was really wonderful in providing adequate information on where to adventure nearby. There's this wonderful little booklet where there are maps, directions, and pictures of what to do and where to do it. The treehouse was absolutely lovely and he made sure that we had everything we needed to be comfortable.
Meagan
2015-12-01T00:00:00Z
Tom was an awesome host, very accommodating and friendly. The treehouse he and his sons built was exactly what we were hoping for. What a great experience...we will definitely be back!
Jennifer
2014-10-13T00:00:00Z
The treehouse was exactly what we were looking for. An escape from the city, as well as an interesting and memorable mini-vacation. Tom was very accommodating and friendly. We arrived late in our first night and he stayed up to show us around. The location of the treehouse was also convenient, as it is just a short drive from Saratoga Springs, where there are a handful of shops, restaurants, and bars. It was a great trip!
Josh
2014-12-23T00:00:00Z
Tom was a great host. The guide for the area was perfect and helped a ton. Would love to come back again next year!
Mike
2016-09-30T00:00:00Z
We had a great time staying in the treehouse, thanks Tom. The location was spectacular and accommodation very comfortable. Tom was a great host - very accommodating and responsive in his communication. We'd love to come stay again.
Annelise
2015-10-30T00:00:00Z
This was an experience of a lifetime for us. The treehouse was peaceful, meditative, an extraordinarily amazing display of soulful architecture! Our relaxation scale was off the charts. We highly recommend it to all lovers of Mother Earth and the Universe! Tom and his sons out did any of our expectations. As a host he was fantastic, and gave us our privacy. The only suggestion would be to have a portable fire extinguisher on hand near the grill area in case of an accidental fire. No complaints on this trip though, it was perfect, just the escape we were looking for. Thanks Tom it was wonderful!
BJ
2016-05-14T00:00:00Z
Middle Grove, 紐約, 美國
如果你喜歡做飯,遠足,游泳,參觀農貿市場和動物所包圍,這就是你的地方。伍德里奇是位於南部的卡茨基爾山農村社區。它是擺脫一切煩惱的地方。
圓頂是一個令人難以置信的"Glamping"空間和客人需要BYOBed。把氣墊,露營氣墊,睡袋,枕頭和毛巾。有一個在拱頂和屏幕窗戶通風良好,並保持了一個錯誤的木地板。 支付額外費用圓頂可用於廠房空間,竹筍,排練場地,或睡眠過度各方:) 對於誰留在圓頂的客人,也有室外雙熱水淋浴,水槽和一個爪足浴盆。此外,一個完整的室外廚房和燒烤,冰箱,水槽和大火坑供您使用。 我們位於美麗的沙利文縣,靠近伯特利·伍茲,卡茨基爾公園,內弗辛克獨特的區和山姆點的一個農場。 有農場許多動物。細毛羊,安哥拉山羊,長毛兔,oberhasli奶山羊,雞(運行免費的,所以請拴住的狗!),一隻貓和一個名為拉里的狗。我們有一個溫室和蔬菜園,為狗狗去游泳池塘裡,街對面的湖。 有在該處提供全方位服務的錄音室以及一個光纖藝術廠房空間。從我們的安哥拉兔子的纖維剪除手工紡成冬季配飾。今年六月,一個老式的服裝店是開放的財產。快來通過AMBIKA精品收藏的古董衣,鞋,箱包,鞋帽瀏覽。 退房最遲中午週日因為有一個每週一次的瑜伽課在12:30。它是基於捐贈,任何人都可以參加。帶上墊!
沙利文縣是數以百計的羅宋湯帶酒店和度假村的網站,該網站已經從20世紀20年代的全盛時期,通過20世紀70年代。當空中旅行變得更容易實現,該地區的旅遊業下降,留下了許多營地和度假村空置。 最近,許多藝術家和小農戶已遷入該地區,並正在努力將其帶回文化和經濟。該縣是一個混合的人口類似於布魯克林南威廉斯堡地區的極其多樣。 通過這個區域給出的天然產品是由居民珍貴。有上漲,這將導致你到河流,瀑布和查找出點。湖區到處都是,提供了極大的淡水游泳。岜沙濕地殺死在紐約州東南部最大的濕地(3000英畝),並且是家庭對野生動物和植物的多樣性。 許多美麗的和可持續的農場距離近的和歡迎遊客。信息可以在指南中找到。
Joshua was very welcoming and showed us around when we first arrived -- he explained where everything was and how things worked. We were allowed to interact freely with all the animals on the property; the outside kitchen was well stocked. We went in early November, so it was a tad cold, but there was a radiator inside the dome. Still, bring warm sleeping bags and lots of blankets if you go then! Overall, great stay.
Jessica
2016-11-04T00:00:00Z
Joshua was a great host and has an amazing piece of property just outside of the city. Awesome experience staying in the geodome.
Jonathan
2016-07-11T00:00:00Z
Josh is wonderful, really kind and so quick to respond. The farm animals were fun to be around and the opportunity to shop local and purchase farm products was huge! We had been planning a big gathering for months and Josh was there to answer any and all questions we had in advance and during our stay. There were just two things that threw us off 1) while we thought we were renting the entire property we didn't realize the amenities listed (cute outdoor kitchen and outdoor bathroom/shower/ hammock/dining area) are shared with others who might be renting other structures that are located on the property. It worked out fine but would have been good to understand that going in to set expectations that it might not be a totally private experience 2) our group took a walk to a beautiful waterfall nearby, during that and the drive youll notice the town is pretty desolate and has some what of an abondaned feel. Besides that staying on the property was fun overall a memorable experience.
Ashia
2016-07-18T00:00:00Z
This geodome in the Catskills is really something special, and Joshua was an amazing host! Our group of 8 ended up arriving hours later than we intended, and he was very gracious about it and gave us a full tour of the grounds the next morning. He really makes the place feel like home, where you can visit the bunnies, sheep and goats whenever you want. Josh also gave us some great recommendations on what to do around the area, and there are plenty of options. We ended up doing the ice cave hike at Sam's point (about a 30min. drive from the property) and highly recommend it! There were 2 other couples staying on the property and the communal bond was strong. We grilled with them in the open air kitchen and drank with them around the bonfire at night. The outdoor kitchen was fully stocked with cookware, plates, and a fridge full of condiments! The outdoor showers were surprisingly refreshing. Waking up in the geodome includes a gorgeous view of nature with the sun peaking out beyond the trees. It was seriously one of the best views to wake up to. We stayed in August when it was hot during the day, but it does get cold at night so dress in layers and bring multiple blankets! We also brought a queen sized air mattress which took it next level. Our party of 8 fit comfortably in the dome (it's huge!) with plenty of empty space, so it's definitely good for a group! For many of us, it was our first time camping and staying at the geodome made it easy and enjoyable for us. Thank you Josh!
Katrina
2015-08-31T00:00:00Z
The dome is amazing! My friend and I booked a last minute weekend trip, looking to escape the craziness of Manhattan, and it delivered. It's the perfect glamping experience, letting you fall asleep to stars and wake with the sun, while sleeping on hard ground! Joshua is a fantastic host - super responsive, kind and accommodating. I definitely recommend the dome and his other properties to anyone looking for a getaway.
carolyn
2016-06-13T00:00:00Z
Josh was an incredible host and tour guide, and our stay was even better than I could have imagined. Our party of 14 college reunitees had more than enough space to cook, hike, sleep, and revel in the geo dome and surrounding campus. It was a really great way to get out of the city without having to buy or rent a pile of camping equipment or drive for hours -- would definitely recommend to anyone for large group get-togethers.
Dakota
2015-08-03T00:00:00Z
Everything about arranging and arriving at the airbnb was seamless with Josh. Hes laid back, easy to deal with, responsive, and thorough. The space / property itself is incredibly funky, unique, and full of character. Great fire pit with wood provided | hot showers | outdoor kitchen with all you need for a proper big meal | huge & gorgeous rustic outdoor dining table | fresh produce from the on-farm site | friendly animals on site | heated Geodome with fun color light system... all the ingredients for a great time. What else is there to say? Get a good group together and book this!!!!!!!!!!!!
Tyler
2016-10-09T00:00:00Z
Grounds beautiful. Perfect place for a peaceful getaway.
Jenday
2016-10-13T00:00:00Z
房間類型
整套房子/公寓
---
房源類型
蒙古包
---
可住人數
16
---
卧室
伍德里奇(Woodridge), 紐約, 美國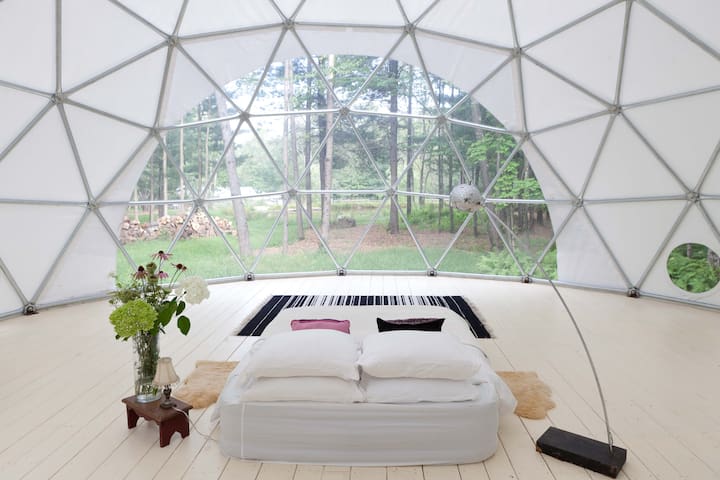 在曼哈頓最佳鄰里獨立咖啡店,舒適的酒吧,上嶄露頭角的餐館(面積有4出在今年的紐約雜誌列表吃前10名最好的地方),親密的音樂表演場地,和有趣的所有者經營商店。就像在城市的任何其他地區。一個非常寧靜涼爽的地區,但只有很短的旅行所有的行動。 查閱"指南"與我的清單 - 我送,我直接寫那些決定留下來,他們得到過這兒的客人更長之一 - 他們喜歡它,在他們的評論經常提到它,並繼續要求額外副本!
Carol and Marc's place is wonderfully comfortable and I'm so pleased I stayed in the LES. The apartment is just as shown in the photos, comfortable, very clean, modern, comfortable bed with soft linens and big new fluffy towels in my own bathroom. As a solo woman I appreciated the security and good position of the apartment. It's close to the subway and buses, great cafes, restaurants and many attractions of the LES. Marc and Carol are very helpful with directions and places to go. Be sure to read their guide that they have put together. I'd love to come back, or maybe welcome them to Aus soon.
Desiree
2015-05-11T00:00:00Z
Carol and Marc are the best! Their place is beautiful and they could not be nicer. Everything I needed or asked to do, like drop my bags off early, was made very easy and with a smile too! I will definitely stay with Carol and Marc again. p
Leah
2017-02-07T00:00:00Z
What can we say that hasn't been said yet? Carol and Marc are wonderful hosts (kind, helpful and knowledgeable)! Together with their cozy home (as welcoming as it seems on the pics) and its convenient location, our one-week vacation turned out brilliant. Not to forget! A whirlpool bath is perfect after being all day long walking around the ciy. Guys, we really enjoyed our late-night conversations on the sofa! And the Thanks for your warmth welcome and all your help. Kisses, Pep i Natàlia
Natàlia
2015-04-03T00:00:00Z
I had a wonderful time staying with Carol and Marc! They are both so nice and fun and it was wonderful for my first experience with Air BNB to share their apartment!! The loft is awesome, huge, elegant, very very clean, the location is the best, trendy building and area, the room is lovely with a terrace and you have your own bathroom with a bath and it is not common for NY. For sure I RECOMMAND to stay with them!!! My NY week end could not have been better! Go go go...and for sure I will come back!!! Thanks again for everything and it was lovely to meet you!
Gaelle
2013-02-19T00:00:00Z
the place is very comfy and nice, easy access to public transportation like subway. The house and the room is very clean, tidy and modern. We got a good sleep during the stay! Marc is very gentle and nice guy, treat us like friends, tells us what to do and where to go. And Carol is a very good host too! We got a very late flight in our check out date, they still let us keep their keys and leave our luggage inside their house. And we can come back anytime to get back the luggage, in this case we dont need to carry the luggage around for the whole day! Such a pair of nice hosts indeed! Looking forward to seeing you in Hong Kong in the future!
Eri
2017-03-08T00:00:00Z
This was my first airbnb experience and it was fantastic. Carol and Marc were great hosts. I loved being able to chat with them about New York, the local community and places to eat out. Their apartment is lovely. The bed was very comfortable and the bathroom clean and really nice. They both were genuinely interested in what I did each day and helped on numerous occasions. Excellent stay in New York!
Simon
2016-07-05T00:00:00Z
Beautiful apartment and neighbourhood! I felt welcomed and at home. Will definitely be visiting again soon. I highly recommend her place- no noise, good privacy, elegant and warm.
Ingrid
2013-03-07T00:00:00Z
We arrived in NYC a day late because of a flight cancellation from Halifax , so we're not happy ! All feelings of frustration were dispelled as soon as we arrived at LES loft .Both Carol and Marc were there to welcome us .They were so welcoming and friendly and we just started chatting and the conversation went deeper and deeper that we had to drag our selves away to go and book fringe tickets ! If it wasn't for that I am sure we would have just kept chatting away .They are such an interesting and friendly couple The accomodation was very comfortable , so much that I felt completely at home . We were told to treat it like home, such great words ... The location was amazing,very short walk to all the great restaurants and bars of LES New York Carol gave us a list of great places to go to before we arrived so we were organized , however they continually gave us great ideas on bars etc when we were there .Marc was very informative when it came to directoins for metro stations . We loved staying there and will return and I have already told friends back home about the place , truly a fantastic place with great hosts I felt that they could be friends if we didn't live in Australia
Jane
2014-08-17T00:00:00Z
房間類型
私人房間
---
房源類型
Loft空間
---
可住人數
5
---
卧室
紐約, 紐約, 美國
You will feel relaxed and inspired in this spacious yet cozy NYC room with classic brick fireplace. Features include: TV, refrigerator, desk, closet, and iHome radio! Close to Williamsburg / Manhattan and located just one tiny block from the subway!
★★★★★★★★★★★★★★★★★★★★★★★★★★★★★★★★★★★ Please see our other room available in the same apartment here: https://www.airbnb.com/rooms/3311412 ★★★★★★★★★★★★★★★★★★★★★★★★★★★★★★★★★★★ Perfect for just you or for a couple, this cozy unique Brooklyn room is sure to be the right accommodation for your stay in New York. Highlighting the room is a beautiful exposed brick fireplace displaying a classic Brooklyn brownstone feel. Featuring New York themed modern design, you will find this space to be delightfully functional and inviting. ====================== PRIVATE ROOM FEATURES: ====================== ★ Luxurious, comfortable full size bed with memory foam topper ★ 32" TV with Direct TV service, remote, and DVR ★ Personal in-room mini refrigerator ★ Bluetooth iHome alarm clock for all your listening needs ★ High speed Internet ★ Lamp, desk, chair, and full-length mirror ★ Complementary umbrella ★ Closet with tons of hang-up space ★ Clean linens, towels, and wash cloths provided ★ Locking door for an extra sense of security (Keys provided upon check-in) =========================== COMPLEMENTARY AMENITY BAR: =========================== We welcome our guests to partake of our complementary amenity bar that includes: ★ An assortment of coffee, teas, hot chocolate, etc. ★ A variety of cereal, oatmeal, and poptarts ★ Various single serve snacks such as granola bars and Ritz crackers
============================= WELCOME TO THE NEIGHBORHOOD! ============================= The neighborhood is a central fixture of Brooklyn's urban landscape. A few subway stops away from Manhattan and steps away from trendy Williamsburg. Enjoy a quick bike ride to some of Brooklyn's more famous attractions including the Brooklyn Bridge, Prospect Park, and Boerum Hill. Guests will enjoy witnessing the energy of this historic neighborhood's rejuvenation. Restaurants, Bars, Deli's, Coffee Shops, and Bodegas line just about every corner here. It never leaves you feeling far away from the things you love!
Kevin's place was perfect. He got back to me immediately when I sent him a text. The space was clean and quiet and I got a good night's sleep! I would stay there again if I need a place in Bed-Sty Brooklyn.
Anita
2015-08-30T00:00:00Z
We enjoyed staying with Kevin! He is a very great communicator, we had all the detailed instructions of how to get there and what to do. The apartment is very clean and comfortable, the furniture is in great condition and the bathrooms are shiny! Very close to the subway station. Perfect spot to stay!
Anna
2015-10-14T00:00:00Z
Very nice. The room was just like the picture. Felt comfortable using the common areas. At the end of the day, Kevin was cool. I would recommend it.
D'Ontae
2014-11-30T00:00:00Z
Fantastic apartment in a great location, with excellent facilities. Kevin's a lovely chap too - couldn't recommend more highly.
Sophie
2015-05-11T00:00:00Z
The four days we spent at Kevin's appartement were really nice. The room was great and perfect for two travelers. Unfortunately we were not able to meet Kevin before the second day of our trip because of our un - matching schedules. Finally we met Kevin and his girlfriend. He gave us many practicall information. We would have loved knowing them better.
Milan
2014-07-24T00:00:00Z
Just perfect. Que dire, La description de Kevin et en dessous de la vérité et le rapport qualité prix est excellent. Nous avons pu déposer nos bagages le matin de notre arrivée puis prendre notre chambre en fin de journée. Café et céréales sont offerts, notre chambre était equipé d'une TV, d'un sèche cheveux, d'un regrigerateur, d'un bureau, d'une enceinte pour GSM, etc... Même principe au départ, nos bagages sont restés sur place jusqu'en fin de journée. Nous avons croisé Kevin a plusirurs reprises qui en permanence prenait soin de ses hôtes. Merci beaucoup.
Jean-Michel
2016-11-10T00:00:00Z
Kevin, Val and Josh are phenomenal hosts....place was as advertised, very comfortable room in a large Brooklyn apartment. The entire place is very clean and the location is great as well. 5 min walk to the G, surrounded by deli's. Highly recommend staying here if you want a great space with great hosts!! Hope to be back!
Melvin
2014-02-14T00:00:00Z
Kevin nous a bien accueilli et s'est montré disponible pour tout besoin. Son appartement est facile d'accès pour la première arrivée, en effet il y a un code d'accès et non une clef. Appartement spacieux mais assez impersonnel. Notre chambre était propre, le lit confortable et ventilateur silencieux. Deux salles de bains à disposition et cuisine équipée.
Alexandrine
2016-08-03T00:00:00Z
布魯克林, 紐約, 美國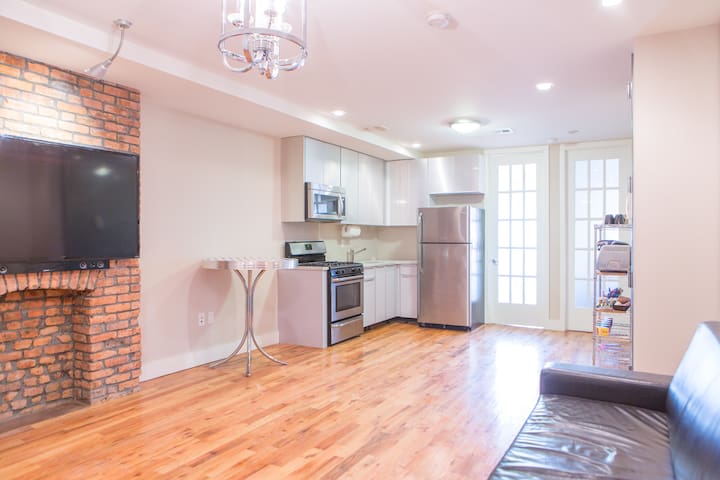 在树林里这个无可挑剔保持,两间卧室的小屋的玻璃是一个完美的哈得孙河谷撤退。坐落在可爱西方享有森林,这个别致,温馨,舒适的家地理位置优越,靠近纽约州哈得孙,大巴灵顿和美洲豹。
玻璃座舱是一个热爱劳动。我们的目标,生活在树林里,从接近自然越好元素的保护。谦虚,平和,这个家是一个完美的哈得孙河谷撤退,是设计由亚当·罗尔斯顿建筑师,INC建筑与设计PLLC((URL HIDDEN)
位于伯克郡的田园诗般的历史和丰富的哈得孙河谷山麓,邻近区域是知道它的开阔景观,起伏的农田,徒步旅行,高尔夫,划船,滑雪,anitquing,迷人的城镇,艺术机构和文化中心。
My fiancé and I had a lovely experience at this picturesque home encompassed by serene woodland. The cabin is uniquely designed, charmingly furnished and very tidy. Martin was an impeccable host who provided comprehensive details about the home and responded promptly to messages. A tranquil respite from the concrete jungle which I would highly recommend.
Yiorgos
2016-12-10T00:00:00Z
Glass Cabin in the Woods was the perfect place for my friends & me to spend a few days together and away from the city. We made shakshouka, listened to Lauryn Hill, watched Hush, and never really left the house. Martin was very easy to communicate with before and during our stay, and we had everything that we could possibly need for a long weekend away. We would absolutely come back again, and we wish we could have stayed longer! #gcw
Michael
2016-08-24T00:00:00Z
Great space, great surroundings and amazing experience overall!
Zachary
2016-08-10T00:00:00Z
My friends and I booked the glass cabin for the 4th of July weekend, and it was truly as stunning as the photos -- if not moreso, given we could enjoy the surrounding foliage too! Martin is a superb host who has mastered the fine art of living well and has graced us all by sharing this spectacular home. My friends, two architects, who came with me and my (5 year old) daughter, were equally impressed by the simplicity and elegance of the home design. The amenities are wonderful, well maintained and gracious. We are now dreaming of returning, in all sorts of weather, to experience the fluid indoor/outdoor feel we all cherished here. There is a stream nearby you can hear, and a wonderful view into the valley from the deck and living areas. Martin is generous and incredibly easy going. We left some marshmallows and roasting sticks to enjoy with the fire-pit!
Patricia
2015-07-06T00:00:00Z
We had the most wonderful time staying at the Glass Cabin for my husband's 40th birthday. The house is utter perfection and was exactly what we had hoped for for our special weekend. Every aspect, every detail, was even better than what's captured in the photographs, description and reviews. It's rare that something exceeds not only its own marketing materials but also my idealized imagination... and the Glass Cabin surely did. The night we arrived, we enjoyed a fantastic fire in the pit after dinner. We awoke to bird songs and sat on the deck drinking coffee and solving all the world's problems.... then rallied for a nice easy walk up to Bash Bish falls. We returned 'home' and used the fully-stocked kitchen to whip up a late brunch that was consumed at the outdoor dining table, the four of us sitting lunch-counter style to take in the view. We all talked about returning as soon as possible. Thank you, Martin - for being such an accommodating host, for creating such a special place, and for making it available for strangers to experience!
Carter
2015-09-21T00:00:00Z
Second time now at the Glass Cabin and just as wonderful. Something for all seasons in Hillsdale. The house has everything you need for a relaxed, comfortable, cosy and fun weekend. Thanks so much to Martin for sharing his home and being a great host. We'll be back again soon.
James
2016-03-27T00:00:00Z
We had an incredible stay at the cabin. It is a one-of-a-kind experience to be nestled in the woods like so. The space gave us the perfect setting to think, read, write – to be away for a weekend and reset in just the right way. We can't wait to be back soon.
Naveen
2016-10-03T00:00:00Z
Our trip was absolutely amazing! I'm already planning thin next one. The cabin is every bit as gorgeous as the pictures and even more so--not to mention the surrounding area. Every single thing we could have anticipated needing was already there. Can't wait to go back!
Katie
2016-03-23T00:00:00Z
房間類型
整套房子/公寓
---
房源類型
小木屋
---
可住人數
4
---
卧室
希爾斯代爾(Hillsdale), 紐約, 美國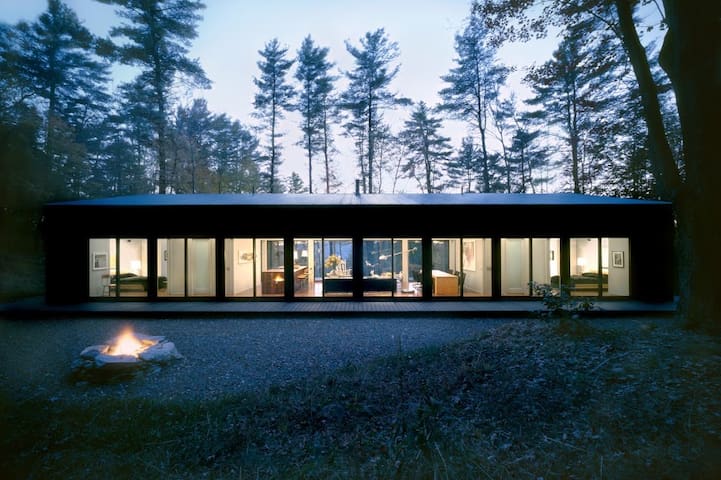 Location, location, location! Large, classy, timeless, comfortable, entire top floor with private entrance in our private house out of a 1890's novel in Williamsburg, Brooklyn one block from the East River. So easy to get to Manhattan by subway, ferry, cab or even foot, and all the best places in the "Burg" Wifi/cableTV/air/heat. (We stay in our separate floor below you never compromising your privacy!)
Perfect location on the Northside Williamsburg, Brooklyn Waterfront scene, my place is a wood beamed classic, with hard wood floors and restored original brick wall. It is the top floor of a 1894 restored house on a very nice semi residential street block. The nicely outfitted place, "the country in the sky" as I refer to it, has a beautiful totally functional "Peerless" antique prewar stove for cooking, generous amounts of pots, a wood burning fire place and a full size refrigerator in the kitchen. The feelings are cozy, warm, cabin like yet elegant. The kitchen and living room are in the same open area. There is a dining room table that seats 4, a beautiful brand new couch that folds down to become a very comfortable queen size bed that sleeps 2. Beyond the living area is the large master bedroom with a queen size bed that sleeps 2 with a large antique dresser and 2 riverside windows. Off the master bedroom is a large tiled classic bathroom with an antique skylight and large tub with shower, and a small bedroom with a twin size bed and riverside window that is nice as a separate rest area, a great place for a child to sleep, or an out of sight room to put your luggage and things. My location is beyond great and safe. 10 minutes maximum in a cab or car service over the Williamsburg Bridge and you are in Manhattan. It is a short walk (3 min) to the North 6th Street East River Ferry ( the scenic quick river route to Midtown Manhattan or lower Manhattan, please check schedules). Subways: L train ( gray line): First stop in Brooklyn, only one stop to Manhattan and a neat 10 minute walk from my place going by shops, restaurants and street vendors to the very frequent Northside L train subway stop at Bedford Ave and North 7 St, (Everything you want to pick up to take back to my place is on Bedford Ave or Kent Avenue which are the walking routes to the subway. (Among the small shops, restaurants and bars, there is now a "Whole Foods" supermarket and a Iphone store on Bedford!) The JM subway that goes over the Williamsburg Bridge with wonderful views of the river and NYC skyline to lower Manhattan (Chinatown etc), is a little further (13 min walk ) through the South Side. After a night out in the neighborhood, you will find this quiet, comfortable, timeless place to come home to that is the top floor of a restored Williamsburg house. All East River parks are a short walk away with their spectacular river and skyline views. During the warm months the weekend flea/food markets down Kent Avenue/North 8 on weekends are fun and back dropped by the river and Manhattan skyline. Grand Street River Park is only a block and a half away. I love going there in the mornings with a cup of tea and taking in the NYC view. The quaint restaurants and music clubs are amazing and abundant, the "Williamsburg Foodtown" Market has all the groceries you need and frankly the only reason I would leave the "Burg" would be to go to a museum, St. Patrick's, Grand Central's Oyster Bar or ice skating at Rockerfeller Center. Indoor Flea Market on North 7th right off Kent Ave, "Mast Brothers Chocolate" on North 3rd off Berry, "Beer Garden" restaurant lunch, dinner, brunch with live music on Friday nights on North 3rd and Berry, "Sea" restaurant (Thai) on North 6, "Sweet Water" (Bistro) restaurant on North 6, "Dumont Burger" for awesome burgers on Bedford between South 2-3, "Aurora" (Northern Italian) with great brunches, lunches and dinners is right around the corner as is "Coxley's" sport bar with 40 beers on tap and great chicken wings on Grand St. "Teddy's" rest and bar (American Bistro) on North 8, a landmark that serves brunch, lunch and dinner and also has music sometimes at night, and the "Knitting Factory" music performance space and bar is 6 blocks away on Metropolitan. The best NY steak house, "Peter Luger's" reservations only, is in the vicinity. The floor is divided in 4 areas: upon entering you are in the kitchen and living, dining room with a wall and door that separates this space from the large bedroom in the front, the large tiled bathroom and the smaller front bedroom. The living area can easily convert to a sleeping area for 2. The place is adorable and sleeps four comfortably. Much quieter than most places in the area. Heat, air conditioning, wifi, fine linens/towels and kitchen utensils are provided for my guest. Full laundry drop off service and dry cleaners is available a couple of blocks up the street at "Berry Cleaners" or 302 Bedford Ave. My personal assistant/butler and I will check with you on your arrival time, hand over keys and be close at hand for anything you need during your stay. I and my husband are on our private lower floor of the house.
The neighborhood feels like a small village. It is very safe and has such a mixture of different foods, cultures, and restaurants. The Manhattan skyline views along Kent Ave can get no better and the wonderful Pier off North 5 on a Sunday afternoon is full of families, tourist and the occasional fisherman. During the warmer months there are outdoor flea markets and food markets of North 8 on the East River side. Bedford Avenue (3 blocks away) on the North and South side is filled with non chain restaurants, bars and shops.
tipi di top hop hoster! everything fine, just perfect!
Christoph
2014-03-20T00:00:00Z
Maria and Azu are wonderful hosts. The vintage furnished apartment is beautiful, especially the old stove. The neighborhood (Williamsburg) is great; many lovely restaurants where you can have delicious breakfast/brunche. This apartment is perfect for 3 persons. One small comment: the apartment could use one or two more blankets. All in all, I will definitely recommend friends and family to stay in this apartment when visiting New York city.
Jemal
2015-12-22T00:00:00Z
Maria and Azul were incredibly nice and the apartment was fantastic. Everything as promised.
Scott
2014-09-14T00:00:00Z
excellent!!!!
Casey
2016-06-25T00:00:00Z
Our family of four stayed at Maria's place for my 50th birthday celebrations in New York. The location is ideal, 10 minutes walk from the subway and then 10 minutes from Manhattan. Williamsburg is an up and coming hip area, plenty to do, good eating and very safe. Maria and Azul couldn't have been more helpful to make our stay extremely pleasant. Highly recommend.
Colin
2015-04-17T00:00:00Z
Great place to stay in Brooklyn with perfect access to everything nearby. The roof top was great place to relax for afternoon drink. Highly recommend
Joanne
2015-06-21T00:00:00Z
This is a wonderful home base to set yourself up and explore the amazing neighbourhood in and around Williamsburg, or other parts of NYC that are easily accessible by close by subway. I wouldn't hesitate to recommend Maria's apartment to anyone, and would stay there again for sure. Wonderful!
Sacha
2016-09-19T00:00:00Z
Azul and Maria were great in the lead up to our arrival and Azul was really flexible about meeting up and then showed us around the place. The apartment is everything it promises - its a great oasis away from Manhattan but close enough to all the great things around Williamsburg and a short trip on a really regular subway across the bridge. It also has one of the best showers I have ever used! Would totally recommend it to anyone!
Michaela
2015-08-21T00:00:00Z
布魯克林, 紐約, 美國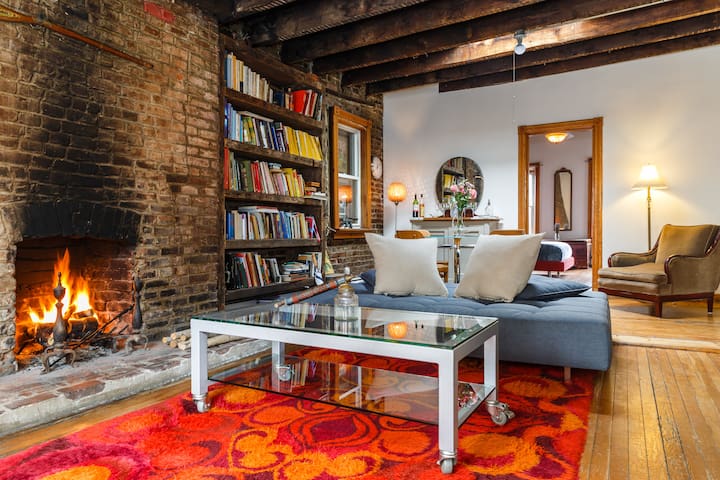 僅50分鐘車北NYC的(地鐵北5分鐘路程)偉大的藝術家,作家,瑜伽師的創意類型或人們只是想擺脫喧囂,城市設施附近了。 (照片拍攝,研討會,講習班,需要不同的價格)
鄉村山寨,在郊區附近,從登上Kisco和火車站的鎮三英里(5分鐘)。 (許多餐館,商店,一切你需要),但在一個國家設置在與鹿偶爾和土耳其的樹林裡向外張望。 小屋設有帶熱水和冷水,小冰箱,火爐,熱,空調,風扇,無線網絡,有線電視,音響,視頻,燒烤,在擀開前窗門窗簾,新的水槽一個開放的平面圖供客人使用的浴室位於主樓的一樓。您的訪問是通過後門。 在我的院子裡所有的蜂窩網絡的工作與Verizon除外 不幸的是成本,由於油/丙烷成本上升是較冷的月份較高,而在天氣轉暖時下降自然母親是她最好的 出租車公司:(如果到達的火車) (電話號碼隱藏)(特基斯科駕駛室) (電話號碼隱藏)(MT特基斯科出租車) 可棚裡地方拿出菜單 偉大的一個安靜的幾天對於那些你們誰真的想利用在該地區的事情想租一個zip車..
我住在郊區附近與我的房子在一個非常私人的設置在一個死心塌地 - 非常寧靜的樹林和厚厚的種植包圍......。 緊靠鎮(三級英里/ 5分鐘 - 許多餐館和設施),但在靠近許多古樸的城鎮,美麗的鄉村,文化利益,很多戶外登山的,騎自行車等夏季厚的種植和花卉.. ..觀葉在秋天是大!冬季清楚,要看你喜歡什麼..春天再次輝煌的樹木和盛開的花突發 文化利益; Westchester-凱托納,紐伯格和哈德遜河博物館。波Hill-布朗克斯 莊顏修道院(卡梅爾NY-最大的佛西半球) CT-菲利普·約翰遜玻璃房子,奧爾德里奇,布魯斯和斯坦福博物館, 雅各伯恩斯電影中心,Caramoor,暴風國王,洛克菲勒家,直徑博物館,冷泉,熊山,花園水利開放花園(看到美麗的私家花園)藍山位於石穀倉。 歷史: 看看歷史哈德遜河谷:魁特紀念碑,陽光的一面,Olana,菲利普斯堡莊園,凡科特蘭公園,擺花街,曼尼托巴 騎自行車: 許多步道..使用各種途徑鏈路南北古道縣騎自行車的方式映射。自行車一定週日期間Sundays-關閉布朗克斯河大道 公園: 熊山,病區磅里奇,洛克菲勒公園(RTE 117)。石穀倉,巴豆水壩 徒步: Mianus峽谷瀑布W¯¯,Teatown預訂 - Ossining的,土耳其山頭約克鎮,哈德遜高地國家公園保護區,亞瑟W.巴特勒紀念Sanctuary-附近登上Kisco,病區磅里奇預約龐德里奇,威斯特摩蘭保護區,靠近基斯科山, 星期日: 大象樹幹復古跳蚤市場每個星期天四月-nov 7A-2P 燈塔Flear市場 羅克蘭 - 愛德華·霍珀大廈尼亞克 地鐵火車北還是從城市開車到/(可用線NYC折扣停車場)。我是在一小時內,無論是紐約市乘火車或汽車..
This place is exactly like in the pictures! It is a magic place where all your stress flies away. The little wood house is so charming. And Nina was such a lovely host. We talked a little bit and one morning she invited me for a coffee. I will DEFINITELY come back just to find some peace and calm! Nina is very lucky to own this place and she probably meet so many wonderful people. My dear Nina, you can count on me as a loyal guest :) Merci beaucoup!
Thalie
2015-08-24T00:00:00Z
This was the second time we stayed with Nina at her beautiful cottage and we are in love with the place and had an amazing time with Nina! She is the most hospitable and fun-loving host I have ever had. The place is just as spotless and inspiration as it was and our first time there--if not more! Nina always had coffee for us in the morning, we grilled some food together... and she even gave us a six pack of beer for 4th of July weekend after we realized we had forgotten to pick some up! We can't wait to visit Mt. Kisco again!
Erica
2015-07-06T00:00:00Z
Had a wonderful stay at Nina's beautiful cabin. Even more beautiful in real life than the pictures. Nina was a friendly and wonderful host who made sure our every need was tended to. Thanks Nina! Can't wait to return
Ruby
2014-08-28T00:00:00Z
Everything was great!
Georgia
2014-09-22T00:00:00Z
Nina makes you feel so at home and welcome in her space. I felt like I'd known her for years upon meeting her. She has a love for people and a concern for the cottage and people's comfort there that is rare. The neighborhood is great and so quiet and the cottage is perfect for anyone who is seeking solace or inspiration -- I felt more peaceful and inspired than I have in a long time, and even though I was staying alone I never felt nervous or unsafe. I'm already planning to make a trip back soon!
Demetria
2014-12-06T00:00:00Z
This was our second time staying with Nina. Coming in the fall made it even more beautiful than it was the first time (didn't think it was possible) and Nina was just as welcoming and helpful as ever. The area was beautiful, the cabin was lovely, everything went very well. We even left something behind by accident, and Nina was kind enough to help get it back to us. Overall, excellent experience. Can't wait to come back again!
Alex
2016-10-19T00:00:00Z
Nina is a very friendly and caring woman. She was a great host. The cabin is nice and at night you can see the stars from inside. The location is very good. Very easy to get to the town and there are good hikes, spas and places to explore very close by. We had a good time.
siomara
2014-09-10T00:00:00Z
Nina's cottage was absolutely incredible and perfect for what I was looking for - an escape from the city to get great work done. Nina was a wonderful host and communicated great. She was even kind enough to give me a ride to the train station at the end of my stay. I hope to return again soon!
Joshua Caleb
2016-04-01T00:00:00Z
房間類型
整套房子/公寓
---
房源類型
小木屋
---
可住人數
2
---
卧室
Mount Kisco, 紐約, 美國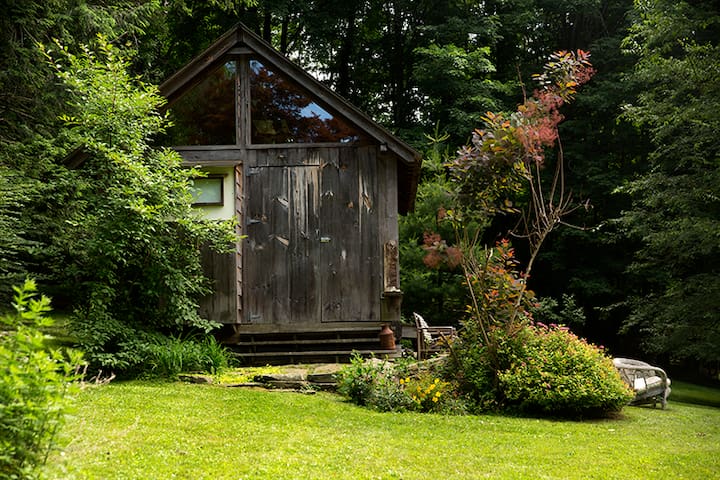 You will feel relaxed and inspired in this spacious yet cozy NYC room with balcony. Features include: TV, refrigerator, desk, closet, and iHome radio! Close to Williamsburg / Manhattan and located just one tiny block from the subway!
★★★★★★★★★★★★★★★★★★★★★★★★★★★★★★★★★★★ This is a fairly new listing so please see the reviews posted for our other room in the same apartment here: https://www.airbnb.com/rooms/2284027 ★★★★★★★★★★★★★★★★★★★★★★★★★★★★★★★★★★★ Perfect for just you or for a couple, this cozy unique Brooklyn room is sure to be the right accommodation for your stay in New York. Highlighting the room is a beautiful exposed brick fireplace displaying a classic Brooklyn brownstone feel. Featuring New York themed modern design, you will find this space to be delightfully functional and inviting. ====================== PRIVATE ROOM FEATURES: ====================== ★ Luxurious, comfortable full size bed with memory foam topper ★ 32" TV with Direct TV service, remote, and DVR ★ Personal in-room mini refrigerator and microwave ★ Bluetooth iHome alarm clock for all your listening needs ★ High speed Internet ★ Lamp, desk, chair, and full-length mirror ★ Complementary umbrella ★ Closet with tons of hang-up space ★ Clean linens, towels, and wash cloths provided ★ Locking door for an extra sense of security (Keys provided upon check-in) =========================== COMPLEMENTARY AMENITY BAR: =========================== We welcome our guests to partake of our complementary amenity bar that includes: ★ An assortment of coffee, teas, hot chocolate, etc. ★ A variety of cereal, oatmeal, and poptarts ★ Various single serve snacks such as granola bars and Ritz crackers
============================= WELCOME TO THE NEIGHBORHOOD! ============================= The neighborhood is a central fixture of Brooklyn's urban landscape. A few subway stops away from Manhattan and steps away from trendy Williamsburg. Enjoy a quick bike ride to some of Brooklyn's more famous attractions including the Brooklyn Bridge, Prospect Park, and Boerum Hill. Guests will enjoy witnessing the energy of this historic neighborhood's rejuvenation. Restaurants, Bars, Deli's, Coffee Shops, and Bodegas line just about every corner here. It never leaves you feeling far away from the things you love!
Nice apartment . Very clean and organized
Jose
2016-01-29T00:00:00Z
I don't even know where to start - Kevin and Josh were amazing hosts! My friend and I had some troubles with our next place to stay and they helped us immediately finding something else. Never met such helpful, nice and kind people before! Moreover, they were great to talk to and always super friendly. They provided us with snacks during our whole stay and we could always reach them when we needed something. The room was exactly as described - a comfortable bed, nice tv and even a microwave. Everything was super clean. The apartment is close to a subway station and it takes you about half an hour to get into Manhattan. I definitely recommend their place to everyone who is going to NYC and needs a good place to stay!
Verena
2014-12-26T00:00:00Z
The house is really beautiful and clean, and very near subway station.The landlord is very nice and prepared many delicious foods for the guests. He is very professional, makes you feeling live in a 5-star hotel! Plus, he is very generous and handsome! Hah~Thanks!
fang
2015-03-27T00:00:00Z
Very nice place with a great location close to the subway. The rooms and bathrooms were clean. Kevin and Josh were very nice and helpful with restaurant recommendations and helping us navigate the subway. Would definitely stay here again.
Katie
2015-07-13T00:00:00Z
Kevin was a very gracious host. He provided clear check-in directions and was very responsive before we arrived. When we did arrive, he showed us the room and sweetly explained where everything was. We absolutely loved how there was a mini fridge and personal TV with cable in our room. It was also super close to the subway, which made his place very convenient!
adria
2015-12-02T00:00:00Z
I stayed at Kevin place for 1 night only, and must say my stay was very ok. The location is very convenient, only few minutes from subway stop, Kevin provided all information how to get to the place from airport in best and cheapest way. In general - 10 out of 10!
Audrius
2015-07-11T00:00:00Z
Kevin's place was awesome to stay in during a short trip to NYC! It's exactly as you see in the photos. It's very clean, there are two washrooms, and it's really well set up (you get in with an access code so no need to worry about keys, there's snacks in the kitchen, etc.). Kevin was also really friendly and helpful! I'd definitely recommend staying here unless you're someone who needs a super quiet place, since there can be other Airbnb guests in other rooms who might go to sleep later than you do. This wasn't a big deal for me, though, and I'd stay here again!
Dara
2016-11-23T00:00:00Z
La habitación es muy cómoda, sólo pasamos una noche, pero estuvo bien. El baño también es muy bonito y bien cuidado. Kevin contestó todos y cada uno de mis mensajes, muy recomendable.
Juan
2016-06-30T00:00:00Z
布魯克林, 紐約, 美國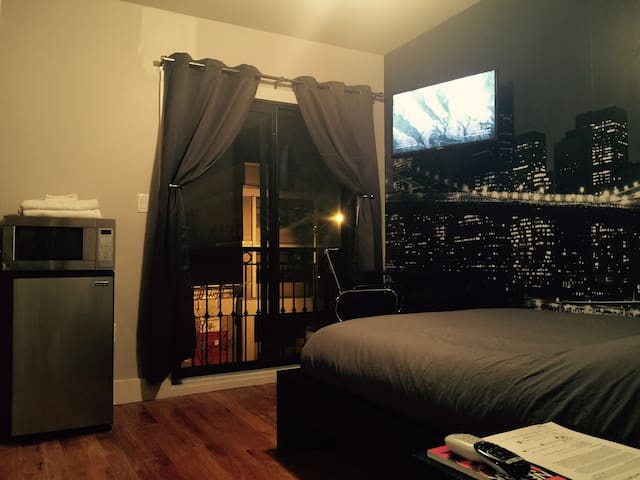 Clum house is a 2 story renovated house with a fully equipped kitchen and wood burning fireplace. The location is great year round. Close to Woodstock, Saugerties, Hudson, the Hudson River and Hunter and Wyndham ski resorts. The house is in a rural community so the water comes from a well. We've had water problems in the past but as of February 23, 2017 installed a new 4 part water treatment and filtration system. ***The well water is now crystal clear and scent free!***
The House was originally part of Camp Ontiora, a girls camp that operated from the 20's through to the 60's. Our property includes several of the original camp buildings and cabins. We use Clum as a Guest House and rent it when not occupied. My partner Daniel and I are architect/designers and rehabilitating the camp has been a labor of love over the past decade. It's in a great neighborhood with terrific neighbors. Over the past couple of years we helped our good friends renovate the camp lodge a few doors away which is also available for rent on Airbnb. Christopher has great info about the area in their listing and it's a wonderful place to stay if Clum is booked. https://www.airbnb.com/rooms/1257258
Below is a list of local places to eat and get food. Our favorites are indicated with a *. Palenville (5 minute drive) *Story's Farm Farm stand Corner of 23A and 32 Open late spring through to Thanksgiving *Circle W 3328 New York 23A, Palenville, NY (phone number hidden) -Breakfast/Lunch/Coffee and general store Good food and groceries. A new liquor wine store recently opened across from Circle W. I don't have the name or any information on it yet. Catskill (10 Minute drive) Price Chopper 320 W Bridge St (Hwy. 23A) Catskill, NY (phone number hidden) -big chain supermarket for basic supplies Kaaterskill Farm Natural 24 Grandview Ave Exd Catskill, NY 12414 Beside Dunkin Donuts on 23A (phone number hidden) -small health food store There are 3 liquor stores in Catskill. None of them have a very good selection but in a pinch you can find something drinkable. Saugerties (15 minute drive) *Miss Lucy's 90 Partition St Saugerties, NY (phone number hidden) -good restaurant. Great desserts. Reservation recommended on the weekend   Mother Earth's Storehouse 249 Main St Saugerties, NY (phone number hidden) -decent health food store Partition Street Wines 102 Partition St Saugerties, NY (phone number hidden) -ok selection of wines but doesn't compare to Hudson Wine Merchants Price Chopper (near thruway exit 20) 138 Ulster Ave Saugerties, NY (phone number hidden) Veteren (15 minute drive) (between Saugerties and Woodstock) The Smokehouse of the Catskills 724 New York 212 Saugerties, NY (phone number hidden) -good old style german butcher Woodstock (20 minute drive) *Cucina Italian 109 Mill Hill Rd (route 212) Woodstock, NY (phone number hidden) -good food, nice room. Reservation recommended on the weekend Sunflower Natural Foods Market 75 Mill Hill Rd (hwy. 212) Woodstock, NY (phone number hidden) Health food store Kingston (20 minute drive) Outdoors on Wall St on Saturdays May-November 9-2 -good farmers market *Fleischer's Grassfed and Organic Meats 307 Wall St Kingston, NY (phone number hidden) -great butcher Adam's Fairacre Farms 1560 Ulster Ave, Lake Katrine, NY 12449 -good market Hudson (20 minute drive) Farmers Market May-November 6th and Columbia Street Restaurants: *Bonfiglio & Bread 748 Warren St Hudson, NY (phone number hidden) -amazing bread. Very good breakfast Swoon Kitchenbar 340 Warren St Hudson, NY (phone number hidden) -reliable food. Very popular Fish and Game 13 S 3 St Hudson, NY (phone number hidden) -recently opened by the chef/owner of Fatty Crab & Fatty Cue Daba 225 Warren St Hudson, NY (phone number hidden) -good burgers & decent Swedish food. The Red Dot 321 Warren St Hudson, NY (phone number hidden) -not particularly good food but can be fun. A popular place. Watering hole for many of the locals.   Baba Louie's 517 Warren St Hudson, NY (phone number hidden) -good pizza Stores: *Hudson Wine Merchants 341 Warren St Hudson, NY (phone number hidden) -very good wine store Olde Hudson 421 Warren St Hudson, NY (phone number hidden) -good small cheese and gourmet foods Philmont (25 minute drive) *Local 111 111 Main St Philmont, NY (phone number hidden) -very good fresh local cooking
this is - by far and away - the best airbnb we have ever stayed in. the house is gorgeous, the land is gorgeous, the hosts are incredibly nice and accommodating, as is dusty the property manager. we could not have had a better time. palenville and saugerties and woodstock are all close. really a wonderful place, perfectly located. clum house is magical.
Eli
2015-09-04T00:00:00Z
Kevin's home was just as pictured. His level of detail and sense of design are extraordinary, and made the entire stay wonderful. I could not have asked for a better home in the Catskills to spend a weekend away from NYC. Throughout our stay, Dusty the property manager was extremely responsive and thorough. All amenities, and necessities were equipped in the house, so all we had to worry about was which beautiful nook in the house to pick to relax in :)
Tricia
2015-01-26T00:00:00Z
Kevin and Dusty were a pleasure to deal with. Clum house was just perfection, by far my favorite Air BnB Experience! We felt so comfortable in the place and everything was so clean and as expected.
Holly
2014-10-06T00:00:00Z
Everything about our stay at Clum House was magical. Kevin and Dusty were both extremely helpful and quick to answer any questions we had making the renting process seamless. The house is even more beautiful than the photos here (hard to believe, but it's true!) and the property is breath taking. The area it is in is extremely charming and there is so much to do, a few days was not enough. We cannot wait to return!
Madeline
2015-03-23T00:00:00Z
the clum house has become a favorite escape. the house is inviting and cosy, but if you can wrest oneself out of it, you'll find wonderful hikes in the catskill park nearby and wonderful food in hudson, with quite a lot in between.
Fran
2016-10-04T00:00:00Z
Kevin was an attentive and very helpful host. He shared lots of information on local attractions and was patient with me when I asked questions about the property that were already in the description! Dusty, the property manager, was always nearby if we had any questions or concerns. When we mentioned that we wanted to BBQ , he pulled out all the materials. The property itself is beautifully appointed and oozed of "rustic luxury." It was a true delight to be able to stay here and we will certainly do so again in the future.
Monica
2014-09-29T00:00:00Z
My second trip to Clum House and once again we had such a great time. House and decor is perfect. Do book this!
nick
2016-01-25T00:00:00Z
The house was as good as advertised. The description was very accurate. The house was in great condition. We loved staying there and would highly recommend it.
chris
2015-05-12T00:00:00Z
卡茨基爾(Catskill), 紐約, 美國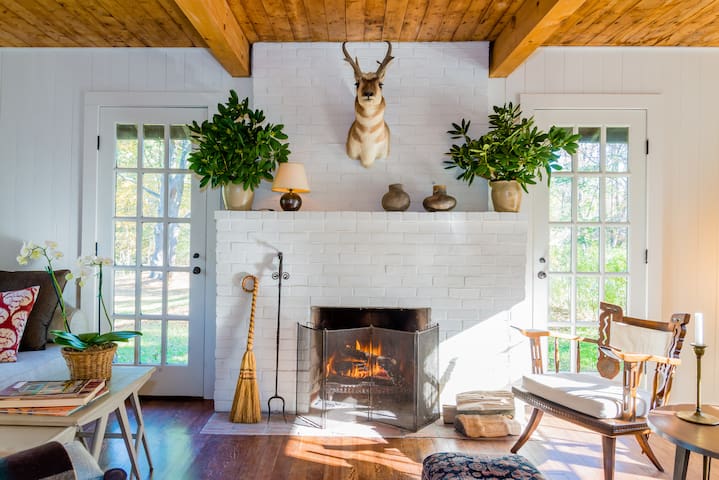 可愛的房間位於一棟獨特的曼哈頓聯排別墅,從中央公園的上西城的步驟我複式公寓! 關閉所有的交通,購物,飲食,自然歷史和時代廣場的博物館!再加上私人按摩浴缸!
該公寓坐落在美麗的聯排別墅,從20世紀20年代從中央公園只有兩個街區! 複式公寓在較低的水平,包括大客廳裡面充滿了魅力,並提供噸暴露磚,壁爐,小餐飲區以及訪問哪些正面臨著我們的美麗而安靜的後院露台 - 適合具有早餐太陽或接受我們的私人按摩浴池暢遊。完整的浴室,設備齊全的廚房和大客房(房間)也位於較低水平。螺旋樓梯連接兩個級別。我的臥室和辦公室都位於樓上這也是大樓的頂層。 坐落在這一切的心臟,你將接近所有的運輸(2,3,A&C火車),購物(21世紀,Bloomingdales百貨商店出口,ZARA,...),雜貨店(交易喬斯),餐館和麵包店(厚朴,萊文麵包店,星巴克,...),自然史博物館,劇院培根和中央公園(1塊!!!!)和時代廣場(1地鐵站)。
上西區副作用我無法想像住到別的地方。 建築是美麗的,也有一些例外,往往不超過塔塊。鄰里有許多優點,包括接近兩個中央公園和哈得遜河公園,文化(包括林肯中心和自然歷史博物館),以及一個家庭友好的氣氛是非常適合孩子和嬰兒車。 鄰里非常適合想成為活躍的人。看看周圍的中央公園水庫,自行車穿過中央公園跑步,打棒球或踢足球的大草坪或輥刀片沿著哈德遜河。 鄰里也是完美的gastronomically活躍,像良好的食物和喝一兩杯。一些拼搶油膩食物和飲料在船盆地是度過一個週六下午的好方法。高檔的時代華納中心擁有偉大的餐館的集合。同樣,圍繞林肯中心食物是太棒了。 如今,上西城和高檔住宅為主。人口15萬左右。商店是豐富的上下百老匯和整個社區。林肯中心,燈塔劇院和紐約市芭蕾舞團是附近著名的標誌性建築之一。附近的其餘部分散落著咖啡館,咖啡廳,電影院,酒吧和餐館。一些值得注意的餐廳包括:讓 - 喬治,卡萊八條和咖啡廳拉羅(刊登在1998年的電影,你有郵件)。
Elisabeth and Adam were excellent hosts! This was our first time using airbnb so we were a little nervous, but they were very friendly and accommodating! They were knowledgeable about the city and events! Their apartment was cozy and the location was great. I would definitely recommend staying with them if you are in the city!
Nicole
2016-11-01T00:00:00Z
Very accommodating! Worked with us for arrival and departure making it a very smooth process. Bed was insanely comfortable.
Sara
2016-03-06T00:00:00Z
Nice place to stay. The apt is lovely and the jacuzzis is amazing. The place is near subway and Central Park. The room is nice and comfortable, the host is really friendly. Also, the dog is really cute.
Hong
2016-02-18T00:00:00Z
My stay was only one nite but the appt. was clean,cozy and comfy.The best is the bed which I think is better than my own.The hosts are friendly and helpful,thanks Adam for setting up Uber on my phone.the appt. is conveniently located to Central Park,subways and restaurants.I give this top rating and will return.
mike
2016-01-10T00:00:00Z
Hola nuestra estancia fue buena y muy a gusto un departamento muy bien ubicado y Elizabeth y su novio super buenas personas siempre atentos y respentando los espacios. Muchas gracias por todo
Lizet
2016-12-03T00:00:00Z
We were greeted by both residents of the home and their two sweet pets. They made us feel very welcome.
Sarah
2016-04-08T00:00:00Z
The apartment is in a great location. They were not there when we arrived, but had sent explicit instructions for finding the key and the apartment. Yes, it is a walk up, but hey, it's NYC and that's not unusual! It was quiet, comfortable, the bed was great, the hosts were very friendly, they had put together a nice booklet of area sights and things to do. We slept well and loved the location.
Kim
2016-06-18T00:00:00Z
Elisabeth was awesome! My friend and I loved staying at her place. She was very helpful in guiding us around the city and we are grateful for that!
Olivia
2016-04-06T00:00:00Z
紐約, 紐約, 美國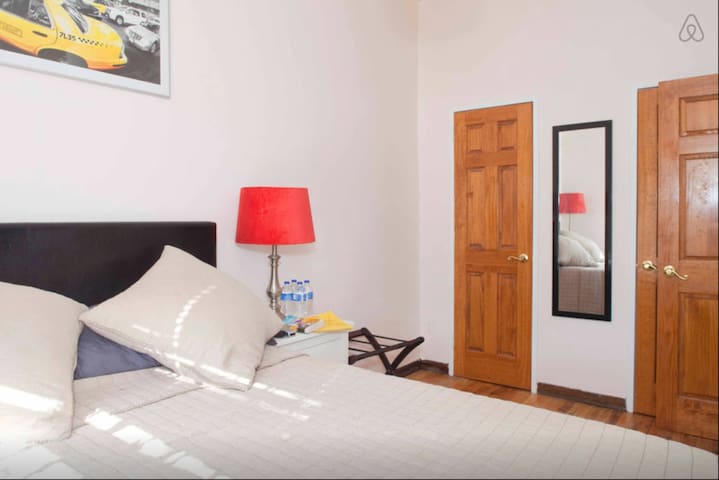 2500平方英尺的TriBeCa閣樓13英尺暴露橫梁天花板,硬木地板和超大的窗戶。三間臥室,兩間浴室,大廚房,洗衣機/乾衣機,藝術和現代家具。我們擁有我們的建築,住在該處,並可供隨時提供援助。我們符合所有當地和國家法律的租金。
歷史悠久的閣樓豪華設施。私人鍵控電梯打開與硬木地板和充滿陽光閣樓,國家的最先進的廚房,Miele的家電,和中央空調。兩間臥室有白色床單的特大號床。主臥室設有一間浴室。第三間臥室有白色的床單大號床。第二個大浴室過大的沐浴浴缸。客廳和用餐區被任命世紀中葉的現代家具為特色柯布西耶躺椅,埃姆斯案例研究櫃,埃姆斯休閒椅,布魯爾茶几,尼爾森長凳,具備HDMI鉤和布魯克斯音箱的iPod鉤機42英寸電視。 設施: 私人鍵控電梯 安全的高速無線互聯網(無線網絡) 42"基本有線電視 LG洗衣機和烘乾機 電熱水壺 烤箱 微波 洗碗機 蒸爐 咖啡機 瑜伽墊 熨斗和熨衣板 吹風機每間浴室 可用於額外的客人大號AeroBeds 乾淨的毛巾,床單,枕頭,羽絨被
坐落在一個地標性的鑄鐵建築的一個安靜的歷史街區,距離翠貝卡大酒店和蘇豪大酒店,坐落之間豐富的餐館,酒吧,購物中心,地標,畫廊和紐約的寶藏步驟。
Amazing..... This place is in a great position based in TriBeCa. The rooms are massive and are very comfortable beds. It has very thing you need for the live at home experience. Very convenient position for transport and restaurants. We will definitely be coming back to this place. Jon and Chester the hosts went over and above what was expected, which made the stay so much more enjoyable.
Chris
2015-04-20T00:00:00Z
Excellent apartment well located for the various Canal Street subway stops. Not quite as large (really 2,500 sq ft?) as we were expecting but well appointed with a sizeable sitting room and generous bedrooms which was the key thing for our family group. Jon was very friendly and helpful. All in all, a very good choice.
Anthony
2016-07-11T00:00:00Z
What a week! Well, 5 days, but we packed so much in. And what an apartment! Jon & Chester's superbly appointed loft apartment in Tribeca was everything (and more) that we hoped it would be. Exactly as described on the site, we were greeted by Jon on arrival - and he was the perfect host during our stay - always there when we needed him, but not when we didn't (not that that would have been a problem - lovely bloke). Chester was also a pleasure to meet and a great guy. The apartment was spotless and contained everything we needed - even beers in the fridge! And the integrated coffee machine in the beautiful kitchen was a big hit - & certainly GAVE a big hit with the espressos. The master bedroom was huge and the bed exceptionally comfortable (and wide). The second & third bedrooms were also a good size. Extremely secure, with a lockable elevator straight to our floor, we really couldn't have asked for more. The neighbourhood was also very safe and noise-free for practically all of the day. Located in an ideal spot - at the southern edge of Soho and the northern edge of Tribeca - we were able to walk to most places from the door. (We are big walkers though.) However, taxis were always just around the corner, with the subway also only a couple of minutes stroll away. There were convenient grocery stores, coffee shops and restaurants nearby and a 20 minute Sunday morning walk in the December sun (with the temperature in the high 60s) took us to the Brooklyn Bridge. Washington Sq, Greenwich Village etc were also only a 20 min amble away - with the Holland Tunnel to New Jersey close at hand too. Jon and Chester answered every question we had before and during our trip and nothing was too much trouble for them. I'd certainly recommend this place to anyone and the value for money was great even with 4 of us there (so with 6 would be even less per head). We'll certainly be back there at some point in the future - and hopefully sooner rather than later. Jon, Chester - many, many thanks for allowing us to stay in your wonderful flat and to be able to sample the life of a native New Yorker. We'll be seeing you!!
Nick
2015-12-15T00:00:00Z
Our stay at this very well appointed and very good location was a joy. We saw one of our hosts Jon, who was helpful and very friendly, a nice guy. The apartment has a great feel and is well kitted out for all of your possible needs for a visit to New York, no matter how long you need to stay. Transport links are very close with plenty of local shops and a variety of bars and eateries nearby. A well placed location and we would definitely stay again.
Graham
2016-04-16T00:00:00Z
Chester & Jon's loft is so fabulous, I selfishly would like to keep it a secret! It was well appointed, comfortable, very spacious, and had everything one could possibly need! Chester and Jon were accommodating and gracious hosts. We will definitely be back!
Kay & Augusto
2013-12-05T00:00:00Z
We really really loved everything about this fabulous place in Manhattan! Not only did Jon and Chester patiently guide us through our first booking process on AirBnB, they constantly offered us their assistance to ensure a comfortable arrival and a pleasant stay. They made us feel free to ask them about everything without ever giving us the feeling of being a nuisance to them. We found the loft easily, although we were a little late because of a delay on our subway connection. Our first  and very pleasant impression when we arrived at Lispenard Street was the image of a handsome young man carrying a big smile, avidly waving at us from across the street and calling our names. It was Chester who was worried if we were getting lost and decided to go look for us. We will never forget this warm welcome! We instantly felt like close friends! Arriving at the loft Jon welcomed us just as sincere and we realized that the apartement is even better than we expected, and we had high expectations. There was nothing - absolutely NOTHING - we missed. And to top it all Jon told us that there were not only beans in the coffee machine but also a cold beer in the fridge! WOW!!!!! Life can be so great if you have the pleasure to live right next door to such considerate and hospitable hosts. During our stay Jon and Chester went out of their way to make our life as comfortable as possible. They never seemed too close, yet they were always approachable. Overall they are very interesting people to talk to ... if your English is good enough. (Little joke from the not-so-fluent-in-English-mom who really regrets not having been able to express how kind and friendly she found both of you!) Thank you guys for the everlasting wonderful memory of this journey! We wish we could have stayed longer and hope to see you again some time. Kisses to Chloé!
Susanne
2014-07-20T00:00:00Z
Really nice apartment. Jon and Chester were very helpful.
Mary-Clare
2016-12-06T00:00:00Z
This place is amazing and the host are as well. It is the very essence of what a loft should be. The neighborhood is amazing. Don't miss the coffee shop just across the way! Please please please don't pass this place up!
Tina
2017-01-31T00:00:00Z
房間類型
整套房子/公寓
---
房源類型
Loft空間
---
可住人數
8
---
卧室
紐約, 紐約, 美國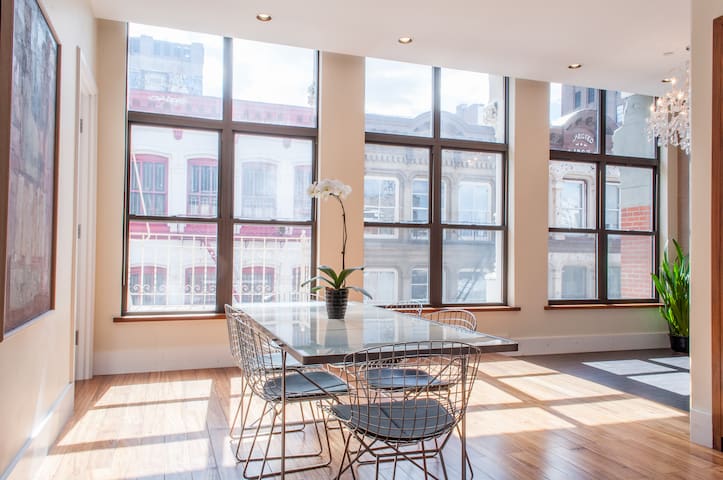 *LEGAL LISTING W/ WIFI + NETFLIX* Make your trip to NYC amazing & stay in an historic Brooklyn home. Used only for Airbnb, so you won't need to "live" around anyone else's stuff. No clutter! Quaint, large 2-bed in 19th century home with exposed brick & hardwood floor. Tucked away on the border of Williamsburg, Bushwick, Clinton Hill, Crown Heights; close to Prospect Heights. BONUSES: Netflix. Access to backyard with BBQ. Great for families, large travel groups, or folks who like more space.
*** LEGAL LISTING *** Quaint and historic 2-BEDROOM with extra sleeping area in 19th century Brooklyn brownstone with private entrance and access to an awesome backyard with BBQ. Sleeps up to 6 people! Exposed brick, hardwood floor on a quiet tree-lined street. This spacious apartment is dedicated exclusively to Airbnb guests, so you won't need to live amongst someone else's personal belongings. Cupboards and closets are clean and bare -- ready for you to "live here" during your stay. Super-easy to get anywhere in Manhattan, Bushwick, Williamsburg. Around the corner from several bus lines & a few minutes walk to J,M,Z,A,C,S,G trains. Truly one-of-a-kind. Now equipped with a Roku which streams Netflix, in case you want to stay in for a quiet night.
Situated in the heart of Bed-Stuy ... super cool and close to many trains to Manhattan. Located within walking distances to many trains to Manhattan and to famous establishments in Bed-Stuy and Bushwick, like Roberta's, Anchor Coffee, Peaches Hothouse, Bed-Vyne, Saraghina, and Dough Donuts.
Alot of space , very clean , great place
Tiara
2017-01-21T00:00:00Z
The apartment looks exactly like on the given pictures, it was very clean and all that we needed for living was there. The communication with Nada was really easy, she always replied fast and did everything to make our stay great. The neighbourhood is really quiet, it takes about 15 walking minutes to the next subway stations, but there are also buses going there. We totally enjoyed our stay and would definitely recommend everyone to stay at Nadas apartment (:
Teresa
2017-03-18T00:00:00Z
A great space in Brooklyn. Parking was easy to find. Nada had a folder with very helpful info (restaurants, subway, etc). The apartment was very clean, had a great deck out back, and nice amenities (wifi, Roku, and such). Our only snafu was that the heater was not heating beyond 62 degrees but Nada responded quickly and made sure the space heater was available. We would definitely recommend this place.
Wendell
2017-03-06T00:00:00Z
All was great!
Maria
2016-12-05T00:00:00Z
We had a very comfortable stay in the appartment. A beautifull and relaxed place in between lively Manhattan. Nice and relaxed patio was great for our daughter. Only disadvantage Is that with small kid distance to Subway is bit to long.
eric-jan
2016-07-30T00:00:00Z
We only met Nada by accident. Flat was ok. Partly something like a washing machine or a dishwasher was working at night and kept us from sleeping. Environment was ok but a bit on the remote side towards Manhatten. Neighbourhood was ok-ish. Mostly black friendly folks. Price for the flat is ok.
Michael
2016-10-21T00:00:00Z
Nada's apartment is located in a lovely, quiet neighborhood. The apartment is even nicer than it looks in the pictures. Very short 10 minute walk to trains. Locals are all very friendly and helpful. Nada's was great, she responded to all our questions very quickly. Would recommend this apartment.
Andi
2017-03-30T00:00:00Z
Great apartment! Very clean and comfortable, well equipped, and in a nice brooklyn neighbourhood, but a few blocks away from public transport, thats the only con. I would stay at this apartment again.
Ignacio
2017-02-23T00:00:00Z
布魯克林, 紐約, 美國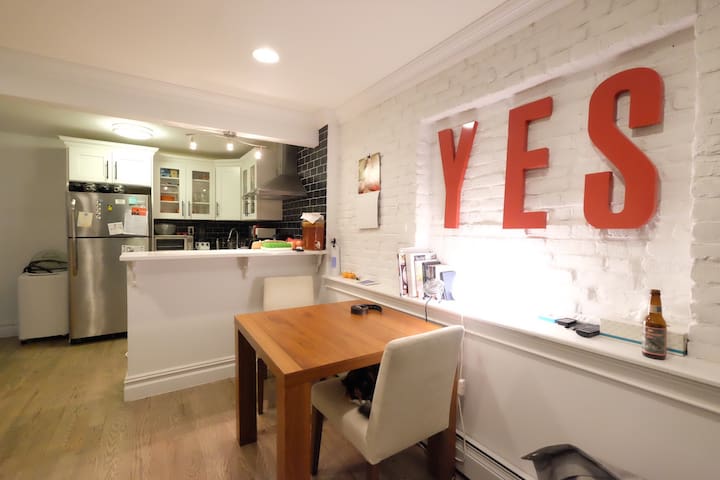 Bright and beautiful top floor 2 bedroom apartment features 3 skylights, exposed brick, original fireplace mantels, luxurious modern kitchen and bathroom, high ceilings, and tranquil decor.
Private 2 Bedroom apartment on top floor of townhouse. The renovated house was built in the 1890's and still has some of the original exposed brick and mantels. We are on a quiet block located in the beautiful and historic Bedford Styvesant neighborhood.
The neighborhood is very multicultural and boasts blocks of beautiful historic brownstones. There are tons of great restaurants, cafe's and bars nearby. Manhattan is a quick subway ride away.
We did never meet Josandra in person but had the feeling that she watched out for us. Enough information before we arrived to get us there and kind mails and fast responses to the questions we had. We were surprised how quite the place was when one considers were it is. Two easy accessible subways lines takes you downtown. We preferred the one from Halsey street as we felt it was the fastest one.
Arne Cæsar Bisgaard
2015-07-20T00:00:00Z
Josandra was very kind and helpful all the time. She answered all my questions immediately. The apartment is exactly as It looks in photos, even more, I strongly believe It is better in real. Very cozy, clean and big. Also, It's located so close from a sub station and local markets. Josandra`s apartment is the better option you will take to stay in NY.
Lore
2014-11-23T00:00:00Z
Great appartment in a nice area. Both rooms are very, the kitchen also. Everything was nice and clean. Public transport is easy to reach, parking on the street was no problem. Communication was easy and helpful. Would recommend this to anyone looking for a stay in BedStuy.
Alex
2016-09-28T00:00:00Z
Très bon séjour. le logement était conforme au descriptif, très agréable, décoré avec goût, cuisine équipée au top, excellente literie très très confortable un vrai nid douillet. Logement proche d une station de Metro... Prévoir 1/2h pour accéder à Manhattan. nous avons eu le plaisir de voir Josandra... Josandra a toujours répondu très rapidement à nos questions excellente relation, je conseille fortement ce logement très cocooning
Anne Lise
2015-10-02T00:00:00Z
Nuestra estancia en Brooklyn ha sido excelente: el apartamento es exactamente como lo describen: luminoso, limpio, amplio y bien comunicado. Es literalmente lo que esperábamos encontrar, y se amoldó perfectamente a nuestro estilo de vivir en la ciudad. Además, Josandra fue muy amable, interesándose continuamente por nuestra comodidad y ofreciéndose a ayudar en lo que fuese. Sinceramente, muy recomendable.
Lorenzo
2014-10-11T00:00:00Z
My partner and I were very happy with this brownstone top floor apartment. The location was conveniently near public transport. The apartment was clean, comfortable, tidy and had cable. We did however find the apartment quite cold at night, with the bedroom heaters not working; the heater in the front entrance worked. We also found the bed very small for two (my partner is tall!). We did enjoy our stay in Brooklyn. It was great to see something a bit less touristy. As a couple we found Bed Stuy safe, even at night when we headed out downtown. I wouldn't walk around at night by myself though. Thanks for a lovely stay! We really appreciated your local recommendations.
Jessica
2016-02-04T00:00:00Z
We had some great days at Josandra's house in Brooklyn and everything just looked as in the pictures! Subway was very close and travelling to Manhattan only a short ride. The house was clean and very comfortable and big enough for up to 5. Unortunately we did not meet Josandra in person but she was very helpful via email and responded promptly to all our requests. We definitely would recommend her house for a visit to NYC!
Leopold
2016-01-03T00:00:00Z
We had a lovely stay. Everything was as described. There was absolutely nothing to complain about. I really can recommend this appartment.
Moritz
2015-01-16T00:00:00Z
布魯克林, 紐約, 美國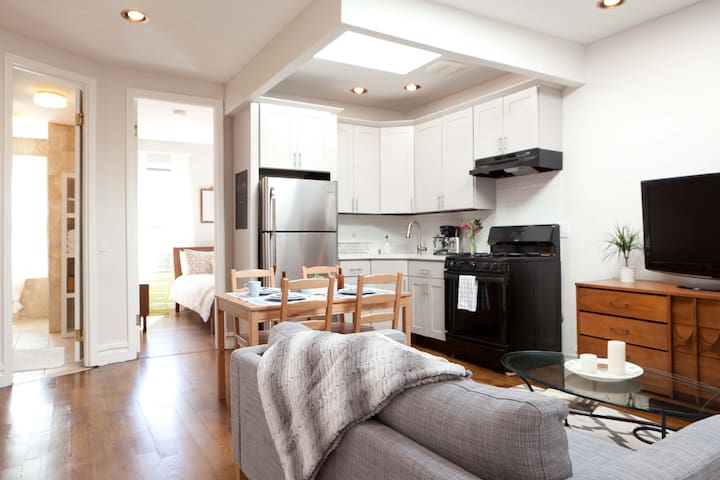 簡直美極了!四間臥室,10張床 - 2特大號床,1張大床,2張雙層床和3日間床,沙發2。 2000+平方英尺,空間超過200平方米! 2驚人的浴室!不可思議的水的壓力! 小型私人花園和庭院。
這是我個人的住所,當我來到紐約。我把它租出去偶爾發現生活怎樣,我認真篩選我的客人。如果你是一個前面的客人,或者如果你知道有人後來我才知道,請指出這一點!這個空間絕對是驚人的。
什麼是不愛曼哈頓的上東區!這是紐約市最值得尊敬美麗的成立居委會。
I have been lucky enough to travel to New York a lot in my life and have stayed at The Carlton, The Pierre and if I were to go back it would be to Dans. The location is great - so near the park, with loads of great local shops. He is an exceptional host who always responds within moments. His apartment is well laid out and extremely comfortable, with the ability to sleep heaps of people without feeing crowded. I can't recommend him and his apartment more highly. We will definitely be back.
Evie
2016-06-14T00:00:00Z
What a great find! And what a fantastic Five Star experience from booking to departure! We stayed at Dan's Incredible 2 Story 4 Bedroom apartment in New York City for a special family gathering to celebrate my daughter's college graduation. Dan was responsive and so helpful to me while I was booking his home. He answered all of my questions and gave me suggestions to solve my every need. Dan's home is located in a perfect location on the upper east side. After a long and late travel from Ithaca NY, my family was greeted by a very kind and warm greeter named Sam that introduced herself as our "personal assistant" during our stay. The moment we walked in the door, which was almost midnight after a long graduation weekend, my entire family had smiles on their faces and all were excited to have such a wonderful home base for special trip. Dan had the refrigerator stocked with drinks and he also had many treats for us. My family vacations a lot and our expectations are extremely high. This was hands down the best treatment and attention to detail that we have ever experienced. Dan's care for his guests is exceptional and his home is setup to exceed expectations. The neighborhood is a really nice, safe and upscale. Everything you could need is very close by. Great restaurants, multiple grocery stores, coffee shops, and easy access to subway. A great location to enjoy the city as a tourist while felling like a resident. The home is well designed and appointed. The 2 bedrooms on the upper lever were great. My 75 year old mother-in-law has trouble with stairs so she was thrilled not to have to climb stairs to get to her bedroom each day. The open kitchen and living room were wonderful for our large group of 8 adults. The downstairs rooms were quaint and cozy. I would describe the home as very private, quiet, and luxurious because the furniture, beds, linens, and towels were all top notch. The kitchen was also fully stocked. Dan did not skimp on anything! During our stay we had a few times that we needed support and Dan and his caretaker Sam were quick to respond to ensure that our needs were met. Once I forgot to lock the door and Sam was willing to go out of her way to trek back to the home to lock it for us even though she was not nearby. We also had maid service setup for us one day. What a truly wonderful place to experience the city and create memories. My family will cherish the time that we spent in NYC at Dan's place and we hope to be fortunate enough to come back again soon. Thanks for sharing your home Dan. We were lucky to find you.
Kristine
2016-06-02T00:00:00Z
I would highly recommend Dan's place to anyone looking for a great stay in NYC! The hospitality provided by him and Samantha was above and beyond. The home was spacious, very well organized, and had everything we needed and more! We felt very welcomed by having Samantha greet us and provide us with a tour of the home! They had provided us with snacks, waters, and a bottle of wine as a nice surprise! Anyone that is looking to rent a home in the upper east side, I would absolutely recommend staying here! Safe location and huge space!
Micaela
2016-02-29T00:00:00Z
Dan's 2-level, 4-bedroom, maisonette in the Upper East Side was the perfect (and I mean, PERFECT) place for our family when we were in the city for a weekend this December. Dan made sure the apartment was stocked with bottled water, soda, beer, snacks, and even a bottle of red wine and champagne. The beds are so comfortable and the linens are hotel quality. Each room has it's own a/c unit. There's a spacious living area for everyone to congregate. It's perfectly appointed and the neighborhood has everything you'd want. We can't wait to come back!
Regina
2015-12-14T00:00:00Z
This was my first experience with Airbnb, so I was nervous, but Dan was the most hospitable and generous host I have ever come across. He left an amazing array of goodies in the place. giving us the feeling that the phrase "my house is your house" was invented for him. His communications were prompt and warm and clear. All of us (I stayed with my husband and 2 grown kids) immediately felt comfortable in the space - like we had lived there for years! We all commented that it felt like a house in the suburbs, not an apartment in the city. Two of the bedrooms have lovely views on the back garden and one even opens to a bit of a back patio. My daughter didn't want to leave! The only thing I didn't realize is that the other two bedrooms are below ground. One of these bedrooms doesn't have any windows. Despite this, both of the below ground rooms are spacious and well appointed with a fantastic shared bathroom. And, even though there is a fire station directly across the street from the building, it was amazingly quiet. The kitchen is awesome - beautiful and super well equipped with crockery for about 20 people. It's light on bakeware and platters but I'm guessing not many people do heavy duty cooking here. Still, I was able to make soup in the great blender. We had never stayed on the Upper East Side, which is a bit further from the downtown action than we are used to, but we loved exploring the charming, quiet and very local neighborhood. We could easily walk to the Park and to the Museum Mile. Best of all, there is a Citibike stand right on the block, so I rode a bike everywhere. Thanks, Dan, for a fantastic week in New York!
Jan
2016-02-26T00:00:00Z
This is one of the best rentals I've ever experienced through AirBnB and certainly the best I've had in NYC. This is an absolutely fantastic place, run by a very thoughtful and professional host. Everything about the description and photos is accurate, and the rental is even better in person. The location is great, a very short walk to the subway that took us everywhere we needed to go, and more than enough great bars/restaurants/shops in both the immediate area and upper east side that are easily reached on foot, not to mention the park and nearby museums. I'm glad we chose this area over other options in Manhattan. The interior of the house is very spacious, completed updated with high end and modern construction, the furniture is very high quality (the beds were especially comfortable), the kitchen is fantastic and has everything you could possibly need, the linens and towels were also top notch, not always the case with a vacation rental, and the bedrooms were remarkably quiet for NYC, we all found it hard to get out of bed in the morning. There were four in our party and I think twice that number would have been equally comfortable. The WIFI worked great in all rooms at all times. We were even greeted by a bottle of wine, a refrigerator stocked with cold beer, soda, water, and more, as well as plenty of snacks and treats, all welcome after a cross country flight. Overall, it's very clear that this home was set up to be lived in, and comfortably at that, and it was awesome to be a guest in such a well appointed home by such a generous and thoughtful host. I would highly, highly, recommend this rental, this area, and this host to anyone considering it, it is truly that great of a place.
Michael
2015-12-04T00:00:00Z
My stay was wonderful!! We had 10 girls stay overnight and each one was amazed at the accommodations and layout. We were warmly greeted by Sam, Dan's assistant,a bottle of champagne along with beverages and snacks. Dan was easily accessible and answered questions and concerns promptly during our stay. Access to NYC life is easy and honestly for a weekend stay, parking wasn't too bad. Dan's place is an ideal fit for a group stay.
Nina
2016-08-22T00:00:00Z
What a nice apartment! Perfect for our short stay in NY. The rooms were big and nice, and the house had plenty of beds, for making our stay really comfortable. Also, the location was great! Very close to the subway and we loved how closed it was to Central Park! We also appreciated the complementary drinks, chocolates, etc. Definitely, a great place to stay in NYC!!
Aaron
2016-07-15T00:00:00Z
房間類型
整套房子/公寓
---
房源類型
連棟房屋
---
可住人數
12
---
卧室
紐約, 紐約, 美國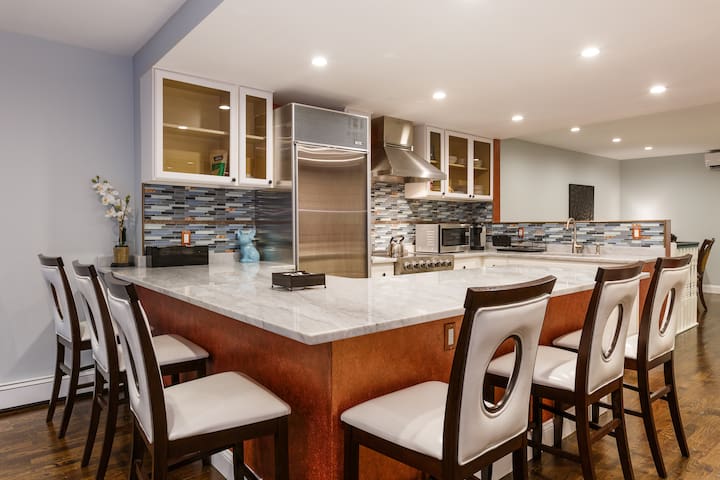 A unique, new and eco-friendly "Tiny Home" built with style, and comfort in mind. This two bedroom house is great for families and couples alike. Located just minutes outside of Lake Placid and Saranac Lake, perfect for your Adk. vacation.
AA bright modern, Scandinavian design "tiny home" is awaiting you and your Lake Placid and Adirondack adventures! This space is brand new,clean and bright. It has enough beds to fit 5, but it won't be too large if you are just a couple! Super versatile. Conveniently located to Lake Placid and to Saranac Lake and many hiking, skiing, dining and shopping opportunities. Concrete floors that are heated by radiant floor and a pellet stove, so warm and comfortable in the winter, and the concrete floors will naturally keep it cool in the summer. All the kitchen amenities to cook a healthy meal and a dishwasher to clean up. Want to sit outside on a warm summer evening without mosquitoes ? A screened-in area off the master bedroom is perfect for a night of lounging. What about a fire? A fire pit makes a fun evening telling stories by the fire. A lot of wood to find around the property. *Please note that linens are not provided but for an added fee of 30$ per bedroom, we will provide linens. This will include sheet sets, towels, hand towels and facecloths. * Bedroom 1: queen bed Bedroom 2: 3 twin beds Kitchen linens are provided as is a bath mat, blankets, pillows and a duvet for each bed. If you are willing, follow the posted cleaning checklist and we will reimburse a portion of the cleaning fee. Bringing your pet? We welcome smaller pets for an added fee of 35$.
Airy and lots of natural light Woodsy lot, please note we do have neighbours. They can make noise. Close to Lake Placid Close to Saranac Lake Close to hiking and boating Close to Whiteface Mtn.
BEST TINY HOME EVER! Everything was stunning and well thought out. My co-worker and I stayed here for a Museum Conference in Lake Placid and it was the perfect spot to be near town, but not in town. Everything was clean, new, and modern. I would love to bring my husband up to this same spot for a weekend getaway and explore the vast amounts of hiking in the area. This home was very kid friendly too!
Emma
2016-04-20T00:00:00Z
Our time in the "tiny house" was great, and it bridged a great gap between the beautiful areas of Saranac Lake and Lake Placid. Jodi was more than accommodating in truly making us feel like locals upon our visit, with great communication, and everything being exactly as described. We were surprised that the house lives much larger than you'd imagine, and we could have enjoyed an even longer trip, feeling at home, if only we had the time. This will absolutely be the first place we look upon a future return trip to the area, and would highly recommend booking with (URL HIDDEN) of the best hosts we've encountered so far!
Ryan
2016-05-02T00:00:00Z
We spent a week in February in this awesome modern tiny house with our family of four. We were hoping for snow and a lot of cross-country skiing at nearby Van Hovenberg, but unfortunately the weather didn't cooperate and we had weird rain and then cold. The location is great though, and we were able to find hiking, some cross-country skiing, and great downhill at Whiteface (even in the rain!). Even though it is a Tiny House, we had lots of room to play board games and do lots of cooking. We hope to come back in the summer to hike, or in the winter again.
John
2016-02-28T00:00:00Z
We loved coming back to the eco-cottage at the end of a long day hiking or canoeing. The house is cute, clean, conveniently located. We may return on a future Adirondack get-away.
Shawn
2016-09-22T00:00:00Z
The cottage is as-described: delightful, cozy, intelligently designed, decorated with taste (and a touch of humor), spotlessly clean, and very comfortable. We loved it. Jodi is very attentive, easy to contact and communicate with, trusting and friendly. As the description says, they do have a few neighbors. If you're heading to the Lake Placid area and looking for an isolated, fully in-the-woods experience, grab yourself a backpack and hike to a lean-to in the Great Range. If you're looking for a relatively private, but perfect little home base for your visit (be it hiking, paddling, walking in town, eating, etc.), this is the spot.
Rich
2016-04-14T00:00:00Z
Very accurate description of this very warm 'tiny house' located between lake Placid and Saranac lake, while it was very private it close to anything you needed. I would highly recommend, and expect to return soon.
Mark
2016-02-21T00:00:00Z
A beautiful tiny home very convenient to both Saranac Lake and Lake Placid. Designed with families in mind, lots of little touches and a kitchen/entertainment setup to enjoy nights at home. Great spot!
Hannah
2017-02-13T00:00:00Z
We had a wonderful weekend at this rental. An adorable, clean, and inviting home with great outdoor space to enjoy. Jodi was in touch with us to make sure we were all set up and even helped us with local information that was useful. We will definitely consider renting again in the future and would recommend this place without reservation!
Jennifer
2016-08-29T00:00:00Z
Lake Placid, 紐約, 美國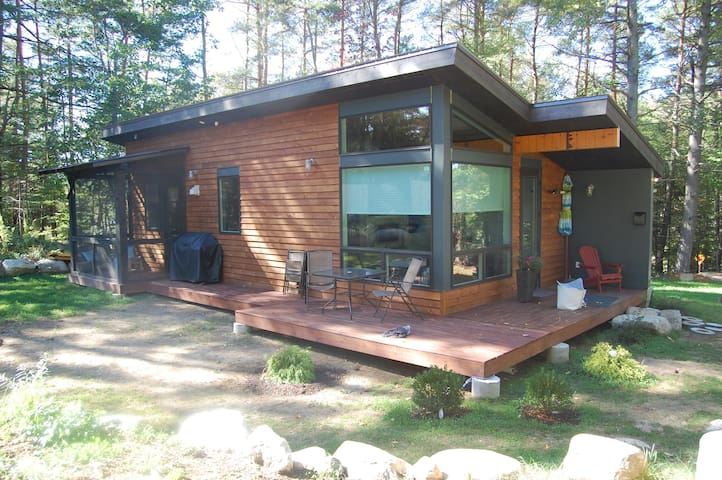 欢迎来到哈林!一切就在附近! 2分钟到地铁快递/地铁将有你在时代广场20分钟!还有的街对面一家杂货店的故事。优秀的餐厅和娱乐场所都在步行距离!
您好游客! 这间公寓是伟大的!它有两个大卧室,并在曼哈顿一个美妙的位置。预订日期,之前别人做: 这间公寓在曼哈顿中央公园的只是一个小北!你得到整个公寓为自己!你可以留下自己,为一对夫妇,因为2旅客或与一群3,4,5,6,7,8。欢迎大家!公寓有2大号床(睡每床2人),1个气床垫和沙发床(睡每床2人),1张单人床和1个全尺寸的被褥。床铺都非常舒适。 这3楼的公寓坐落在历史悠久的街区哈林。这是从2号和3号特快列车,将有你在时代广场/ 42街在20分钟内有3个街区! 或者你也可以步行到125街和125街站和第二站乘坐一列火车Express是第42街/时代广场! 这个奇妙的2间卧室的公寓位于曼哈顿,是极好的人谁想要享受纽约市无需支付一大笔钱进行酒店。 平均价格为4人是$ 165个 - 每晚。任何额外的人每晚只需20 $每人。在淡季也有特殊的价格为$ (PHONE NUMBER HIDDEN)晚。 公寓的详细信息: 该公寓是在比900sq /英尺以上非常大。或80sq /米,并配套齐全。它有两间卧室。较大的卧室里有一张大号床睡是2和大号沙发床也睡2.它有3个窗户,提供大量的阳光和美景的后院。第二间较小的卧室有一个大号床,睡这2人加1额外双号床/沙发上坐着! 公寓还设有一个完整的厨房,独立的用餐区和餐桌。厨房里摆放着锅,平底锅,并为您的使用餐具。除了带淋浴的大浴室,其他设施包括:全高清有线接入和免费WiFi平板电视。 在为您的住宿准备,公寓将进行清洁和新鲜的毛巾和床单储备。你看到的价格是多达4个旅客。对于上述4个旅客,还有一个额外收费每晚$ 20元一人。 下面是一些为什么这款平板是您在纽约逗留的最佳选择的原因: - APT处于位于两个主要地铁线(1-2分钟步行路程)之间。 - 这是在快递地铁到时代广场仅20分钟! - 中央公园是在火车上5分钟或20分钟的休闲步行路程。 - 我一般在见面公寓参观者交换密钥。我公司提供的一般信息和有关城市的一些提示。另外,我总是我的手机上可用,如果游客有关于户型,交通,还是纽约的一般性问题。 如果您有其他疑问,请随时给我发短信。 最好, 阿德里安娜
该公寓位于历史悠久的哈林附近。人民是友好,总是有24/7左右的人。
This is a great place. Really easy to get to. Very comfortable and a great area with restaurants and a bit of shopping nearby. Had a very comfortable stay here.
Tracy
2013-04-08T00:00:00Z
Adrianne met us at the door. She is a warm and gracious hostess. We were provided with clean towels and freshly made beds. It was super hot this August week and the window air conditioners kept us cool and comfortable. We were able to purchase all that we needed for breakfasts and snacks at the grocery store around the corner. This apartment is a block and a half from the 2 and 3 subways. Our family of four purchased an unlimited 7 day subway pass and spent 4 days visiting relatives and seeing as many of NYC sites as possible. This was our first time in NYC and we all had a great time.
Ann-Marie
2016-08-12T00:00:00Z
Adrianne was so kind and warm welcoming my family. She gave us kind instruction how to use stuffs in rhe house, park my car and so on. The house was also very nice and clean for my family to stay. Our family felt like we are staying our own house. Would like to visit again..
Charlie
2016-01-23T00:00:00Z
I stayed in New York for a week with my family, and we had a fantastic week. Adrianne was very welcoming, and the apartment was just right as a base for our excursions - an easy subway ride from the centre of NYC, and a short walk from an outstanding jazz venue (the American Legion Post) and a really good restaurant (the Red Rooster)(URL HIDDEN)
Nigel
2016-06-05T00:00:00Z
Nous avons été très bien reçu par Adriana qui est très sympathique , gentille et très à l'écoute . L'appartement est conforme à la description . Il est composé de 2 chambres avec dans chacune un lit double et soit un petit lit soit un canapé lit et un canapé lit dans le salon . Nous avons séjourné à 5 durant une semaine . Il est effectivement situé au deuxième étage sans ascenseur . Le quartier est très sympa , animé donc bruyant comme tous les quartiers de NY mais sans aucun problème d'insécurité même en rentrant tard le soir . Pour les amateurs de mal bouffe il y'a un Mac Do en bas de l'appart ,un super marché et sur le trottoir opposé un magasin de "wine" . Il est souvent difficile de faire des choix sur Airbnb , je vais donc être la plus objective possible . L'appartement était propre . Les chambres aussi , les draps très propres , en coton très agréable ainsi que les oreillers . Par contre les matelas faisaient beaucoup de bruit et c'était assez pénible , impossible de bouger sans réveiller l'autre . La salle de bain nickel avec des serviettes de toilettes en quantité plus que suffisante , très propres et douces . La cuisine bien équipée même si une poelle anti adhésive pour les oeufs du petit dej serait la bienvenue ;-) Les clim sont très bruyantes mais comme toutes les clim aux states , pas de split donc les gros moteurs ronronnent fort . Le signal Wifi est très faible , nous nous sommes donc toujours connecté sur LENNYAKS ( gratuit) ou HARLEM WIFI ( gratuit) et cela marchait beaucoup mieux . Le seul bémol c'est que l'appart est un peu loin . Beaucoup de métro , compter 7 arrêts pour aller à Time square avec la ligne express et 1h pour descendre à Ground Zéro et century 21 . Nous avons passés de très bonnes vacances pour notre deuxième séjour à NY .
Catherine
2015-08-05T00:00:00Z
Muchas gracias a Adrianne! El apartamento está muy bien situado, en un barrio tranquilo con todos los servicios necesarios cerca. Central Park a tan solo 15-20 minutos caminando y con una estación de metro a 2 minutos caminando que te acerca en tan solo 20 minutos a Times Square. Adrianne ha sido muy amable con nosotros, el apartamento muy limpio y cuidado. Sin ninguna duda volvería a repetir en su apartamento en una próxima visita :)
Vic
2016-03-06T00:00:00Z
My family had a wonderful time staying in Harlem. The neighborhood had everything we needed (grocery store, liquor store, coffee shops, restaurants) and was steps from the subway. Adrianne was a wonderful host, gave us a tour of the apt and provided helpful tips for navigating the neighborhood and the city. The apartment met or exceeded every expectation and this would be my first choice of a place to stay the next time I visit NYC.
Coralea
2014-07-06T00:00:00Z
Bien accueillis par Adrianne qui a su rester disponible pour répondre à nos sollicitations. Logement conforme à la description. Le métro est à proximité ainsi que des lignes de bus qui longent Central Park. Nous sommes arrivés en voiture et nous avons pu nous garer dans la rue.
Bertrand
2015-08-18T00:00:00Z
紐約, 紐約, 美國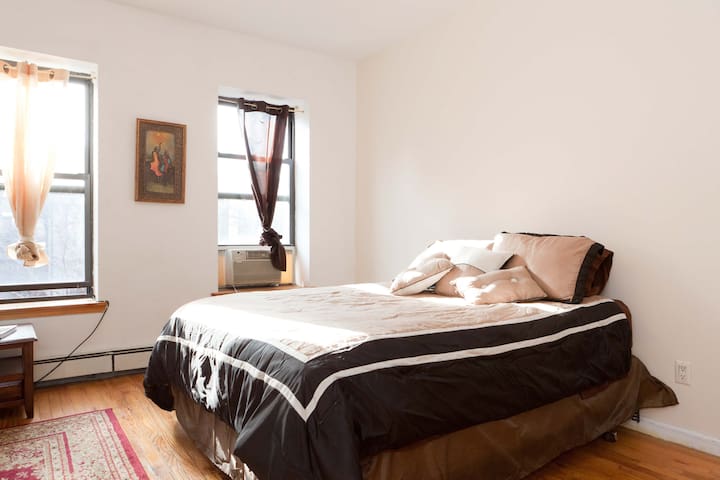 Springs Retreat is a two-story cabin that is surrounded by woods and wildlife. This escape from the hustle and bustle of modern life is conveniently located less than three miles from Watkins Glen International and the Watkins Glen gorge. Springs Retreat makes a great end to a day on the Seneca Lake Wine Trail. The cabin, the only building on a 12 acre wooded lot, is landscaped with hosta, myrtle, and other shade-tolerant plants and shrubbery. There is a garden pond, a flowing bird bath, and a fountain… all in view of the two comfortable chairs on the front porch. The cabin is constructed in an open style and is suited best to couples or small families looking to get away for a week or weekend to spend quality time with each other and their surroundings. Wildlife such as white-tail deer, turkey, grouse, rabbits, chipmunks, and song birds are common visitors to the peaceful landscape.
It feels like you are in the middle of nowhere, but really only a couple miles from town!
What a wonderful place! From the moment we arrived we felt completely comfortable and welcome. Our toddler and dog loved to run around the property, and we loved the fresh air, peaceful surroundings, and incredible eggs, fresh from chickens on the property. Our hosts were kind and helpful, the cabin was clean and in great condition. Comfortable beds, well equipped kitchen, and a really lovely shower. We built fires in the fire pit, and grilled every night on the gas grill. You feel like you're far away from everything, but the location is so central that you can be downtown or at the lake in 5 minutes. Incredible. We will definitely be back!
Marian
2015-04-19T00:00:00Z
3-miles from Watkins Glen State Park, this private cabin is exactly what we were looking for. There is an eclectic collection of books that would make some collectors jealous, farm fresh eggs, an outdoor fire pit (kindling included), grill, and plenty of towels and toiletries for use. This was a perfect combination of privacy for those wishing to get away from busy city life and having a host who is always available should any questions or issues arise. Highly recommended.
Jillanna
2016-05-14T00:00:00Z
We had a lovely time at Danielle's cabin. We didn't get a chance to meet Danielle but Bob and Donna were very nice people, who showed us around, let the kids check out the chickens and gave us lots of fresh eggs and veggies from the garden. The cabin was very tidy and clean and tucked away in the back of the property in the woods. The fire pit made storytelling and roasting marshmallows a must at night time. Town was a five minute drive away, either Montour Falls or Watkins Glen. There was plenty of waterfalls all around the area. We and the kids enjoyed the short hike at beautiful Havana Glen and the waterfall at the end of the trail. Highly recommended if you have kids. There was also a large park and playground there. We had a very positive experience and would definitely come back next time we're in the area. Tai
Tai
2014-08-14T00:00:00Z
This is a fantastic cabin. And my family had fully enjoyed our Victoria long weekend(Canadian holiday). The cabin is located in Bob's family farm, but in a very private forest. I had a few conversations with Danelle before booking her cabin. She is very friendly and provided very detail information, and setup all what I needed from her. Bob is also so helpful that he almost provided all their services to us and all information we requested. Things impressed most are 1), very friendly people, Danielle and Bob... 2). very nice forest environment around the cabin 3), almost all home living necessities they provided, even fresh homegrown eggs... 4), BBQ oven and camp fire place\wood 5), fantastic art galleries in both inside cabin and out side farm 6), super location to Watkins Glen State Park and other attractions ... I will definitly come back again. Thank you Danielle and Bob
Lyndon
2012-05-22T00:00:00Z
We stayed four nights at Springs Retreat, and had an excellent time. The location was fantastic, and the cabin was immaculately clean. Bob was there to help with anything we needed - we especially appreciated the fresh eggs! We would definitely return, and would gladly recommend Springs Retreat to anyone interested in a quaint, quiet cabin in the woods, close to everything the area has to offer.
Nancy
2012-07-14T00:00:00Z
Springs Retreat was the perfect getaway for our weekend in the Finger Lakes. My boyfriend and I enjoyed making trips off the property to hike, eat and wine taste (lots of options close by) but had the best time just staying at the cabin relaxing, cooking and sitting by the fire. This cozy cabin is set back on a beautiful wooded property and has everything you need to feel completely at home. Bob did an amazing job building this place and he and his daughter Danielle were great hosts. I spent a lot of time looking into different places to stay in this area and I can't imagine having found anything better. I hope to come back in the future and in the meantime I'll be recommending Springs Retreat to my friends!
Elizabeth
2012-11-07T00:00:00Z
Cabin was simply adorable and perfect and very, very clean. If you're nerdy, you're gonna love the history documented in folders by the hosts. They basically built the cabin from scratch so that's seriously impressive. There was all these little touches - guides to nearby attractions/hikes/falls, fuel for the fire pit, barbeque, board games left out for people, books, cookbooks... all of it made it a really awesome experience. The kitchen is fully equipped so cooking is an option. Location wise, its situated in a really pretty and quiet area, so it was perfect for us because we were looking for a place to be alone, and to hike. The falls and waterways nearby are gorgeous. One of the best facets of the place was how awesome the hosts are - friendly and incredibly helpful. We have nothing but admiration for them. Hopefully, they'll let us book again if we place a request :)
Ruth
2014-04-22T00:00:00Z
Our stay was simply wonderful!
Rebecca
2014-07-05T00:00:00Z
房間類型
整套房子/公寓
---
房源類型
小木屋
---
可住人數
4
---
卧室
Montour Falls, 紐約, 美國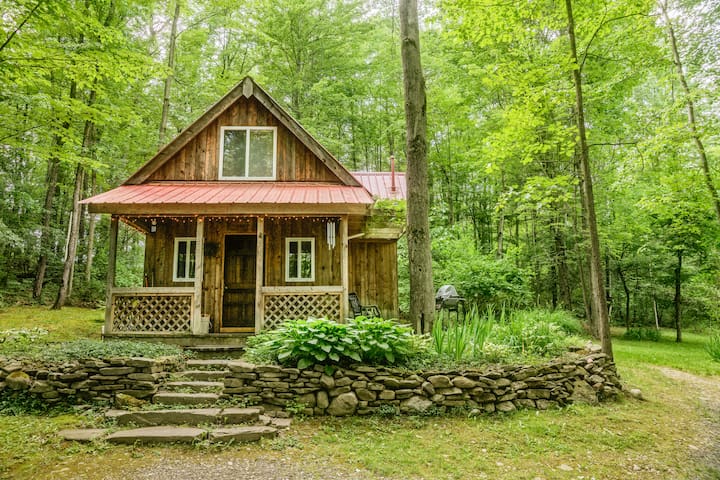 Das Hotel liegt im Herzen von Southampton Village diese aktualisiert, makellos Haus ist Ihr Zuhause fern von zu Hause. Eingebettet in einem einfach zu uns gelangen zu, Safe, gut beleuchteten Umgebung, Sie sind nur wenige Schritte von Premiere Shopping, Restaurants, Weingüter und unberührten Stränden.
Diese einfache, ruhig, zentral gelegene Haus ist der ideale Zufluchtsort! Perfekt für alle, mit oder ohne Fahrzeug, ist es nur 5 min. vom Bahnhof und in der Nähe der Stadt und unberührten Stränden. Es bietet auch eine voll ausgestattete Küche, W / D, und eine private Terrasse. Seien Sie alles in der Nähe von Southampton zu bieten hat, während absolute Ruhe genießen! 1 Queen-Size-Bett, 1 Badezimmer mit Dusche stand, Roll-out in voller Schlafsofa, voll ausgestattete Küche beinhaltet Kühlschrank [no Gefrierschrank], Geschirrspüler, Insinkerator Essen Verschwender Entsorger, Keurig Kaffeemaschine, Toaster und Mixer (keine Mikrowelle), Kabel-TV / DVD & WLAN, A / C, Nest Learning Thermostat (installiert Herbst 2015), Zwei Blöcke in die Stadt (sichere Gehwege), 1 Meile zum Strand, Fahrräder zur Verfügung. 1 Parkplatz (NO Parkplatz abseits der Straße). Gehen Sie zu trainieren und Busverbindung nach NYC. Die Hütte befindet sich hinter Haupthaus on Elm Street, mit eigenem Parkplatz und Eingang auf John Street. KEINE HAUSTIERE ERLAUBT! Bitte ... nicht fragen, ob Sie ein Haustier haben, die mit Ihnen reist. Updates für Bilder: The Living Room wurde mit neuen Sofakissen, Bereich Teppich aktualisiert und Couchtisch. Die Outdoor-Lounge Stühle haben Kissen.
Ruhigen Wohngegend (obwohl Mitte der Woche und während der warmen Monate können Wochentage mit landscapers und neuen Wohnungsbau beschäftigt sein, aber ich verspreche, das Haus ist sehr ruhig!). Praktisch alles - Bahnhof, Geschäfte, Restaurants, Strände, Parks. Walk-Lage, ideal für Laufen und / oder mit dem Fahrrad. Ich habe einige ganzjährig Nachbarn, aber viele Häuser sind 2. Häuser / saisonal. Bitte respektiert meine beiden Nachbarn und der vielen Arbeiter, die um während des Tages sind. Es ist immer noch ein blühendes Viertel betrachtet, und das ist eine gute Sache! Viele neue Konstruktion bedeutet, dass wir eine sehr gesunde Wirtschaft.
We loved Jen & Bill's cottage and were made to feel very welcome. Perfect location, walking distance to town. Highly recommend! Just what we needed to relax and unwind.
Juliane
2016-09-22T00:00:00Z
Jen was an amazing host! Always had fast communication, very welcoming and cute place! Would definitely stay again. Close to downtown, great location.
Lauren
2016-04-05T00:00:00Z
As a returning customer, the weekend stay was just as fantastic as it was for our first visit last month! The cottage was just as clean and comfortable. We appreciated the nice gift of Tates cookie treats left for us! We enjoyed riding the bikes to the beach and soaking in the sun during a pre-dinner nap on the chairs outside. Will be back next year!
Yaa
2014-08-25T00:00:00Z
Jennifer ´s cottage was really perfect. we spend 4 days in family. She planned everything for our stay with a kid (2 years old) pack n play. High chair, baby seat for bike. We arrived in Southampton by train, and we used Jennifer ´s bike & guide (really informative) to visit the village and take rest on the beach. We could take "apéro" on the private patio with privacy. An amazing moment! Thanks
Antoine
2014-08-15T00:00:00Z
Another fantastic weekend at Jen's cottage! It was very clean, has everything you need for a weekend stay. We loved trying Jue Lan restaurant right down the street and picked up lunch to bring to the beach at Citarella, just a few blocks away. We hope to return summer of 2017!
Kathleen
2016-08-15T00:00:00Z
We had a wonderful time at Jennifer's! We spent the Memorial Weekend at her cottage. The cottage is conveniently located very close to Main St and to other very cool spots. The cottage itself is very cute, everything is brand new and super clean. Jennifer and Bill were very responsive. No bad remarks: highly recommended! Alla grande!
Michele
2014-05-27T00:00:00Z
Jen was a very friendly host and responsive to my queries. The cottage was perfect - private and nestled off the street. Closely located to the town and walk-able (for warmer weather). It was exactly as pictured-immaculate and well appointed. Right out of a West Elm catalog. Jen anticipated all of our needs right down to the mini waters in the fridge. Thanks Jen! I couldn't have asked for a better stay-we were wowed! Would definitely recommend and will hopefully be back again.
Hara
2015-11-22T00:00:00Z
Jen's cottage is so picturesque and well maintained. It is 1 mile from the beach and very convenient to some great shopping in Southampton! I can't wait to go back!
Deena
2016-04-30T00:00:00Z
南安普敦, 紐約, 美國
紐約 - Airbnb
:
在

3025

位房客的評價中,平均評分為

4.85

星(滿分為

5

星)