We are 10 Miles north of Leadville, 1 mile from Ski Cooper, 8 miles from Red Cliff, 20 miles from Vail. Our fully equipped 900 sq ft. solar powered cabin is very cozy with spectacular views of the surrounding mountains. We have hiking and biking access to the Colorado trail from the cabin in the summer, skiing right out the door in the winter. We have space for 2 adults & families with 2 adults & 1-2 kids. There is 1 king bed and 1 pull out sofa. Pets considered. Contact owner first.
If your looking for a quiet mountain retreat this is the place. You are only 25 mins from Leadville and 5 min from ski cooper. We stayed here for Boom Days an annual event in Leadville every summer. The cabin was very cozy and clean. The kitchen and everything we needed and we learned how to use a coffee press for the first time as the cabin is solar powered so no microwave or electric coffee pot but that was fine. We met Brian while we were there and he was very welcoming and answered all the questions we had and was very easy to get ahold of. We are very appreciative that they allowed our two dogs. The road is a little steep so 4-wheel drive would be needed if staying in the winter but they keep the road clear at all times. We would definitely stay again.
James
2016-08-11T00:00:00Z
Our stay at this cabin was an absolute dream. The cabin is beautiful; much larger than the pictures portray, and Brian built it himself! He was so kind and welcoming, we felt right at home. If anything we reget not staying longer. We woke up to falling snow every morning and enjoyed some fresh powder at Ski Cooper (a 5 minute drive from the cabin) on Christmas Day. Our dog was with us and he was able to run around in the snow and play everywhere off leash. We will be staying again, this was everything we hoped for and more.
Isabella
2016-12-27T00:00:00Z
Jen and Brian's Cabin is out of this world. I cannot put into words how nice it is. The picture does not do it justice, it is AMAZING!! We were a little nervous at first as it is very high up a mountain, up a small one lane plowed road covered in snow. Snow was about 4 feet deep everywhere but Brian maintains the entire road very nice with his plow. The cabin and his house (next to the cabin) are totally off grid but have all the luxuries and amenities of a normal home. I'm a real solar energy buff and Brian was kind enough to show me his whole setup, it's amazing. Both houses are powered by his solar system and only us a backup generator in cases of very poor sun or very high power demands. Heating is all wood stove but Brian has it setup to where if you don't want to use wood you can use his propane boiler system witch works better than any home heater I have ever seen. Water is well pumped and pressurized, again, all the amenities of a on grid home. Sky at night is ridiculously beautiful. You can see stars better and brighter as there is no city lights and we were over 10500 feet (I'm guessing but t was over 10k feet for sure). Brian built both homes himself and it is very impressive how professional and beautiful they are. All the utensils, blankets, towels, wood, cookware, etc you could ask for are stocked full in the cabin. Internet, Direct TV, etc. On our second night we saw a very big moose next to us while we were driving up near the cabin, we followed it as it ran through the trees and deep snow, my kids were in heaven. I could go on and on about how nice this experience was but I don't have enough space. We will definitely be staying again on our next trip to Ski Cooper (2 miles away). It was so nice I could have just stayed in the cabin all day doing nothing watching the snow and feeding the wood stove. I highly recommend this place to everybody, at the very least it is a great learning experience on how to value and conserve electricity, water and our natural recources. Very peaceful, very beautiful. Thank you Jen and Brian for your hospitality and giving me a beautiful lifetime memory. - Emma, Ariana, Andres and Orlando
Orlando
2016-12-30T00:00:00Z
Agree that the pictures don't do this listing justice. Road is a little steep, but well maintained. Worth the off road for the view. Had a couple issues, but Brian was more than fair. Would stay again and recommend to others.
Lynda
2017-02-19T00:00:00Z
Jen & Brian's place is great. It's in a very quiet, secluded location. The cabin is well appointed and the bed is very comfortable. Plus, it was a very quick drive to Ski Cooper.
Jacob
2017-02-20T00:00:00Z
Photos and description are spot on. It's a wonderful cabin in the woods with access to an amazing array of activities. The cabin itself was charming and had everything you could need.
jennifer
2017-03-06T00:00:00Z
This place is amazing!! Off the beaten bath, yet so close to Ski Cooper. It is incredibly clean, up to date, cozy, and tucked away in the mountain for a true feeling of mountain living. Brian was there to greet us upon arrival and was so friendly and laid back -- we knew we were in good hands. We appreciated Jen and Brian let our 3 small boys stay -- they loved their "sleepover" on the pull out couch. You won't be disappointed if you stay here! We would definitely come back to this beautiful cabin. Thank you Jen and Brian :-)
Becky
2016-12-31T00:00:00Z
If you're looking for a secluded mountain retreat to get away from it all don't look any further this is the cabin for you. Brian and his family are incredible hosts too & their cabin has all that rustic mountain charm we were looking for yet also with modern amenities. It's a beautiful loft cabin & the natural surroundings are incredible. We loved the proximity Ski Cooper and Vail and the view of the stars at night cannot be beat. I've stayed at a lot of Airbnb's and this was one of the best!
sal
2017-02-02T00:00:00Z
萊德維爾(Leadville), 科羅拉多州 80461, 美國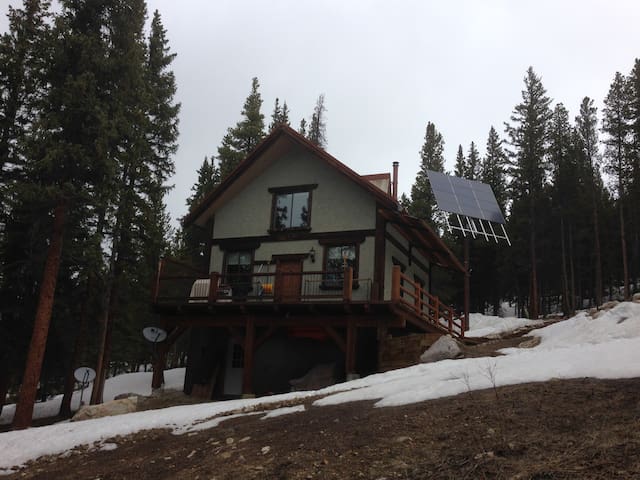 輸入日期以查看總價格,包括其他費用,可能會加收稅費。