My place is close to public transport, the city centre, parks, and art and culture. You'll love my place because of the people, the outdoors space, the light, the ambiance, and the neighbourhood. My place is good for solo adventurers, business travellers, and furry friends (pets).
Not impressed about accomodation, the entire hose smells horrible, the guest were not that chatty, overall not a good impression. Will never return..........I learned my mind never to use a B&B Hotels from now on
Obada
2017-03-22T00:00:00Z
Antonitte's place is a very cozy and cleaned place to stay, with nice people and close to town centre. I would recommend it.
Bruno
2017-01-13T00:00:00Z
Very nice people, very clean place. Peaceful neighborhood.
Eduardo
2016-09-04T00:00:00Z
The host made me feel very welcomed and did everything to make me feel comfortable. The house is very clean in a quiet neighbourhood, not fare from the center of Aylesbury. Overall great experience
Emanuele
2016-10-16T00:00:00Z
Very friendly hosts and very clean ...very convenient and reasonable rates
Graham
2016-10-05T00:00:00Z
Even very late arrival the host welcomed me and made me a cup of tea and we had a chat.very kind and helpful host. The bed is very comfortable
Yuko
2016-09-18T00:00:00Z
The room was very nice and quite comfortable, and I was made to feel very welcome! Checking in and out was also very simple and without any hassle. I would definitely reccomend staying here!
Joshua
2016-09-06T00:00:00Z
What else could I have ever asked for. Clean sheets Welcoming host Equipped kitchen The perfect place to stay over. Thank you. Would definitely stay there again.
Oscar
2016-08-26T00:00:00Z
艾爾斯伯里(Aylesbury), 英格蘭, 英國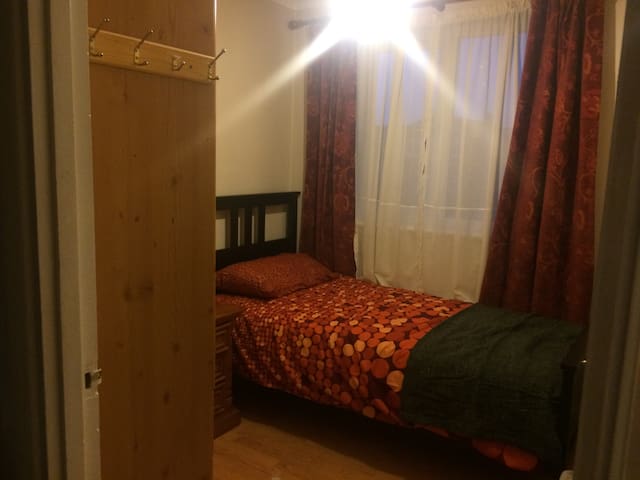 自小木屋提供完全的隐私。令人惊叹的朝南的意见下Hambleden谷。小厨房配有组合式烤箱,冰箱和两个环形炉。有大量的免费停车位和无限的免费WiFi。我们可以提供一个备用的,基于地面的床垫对孩子还是有空间的旅行婴儿床。我们位于Fingest,靠近美丽的村庄:特维尔又名迪布利,Hambleden - Midsomer谋杀的地点,以及飞天万能车成名的风车。
单机超过Fingest谷越野停车位,在浴室的淋浴房和美丽的景色小屋。有桌子和椅子,您可以坐下来放松一下,而你欣赏美景门外庭院。小木屋是很好用电动散热器和热毛巾架绝缘,所以你绝对不会冷。
Loved the comfy bed, and waking up to see deer across the valley was also a hilight, lovely place to stay.
Chris
2016-12-08T00:00:00Z
We had a fantastic stay in Stuart's chalet. It was calm and quiet with a beautiful view. Just what we needed to get away from the busyness of family life! We would wholeheartedly recommend a stay here.
Claire
2017-04-03T00:00:00Z
Excellent stay as always. Easy check in and lovely location.
Chris
2017-02-12T00:00:00Z
Very nice and secluded great value for money very clean and bed was very comfy
Alfie
2016-12-10T00:00:00Z
Superb view in the morning! Great host and great place!
Kevin
2017-02-28T00:00:00Z
Had a lovely quiet time here, very peaceful and in a lovely location. Stuart provides everything you could need and is a great host!
Alan
2017-03-16T00:00:00Z
Stuart responded quickly to all of our questions and was very helpful. The cottage has beautiful views and is nicely stocked with cookware, utensils and extras. Please note that Stuart's house is right next door so take that into consideration if you want privacy.
Christine
2017-03-10T00:00:00Z
Lovely hideaway, peaceful with beautiful views. Stuart was a nice and helpful host who was efficient in answering my questions prior to our stay. He was very kind as to supply us with takeout menus when enquired as we didn't want to leave the Chalet to find a restaurant. Tea, coffee, milk were also provided with a good DVD selection which was a nice surprise. Would be happy to stay again. Thank you for a wonderful stay.
Gabrielle
2017-01-02T00:00:00Z
房間類型
整套房子/公寓
---
房源類型
牧人小屋
---
可住人數
2
---
卧室
Buckinghamshire, 英格蘭, 英國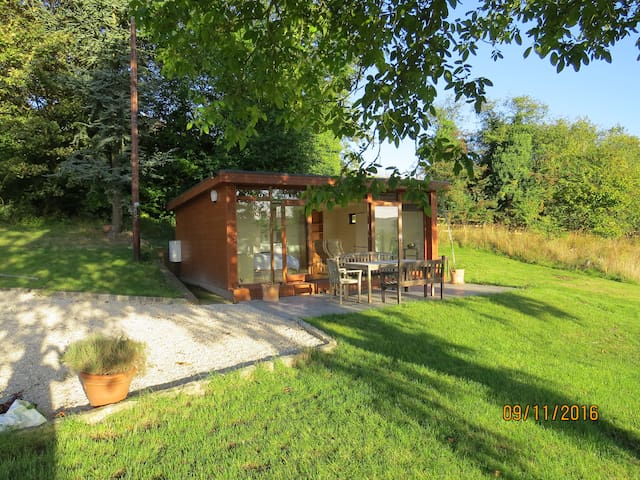 The room is a single room with a single bed, wardrobe,shelves,chest drawer, small table and a bench. In house there are one big kitchen with all the amenities you needed to cook/prepare your breakfast/meal, even laundry. Super fast Fiber Optic inc. Bedding/towel provided Sharing big kitchen with all the amenities:fridge, freezer, dish washer, w. machine DIY breakfast provided:Tea Biscuit Coffee
Spacious, harmonic house share 5 minutes to the Centre Milton Keynes, ideal for shopping and commute. DIY breakfast is provided, if you are short of anything please do let Patrick know and he will sort something for you! Some guests on their feedback have noted that the floorboards make some noise, be aware we will try to correct this asap, and sorry if there is some noise!.
Nise place and good service
Mark
2016-08-06T00:00:00Z
Work date changes meant I did not stay this time. But have another week booked soon
nathan
2016-04-30T00:00:00Z
I did not meet Yile, as I was only there one night. But one of his tenants let me in. The room was exactly like the picture. Clean and comfortable.
James
2016-04-17T00:00:00Z
Was good for a quick one night stay, nice having tea and biscuits available in the room. Other guests were very quiet and was an easy stay.
Kirstin
2016-10-07T00:00:00Z
I was only in Betty's for two nights while working but all went smoothly and was pretty much as advertise.
Kieran
2016-07-27T00:00:00Z
Good, clean, friendly location. Enjoyed my visit once again.
Raymond
2016-02-05T00:00:00Z
Clean small room in area close to center. Great stay.
Guy
2017-03-28T00:00:00Z
Fit for purpose; tidy. Would stay there again.
Stephen
2016-12-07T00:00:00Z
米爾頓凱恩斯, Buckinghamshire, 英國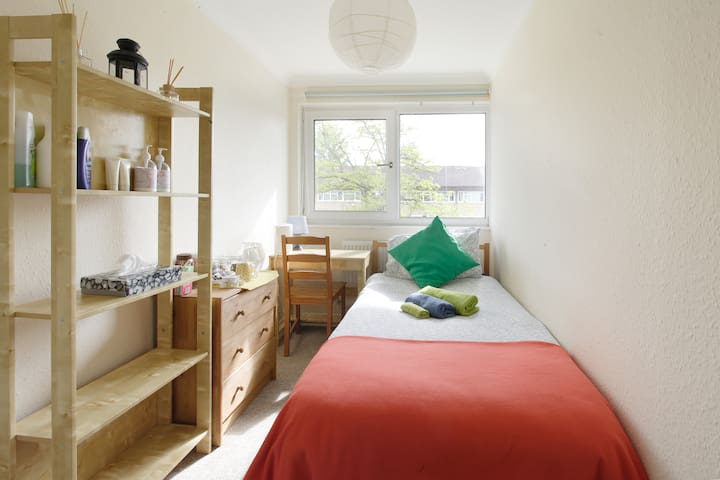 The cottage has kitchen & drawing room, which overlooks the sunny garden. Double room, WC shower. Small dressing room. Haddenham railway station, connecting to London, Oxford, Stratford on Avon. Bus to Oxford & Aylesbury. Notley Abby, five munites. The village 3 miles from the historic Thame. 6 miles from the Chilterns Hills. Oxford 17 miles, Woodstock 27 miles Cotswolds. Listed Grade 2 by Historic England. Owner lives in the other half of the cottage. Ancient fireplace no longer works.
You have use of the kitchen and small drawing room dining room. The drawing room also looks out onto a lovely quite garden, this faces south and is sunny for most of the day. Quite as the cottage is tucked away from any road.
The old village is very pleasant with many cob (mud) buildings extant. Delightful church and green at Church End. There is an easy and pleasant walk through the small lanes to Church End and two pubs and you can pass a third. Little Italy in Fort End serves breakfast and lunch throughout the day and is a minute away from the front door. Also, Fort End is just five minutes from Notley Abby. The village is just three miles from historic Thame with all the main shops like Waitrose etc. There are also a couple good restaurants.
Comfortably and welcoming
Gina
2016-07-08T00:00:00Z
Our time at rex's property was great. He was friendly and flexible with our needs. The property is a beautiful old English cottage in a quiet rural village. Thoroughly recommended.
Ant
2016-06-26T00:00:00Z
The photos really don't do it justice! Rex's home is cosy, attractive and well kept, and he even came out to meet us. The local pubs are good quality and numerous, and Rex's recommendations were very helpful. Little Italy is well worth a stop for breakfast, lunch or just a coffee.
Janneke
2016-10-30T00:00:00Z
I enjoyed staying at No.1 Fort End in Haddenham. I got a lot more space than I had expected - there was a lovely sitting room and a kitchen as well as the en-suite bedroom. Rex was delightful and a very welcoming and helpful host, and the communication beforehand was excellent. The cottage was a fun, quirky space with bags of personality that gave good value for money. I will certainly return if I am visiting the area again :-)
Hannah
2016-09-18T00:00:00Z
Great location, great host. Nice and quiet.
Darren
2017-01-12T00:00:00Z
The host canceled this reservation the day before arrival. This is an automated posting.
Jacques
2016-07-23T00:00:00Z
Rex welcomed us amicably and helped us with the large suitcase. He was a lovely man, keen to help. What let the lovely place down was the cleanliness, food left in the fridge and out on the benches. i had to unpack the dishwasher but there was nowhere to to put things so I left them in piles. I had to boil water on stove because the kettle was filthy so was other appliances which we didn't use. The two armchairs were both ripped and worn which wasn't nice. The bathroom was so small you had to put your head in the sink to use the basin. My mum knocked her leg on the bed end which sticked out and were very dangerous and they should have been cut off, she's 80. The shower had good strenghth. The place would have been a hidden gem if he spent some time in it. Just a charming cottage with lovely garden to sit in.
Clare
2016-08-29T00:00:00Z
Rex's cottage is both comfortable and beautiful ! Picture don't do it justice - Rex was extremely responsive and accommodating as my partner and I were in haddenham for a wedding and needed and early check in. Both friendly and welcoming and great value for money ! Also the beds are super comfy :) thanks Rex !
Lindsay
2016-07-30T00:00:00Z
Haddenham, 英國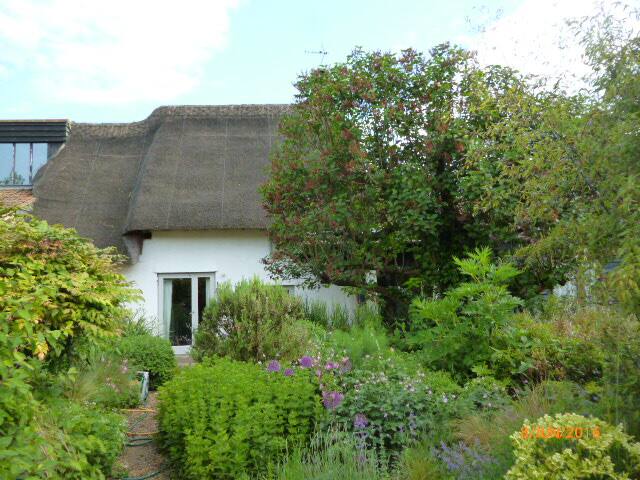 This modern, executive, newly decorated annexe is situated in the stunning village of Studham, close to Whipsnade Zoo, Luton Hoe, Hemel Hempstead, St Albans, Milton Keynes, Warner Studios, Woburn, Dunstable Downs and Luton /Heathrow Airports. A great location, self contained with own entrance, M1, M25 both a short car ride away. Many stations into London nearby.
The annexe occupies an area of approximately 278 square feet and is suitable for holiday or business stopovers. It is a triple aspect room, making it very light and airy. It is clean and well equipt with a comfortable king sized bed, luxury, quality bedding, duck and down filled duvet ( which can be changed to microfibre for those with allergies), and quality fluffy towels. There are floor to ceiling wardrobes with hangers, shelves and drawers, so that you can arrange your clothing easily. We do not allow open flamed candles but do provide remote controled candles. There's a large dining table and comfy chairs, kitchenette, lounge chair, desktop working place, fridge, microwave, iron, ironing board, hairdryer, shampoo, free wifi, Flat screen wall mounted Smart. TV with free view. A breakfast hamper is provided, with chilled milk and juices in the in room fridge. An evening menu is available at an additional cost. The en suite, has a modern double soft water rain shower, counter top sink with cupboards under and a low level toilet. Studham is set in the Chiltern Hills and is an area of outstanding Beauty. If the weather is good, why not sit in our beautiful garden with a drink and listen to the sounds of the zoo train, elephants and lions,( you really can hear them in the garden)
The property is located in a very quiet residential area, in the Chiltern Hills. However, if you need easy access to the M1 / M 25 they can be reached within approximately 10 minutes. It is an area of outstanding beauty and there are many walks along the Chiltern Way and stunning views across Dunstable Downs and if you are prone to kite flying, that's the place to go. Although there is not a shop in the village, there are convenient stores within a 5 minute drive. Two pubs which serve food both at lunchtime and in the evening are a short walk away or just hop into your car and drive. So if on a business stopover, this is ideal or on a short break, there's ample to do in the area. There are also many cycle routes around Studham, so this is an amazing base for the cyclist. We are able to store cycles safely in our locked garage.
That was my third stay and I have booked again!! Lovely, lovely people and the accommodation is amazing - love it here.
Debbie
2016-09-16T00:00:00Z
What a pleasure! We received such a warm welcome from Eve & her husband. What a gem! The annex surpassed comfortable & was immaculate, with wonderful added extras from remote control candles to cupcakes in the fridge. The bed & bedding meant we had a wonderful nights sleep. The shower was the prefect pressure coupled with super soft cosy towels. I can honestly say Eve & her husband have thought of everything & then gone that little bit further to ensure their guest have the prefect stay. We visited a local pub / restaurant "The Bell" delicious food & the atmosphere was fabulous. We took part in a pub quiz & the locals made us very welcome. We will be visiting the annex again & we recommend it to all X
julie
2016-09-23T00:00:00Z
Eve met us on our arrival in a most welcoming manner. She showed us around the roomy and spotless accommodation, and we were delighted to find all that we expected was more than met. Large, light and airy bedroom, a very comfortable bed, and a terrific shower in the roomy bathroom. Our hostess provided tea, ( three kinds), coffee, fresh milk, chilled water and fresh orange, plus cereals and delicious muffins. We've stayed in lots of hotels around the world, and our stay in Eves annex more than matches any of them. Terrific!
Paul
2016-09-04T00:00:00Z
Eve is an incredible host, every detail has been well thought out to ensure her guests truly feel at home. The stay was better than I could have hoped for, the annex is private and really is luxurious. I had a wonderful nights sleep and enjoyed a coffee in the garden the next morning. It's the little touches that make the stay so fantastic, from the hand carved animals on the window sill in recognition of the zoo close by to the personal welcome note, Eve's warm and charming personality really shine through. I can't wait to stay again and can wholeheartedly recommend Eve's and her superb annex for the best in Airbnb experiences
Karl
2016-09-09T00:00:00Z
Super welcome lovely couple high standard of accommodation and some very special personal touches
Shelley
2016-10-14T00:00:00Z
Eve was a FANTASTIC host! She communicated well before we arrived and her room is absolutely immaculate! We were able to use the garden (which is stunning) and the location was ideal for my daughter and I to go to Whipsnade Zoo. Fantastic Airbnb experience! Thank you for your hospitality Eve.....
Maureen
2016-08-05T00:00:00Z
Eve gave a fantastic pre arrival briefing, and the place was exactly as described and she provided some extras in the form of food and breakfast and extra heating. The location is country village and just lovely. The house is just all refurbished so everything is brand new. A relaxing great place.
Des
2016-10-03T00:00:00Z
Gorgeous location, scenic dunstable walk close by, good pub and american diner near by with great food. Comfy bed and lovely bathroom with big shower, and breakfast cereals, bars, juice, fruit, and cup cakes left for us, and the place was spotless.
Lianne
2017-02-27T00:00:00Z
Studham, 英格蘭, 英國
Friendly, easy-going host. My lovely picturesque grade II listed Victorian manor house is situated close to Berkhamsted in an area of outstanding natural beauty in the heart of the Chilterns Hills. Close to Ashridge forest and common. With fast access to London by train and close to Heathrow and Luton airports, the house is rich in history and is currently being restored. Couples and solos welcome. Full english/continental breakfast available on request.
Double room with access to shared bathroom in beautiful country manor house.
We are a 5/10 minute walk to Ashridge national park and forest as well as The Grand Union Canal. By walking or cycling along the canal in either direction you will come to Tring or Berkhamsted, both historic market towns with friendly locals and great restaurants/coffee houses. Nearby we have The Cowroast Inn, a friendly country pub which serves local beers and food, alternatively you can take a 30 minute hike through Ashridge estate to Aldbury where you can find the Valiant Trooper and The Greyhound, both of which also serve food.
Manor House is beautiful, being renovated as stated. Room was clean, with some great art work on the walls. Bed super comfy. Shared bathroom. About an hours walk to Tring which is very pretty. Jules was very easy to communicate with. Looks like a lot of people are staying the manor. Would love to know a bit more about its history!
Madeline
2017-03-18T00:00:00Z
Brilliant property in a lovely part of the country.
Will
2017-02-26T00:00:00Z
A grand old house in a fabulous scenic location. The house is being renovated ..... but a wonderful opportunity to stay in an historic old home. Your bedroom and the bathroom have been tastefully renovated and are spacious and comfortable. Seriously one of the most comfortable beds I have ever slept in ! ... Wifi, desk lovely room .... working here in winter with the fire on would be pure bliss !!!
Alison
2017-03-23T00:00:00Z
Jules was a lovely host in this beautiful manor house which he is currently renovating. Nothing was too much trouble and the grounds and surrounding walks are stunning. The room was clean and tidy, as was the shared bathroom. Thankyou Jules, we will be staying again.
Lee
2017-01-19T00:00:00Z
Highly recommend staying here. Lovely comfortable room and jules was really friendly and nothing was too much trouble. Will definately stay again.
Colin
2017-01-25T00:00:00Z
The host canceled this reservation 150 days before arrival. This is an automated posting.
Alan
2017-01-18T00:00:00Z
Perfect for me the house has got history and iis being restored thats why the price is good .The bedroom was very comfy and warm . Juls was instantly on hand when I got slightly lost. So what more can I say other than I loved it and Id highly recommend you give it a go.
Tina
2017-02-10T00:00:00Z
Nice place, nice people, great location and great value
Steve
2017-02-21T00:00:00Z
Hertfordshire, 英格蘭, 英國
The apartment has a private entrance and a lovely waterside view of the Grand Union Canal. It has a double bedroom, dining room with sofa beds & Sky TV, a kitchenette with microwave & fridge and a shower room. Ideal for couples, friends, solo adventurers, families, and business travellers. The whole apartment is self contained and you will have all the rooms to yourself.
We are right on the canalside of the Grand Union Canal. You are welcome to sit out in the garden and watch the boats, swans and canoeists go past. Please note that the second bedroom doubles as the living room and has two single sofa beds. Both bedrooms contain TVs with DVD players. The kitchenette has a microwave, small fridge, toaster and kettle. Please let me know if you have any special dietary requirements for breakfast and I will do my best to accommodate.
該公寓是接近家庭友好的活動,如惠普斯奈德動物園,沃本修道院和野生動物園,格列佛國土,雅詩閣府NT,鄧斯特布爾高地,布萊切利公園,萊頓巴扎德窄軌鐵路,再加上米爾頓凱恩斯的眾多景點,包括劇院,滑雪場和購物商場。 非常方便的人通過飛龍運輸公司僱用船隻。 可愛沿大聯盟運河和周圍鄉村散步。為什麼在我們當地的運河邊的酒吧內不會停止? 在餐廳,24小時加油站和超市一英里。
Nagyon rendes es kedves hazikazdak, jol ereztuk magunkat, a hely tiszta es csendes, szep kilatas es gyonyoru kert, ezenkivul tobb fele elelmiszer cikkekel vart mimket ami kulon dicseretet erdemel. Ajanlom mindenkinek .
Oszkar
2016-09-04T00:00:00Z
Heather made our stay so comfortable and easy. Everything possible had been provided. The part of the property we occupied was completely private and had a lovely view over the canal. Heather left a wonderful selection of breakfast (and late night supper!) snacks.
Juliet
2016-09-19T00:00:00Z
Heather, thank you so much for having us to stay! Alex and I loved the property and the location - right on the canal and in a lovely, quiet area. The apartment was very clean and comfortable. We didn't realise breakfast was included so it was wonderful to find such an incredible offering! Thank you for your generosity and hospitality, we felt very welcome and would happily recommend you. Best wishes, Lucy & Alex
Lucy
2016-10-06T00:00:00Z
Very sweet and comfortable house, also welcome with kinds of sweets and snacks. So beautiful view which is just along the river. Only one thing is that there is no oven in the kitchen.
Ziqing
2016-10-10T00:00:00Z
Lovely apartment and host, lots of breakfast options, drinks and snacks. Perfect for a family having the second bedroom in a quiet, safe area but near near the town centre. Heather had thought of everything we might need and we had a comfortable stay Thank you Sarah and Matt.
Sarah
2016-10-02T00:00:00Z
We were made to feel welcome
Gerry
2016-12-18T00:00:00Z
Heather was lovely, welcoming and friendly. We were soaked after travelling on the motorbikes and Heather lent us her heated dryer to dry our wet clothes, which without it, would have never have dried and would have probably ruined our weekend. Lovely location, just wish we had more time to spend next to the canal and go for a walk etc. Our stay was only really to sleep as we had to get back to Silverstone to watch the racing. We're already thinking about staying again as the location is good and facilities are just what we needed.
Chris
2016-09-05T00:00:00Z
Heather was wonderful even before our stay the communication was top notch. Heather even went to the trouble of asking us if there was any particular we wanted we were running a marathon the next day. Heather was so flexible about our checking in time as we arrived early. Lovely place to stay and very quiet.
Jo
2016-12-11T00:00:00Z
Leighton Buzzard, 英格蘭, 英國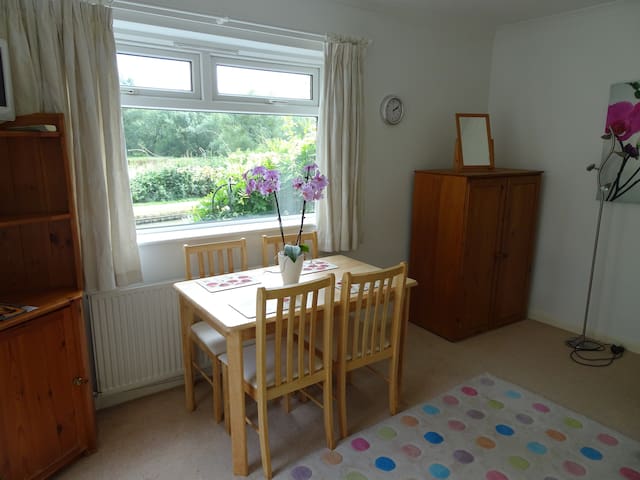 Light and spacious apartment above covered parking in a stand-alone barn in the grounds of our house, 250m from the River Thames. Modern furniture, TV, wifi, full kitchen, washing machine. Great location for eating out and for access to countryside. Close to Windsor, Eton, Marlow, Cliveden National Trust and lovely river walks. 5 minutes from Maidenhead station. We are near a railway line. It is only for 2 people but can take a baby cot (not provided).
The apartment is a spacious studio, built a few years ago as an annexe to our house. It's has a comfortable double bed, sofa, dining area, desk, fully equipped kitchen and bathroom with a shower (no bath). It's at the bottom of our garden, next to an apple orchard. It's a short walk from the River Thames, with lovely walks in both directions. You're welcome to use the garden outside the apartment and there's a table and chairs for guest use.
We're very well placed for access to London (we both commute every day) but we're also surrounded by beautiful countryside, and some great places to visit, and some very good pubs and restaurants.
Thank you for a great stay, was such a lovely place and area. Would definitely stay again. Lovely views close to the river.
Psyona
2017-04-08T00:00:00Z
Lovely comfortable studio, great host and good location. Trains were a bit noisey but got used to it.
Tracy
2017-03-12T00:00:00Z
perfect venue for a relaxing night
Andy
2017-04-05T00:00:00Z
Has everything you need to be comfortable, and is in a gorgeous location near the river.
Daleep
2017-03-05T00:00:00Z
Great place, very nice quiet area.
Jonathan
2017-03-09T00:00:00Z
Really cozy and clean studio flat in an nice and familiar location. We had a very comfortable stay. The kitchen offers everything you need to care for your own. If we are back in Maidenhead some day, we will definitly come back.
Dirk
2017-03-20T00:00:00Z
The host canceled this reservation 10 days before arrival. This is an automated posting.
Max
2017-04-04T00:00:00Z
Was a great little place to find for us and everything was described and layed out by George perfectly. Would stay again
Jonny
2017-03-23T00:00:00Z
Maidenhead, 英格蘭, 英國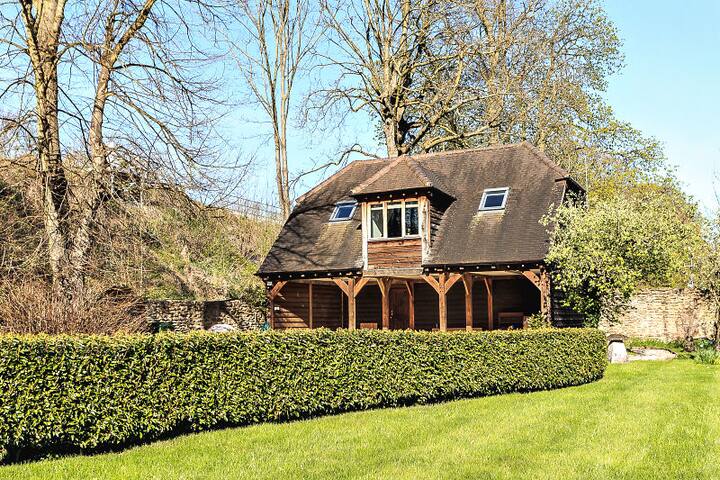 Overlooking private garden, situated in historic old town of Amersham, the apartment, once lived in by Roald Dahl, is close to restaurants, pubs, coffee shops plus fashion boutiques. Own entrance, fitted kitchen with electric hob, oven, microwave, fridge, washing machine. Also sitting room with sofa-bed, TV & DVD player, double bedroom with TV, bathroom with bath and separate shower unit. Full central heating, free Wi-Fi. Secluded outside seating area. Unlimited free parking in High Street.
The Old Town of Amersham with its listed buildings and unique facilities.
Dearest Pamela and Peter, it was so lovely to meet you both, and we just wanted to covey our thanks, for our relaxing stay in your clean, comfortable, beautiful home..your attention to detail did not go unnoticed, all our needs and more were provided for and the food starter pack and wi fi was a huge bonus for us. The accommodation was quiet but also central to the best pubs, restaurants, cafes, quaint shops and even a supermarket within walking distance ..with outlooks of tranquil scenic countryside. It exceeded all our expectations and will certainly be staying with you again in the future, maybe in the summer next time so that we can soak up the ambiance of your gorgeous manicured gardens...from start to finish we could not fault your friendly, efficient, service and will certainly be highly recommending you to our family and friends. Kind Regards Sharon and Seainin Ferrity
Patrick
2016-11-10T00:00:00Z
Annette and I were made to feel very welcome by both Pamela and Peter. Its a very nice place in a nice location and we enjoyed our stay. We would certainly stay there again given the opportunity.
George
2016-10-02T00:00:00Z
Warm and friendly greeting on arrival, the accommodation was clean and comfortable, beautifully furnished and decorated. Well equipped kitchen and the bathroom is fab! Beautiful secluded garden.
Elizabeth
2016-09-26T00:00:00Z
We really enjoyed our romantic weekend away in this well located and comfortable annex. Everything we needed was provided to a high standard, and we enjoyed sitting outside one morning to have breakfast. Pamela and her husband were very welcoming hosts. We would recommend it to anyone looking for a peaceful home from home.
Jonathan
2016-10-09T00:00:00Z
It was an absolute pleasure to have met and stayed with Pamela and her husband. Old Amersham is a beautiful town and our accommodation was wonderful. Lots of character, cosy, clean and comfy. I think it was even better than the photos!! My partner and I both really enjoyed our stay and would love to go back one day. Thank you for being such a lovely host. Maria
Maria
2016-11-26T00:00:00Z
Great stay! The bathroom is very nice. Right in the middle of a beautiful town.
Matthew
2017-03-19T00:00:00Z
A true hidden gem on Amersham high street. The photos don't do it justice! Pam is a great host, very relaxed and accommodating. I would absolutely recommend staying here.
Emily
2016-11-21T00:00:00Z
Pamela's apartment combines charm and character with comfort and convenience. Amersham Old Town is quaint and quiet, yet has a great choice of cafes, restaurants and cosy pubs. Just 5-10 minutes from the door of Wisteria Cottage lie fields and farmland, woodland and wildlife. Pamela and her husband Peter gave us a warm welcome and were able to be flexible on check-in time, due to the timing of our visit. Tea, coffee, milk, fruit and breakfast cereal were waiting for us on arrival, as well as pub and restaurant recommendations. TV, DVD, radio and wi-fi all worked smoothly. A perfect place for a quiet break.
Kirsty
2017-01-06T00:00:00Z
Amersham, 英格蘭, 英國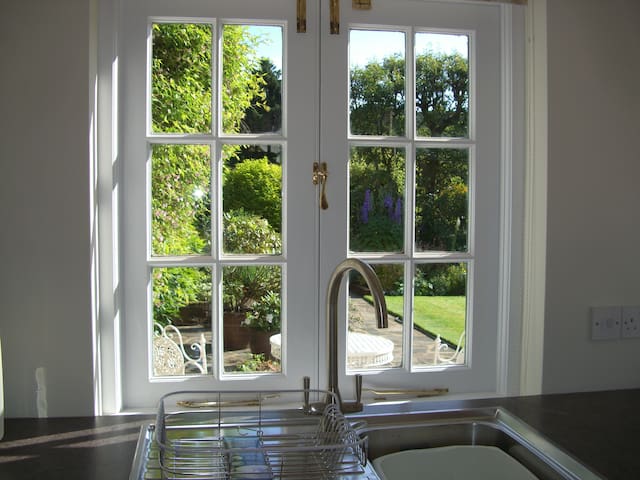 Our Barn is an easy drive to MK business,Dunstable and Leighton Buzzard It is down a delightful narrow leafy lane. It is great for business travellers. Ideally quiet and very restful. A real home and everyone who sets foot in here seems to feel at home. (Please read reviews of our other guests in the main bedroom) We have some superb walks also up to the Maidenbower, and the Downs, also a delightful walk up the lane to the White Lion Pub, or along the cycle path to The Five Bells at Stanbridge.
Your bedroom is tastefully decorated in pastel shades and the bed is a very comfortable 4ft6ins pocket sprung double bed, goose down duvet and soft towels. Tea and coffee making tray in your room too. Also a beamed ceiling Underfloor heating. You have your own bathroom again with beamed ceiling, full size bath with shower as seen in photos. (Please read reviews on my other room which I have had on airbnb for a while.) A Continental Breakfast is provided on the dining room table with a variety of cereals, yogurts, ham and cheese, toast and tea/coffee/fruit juices.
Our neighbourhood is unique in that it is down a leafy tiny lane, with an old postbox in the wall in the lane, also the Maidenbower is a lovely walk round, cycle track to Stanbridge in one direction and up to Dunstable Downs and onto the Ridgeway in the other direction. Both are bridle ways and beautiful walks.
This is an excellent place to stay with attentive and welcoming hosts.
Jonathan
2017-01-18T00:00:00Z
This is a great place to stay at.
Jonathan
2017-02-23T00:00:00Z
Brilliant hosts, lovely room = comfortable stay, thank you again!
Richard
2017-02-16T00:00:00Z
Great place to stay, highly recommend. Lovely room with great facilities and friendly and welcoming hosts.
Anjie
2017-03-10T00:00:00Z
Super keen for feedback this is simply the best Airbandb in the country. Period! Thanks for another great stay.
Sean
2016-12-15T00:00:00Z
Rosemary and Alistair made us feel very welcome. Fantastic quite place for a weekend getaway. We couldn't have found a better place to stay.
Pierre
2016-11-06T00:00:00Z
Brilliant as usual - home from home thanks Rosemary!
Sean
2016-10-18T00:00:00Z
This is a lovely place to stay at.
Jonathan
2017-01-25T00:00:00Z
Dunstable, 英格蘭, 英國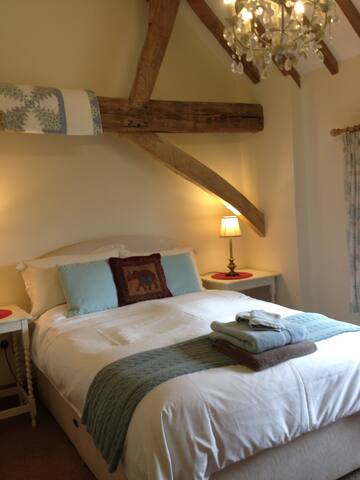 光线和阳光充足的房间在3卧室的大房子在一个安静的死路。浴室的使用(淋浴和浴缸)。明亮而有舒适的大单床,衣柜,床头柜通风。停車處。靠近M40和火车站
-Lovely modern house -Friendly dog -Comfortable bed -Chris and Claire are very accommodating and have fantastic hospitality! -100% would recommend
Fin
2016-06-15T00:00:00Z
Very lovely welcome by both Chris and Claire ( and Rosie), room was lovely,clean and airy. Had the best nights sleep! Breakfast all laid out ready for an early start. Would definatley recommend and would love to stay again, Thank you very much!
Lynsey
2016-06-24T00:00:00Z
Chris and Claire are two really welcoming people. They knew how to make me feel comfortable immediately in their charming house. The bedroom is nicely decorated as well and very clean. I really enjoyed the cosy double bed for a good night of sleep. I definitely recommend their place for your stay!
Charlotte
2016-07-12T00:00:00Z
Lovely home. Very relaxed and peaceful
Emma
2017-02-14T00:00:00Z
Although my stay was brief it was extremely comfortable with warm and friendly hosts and a very restful nights sleep! Plus the restaurant they recommended was fantastic! I wouldn't hesitate to recommend this place to stay
mark
2016-09-23T00:00:00Z
A lovely and friendly place.Very comfortable. Immaculately clean. Chris and Claire are wonderful hosts.
Carole
2017-02-08T00:00:00Z
chris and claire are very nice host. the house is just make me feel like home. very clean and tidy.
Wahsung
2016-07-30T00:00:00Z
Perfect, as usual
Jo
2016-10-18T00:00:00Z
High Wycombe, 英國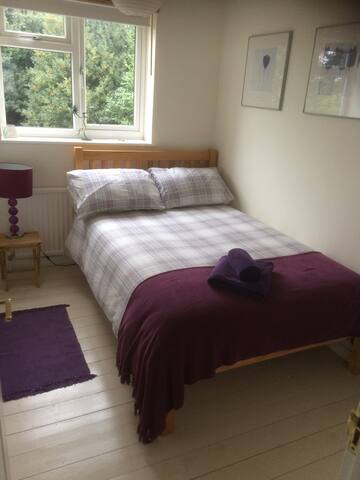 3 Bedroom house on the edge of a small market town in the countryside. The town has some lovely walks with four pubs and plenty of places to eat. The kitchen is new and easy to use, it leads onto a large conservatory overlooking the garden. Guests are welcome to eat here while they watch the birds in the garden.
Well behaved dog/s are well come at an extra charge of £3 per night. This is a very dog friendly house!
Close to Silverstone - Stowe School - Waddeston Manor - Claydon House - Addington Equestrian Center
Winslow, 英格蘭, 英國
This beautiful oak and brick living space has a SuperKing bed, a lux statement bath, a relaxing area with sofa and a private shower ensuite (downstairs). It has a private entrance & boasts uninterrupted views across the Oxfordshire countryside. We are a perfect base for dining at Raymond Blanc's Le Manoir (half a mile away) or exploring Oxfordshire including Oxford city centre as well as other landmarks like Blenheim Palace & Bicester Village for shopping (both within 30 minutes drive away.)
This double height barn room is made with American oak and exposed brickwork and is an amazing space. The huge windows offer beautiful views of rural Oxfordshire towards Great Milton (home to Raymond Blanc's Le Manoir Quat Saison) as well as views of our garden. Or simply sit and watch the clouds drift by as you soak in the bath! As mentioned above there is a luxury bath within the Barn Room (happily fits 2!) and the private wet-room shower ensuite is down a short flight of stairs. The shower room is very luxurious with soft fresh towels and complimentary toiletries. As well as being surrounded by beautiful fields we also have half an acre of garden that you are welcome to explore/enjoy We have chickens in the garden (but no cockerel to disturb your sleep!) so please feel free to ask us for some eggs to take home! Within the room there are coffee/ tea making facilities including a Nespresso machine and complimentary pods as well as brilliant Pukka teas. We also have a fridge in the room in which you'll find your fresh milk and you can store wine and treats! There is also a Radio and LP turntable with a collection of LP's available for your use (slight warning: the LP's have rather an 80's slant!!)
Our house is on its own surrounded by countryside but within a mile of Raymond Blanc's Le Manoir Quat Saison so we are the perfect location if you want to dine there whilst enjoying a less expensive but still very special, luxury room!
A room with a view.
Helen
2016-10-10T00:00:00Z
Thanks Rhian we had a great stay. Perfectly placed for Le Manoir and a beautiful room. Communication was very good and we would happily stay again. Regards James
james
2016-07-03T00:00:00Z
Having been invited to a birthday dinner at Les Manoirs Quatre Saisons, we needed local accommodation (staying at the hotel at £450 plus a night was a little out of our budget). There are a number of local options but mainly soulless Corporate Hotels. Luckily we came across Rhian's stunning April House Barn conversion, which is only located approximately 1.5 miles from Les Manoirs. The pictures online showed a beautiful room so fitted our requirements. I am pleased to say that on arrival our expectations were more than exceeded, there was plenty of space for off-road parking, our own private outdoor access to our huge exposed oak beam room, complete with free standing bath, double aspect floor to ceiling windows offering views on to surrounding countryside. The room was impeccably clean, beautifully designed with well thought out interiors. We had a fantastic evening out made all the more enjoyable to wake up in beautiful surroundings without the £450 plus bill. Our hosts couldn't have been more welcoming with clear instructions how to find them and fantastic hospitality. We couldn't recommend Rhian's Airbnb accommodation more highly and will definitely visit again in the future.
Ed
2016-03-14T00:00:00Z
We are more than positive Rhian would have been a fabulous host had we been well enough to stay the reservation we booked. Prior to our intended stay we were in regular communication with Rhian. Rhian went above and beyond the call of duty and graciously provided answers to questions regarding restaurants and activities local to the airbnb, which, I am sure would have made our 26th Wedding Anniversary a time to remember. We look forward to rebooking a future weekend away at Rhian's airbnb.
Angela
2016-07-18T00:00:00Z
A very comfortable space.
Amanda
2016-07-06T00:00:00Z
Lovely hosts, absolutely fabulous room and facilities. Just a shame that we couldn't enjoy it all for longer!
Lisa
2016-10-13T00:00:00Z
.
Jim
2017-02-13T00:00:00Z
Lovely barn; amazing views, well decorated. Bed is super comfy. Was everything we'd hoped it would be. Highly recommended. We attended a wedding at Le manior; it's about a 20min walk but very quick and cheap in a taxi. Follow Rhians directions (as the satnav took us to the middle of the village).
Matt
2016-09-24T00:00:00Z
牛津郡(Oxfordshire), 英國
My place is close to restaurants and dining and public transport. You'll love my place because of the neighbourhood. I live in home and have both a double and single room available for guests. I provide breakfast , cereal, toast and drinks. Lock on inside of bedroom door. The room is small but new full size single bed and linen. Towels provided. Suitable for daytime Working Professionals . Thank you.
Im friendly and enjoy hosting guests as you can see from my reviews. Comfortable beds and welcoming host. Cosy room is 7 foot by 6.5 foot. Full size new single bed and bedding.
Gayle's house is located at a very nice part of the city, it is calm, and it was an excellent choice for staying there for 4 days.
Zoltan
2017-01-17T00:00:00Z
Lovely place to stay like a second home while working away. Gayle is an excellent host. It was so nice booked again when work stay got extended
David
2016-12-03T00:00:00Z
Very quiet area and very comfy bed, Gayle was very friendly and made me feel welcome
Paul
2016-12-08T00:00:00Z
A very quiet bedroom in a very quiet community!
Lanny
2017-02-09T00:00:00Z
Made to feel welcome
Keith
2016-11-11T00:00:00Z
Amazing Airbnb ! I was warmly welcomed by Gayle, who's a very happy and very friendly person :) I loved staying here, the room is little, cute and very cosy.
Anne-Charlotte
2016-07-11T00:00:00Z
Very cosy place - host was friendly. Home from Home experience.
Sean
2016-11-23T00:00:00Z
Exactly as described. Small cosy room, nice and clean and in a quiet area. Gayle is a good host. Would recommend.
Guy
2016-11-15T00:00:00Z
Emerson Valley, 英國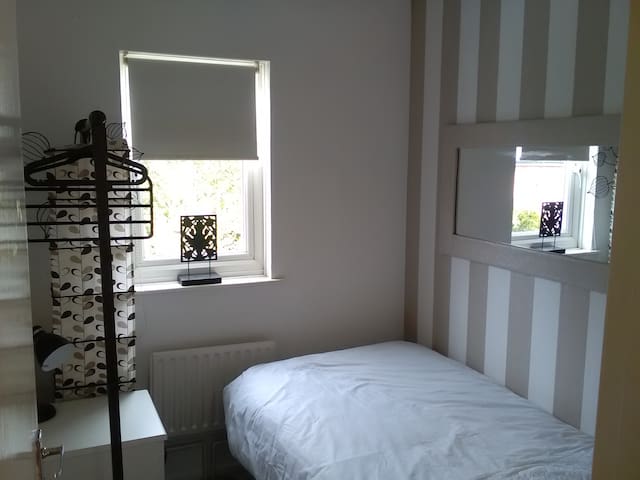 My home is a 10-15 walk from the centre of Buckingham, 13 miles from Milton Keynes, 17 miles from Aylesbury and 11 miles from Bicester. Buckingham is famous for its University and Old Gaol; there are many independent shops and restaurants a riverside walk and places to visit. We are also close to Silverstone, Stowe (NT), Bletchley and further afield, Waddesdon Manor (NT). The room is newly decorated with desk/dressing table and double wardrobe. The family bathroom is for your use only.
A fresh, light and cosy room in a quiet, peaceful house so great if you have had a long and busy day.
The house is in a quiet Close with lovely neighbours. Buckingham's Circular Walk is very popular and can be accessed within 5 minutes. There is a wide variety of restaurants in the town.
A great place to stay.
simon
2017-03-31T00:00:00Z
Good rapport with the hostess. Good neighborhood
Rita
2016-12-04T00:00:00Z
A lovely comfortable room in a beautiful house. Everything I needed and the luxury of a private bathroom!
Lorna
2017-02-10T00:00:00Z
Jenny is a great host going above and beyond to make you welcome and comfortable in her home. Very quite neighbourhood and a Peaceful nights sleep. I know where il stay if I'm ever back down in Buckingham.
Robert
2017-04-07T00:00:00Z
Typical British family house.This is a very nice place to stay. Very quite and walking distance from the uni. The landlady is a lovely grandma that really kind, helpful and friendly. Private bathroom, free and decent breakfast, nice garden view.you won't find another perfect place like this. what a precious experience here!
鑫源
2017-01-22T00:00:00Z
Jenny's was a great hostess.
James
2017-03-15T00:00:00Z
I had a very warm welcome from Jenny with a bowl of fresh fruit in my room, my room was very clean and bright, it looked almost new. Jenny told me to make myself at home and use the kitchen and lounge if I liked, I will book again when I am working in the area
Philip
2017-01-12T00:00:00Z
Jenny was a very nice host. Despite my late arrival she did everything to make me feel at home. The room was in perfect condition and nice and clean. I would definitely book this place again.
Andy
2017-02-04T00:00:00Z
Buckingham, 英格蘭, 英國
Our welcoming detached house in Bradwell village (a short 20 min walk to Milton Keynes station and has two bedrooms available with breakfast. This is the smaller room but there are plenty of amenities and we think you will find your stay very comfortable as we strive to be accommodating.
Our welcoming detached house in Bradwell village (a short 20 min walk to Milton Keynes station and a 40 minute from the town centre) has a single and a double bedroom available with breakfast. This is the smaller room but there are plenty of amenities and we think you will find your stay very comfortable as we strive to be accommodating. The 2 rooms available are private and not shared. This room is small but comfortable and as it shows in the photo there is a desk and chair, comfy standard size single bed and build in wardrobes. The mattress is firm but we also have the option of adding a memory foam topper for those who prefer it. Please let us know in advance of your stay if you prefer the memory foam. There is also a tv, mirror and unlimited wifi. The main bathroom has a shower, bath and toilet and only the children use it for there baths in the day as we have ensuite , it is for solely for guests during there stay. Guests have access to kitchen during meal times, dining room, bathroom with bath and shower. The bathroom is shared by the guests but not with us as we have an ensuite. We are a welcoming family who love to learn about cultures and try our best to be accommodating. I love that there is so much open space and that its in a lovely village. There are plenty of pedestrian routes aswell as a bus into the main town which has nightlife, many restaurants, great train links into London. The town also has a snowboarding facility! It is a short walk of approx 20 to Milton Keynes central station via pedestrian red route. There is also good bus links and the local bus stop is a 5 minute walk. Breakfast will be continental (cereal, porridge, tea, coffee, toast), and is self service laid out in the breakfast room. We have two calm shy cats
I love that there is so much open space and that its in a lovely village. There are plenty of pedestrian routes aswell as a bus into the main town which has nightlife, many restaurants, great train links into London. The town also has a snowboarding facility! We live a 20 minute walk from the station and 40 minute walk from the centre of town.
Great location, high standard.
Rafal
2017-01-26T00:00:00Z
Great place and people on my fav list
Russell
2017-02-24T00:00:00Z
Jay is a great host, super friendly, very kind. She has two little kids but she has time to clean the room, the bathroom, every day fresh towels. Jay even changes the bed sheets! Any guest will feel like at home. Thank You Jay for being a great host.
Aguś
2016-11-30T00:00:00Z
Jay and her family are lovely They make you feel like you are at home Nothing is too much for them Recommend that you exsperiace it for yourselves You will not be disappointed
Kevin
2016-12-14T00:00:00Z
Comfortable bed and a great host, all you could wish for!
Natalie
2017-04-05T00:00:00Z
Lovely family with a lovely family home. A pleasure to stay with them as always. Thanks y'all !
Tony
2017-02-17T00:00:00Z
Welcoming and helpful host, and a comfortable stay. Thanks Jay!
Simon
2017-01-11T00:00:00Z
It is single bedroom in a nice family home located near centre of the town in a quiet area. The room is basic but clean. Jay has lovely family that is welcoming and respectful.
Najam
2017-02-15T00:00:00Z
Bradwell, Milton Keynes, 英國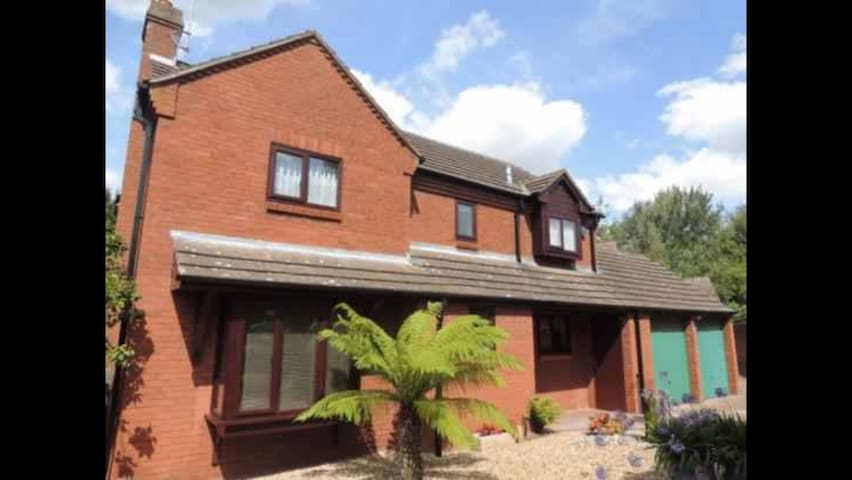 Specious one bedroom apartment situated in quit residential street , close to shops , public transport , airport and have an easy access to M4 and Windsor. The apartment is sleep 3 but can accommodate up to four as we can provide en extra guest bed. The apartment also benefit with own private access , allocated parking , internet and fully equipment kitchen. The apartment is good for families ( with kids ) solo adventures and business travelers . Fill at home , away from home
The flat has everything you need. Its in a nice quite location. Vladimir was very helpful to our needs and we would be happy to stay there again. Big Thank you to the host!
Ekaterina
2017-03-24T00:00:00Z
Great host, a warm and cosy place.
Sandeep
2017-03-03T00:00:00Z
Slough, 英格蘭, 英國
The studio is only a short 8 minute walk down hill to the centre of Marlow which offers plenty of shops and bars, as well as almost every style of dining from riverside pubs to the Hand & Flowers with its Michelin two stars. The studio is located at the top of our garden with access through a side gate so you can come and go without having to walk through the house. The studio will suit two people for a couple of nights or a single person longer term.
Great place, easy access and gracious hosts. A short walk into town, I would definitely recommend this place to anyone who wanted to see Marlow.
Jonathan
2016-10-12T00:00:00Z
A warm welcoming host. Lovely location, great to get into Marlow, comfy and cosy. Good value for money.
Neal
2017-01-08T00:00:00Z
Adam and Chris are generous hosts, and I appreciated their warm welcome. Fresh fruit, milk and cereal, all very appreciated. The bungalow is small. Two people will likely bump into each other dozens of times. Even as a solo traveler such as myself, they is so very little room to put anything. So the two chairs end up covered in clothes and what-have-you which means you are consigned to the comfortable bed. Likewise, the cooking area and the bathroom are also small. While there is a two burner HOB, and a refrigerator and a microwave, there is no kitchen sink. It's about a mile walk down hill to the town center. It's about a mile walk uphill coming back. Wonderful exercise. Alternately, driving into town is a challenge because parking in Marlow is almost nonexistent. All that I've written so far is not meant to dissuade you, only to inform you. There are lots of reasons to be in and around Marlow, and this bungalow might very well suit your needs.
Chris
2017-01-22T00:00:00Z
Excellent hosts, and a great location for exploring Marlow. Good value for money and a delightful studio that has all the home comforts - a nice touch was the fresh roses in the room!
Carole
2016-10-24T00:00:00Z
Great location. Was ideal for me, wanted countryside and long walks.
Arminder
2016-11-27T00:00:00Z
Adam was a lovely host. We had everything we needed to enjoy our stay in Marlow. Good comfy bed and essentials in the fridge was a nice touch. Could not recommend here enough if visiting any of the local restaurants, villages or towns.
Samantha
2016-11-04T00:00:00Z
Adam and his wife Chris were wonderful hosts who went out of their way to help us both before and during our stay. We were visiting the beautiful town of Marlow to eat at Tom Kerridge's amazing restaurant The Hand and Flowers and this listing was an ideal base. The accommodation was exactly as described and we really enjoyed our short stay in Adam's quirky and cosy studio. Highly recommended!
Gill
2016-10-04T00:00:00Z
Nice little place, perfect for two people. Good location for exploring Marlo and going to the hand and flower.
Hannah
2017-04-02T00:00:00Z
Marlow, 英格蘭, 英國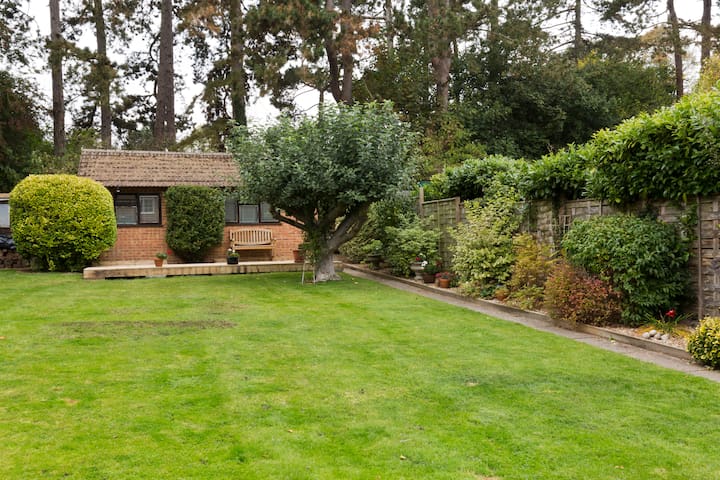 Buckinghamshire - Airbnb
:
在

569

位房客的評價中,平均評分為

4.88

星(滿分為

5

星)