My place is close to The river, parks, the city center, solar eclipse 2017. My place is good for couples, solo adventurers, business travelers, families (with kids), big groups, and furry friends (pets).
Best in the US!
Guernsey, 懷俄明州 82214, 美國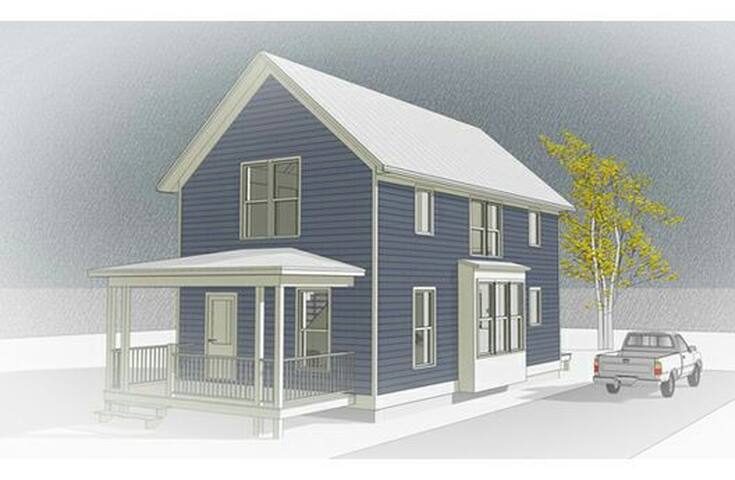 Our room is available for you to stay, sleep and live in. The room has a closet and a bathroom just down the hall. The room next door is our daughter's. Be prepared for lots of attention from our dogs. The spacious kitchen is available as well.
Comfortable room in convenient location right off I-25. Excellent communications from host. Thanks Evan!
Keith
2016-06-05T00:00:00Z
Wheatland, 懷俄明州 82201, 美國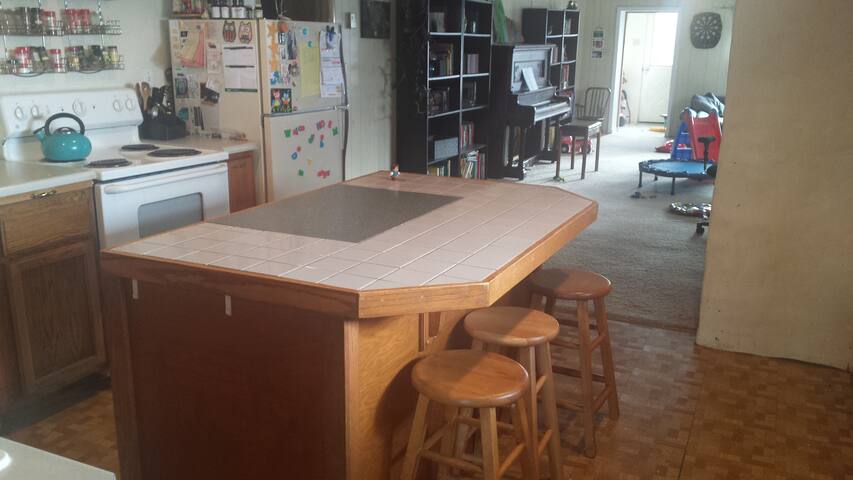 We have camping space available for self-contained RV's ( RV's with own water and toileting facilities) as well as day parking for viewing of the Total Solar Eclipse on Aug. 21, 2017. We are in Wyoming 85 miles east of Casper in perfect eclipse viewing area. We have no toilet facilities available so no tent campers. No pets allowed. NO SMOKING OR OPEN FLAMES OF ANY KIND. August in WY is VERY dry and we have a high fire danger. We look forward to meeting people from all backgrounds!
Campers MUST have a working fire extinguisher in the RV in order to camp on our property.
We live on a 3,400 acre working cattle ranch in central Wyoming. As we have no trees we have wide open, clear skies perfect for viewing the 2017 Total Solar Eclipse! Guests can witness a working cattle ranch AND witness the greatest Astronomical event of the century!
Manville, 懷俄明州 82227, 美國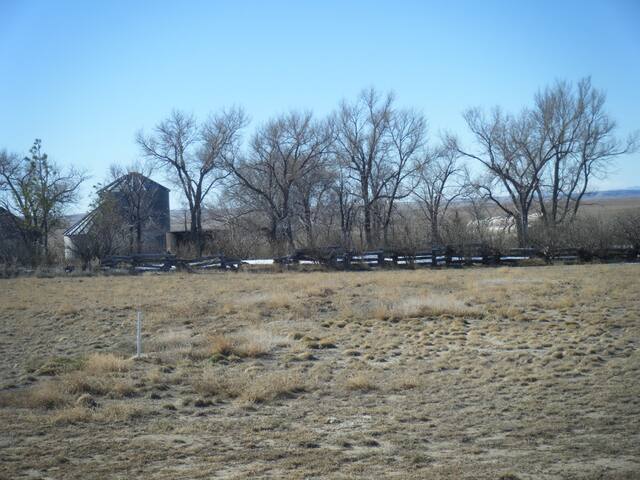 My place is good for couples, solo adventurers, business travelers, and families (with kids).
Tom was a great host. I love that it is so close to the golf course! Thanks for the great stay - I would recommend it highly.
Trenda
2016-06-01T00:00:00Z
The host canceled this reservation 2 days before arrival. This is an automated posting.
Emily
We were pleasantly surprised upon our arrival as we were greeted by Tom. He quickly showed us around the beautifully adorned house which still smelled like a new home. Everything we needed was in the house and Tom even offered us his BBQ to use to feed the family one night. The property was stunning and the location was great...just outside of (URL HIDDEN) very little traffic, yet only 3 minutes to the grocery store. We made him aware that we brought a few extra kids from our baseball team and he didn't hesitate to provide extra sleeping accommodation's. I highly recommend this property and we look forward to staying again!
Stephanie
2016-06-21T00:00:00Z
Contact owner prior to arrival to confirm your reservation. This a very nice and comfortable home
Lynn
2017-02-05T00:00:00Z
Our stay was truly great, Tom and Susan went above and beyond to make our time here the best it could be
Rita
2016-10-03T00:00:00Z
The cottonwood bunkhouse is more spacious than pictured. Tom was an excellent host and his wife even baked us cookies. It far exceeded my expectations. Thank you tom
Todd
2016-12-18T00:00:00Z
Tom was an excellent host and had a very nice place, definitely would stay again!
GABE
2016-07-22T00:00:00Z
This is a great place to stay in Torrington! It's roomy and practically new. Tom was very helpful. He even allowed our young daughters to play in the big garage (scooters, ping pong, basketball). Great people and great stay.
Lincoln
2016-11-23T00:00:00Z
Torrington, 懷俄明州 82240, 美國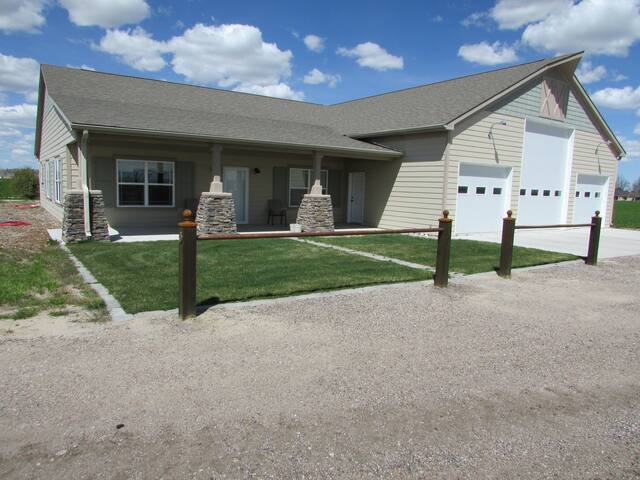 Beautiful home in the country.....we will have 2 bedrooms available to rent, as well as rv sites, some with hook- ups. Perfect viewing spots available to view the solar eclipse!
We are away from all city lights so you will have unobstructed views of the eclipse, and if you would like a few more seconds of totality, we are located right on Van Tassell road going South, where you can drive just a few miles and be right on the center line of totality!
The area here in Van Tassell is mainly a remote ranching community. Van Tassell was an old train depot where cattle were gathered and taken out by rail. The area is noted by sandstone rock outcroppings that are unique to look at. We are 40 miles West of Ft. Robinson State Park, and 35 miles away from Agate Fossil Beds National Monument. A two hour drive to the North you are in the Black Hills with Mount Rushmore. There is a lot of history in the area!
Van Tassell, 懷俄明州 82242, 美國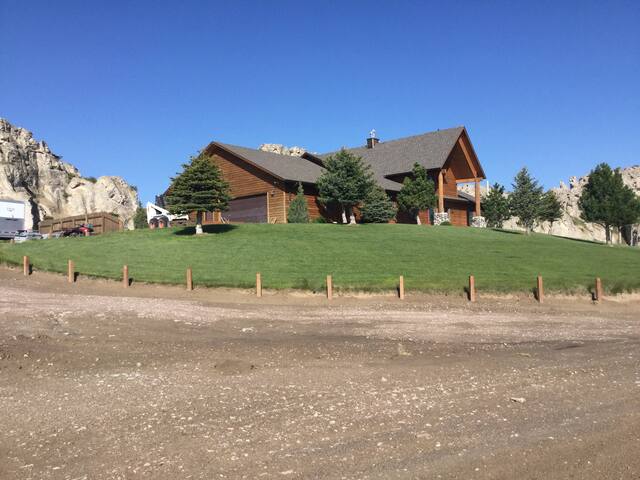 Welcome to big Wyoming and enjoy fine rustic living and stay at a working ranch and enjoy the beautiful sunrises and sunsets that Wyoming has to offer. This home has an entire lower level to offer complete privacy.
Entire lower level available with sectional seating , 75 inch tv, kitchenette, 2 bedrooms with queen beds. Kitchenette offers cabinets , dishware, full fridge , coffee maker and microwave.
Located minutes from town but nestled in the countryside with privacy
We had a great stay in Torrington and had a warm welcome. The accommodation was very spacious and easy to find with the directions Bethany send us.
Louisa
2016-05-24T00:00:00Z
Great People Great Place Great Family
Bryce
2017-03-05T00:00:00Z
What a beautiful house and location. Having the whole basement, and a very large and comfortable one at that, was luxurious. Nice location for a morning run also.
Carl
2016-09-23T00:00:00Z
The hosts made it easy to find their place, which is absolutely beautiful. We found the accommodations outstanding. New house, everything was clean, and the hosts were gracious to accommodate our arrival and departure times. Fantastic!
Brad
2016-05-08T00:00:00Z
Very good communication and good directions. Bethany and her husband are very welcoming. Deluxe accomadations. Much better than most airbnb's. Very good value! I highly recommend this place.
Sharon
2015-12-05T00:00:00Z
Amazing lower level in this new/modern home. So much space, great bed, bathroom, kitchenette and lounge area. Very comfortable, and great to see the scenery in western Wyoming.
Matt
2016-07-01T00:00:00Z
What a beautiful place to stay. Very relaxing and comfortable. Bethany went out of her way to accommodate our late arrival. We will definitely stay there again should the need arise.
Rhonda
2016-08-23T00:00:00Z
Nous n'avons pas pu dormir dans le logement car nous ne l,avons jamais trouvé
philippe
2016-09-21T00:00:00Z
Torrington, 懷俄明州 82240, 美國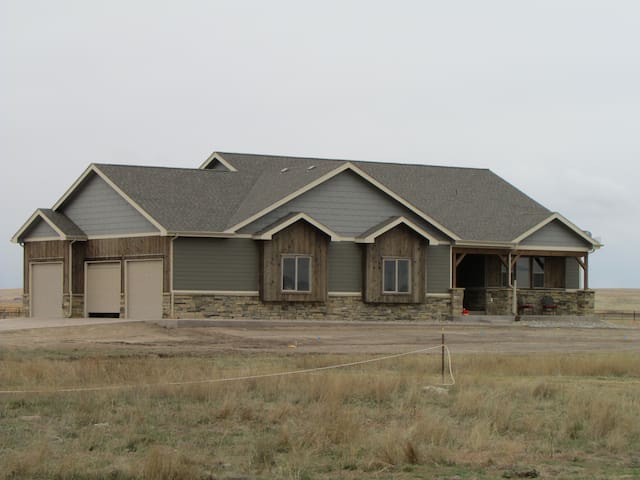 Home is good for families (with kids) and big groups. Located about 9 miles out of town on almost 8 acres.This makes for great star-gazing! Imagine--Eclipse during the day and star gazing that same night! Plenty of lawn space for kids to play and relax.Covered back patio and grill available for use. Upstairs has 3 bedrooms (including baby's room w/crib), 2 full baths, laundry. Spacious downstairs has 2 bedrooms, full bath, wet bar, air hockey table, plenty of room to relax.
We are located right on the river with our backyard bordering the wildlife reserve.
Torrington, 懷俄明州 82240, 美國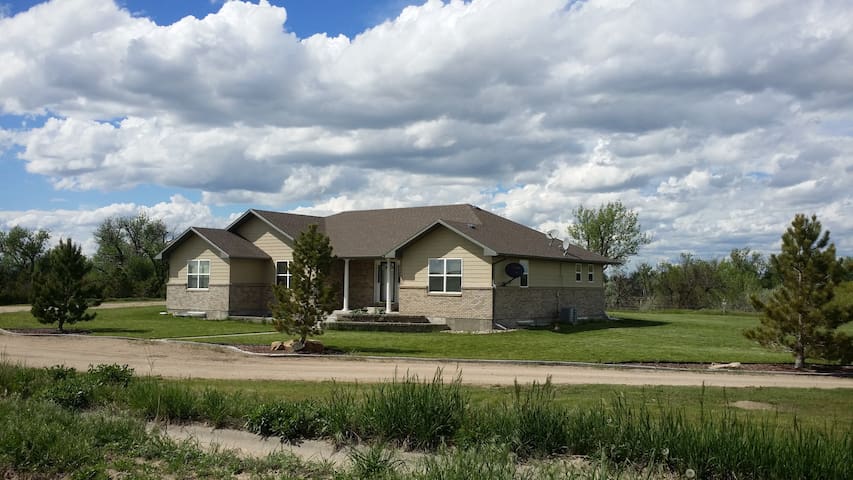 You can find the Whistle Stop Cabin situated close to a county road on 9 acres of beautiful mountain property. The cabin can can sleep up to 8 with 2 bedrooms with queen beds, a bunk room with 3 twin beds, and a full sized futon in the living area.
The kitchen features: a gas cooktop 2 ovens full sized refrigerator/freezer microwave fully stocked with cooking utensils. The dining area has a lovely antique table, comfortable seating and dishes to serve up to 8. A wood stove offers firelight and heat for all areas. The living area has a flat screen TV, leather couch, love seat and chair, and has scenic views of the surrounding landscape. Most of the property is fenced to allow for horse pasturing and private exploration.
Be sure to visit the Esterbrook church with a large picture window facing a gorgeous view of Laramie Peak, which is part of the vast Medicine Bow National Forest.
Channis left us a nice note with important information. She stopped in just briefly to drop off keys, but wasn't intrusive or uncomfortable at all as has happened at other homes.
Allison
2016-08-01T00:00:00Z
The host canceled this reservation 13 days before arrival. This is an automated posting.
Sharon
Great place to stay! The "Cabin" was actually a very nice house with all the amenities listed by the host, and more. A very comfortable and pleasant vacation spot to get away from it all. It even had a nice, unexpected outdoor deck with picnic tables. We were sorry we had not booked a longer visit. Channis was nice enough to drop by soon after out arrival to give us a hand drawn map of the area showing the trailheads for some hikes we had asked her about. When staying here, be sure to visit the marvelous, nearby Esterbrook Church.
Janet
2016-08-23T00:00:00Z
道格拉斯, 懷俄明州 82633, 美國