Comfy and airy double bedroom overlooking garden in quiet area, 15mn walk from the tube and mainline (about 40mns) station into central London, 10mns from shops and restaurants, and bordering the Chess Valley (ideal for walkers). Calm simplicity and a warm welcome.
The bedroom is bright and airy and overlooks a West-facing garden, so you may enjoy some beautiful sunsets. Double bed with memory foam mattress. There is a closet with space at your disposal for hanging clothes and storing your luggage. A dropleaf table can be opened to be used as a desk, with a folding chair you will find in the closet. Full length mirror. If you wish to book just for one night at the weekend, Friday or Saturday night, please make a request to book for 2 nights (Friday/Sat or Sat/Sunday) and I will send you an offer based on a price for the room of £45 for one person, or £55 for 2 people for the night.
Being on the edge of this small town is very special, best of both world - a 10 mn walk to the main street with food shops and restaurants, and very close to fields and woods, and a network of public footpaths along the Chess Valley. There is a little corner shop/newsagent for essentials 5 mns from the house.
Helene was excellent from the start. She welcomed me to her home, showed me around and made sure I was ok. The house location was great. Clean and tidy, the bed was comfortable and had everything you could possibly need, with the bathroom just next door. I would be more than happy to return to this lovely home as it was in a nice area, a comfortable place to stay and Helene was a great host.
Cath
2016-02-27T00:00:00Z
The room was cosy and comfortable and suited our needs perfectly. There's a bathroom next door that has a great shower and is very clean and bright. Helene makes you very welcome into her home and we didn't feel at a awkward about making tea whenever we wanted. We used the house as a base for nights only and were out for all meals, from 8.30 till bed time, so we didn't see much of Helene or use much of the house, but we felt welcome to use the kitchen if we'd have wanted. I can definitely recommend this to anyone looking to stay in this area.
Debbie
2016-10-18T00:00:00Z
If you value peace, quiet and an extremely comfortable bed, you won't be disappointed. Helene is very welcoming, I felt free to be a part of her house and cook my supper and chat with her and then to retire peacefully to a lovely room. I hope to return!
Rachel
2016-06-03T00:00:00Z
Helene is a wonderful host! She made me feel very comfortable and welcomed. I would thoroughly recommend her! Also, she has a lovely cat :)
Stefan
2016-08-19T00:00:00Z
Helene was wonderful! She reminded me of my mom! I really felt like home and the bed was simply amazing! The space was very clean and tidy and she helped with any questions or concerns. The house is in a good location and had street parking available. It is close to so many beautiful nature walks through the country side. I really highly recommend Helene! I would have stayed longer if I could! Thanks Helene! ☺️ I'll miss your cat!
Michaela
2016-05-18T00:00:00Z
The home in Amersham is in a very peaceful part of the Chiltern countryside and is ideal for walkers. Helene is a great host and makes you feel most welcome. The cat is friendly and no trouble at all. I hope to return at some point in the future.
scott
2016-03-15T00:00:00Z
A very pleasant stay at number 9… Helene was very warm and welcoming. Both the bedroom and the bathroom were spotlessly clean, and an extremely comfy double bed bode for a great night's sleep. A nice quite area, with easy parking on the street, meant this was the perfect place for me to relax after my working day. Oh, and if you like cats, as mentioned in quite a few previous reviews, there's a very friendly one quite happy to be fussed for as long as you care to do so. In short, I was very happy with my three night stay in Amersham. Thank you again Helene.
Chris
2016-10-21T00:00:00Z
Enjoyed my stay with Helene, room was very cosy and welcoming and she was very accommodating and friendly (especially the cat). Definitely recommended to those who appreciates a peaceful and serene place to stay. Thank you for being a very good host!
Gideon
2016-07-04T00:00:00Z
Amersham, 英國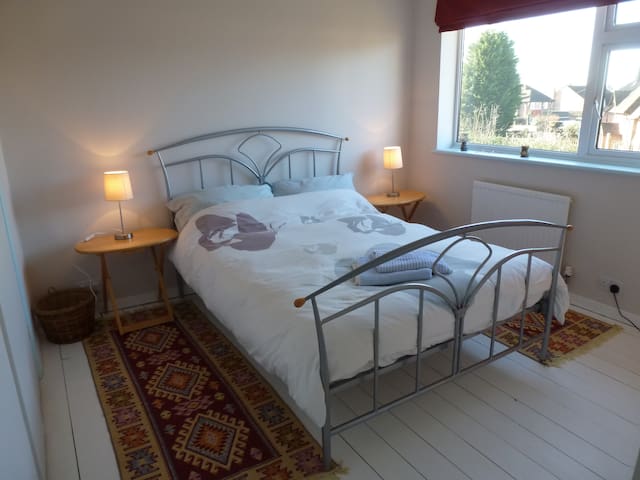 Our spacious, recently refurbished bungalow is in the pretty village of Little Chalfont. We're less than a 5-minute walk from a small row of local shops, as well as Chalfont & Latimer train station. From there you can reach London in half an hour.
Set on a quiet road, our house is ideally located to explore the gorgeous Chilterns area, as well as London. Trains depart frequently from the nearby station -- you can either take the Metropolitan line to Baker Street or the Chiltern line to Marylebone. We're also very close to the M25. We've spent a lot of time updating our house and garden -- the kitchen appliances are all top of the range, the bathroom is brand new and the garden has been fully landscaped. It's lovely to sit out on the patio in the warmer months.
Alison and Alan are such kind and wonderful hosts. They are very friendly, welcoming, and extremely helpful. Our room was very comfortable, clean, and quiet. The house is also very clean, tidy, and beautiful. The location is very convenient as it's a short walk to the tube station, and one can find restaurants and shops down the road. Needless to say, our stay was wonderful, and we highly recommend Alison and Alan's place.
Patricia
2016-03-04T00:00:00Z
What a wonderful stay with Alison and Alan. A very warm welcome by Alan, Poppy (the beautiful dog) and the two friendly cats. I was totally surprised by the amazing cooked breakfast. The details are exactly as described, lovely bedroom and bathroom. Thank you so much Alison and Alan. If I'm back at Latimer, I'll be staying with you.
Louise
2016-05-02T00:00:00Z
My wife and I had an unforgettable weekend break forged with our stay Alison& and Allan in their beautiful home in little Chalfont , literally 5 mins walk to metro line ,, where Main Street london is on your doorstep, we were made so welcome , sure to return asap when we have our next vacation, thank you for all , really felt welcome, Regards Edmund& claudia X
EDMUND
2016-10-03T00:00:00Z
Alison kindly drove to pick my friend up and made her feel very welcomed. Very nice area, safe and surrounded by beautiful nature. Also let friend of my friend stayed another spare room with short notice. Nice clean room and cooked breakfast also. Then gave my friend a lift back to the venue she needed to go next morning. Thank you so much Alison!
Kiyomi
2015-09-07T00:00:00Z
Wonderful hosts, very comfortable, great location.
David
2016-07-28T00:00:00Z
Always the first place I try and book when in London. Great hosts, very comfortable, and a great location for the shops and station.
David
2016-08-11T00:00:00Z
We only stayed for 1 night. We were made very welcome. The room and ensuite bathroom were hotel quality. Thank you Alison
Philip
2016-08-24T00:00:00Z
Always a pleasure to stay here. A quiet, comfortable room in a very warm and friendly household. Highly recommended!
David
2016-05-20T00:00:00Z
Little Chalfont, Buckinghamshire, 英國
This two bed characterful home in Amersham, with a pretty kept garden is just a 40-50minute train or tube ride from central London. Tucked away it's a hidden gem, with restaurants and shops just minutes away and beautiful woodland walks taking you to the 13th century Amersham Old town.
Double room with beautiful garden view, and comfortable double bed with feather duvet. Towels provided and shared bathroom with shower and bath on the same floor as the bedroom. There is parking available for one car and the station is less than a 3 minute walk away.
Amersham is ideally located for access to central London using Oyster pay as you go on the train or the tube whilst being set in the beautiful Chiltern hills. As well as the Old town boasting it's 13th century pubs, historic buildings and great cafes, the new town Amersham on the hill has a number of shops, restaurants and cafes. Idyllic villages such as Great Missenden (home of the Roald Dahl museum), Wendover, Beaconsfield and Penn are just a short drive away. Heathrow airport is just 30 minutes away in the car and the M40 and M25 are easily accessible.
It was a great choice to stay here. Martha rescued us from a late cancellation and made an extra effort to accommodate our arrival time. The room is pretty small but the bed is super comfy and as the rest of the house is available to sit and relax in that was fine. The bathroom was a nice size with bath and shower. The kitchen had everything needed and the lounge was well decorated with several talking points as we sat and chatted with Martha in the evening. The view from the bedroom over the garden is pleasant and sitting in the garden is very relaxing. Martha was really friendly and made sure we had everything we needed making good recommendations for places to visit. The walks around here are excellent and the Old Town was beautiful with several great places to eat. We had a thoroughly good time staying here and plan to stay with Martha next time we are in the area. Highly recommended.
Vlad
2017-03-26T00:00:00Z
Very Clean, Great location, Lovely house and Garden, Host very accommodating
Scott
2017-03-13T00:00:00Z
Amersham, Buckinghamshire, 英國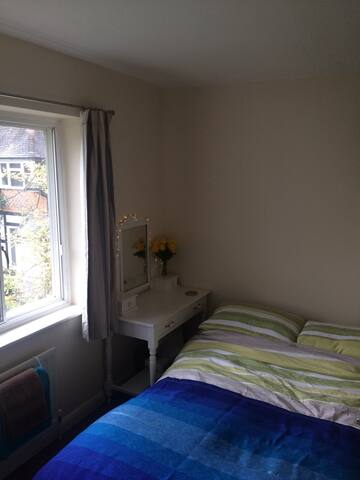 Spacious en-suite room in lovely house in semi-rural location yet 15 min walk from tube station with fast access to London (35 mins on train). Beautiful garden with heated pool to relax in after a busy day. Alison also speaks French, German and Spanish. Another double en-suite bedroom available in house - see separate listing "Idyllic place close to London".
Large newly decorated bedroom with king size bed and en-suite bathroom. Additional convertible bed in the room provides extra comfort and potential for further guests eg children (£15 supplement each). Separate private shower room also available.
We live in a leafy lane close to Little Chalfont village with its station and various shops, cafes, pubs and restaurants. If you have a car you are close to major motorways including M25, M40 giving access to Oxford, Cambridge, Windsor, Legoland or Stratford within an hour's drive (outside rush hours!). The local area is full of historic towns and villages often used as film or TV sets. There are numerous beautiful walks nearby in the Chilterns including one around the Prime Minister's country residence at Chequers.
We loved our stay with Mike and Alison. Such amazing hosts - so helpful and friendly and their cooked breakfast was delicious. We had lots to talk about our sailing adventures. The rooms were clean spacious and beautifully decorated. They were so accommodating with our request for extra beds for the kids who loved staying there and swimming in the pool. A wonderful stay. Thank you Mike and Alison!
Alexandra
2016-07-11T00:00:00Z
It's been great meeting Alison and Mike. They have been very hospitable and friendly, and are fun to spend time with. They offered me use of other facilities in the house including living room, kitchen and swimming pool, and really made me feel at home. The house is certainly in an idyllic location and yet very conveniently located for commuting to Central London; the nearest tube/train station being just a mile away. The views around and from the house are absolutely beautiful There is a garden and pool and parking space. The room is spacious, super-comfy, clean and tastefully decorated. There's an attached bathroom and ample storage space.
Shueyb
2015-07-22T00:00:00Z
Mike and Alison are effervescent hosts who offer a warm and friendly welcome to guests in their lovely home. The property is spacious, airy, well-appointed and beautiful, reflecting Alison's love of art, with wonderful views and the opportunity to relax by the pool in the garden, or even take a dip during the summer season. Although the property itself feels rural due to the setting, the village offers a variety of shops and eateries and excellent links to London.
Paul
2016-09-14T00:00:00Z
Stayed here for a week whilst working at the nearby film studios. Beautiful house! Beautiful clean spacious rooms, and very friendly hosts. Very accommodating and helpful- wish I could stay longer !!
Sara
2016-02-27T00:00:00Z
Loved my stay with Mike and Alison, beautiful house and in the great British countryside. Quiet, easy to get to train station. Engaging conversions and very helpful, knowledgeable and interesting. Will be back
Wendy
2016-12-18T00:00:00Z
Thank you Alison and Mike for making us feel so welcome. We loved being able to end our journey with a refreshing swim in your pool which you look after so well. It was hard to believe that we were only a mile from a busy train/tube line into London as our room was so quiet and, combined with a comfortable bed, yielded an undisturbed and relaxing night's sleep. The room itself pleasantly surprised us by being unexpectedly spacious with a calming view over the garden, pool and surrounding countryside. We had a varied choice for breakfast, with my husband opting for scrambled egg and bacon while I settled for porridge. We had a great break, made all the better by various entertaining conversations with you. It is indeed an 'idyllic base close to London' as you describe in your listing. Definitely recommend it.
Keren
2015-08-17T00:00:00Z
I had a very enjoyable stay with Alison and Mike. The room was just as advertised and with a very comfortable bed. The hosts were very welcoming and I would highly recommend this stay.
Dan
2015-09-11T00:00:00Z
One of my best homely experience away from home.
Debkumar
2016-07-04T00:00:00Z
Little Chalfont, Buckinghamshire, 英國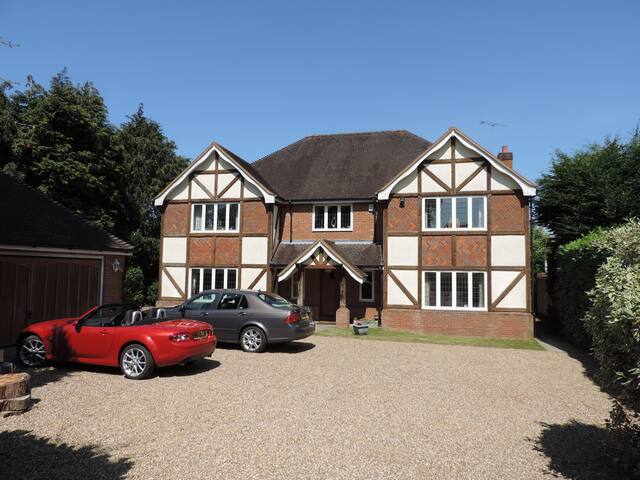 我们为您提供精美舒适双人床房在我们的友好家庭。 共用浴室和厨房。 我们将让您度过好和友好的,我们希望你会喜欢我们的公司和在伦敦郊区这个迷人的村庄。
Leyla was a very friendly and welcoming host - it was a real pleasure to stay with her in her home. The room I stayed in was perfect, a nice comfy bed with amble room and storage. I was able to park on her drive and her home was situated in a nice quiet residential area. I would definitely recommend staying with Leyla.
Heidi
2017-02-22T00:00:00Z
Leyla is lovely and welcoming. Comfy room and very accommodating host!
Rebecca
2016-06-13T00:00:00Z
Excellent accommodation in a loverly area. Leyla was very a brilliant host and i would highly recommend staying with her. First time using Airbnb and i'll defiantly be using it again.
Luke
2016-06-17T00:00:00Z
I've stayed with Leyla multiple times and it's always a pleasure. She's very considerate - I'm usually arriving late and leaving early! - and communication is always excellent. Room is comfortable, warm and clean. Good location for getting in and out of London. Station is a brisk 10min walk.
Dominic
2016-01-15T00:00:00Z
We had a great time with Leyla! She was very welcoming, kind and sincere. Always offered us anything that we needed and also gave great advice on things such as local amenities etc. She was also very respectful of our space as well. I definitely recommend her and will recommend her to friends that need somewhere to stay. The accommodation description is very accurate. The house in Chorleywood is in a lovely area, very peaceful and quiet. Thankyou! ;-)
Tony
2015-12-15T00:00:00Z
Third time staying here now and Leyla is always so accommodating it makes it such an easy place to rest whilst on work trips to London. Excellent location for my work and not too far a walk from the station with regular trains to London.
Dominic
2015-12-04T00:00:00Z
Thank you Leyla for a very comfortable stay. It was a pleasure to meet you and your family. A lovely warm welcome. Very accommodating regarding our arrival time. Warm clean and friendly. Many thanks.
Sarah
2016-06-06T00:00:00Z
Leyla was very welcoming and offered a lovely room with a spacious bedroom which met high standards of cleanliness, as did the available kitchen and shower facilities. Would highly recommend Leyla's house as a great night's stay! James C
James
2017-03-03T00:00:00Z
Chorleywood, 英國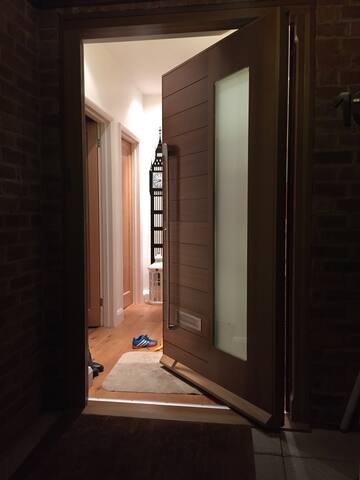 A chance to enjoy the beautiful walks of the chiltern hills and chess valley as well as have immediate access to London within 30 mins by train Across from the house is a waterfall, stream and fishing lakes,8 mins walk is an open air pool and shops.
There is a wardrobe and shelf space, the room is lovely and quiet overlooking the garden. We have a very loving and hospitable Labrador, he melts everyone he sets eyes on, but he is very well behaved in the house and won't come into your room.
In the middle of the chiltern hills meaning there are many beautiful walking trails on the doorstep. The chiltern hills allow you to be in the country but yet less than an hour away from central London. Allowing you to enjoy country walks one day and all the sights of London the next.
I feel lucky to have found this accommodation
Ian
2017-03-31T00:00:00Z
I am happy to have been able to stay
Ian
2017-01-20T00:00:00Z
Well-equipped room with all the facilities you need, it is hospitality on the highest level. Suzy is a friendly and flexible host who took great care of me while I was staying at her house. Warm and relaxing environment with a cheeky canine touch! It was a short but memorable stay and I'd definitely come back!
Christina
2017-02-05T00:00:00Z
The accommodation is just right
Ian
2017-01-06T00:00:00Z
Comfortable room and very welcoming and kind hostess!
Helen
2015-09-28T00:00:00Z
happy to have found this location
Ian
2017-02-03T00:00:00Z
Suzy is kind and welcoming. Her hospitality is only trumped by Kobe who has a habit of falling in love at first sight. A friendly household in a quiet area. Its also a lovely area for walking if you like to get out and about.
Daniel
2015-09-12T00:00:00Z
It was lovely to go back and stay with Suzy and this visit was as lovely, friendly and comfortable as the first visit, will definately return again.
Sharon
2016-05-06T00:00:00Z
Chesham, Bucks, 英國
Overlooking private garden, situated in historic old town of Amersham, the apartment, once lived in by Roald Dahl, is close to restaurants, pubs, coffee shops plus fashion boutiques. Own entrance, fitted kitchen with electric hob, oven, microwave, fridge, washing machine. Also sitting room with sofa-bed, TV & DVD player, double bedroom with TV, bathroom with bath and separate shower unit. Full central heating, free Wi-Fi. Secluded outside seating area. Unlimited free parking in High Street.
The Old Town of Amersham with its listed buildings and unique facilities.
Dearest Pamela and Peter, it was so lovely to meet you both, and we just wanted to covey our thanks, for our relaxing stay in your clean, comfortable, beautiful home..your attention to detail did not go unnoticed, all our needs and more were provided for and the food starter pack and wi fi was a huge bonus for us. The accommodation was quiet but also central to the best pubs, restaurants, cafes, quaint shops and even a supermarket within walking distance ..with outlooks of tranquil scenic countryside. It exceeded all our expectations and will certainly be staying with you again in the future, maybe in the summer next time so that we can soak up the ambiance of your gorgeous manicured gardens...from start to finish we could not fault your friendly, efficient, service and will certainly be highly recommending you to our family and friends. Kind Regards Sharon and Seainin Ferrity
Patrick
2016-11-10T00:00:00Z
It was an absolute pleasure to have met and stayed with Pamela and her husband. Old Amersham is a beautiful town and our accommodation was wonderful. Lots of character, cosy, clean and comfy. I think it was even better than the photos!! My partner and I both really enjoyed our stay and would love to go back one day. Thank you for being such a lovely host. Maria
Maria
2016-11-26T00:00:00Z
An excellent stay in an attractive tucked away apartment. Pam and her husband are very warm and welcoming. I only wish I had a bit more time to explore. I was working nearby, so Amersham proved a convenient base to get around. My hours, however, prevented seeing much of what appears a very pleasant old town. Still, the apartment is a warm and cosy bolt-hole after a day at work. The kitchen's immediately welcoming. It's quirky to then go upstairs for everything else, but that's part of the charm. The bed and bedding are absolutely top class. The only slight downside is the parking situation. As Pam points out, parking's free on the High Street, but of an evening that street gets particularly busy. If you have a lot of luggage, get close to the property to drop things off before driving and finding a space. There was always an available space for me, but sometimes well past The Swan. Amersham boasts several appealing pubs, and hence one of the reasons the street's busy until late in the day. Still, the parking shouldn't detract from an excellent stay
Nick
2016-10-16T00:00:00Z
Annette and I were made to feel very welcome by both Pamela and Peter. Its a very nice place in a nice location and we enjoyed our stay. We would certainly stay there again given the opportunity.
George
2016-10-02T00:00:00Z
Stumbling upon this peaceful self-contained apartment was a true stroke of luck. It was everything that was described and more; a delightful garden setting, blissful peace and quiet, with wonderful and attentive hosts who seemed to judge it all just perfectly. I wholeheartedly recommend this to anyone seeking a comfortable rural idyll for a few days or longer. It is worth mentioning all the many charms of Old Amersham high street right on the doorstep too, and the lovely Misbourne river running across the bottom of the garden... bliss
Helen
2016-08-21T00:00:00Z
A true hidden gem on Amersham high street. The photos don't do it justice! Pam is a great host, very relaxed and accommodating. I would absolutely recommend staying here.
Emily
2016-11-21T00:00:00Z
Pamela was extremely helpful throughout my stay and very kindly allowed a friend to stay the night before his wedding day. The house was lovely and in a great area. Would definitely recommend and hope to go back again some day.
Graeme
2016-11-20T00:00:00Z
Great stay! The bathroom is very nice. Right in the middle of a beautiful town.
Matthew
2017-03-19T00:00:00Z
Amersham, 英格蘭, 英國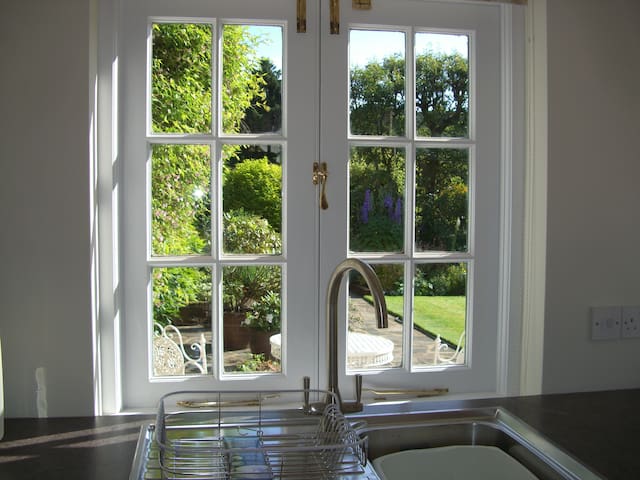 Spacious en-suite room in lovely house in semi-rural location yet 15 min walk from tube station with fast access to London (35 mins on train). Beautiful garden with heated pool to relax in. Alison also speaks French, German and Spanish. Another double en-suite bedroom available in house - see separate listing "Idyllic base close to London".
Spacious double bedroom with TV. En-suite shower room with large shower cubicle, basin and toilet. Ample hanging and drawer space.
We live in a leafy lane close to Little Chalfont village with its station and various shops, cafes, pubs and restaurants. If you have a car you are close to major motorways including M25, M40 giving access to Oxford, Cambridge, Windsor, Legoland or Stratford within an hour's drive (outside rush hours!). The local area is full of historic towns and villages often used as film or TV sets. There are numerous beautiful walks nearby in the Chilterns including one around the Prime Minister's country residence at Chequers.
Mike and Alison were both very welcoming and friendly throughout my stay at their luxurious home. My room was spacious, clean and equipped with an ensuite, wardrobe facilities and a TV. At the top of the road there are convenience shops and a tube line into central London so it is in a great location! I would highly recommend this B&B to others for it's friendly hosts and beautiful scenic surroundings! : )
MANDY
2016-02-20T00:00:00Z
I had the pleasure of being hosted by Mike and Alison for 4 nights. I can honestly say the listing describes the room including facilities to a Tee but i don't think does enough to articulate how amazing and hospitable they both are. From the moment I walked in to their home to Alison taking time out to show me the local stores and supermarket. Both Mike and Alison treated me as part of their family. Looking forward to my return. I highly recommend!
Gary
2015-11-28T00:00:00Z
We had an absolutely wonderful stay at Mike and Alison's house! The room is very spacious with en suite, everything perfectly clean and comfortable. Their house is a beautiful place to stay. We were lucky enough to have nice weather on Sunday afternoon and enjoyed the garden and pool. Breakfast was delicious, with cereals, scrambled eggs and smoked salmon and great coffee. Mike and Alison did everything in their power to make our stay a great joy. They gave us advise on places to visit in the area, showed us where to go and gave us detailed information on how to get to London by train and how to get around London by public transport with the pushchair for our baby daughter. We would recommend this place to anyone who is looking for a beautiful place in a nice, quiet area, but within easy distance from central London. Mike and Alison are the best hosts you could possibly wish for and their home really is an idyllic place! We would love to come back here sometime.
Jonanke
2015-09-16T00:00:00Z
Thank you Mike and Alison for being excellent hosts during my stay at their beautiful Bucks mansion. They could not have done more to make me feel welcome and I thoroughly enjoyed my stay at Laurel Dene and I recommend both them and their idyllic property to anyone.
paul
2016-07-27T00:00:00Z
Good sized room, good facilities in the room and the house in general. We live locally so know the area well, it is handy for commuting to London though the station is a good 15-20 minute walk away and there isn't pavement some of the way. Quiet setting, nice surroundings.
Mark
2016-09-19T00:00:00Z
A very quick response to my enquiry.Alison and Mike went the extra mile when offering to accommodate me for my chosen dates as they were attending a very important family wedding the same weekend! I would definitely stay again. Comfortable accommodation with friendly hosts.
Judith
2017-02-25T00:00:00Z
Both Alison and Mike provided that home away from home experience. The location of the property was extremely handy for my new job opportunity and their knowkedge of the local area proved very useful. The facilities are of a very high standard and the WiFi is fast and reliable although cell phone coverage can be a little hit and miss.
Anna
2017-04-03T00:00:00Z
Thanks to Alison for a lovely stay. We were looking not to stay in a hotel and stay somewhere local and cozy and we got it. Great room, great hosts and lovely to spend the morning with Alison! A great Airbnb experience!
Emily
2015-08-23T00:00:00Z
Little Chalfont, Buckinghamshire, 英國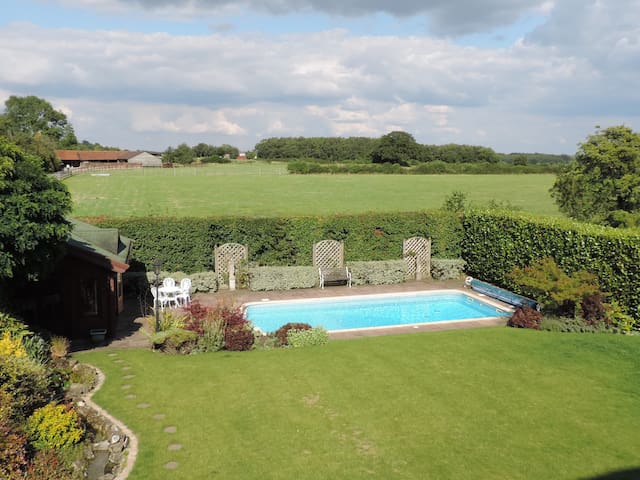 May Cottage is a characterful 3-bed cottage, within walking distance from open countryside, Amersham town amenities, and the train line into London. It is a late Edwardian cottage with lovely period features including 2 original fireplaces, a roll-top bath and sash windows, and it has been tastefully decorated with many antique furnishings. The house is suitable for families, a group of friends or a couple, seeking a cozy home-from-home in an excellent location. Pets very welcome too!
- Living room, with seating and wide screen TV - Dining room, with farmhouse table and chairs seating 6 people - Downstairs toilet, with toilet and sink - Kitchen, with a fridge, freezer, oven, microwave, washing machine, dishwasher, and retro style Dualit kettle and toaster. Tea, coffee and condiments will be left for your convenience - 2 good sized bedrooms, with a king size bed and double bed. All beds have good quality down duvets and pillows - A third bedroom with a child's cot in - 2 bathrooms: 1 family bathroom with a large shower, sink and toilet, and 1 en suite which houses a roll-top bath, sink and toilet - Garden including grassy area and patio - Outdoor wood-fired pizza oven and BBQ, for your use - Off street parking in driveway
Amersham is a beautiful market town with a rural feel, yet only a 35 minute train journey ride into London. It is also on the London underground network (metropolitan line). The Old Town has one of the most picturesque high streets in the country and has seen many films set here. There are a multitude of country pubs, cafes and boutique shops, as well as the award-winning Artichoke restaurant. The New Town also has excellent amenities including a Waitrose, Metro bar and restaurant, Pizza Express, craft beer shop, and both the London underground station and overground. May Cottage is situated in the New Town, a 15 minute walk from the stations and amenities. It is also a 5 minute walk from open countryside - ideal for dog owners or keen walkers!
This house is beautiful! Annie made us feel very welcome right from the start and provided us not only with excellent clear instructions and tips for the house, but also a very thorough guide to the local area. The neighbourhood is lovely and quiet but not too far from the town and station and was perfect for our group who were staying in Amersham for a wedding. I can highly recommend the cottage, especially if you stay in the en-suite room with the huge roll top bath!
Isabelle
2016-10-02T00:00:00Z
Annies house is stunning! I wish we could've stayed there longer really. Annie baked us a super delicious lemon drizzle cake, and left a very informative guide to the local area. We would highly recommend this stay to other families and would love to stay again next time we're in the UK.
Holly
2016-09-12T00:00:00Z
Annie's home is an absolute delight. A clean, cosy spacious cottage in the countryside filled with great walks, local villages and pubs. Perfect! The house was very clean and filled with everything you needed to stay in and enjoy it. The cottage is perfect for a couple, but with an extra bedroom on the top floor it is also perfect for a small group or small family. Annie was extremely helpful in communication and suggesting local walks, bars, restaurants and shops. She was even kind enough to bake some Rocky Road bites for my girlfriend and I to help us through our New Year's Day hangover. Couldn't recommend this place more and would love to return in 2017.
Alex
2017-01-02T00:00:00Z
We had a wonderful stay in this lovely cottage. This is not a holiday-let but a home, with everything we needed including condiments for cooking, plenty of firewood for the wood-burning stove, walking maps and lots of suggestions for places to go, even a bottle of prosecco and fresh flowers to welcome us. The location is very convenient, near shops and walks including some starting out from the cottage itself. Communication beforehand was great and when we had a small problem during out stay, we had an immediate and very friendly response, even on Christmas day. We very much hope to come back.
Vega
2016-12-26T00:00:00Z
The host canceled this reservation 82 days before arrival. This is an automated posting.
tom
2016-08-26T00:00:00Z
Lovely hosts, very helpful and responsive. The house was beautiful and was a nice walk from Old Amersham.
Patrick
2016-08-15T00:00:00Z
Beautiful cottage in a quiet area near Amersham old town, ideal location for Warner Bros studios tour - it was only 10 minutes drive away. Ideal for kids with lovely spacious bedrooms. We thoroughly enjoyed our stay.
Matthew
2016-08-22T00:00:00Z
Amersham, 英格蘭, 英國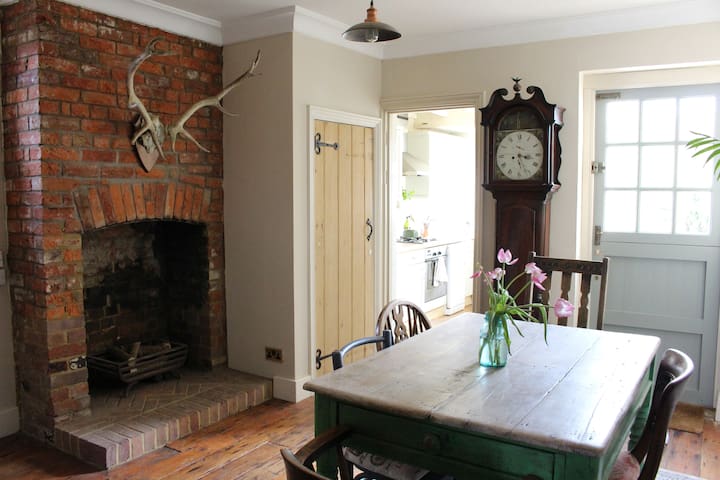 Our recently renovated, cosy, peaceful cottage is set in the countryside just outside London. Only 5 minutes from the M25 yet a short drive from the Chilterns. A 15 minute walk to the station takes you to Marylebone in 25 mins. 5 guests can stay using the double and single bed in the bedroom, and 2 on a sofa bed in the lounge. The fully fitted kitchen and the bright yet cosy lounge, gives the independent self catering guests a home from home experience.
This cottage is set at the bottom of our 1 acre garden with fields next door and wildlife in abundance. The cottage is built to the highest insulation standards and is heated with radiators and a cosy wood burning stove. For guests requiring a longer stay it has all the amenities of your own home with fully equipped kitchen, TV, Wi Fi and laundry facilities. The bedroom is spacious and has a double bed and a single bed. The living room has a day bed which pulls out in a very large double bed.
Chorleywood is a beautiful area and we have Chorleywood Common on our doorstep. A 10 minute walk across it takes you into the village centre or train station. The village has all amenities - shops, supermarket, restaurants. London is 25 minutes on the train. Harry Potter World is just 15 minute drive. Plus the famous Grove Hotel which hosts events such as the Golf Master is also only 15 minutes away. With Windsor less than half hour there are endless opportunities for excursions.
A really lovely host and property. Its such a cosy little place and it was beautifully clean. Jo made sure we had everything that we needed and was really welcoming. Thanks for a lovely stay!
Charlotte
2016-11-04T00:00:00Z
The host canceled this reservation 47 days before arrival. This is an automated posting.
Fiona
2016-12-05T00:00:00Z
Jo was amazing! she was very attentive, friendly and helpful. The cottage is exactly as described very cosy, especially as we arrived to a log fire already roaring. Perhaps a torch would be useful as it is a fair walk down the garden. We will 100% be returning and will recommend to other friends and colleagues.
Craig
2016-11-12T00:00:00Z
Chorleywood, 英格蘭, 英國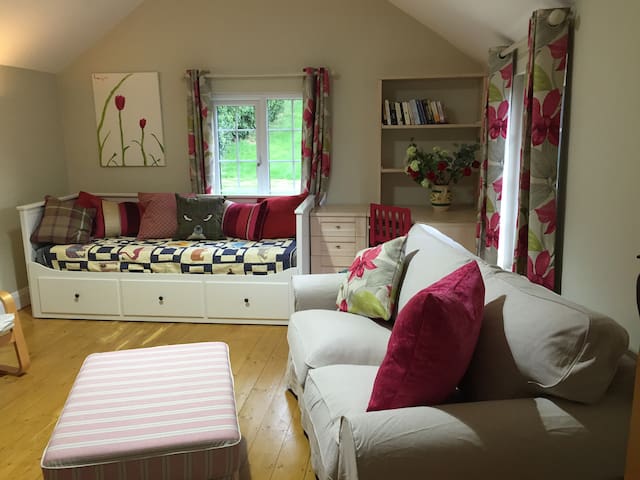 我們有很大的意見,公園,車站切舍姆步行6分鐘(大都會線 - 不到一小時,直達列車),鄉村酒吧,GE總部。我們的鄰居是安靜和鄰居都彬彬有禮。視圖是我們家的最不可思議的一部分,早餐吧朝奇爾特恩丘陵朝外。你得到很多的隱私,因為我們有自己的前門。完美的週末或更長的舒展。這個地方是清潔/亞麻布和每次徹底清洗之前毛巾和移動後在/遷出。
該豪宅位於塊的頂層。該公寓是寬敞,設有2非常好戶型的臥室和一個獨立的廚房和休息室。浴室很大,有淋浴隔間以及一個浴缸。 廚房是乾淨的,有一台洗衣機,冰箱和冰櫃。我們為您提供方便烤麵包機,電水壺,微波爐等廚具。鍋爐是新的,維修和使用安全。
公共公園,鄉村酒吧,綠色開放空間和典型的英國鄉村的感覺。而所有比對管到倫敦一個小時的時間。這是一個安靜的度假或商務人士誰需要一些喘息的空間和可訪問到外部世界一個完美的運動的絕佳去處!
Chesham, 英格蘭, 英國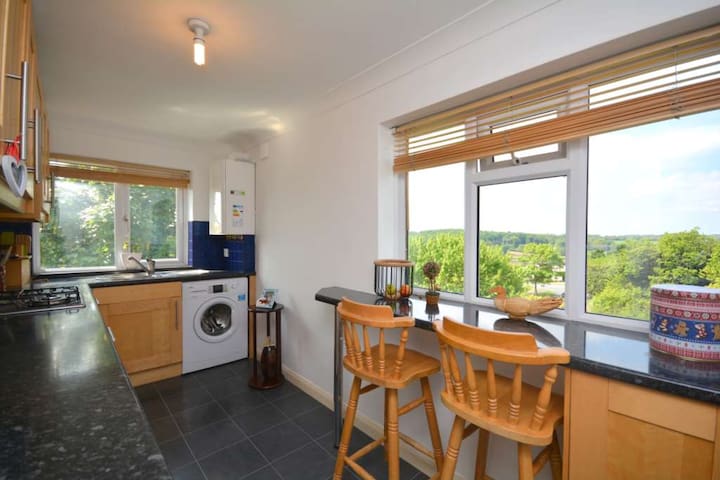 A beautiful wood panelled annexe with 2 bedrooms, unique style, beautiful conservatory opening in to a wooden deck and shady garden. Amersham town centre and Train/ Underground station 5 mins drive or half an hour walk. Free secure parking in the private driveway. 40 mins drive to London. 25 mins to Heathrow airport.
The property is a self contained annexe, beautifully decorated with unusual wooden panels. It has a master bedroom with a King size bed, a second bedroom with a single bed, and a double sofa bed in the living area, and a TV. The property has a fully equipped kitchenette with all white goods, a bathroom with shower over a tub, a separate toilet, and a beautiful conservatory with glass walls which opens to a wooden deck outside in a shady garden.
The property is situated beside an A road in an exclusive highly residential area about 1 mile away from the hustle bustle of the town.
Bindu is a friendly and welcoming host. The apartment is warm and comfortable with plenty of parking. It is conveniently located a short drive from Amersham and close by The Ivy House which serves excellent meals.
Clare
2016-10-07T00:00:00Z
Host was welcoming and met us as promised. The property was interesting and convenient for local amenities.
Doug
2016-08-14T00:00:00Z
The annexe was ideal for our needs, clean and spacious
Sean
2016-09-05T00:00:00Z
Amersham, 英國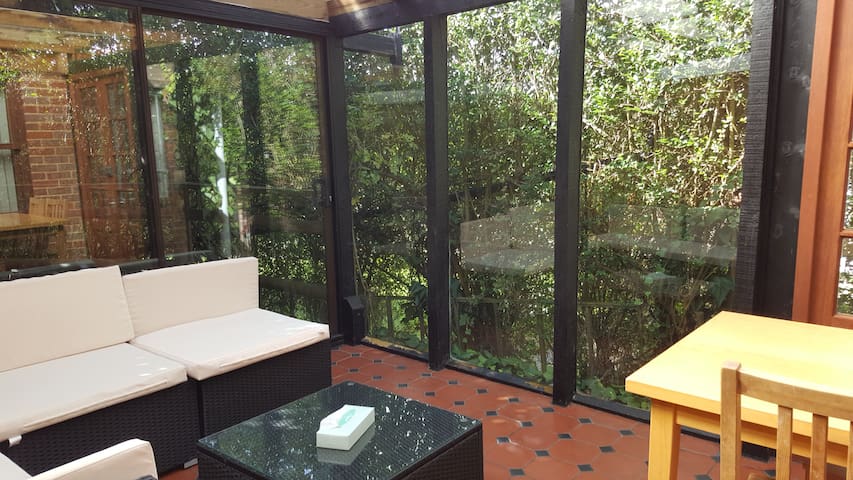 Large comfortable double room, one of two listed, in lovely leafy Chorleywood in an Edwardian home, in a quiet road. A very friendly neighbourhood and village. 2 minutes walk from shops, cafe and a selection of restaurants. 5 minute walk to the train station. Chorleywood is less than 30 mins to London by underground or overground. It is a few minutes off the M25 close to Heathrow. Local attractions include the 'Making of Harry Potter' Studio Theme Park, and the Chiltern Open Air Museum
The double room is situated on the first floor next to the bathroom. You are welcome to use the kitchen diner which seats 6 easily. It is a relaxed house. You are welcome to use the patio and garden which is South facing.
Chorleywood has a large common/golf course. Many shops including a two supermarkets, two chemists, two doctors surgeries, a dentist, many small independent shops, cafes and restaurants including Indian, Chinese and Fish and Chips.
Chorleywood, 英格蘭, 英國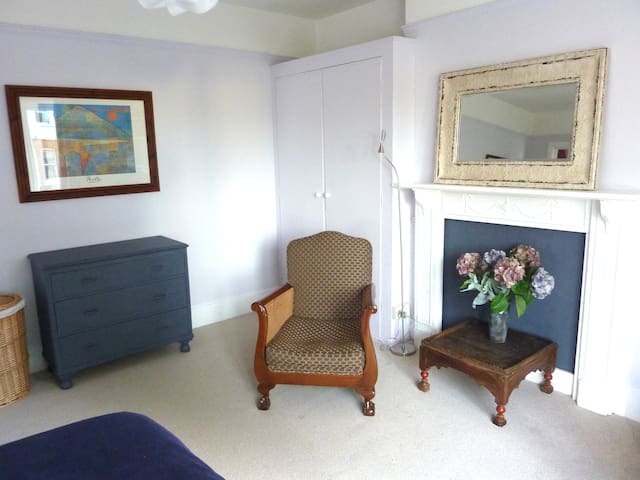 Our home is close to London Heathrow and Luton Airports (around 30 minutes), Chalfont and Latimer Train Station (35 minutes into London Marylebone) but also in the heart of the beautiful Chiltern countryside.. We love welcoming guests into our comfortable family home set in a quintessentially English village complete with great pubs, cricket green and golf course. Our place is a perfect base for couples, solo adventurers, and business travellers.
We have two double rooms available , the second room is a separate listing. This room is a good sized double with a massive, really comfortable, super king sized bed. The exclusive bathroom is across the landing with a lovely bath and shower attachment.
We live in a beautiful village, set in the heart of the Chiltern Hills. We have two rural pubs that serve great food, a short two minute walk or stumble across the common. If you fancy watching the cricket or playing a round of golf, both are part of our friendly village life. There are beautiful country walks, a garden and summerhouse to contemplate life. Our local pubs, the Crown and the Swan are great if you want to get to know our lively locals.
My stay with Tom and Alex was most pleasurable. The living accommodations is very comfortable, set in a beautiful countryside. The hosts are most welcoming and friendly : they went to great length to make my stay most enjoyable and helped me in every way possible. Highly recommended home away from home !!!
Asaf
2016-05-26T00:00:00Z
What do you want to say when everything's perfect ? Thanks a lot !
Julien
2016-09-09T00:00:00Z
Great hosts! Had a lovely stay in such a beautiful house. Alex and Tom could not of done more us. Hopefully will be returning in the near future.
brady
2016-08-01T00:00:00Z
Alex and Tom were great hosts, offering advice on best cycle route to take and where to eat in local neighbourhood. House very clean and well set up with all essentials provided. Wonderful breakfast to wake up to as well! An ideal place to stay while exploring the Chiltern Hills. Thank you.
Alex
2016-07-11T00:00:00Z
Tom & Alex were amazing hosts. We booked a place pretty much in the last minute and we didn't regret. Lovely house, quiet and relaxing; Beautiful spacious room, clean and comfortable. Alex was very friendly and helpful chatting in the evening and giving us directions of lovely walks nearby. We're offered a very nice breakfast and coffe in the morning as well. Overall, Jun, George and I loved this place and would highly recommend it to everyone who wants to stay at Chilterns village district!
Dora
2016-07-26T00:00:00Z
Ley Hill, 英國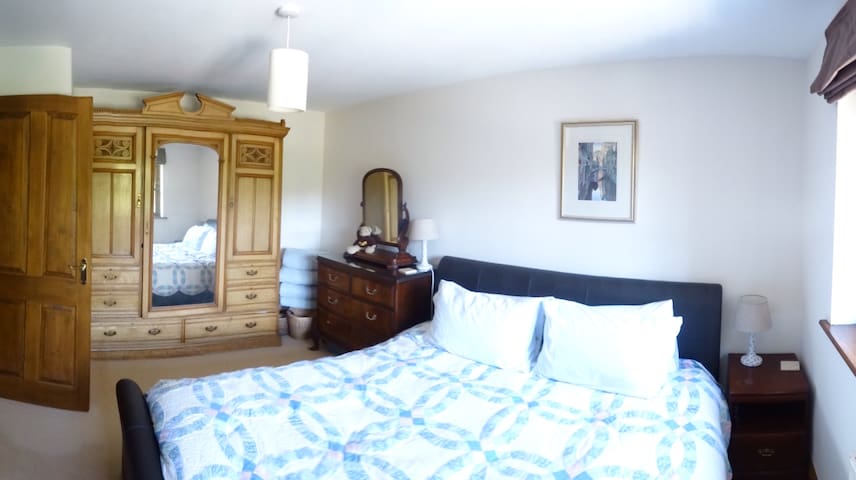 The property is located in an Area of Outstanding Natural Beauty and an exclusive neighbourhood. Its good for couples, families and big groups. Chalfont St Giles has won the Best Kept Village award for 2016. Greengrocer, butcher, newsagent, grocery store, hairdressers are on walking distance. The village is known for its pubs, restaurants and walks. We are less than ten minutes drive to four tube/train stations. Fast train can get you into London in 25 minutes. Heathrow is 30 minutes drive.
Buckinghamshire, 英格蘭, 英國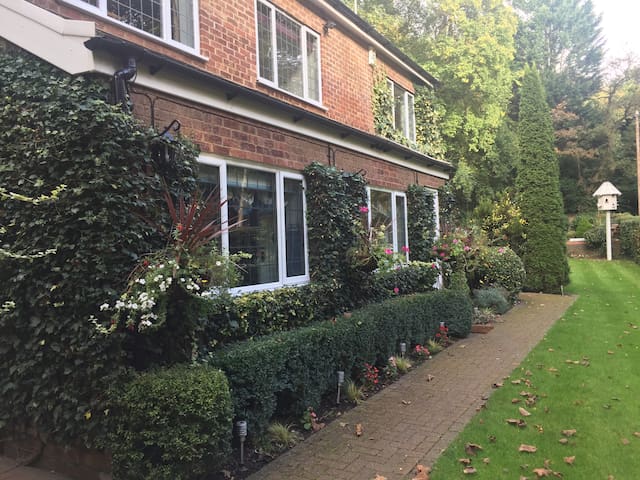 Period cottage located in the heart of the village where part of Four Weddings And A Funeral was shot. A beautifully furnished and is equipped with all mod cons. Fabulous place for exploring both London and the Chilterns or a break relaxing. Property is listed when I'm at events.
Period grade 2 listed cottage with a modern twist.
A really lovely period house, with a very smart modern extension that houses the extremely well kitted out kitchen, in a great spot for exploring, walking and eating. The house was well laid out and very accommodating. Five of us fitted comfortably whether we were chatting over the dining table or cosying up in the lounge. Showers were great and the house was nice and warm. William is a really helpful host and made check in a breeze.
Rory
2017-01-29T00:00:00Z
Great home, great location, we'll definitely come back again! Thanks Will.
Derek
2016-06-27T00:00:00Z
Will was a model airbnb host. He greeted us into his amazing house with drinks and even provided us with some food essentials. His introduction to the house and the town was friendly and incredibly useful. The house is superbly equipped and Will is most considerate even in the smallest details. I would certainly recommend his house to anyone who is looking for a wonderful weekend in this beautiful English town. Thanks!
Sean
2016-07-11T00:00:00Z
Fantastic property, with everything we needed to make ourselves at home. The welcome pack was really helpful to navigate our way around things if we were unsure, and had suggestions about places to see in the local area. Amersham old town was beautiful with lots of lovely pubs. House was lovely and cosy, comfy and a great place to get a group of 4-6 together. Thank you!
Lizzie
2015-12-14T00:00:00Z
William is an excellent host: he was very welcoming and took us through all the bits and pieces to make our stay straight forward, including looking out some local maps etc. The cottage is lovely, a great mix of old and new: my 6'5" son had to watch his head in a few places, some of those ancient beams are rather low!!! The modern kitchen/diner is very Elle Deco and, though it was a bit cold for us to use, the garden down to the river would be wonderful in summer. Beds very comfy: was slightly concerned when I realised the master en-suite was onto the High Street (very pretty olde worlde), no need for worry, lovely and quiet, slept soundly. Great stay, will be back!
Jennifer
2016-03-29T00:00:00Z
We had an excellent stay and Will was a fantastic host for our trip to Amersham. Myself and 5 friends stayed over New Year's and the cottage was extremely well stocked, comfortable and clean. It is located in a quiet spot right in the centre of the old town and gives fantastic access to the town and the surrounding countryside. A massive plus was the cosy fire which we enjoyed when we weren't out exploring.
Laura
2016-01-03T00:00:00Z
A truly wonderful house, full of character, we had a lovely weekend. The host was extremely helpful and a nice touch leaving us a bottle of bubbly
Simon
2016-02-16T00:00:00Z
We had a lovely stay in Will's beautiful home. He was very quick to respond to questions prior to the visit and gave lots of useful tips. He was so welcoming when we arrived and gave us loads of info about the house and the local area, he also left us breakfast which was a bonus! The house was the perfect size for 6 of us to stay in, the kitchen has everything you could possibly need including a big dining table which was our base for most of the evening, we were only tempted away by the cosy fire in the living room! The garden is lovely and would be great in summer. We had a walk to a pub in a nearby village, which was recommended by Will, and was exactly what we had wanted. The house was a nice walk from the station and there are shops, restaurants and pubs within easy walking distance so a great place to go if you want to get out of London and don't have a car. Thanks for everything Will!
Emmeline
2016-04-25T00:00:00Z
Amersham, Bucks, 英國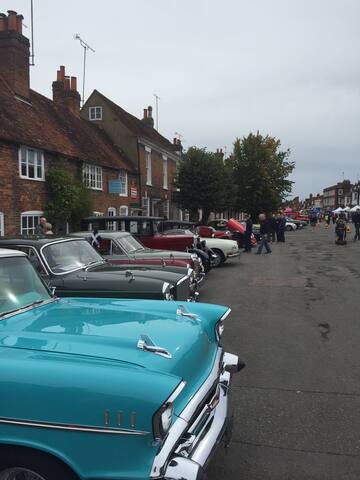 一张双人床和对我们可爱的维多利亚式房屋的2楼一个单间和浴室淋浴间加休息室/电视区。村氛围Chorleywood常见的只有几分钟的路程。伦敦只有25分钟车程从Chorleywood站快速列车。在奇特恩斯的边缘,M25是只有五分钟车程。 Chorleywood有可爱的咖啡厅,一个精品店,食品店和餐馆在两分钟内从我们的房子里走来走去。床和早餐也可应要求提供。
完全独立的单位,但屋内的访问
乡村气息,但可轻松抵达伦敦的火车,非常近三M25(结17和18)。美丽的散步附近
Chorleywood, 英格蘭, 英國
The house Larklands is an individual detached house. The well presented the ground floor comprises a large double aspect living room, separate dining room linked to the kitchen and a useful study/snug
Amersham, 英國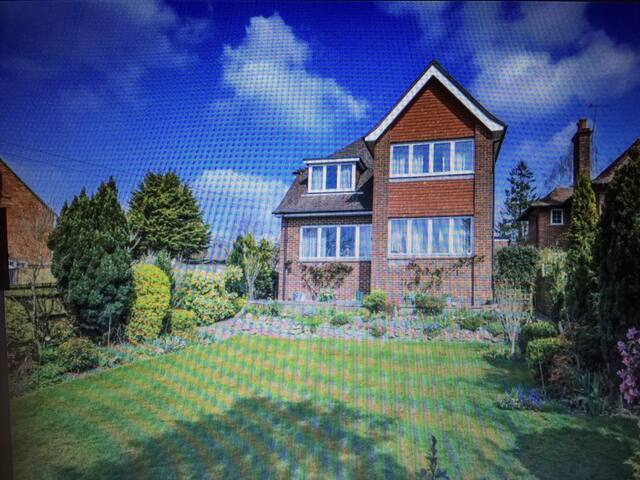 輸入日期以查看總價格,包括其他費用,可能會加收稅費。