帶陽台的兩居室公寓位於靠近市中心。服務都在步行距離之內,包括雜貨店約200米遠,幾個地方的中心吃。坦佩雷約16公里,距離公交車站幾乎隔壁。慢跑道lähellä.Kiva和和平的地方。一個車位是供客人使用。桑拿浴,必要時使用的週末。
Yhteydenpito sujuvaa ja vastaanotto ystävällinen. Huoneisto siisti ja toimiva. Joustava uloskirjautumisaika plussaa.
Pia
2016-08-08T00:00:00Z
The host canceled this reservation the day before arrival. This is an automated posting.
Cherilyn
2016-06-04T00:00:00Z
Siisti kaksio rauhallisella paikalla. Mukava omistaja, hyvä yhteydenpito, erityisenä plussana aamiaistarvikkeet joita saimme ottaa. Joustava tulo ja lähtö.
Maksim
2016-08-30T00:00:00Z
Naapuristo oli rauhallinen, omistaja erittäin ystävällinen ja yhteydenpito oli erittäin nopeaa ja sujuvaa. Jatkoimme matkaa Pirkkalan lentoasemalta ja siihen nähden sijainti oli loistava. Kiitokset myös aamiaisesta!
Ann-Mari
2016-10-07T00:00:00Z
Wonderful apartment in a great area, everything needed is there. The host is very friendly and helpful. We had a great time and recommend this place.
Maria
2016-08-01T00:00:00Z
Overall, our stay at Kaarina's place was perfect. It was peaceful and cozy. There was plenty of room and the fridge was stacked with breakfast supplies. Communication with the host was easy and she always replied quickly and with clarity. Thank you Kaarina :).
Ats
2016-12-04T00:00:00Z
Hyvä ja tilava asunto. Kaarina oli järjestänyt kaikki todella hyvin.
Tommi
2017-02-25T00:00:00Z
Majoittaja otti heti yhteyttä ja oli hyvin joustava ja ystävällinen.
Nicolai
2017-01-03T00:00:00Z
Nokia, 芬蘭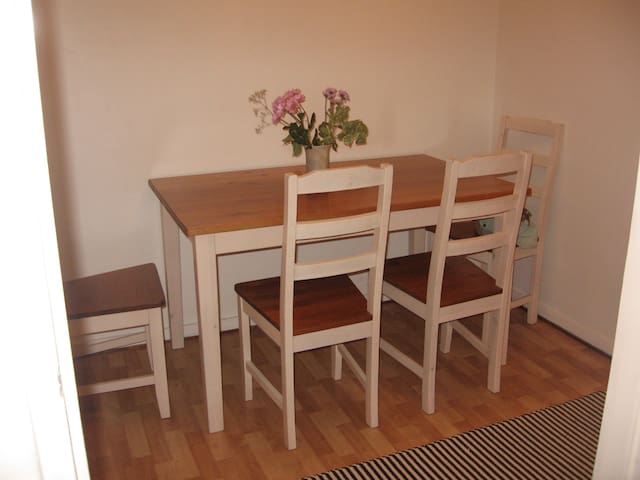 Our home is free 5.5. - 30.8.2017. Building has been builded 2012. There is existing two bedrooms, living room, kitchen, balcony, bathroom and sauna. Close by there is shopping centre, swimming bath, spa, golf and typical matters like library and sport facilitys. You can reach city Tampere regularly by buss in 15 min. Appartment is our home with all necessary equipments, we ask you to leave appartment in conditions like by arriving. Second floor/no lift.
On request I will help you in advance to plan program, most of them free of charge, e.g.: - we can do together local sightseeing tour - logal beach, logal playground, ... easy to reach by foot - visit city Tampere - amusement park Särkänniemi in city Tampere ((URL HIDDEN) - children like spa Eden, easy to reach by foot (URL HIDDEN) - du you like to walk in the nature park (URL HIDDEN) - there are many golf-courses like Nokia River Golf (URL HIDDEN) - would you like a day by the lake Pyhäjärvi - my car is small, but if practicall, I will transport from Tampere city or Tampere airport.
Our neighbourhood is calm and quiet. There is living familys with children, but as well retired persons. Garden is safe and there is small playground for children 2 - 7 years.
Nokia, 芬蘭
Fully equipped with 3 bedrooms + OH + K + 2WC + shower + sauna and a terrace on two floors. Pyhäjärven beaches near pikapulahdukselle and parking directly in front of the house. with the other end of the house a couple of neighbors agreed rental. Cat Financial.
Anne was there when we arrived and was very welcoming and showed us round. The house was very nice especially the kitchen, living room, showers and sauna. It is in a lovely quiet area. There is a lake about 5 minutes walk from the property which you can swim in.
Michelle
2016-08-24T00:00:00Z
Kaikki toimi hyvin, asunto on pääosin remontoitu ja siisti. Alakerrassa oli vielä joku huone rakenteilla. Ikkunanäkymä varikkoalueelle ei ehkä ole kaikista hohdokkain, mutta sisätilat siistit ja uudet. Annen kanssa kommunikointi sujui ongelmitta.
Majatalo
2017-02-19T00:00:00Z
Nokia, Pirkanmaa, 芬蘭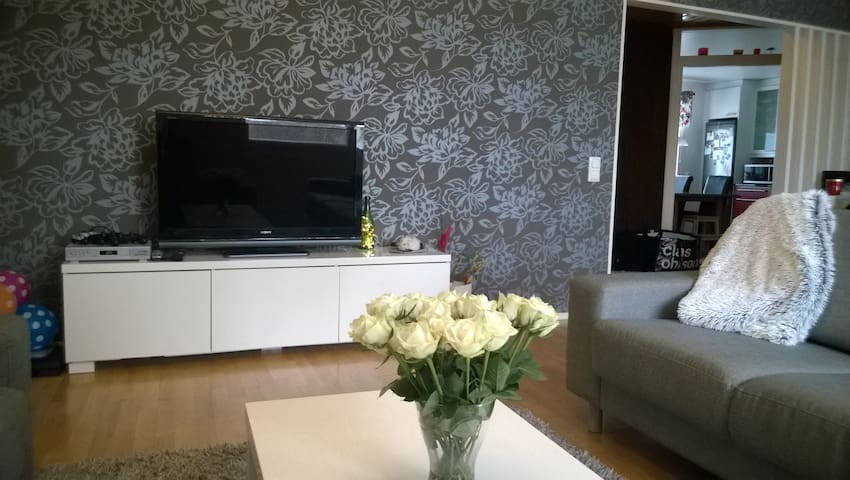 Destinations close to, the following: awesome views, art and culture, recreational activities and family-friendly sandy beach. I love my condition because of the following: the people and the atmosphere. Kohteessani is couples, solo travelers, business travelers, families (with children charged), large groups and furry friends (pets).
房間類型
整套房子/公寓
---
房源類型
連棟房屋
---
可住人數
5
---
卧室
Nokia, 芬蘭