輸入日期以查看總價格,包括其他費用,可能會加收稅費。
今年的7月和8月,從這100個涵蓋所有價格級別的房源中選擇一個入住,去體會當地人眼中的索諾瑪。 24小時入住、即時預訂還有2; 當地美酒美食,您什麼都不用做,輕鬆享受旅程即可。
Excellent lodging for fresh air and country sunshine. A short drive to Maryville, MO to support NWMSU Bearcats! Great for your next vacation or hunting trip in Northwest Missouri. Clean, Wifi, wireless printer, central heating/AC, laundry, Tempurpedic mattresses, garage, kennel, kitchen, freezer. Located on pavement road with easy access.
Part of Gladcrest Farms, a Missouri Century Farm continuously operating in the family since 1848. Raising Angus cattle, corn and soybeans, it is an active agricultural operation. Guests are welcome to request a farm tour, depending upon the time of year, calving season, cow/calf operation, corn and soybean row crop operation. Although the farming operation is going on in the surrounding pastures and farm ground, interaction is very minimal. Guests have a great deal of privacy.
Very rural setting, cattle and horses in pastures adjoining property. No public transportation. Although if you go stand down at the road, someone will most likely stop and ask you if you need a ride somewhere. There are a number of Amish settlers in the area that offer baked goods and produce at their farmsteads. If guests are interested, we can give you locations and days.
My wife and I were passing through and initially planned to stay for a day or two on Susan's farm. However, the views, amenities, and peacefulness of the property made us fall in love with this place. We booked an additional 2 days because we didn't want to leave. My wife has a bad back, but slept without any problems on the Tempurpedic mattress. We worked for a good length of time during our stay and found that the WiFi was reliable. We enjoyed walking around the property and saw the lake, cows, and crops, which was fun for us. Susan was a fantastic host and was great with communication. We truly felt like this was our home away from our own. We would definitely stay again when in the area. Thanks for an awesome experience Susan!
Wendel
July 2016
We were looking for a place to stay for Homecoming weekend at NWMSU. We stumbled onto this AMAZING home! We were so lucky to have amazing weather for our stay. Susan was very helpful and readily available to answer any questions. Our kids (11, 14) were outside the entire time. They were able to take a tour of the farm, bottle feed a baby calf, ride on a tractor.....for my "city kids" it was so nice to see them interact with nature. The property is well kept, easy to find, and a great location. The house itself was adorable! So beautifully decorated. A nice mix of contemporary and country chic. I just LOVE the rocking chair in the sitting room! My kids loved the twin beds upstairs. They were able to adjust the beds so that they were sleeping sitting up. The queen bed on main level was comfortable and had cozy sheets. The bathroom had a tub and shower. The motion-sensored lightening was a great touch. Never had a problem with WIFI. We turned the TV on at nights only. There is a DVD player available, if needed. We used the gas grill several times during our stay. We are looking forward to returning to the farm!
Jamie
November 2016
We stayed at Susan's home while my husband hunted. It was a perfect setting with beautiful views and greetings from the horses and cows that surrounded the farms. She welcomed our dogs and the house couldn't have fit our needs better. We had to leave late on the day of our departure and she was totally accommodating. We look forward to returning for future hunting trips. This is an adorable house, very comfortable and Susan is a great person to deal with.
Daniel
November 2016
Description was perfect and the home is even more cozy than the pictures show. Host made access super easy and instructions to the house were convenient and clear. Comfortable bed, state of the art appliances, clean in every way, exceptional office with excellent internet connection.
william
June 2016
This lovely house is in a beautiful spot, with a wonderful view. The host couldn't have been more accommodating. We had a great time!
elizabeth
September 2016
Susan is a great host. She made us feel welcome and made checking in and out a breeze. The home is lovely with views of the farm and rolling hills. Easy parking on the driveway, great ac, fast and reliable wifi. We loved sitting on the front porch swing as we enjoyed the cool summer evening and watched the moonrise. Our son had a great time exploring the yard and seeing neighboring cows go by. Grocery shopping was close by at the town of Grant City. Thanks so much for having us, Susan!
Myr
June 2016
Worth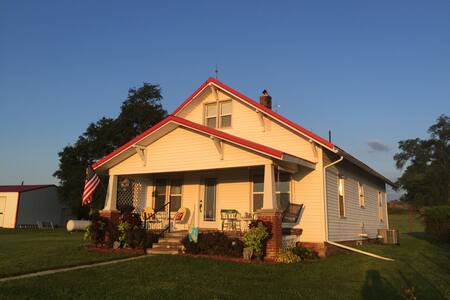 My place is close to the historic Promenade and 2 blocks from our beautiful downtown and restaurants. Clarinda has 3 fine museums- Nodaway Historic Museum, Glenn Miller Birthplace Mueum, and The Clarinda Carnegie Art Museum. You'll love my place because it is a beautiful historic house filled with period antiques. Enjoy our home while you are away from yours!. My place is good for couples, solo adventurers, and business travelers.
Beautiful home. Great room upstairs with a close bathroom. Breakfast was delicious. Hosts friendly and warm. A treasure in Clarinda for sure.
Aline
July 2016
Clarinda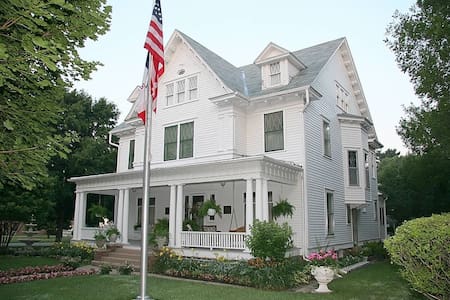 A two story farm home, built in 1917, nestled next to a working farm, thick timber, and rolling hills. This cozy home is a breath of fresh air with a spacious porch to enjoy your morning coffee. A great place to stay; life is good in the country!
Wifi, Laundry facilities, home- like atmosphere, 1 stall garage, fishing and hunting close by As needed
$65/night for up to 2 guests $10 additional for each guest thereafter Perfect set up for large family gatherings, construction crews, and hunters.
Very accurate description, easy to find. It is a very relaxing environment. Everything is well maintained and the kitchen fully equipped, simply bring food. It is the type of place that would remind you of your grandparents' place, and brings back fond memories, even though it is new to you.
Luke
March 2016
My family and I had an awesome stay at Timberview. We stayed there for our annual fishing trip and all 10 of us were very comfortable in the house. It was nice to be able to be together in one place to cook meals and just hang out. Everything was as advertised and overall it was a great experience.
Randy
May 2016
This is a great big old house in the country, quiet with a great sunrise view and farm right out the windows. We love the large space and being able to cook and accommodate a family and grandparents all together.
Karri
November 2016
Homemade Casserole and muffins very good location very quiet
Alan
September 2016
Our host made us feel very welcome. Our kids enjoyed the farmhouse, it was warm and cozy, and we felt right at home. She made a delicious breakfast casserole to heat up, and provided additional breakfast items to accommodate our large family. If our travels ever take us by the area again, we will most certainly look up Timberview.
Paige
December 2015
We stayed at the Timberview BnB while in town for a wedding and were completely charmed by it. The farmhouse is stately, generous, and comfortable, with ample space to relax with friends and great porches from which to enjoy the views. We loved being on a working farm and playing with the family of barn cats, and Karen's breakfast was incredible - muffins, sticky buns, and a great breakfast casserole. Having such a beautiful and relaxing retreat made our entire trip much more enjoyable. If you're anywhere around Union or Ringgold counties, definitely stay here.
Joshua
September 2016
This place was awesome! Karen (the host) lives in another home on the same property, and she made a breakfast casserole for us every morning (and homemade cinnamon rolls twice)! We loved it. The home is a historic townhouse, set on a farm out in the country. Our kids loved playing with the cats and the dog. If we're ever in the area again, Timberview B&B will be our first choice.
Tom
October 2016
A unique place with most of the original features preserved lovingly by the wonderful host. Lots of charm all round.
elizabeth
September 2016
Shannon City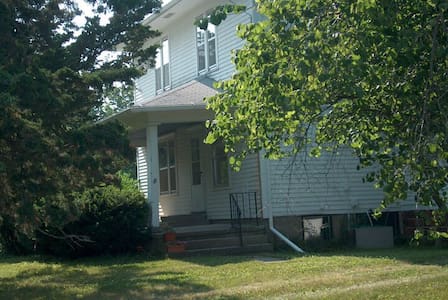 A lake front house on a 500 acre private lake with a dock on the property, 130 feet of shoreline, excellent swimming, and mature trees. Close to 1000s of acres of public hunting land, Graceland University, and a public golf course.
Fishing is limited to members of the Sun Valley Association.
We had a great stay at this family home. Off the beaten path, this home is on a private lake. We kayaked and used the SUP. The water quality in the early spring wasn't ideal for swimming and we saw notifications for swimmer's itch, however we still enjoyed being near the water. The home was welcoming and full of family belongings. The bathrooms and kitchen were clean and equipped with many cooking appliances. The family had provided wood and we had a bonfire under the stars. I would suggest this home for large groups and families looking for a lake vacation. I would note this home does not have Internet, this was difficult for me because I was traveling for work, but may be nice for families looking to unplug.
Molly
June 2016
Our stay here was excellent. Perfect lake house for a weekend get away with friends! Bed space was what a bunch of single ladies were needing, and a cozy living space, inside and out on the porch, for days of chatting and relaxing. The neighbors were friendly and lake side was a quiet space to sit and enjoy. Fantastic place. Thank you, Jill!
Sharayah
July 2016
Our trip to this lakehouse was wonderful. Jill got back to me quickly when I had questions about the property. There is a very nice and close golf course near by and it was beautiful. We had fun playing on the doc and using the wet pad. There was firewood available to make a Bon fire. We were able to use the paddle board and had a lot of fun with the pin ball machine and lots of kids toys which was great!
Ashley
July 2016
The host canceled this reservation 183 days before arrival. This is an automated posting.
Gwynn
My sister's and I thoroughly enjoyed our annual getaway at Jill's place. The pictures are true to the site description with one exception, the area was more residential then perceived. However,we ended up enjoying this during our many walks around the lake. The home was tidy and the kitchen,although small in size, is well stock with utensils. This is our 5th gathering and I feel one of the best!
Alice
October 2016
Jill made our group feel so welcome. She was available to call and text before our trip and answered all of our questions. This house is wonderful for anyone looking to spend a relaxing weekend away. There are plenty of beds to sleep in, two bathrooms, lots of indoor fun and games in case of rain and a great yard and dock area for outdoor activities. The house was clean and very well maintained. Very comfortable for a group of 7-8 adults and/ or kids. The neighbors were extremely friendly as well. Overall it was a wonderful experience and I would definitely rent again and recommend to friends and family.
Kate
May 2016
Ellston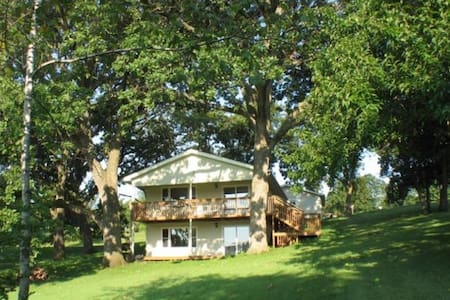 Located in rural southern Iowa 1 hour south of Des Moines on I-35. Home to painted sunsets, billowing hills of grass, and sweet sweet serenity. This modern brick rancher is 3,600 sq. ft. plotted on 4 acres with direct access to a paved bike trail snaking through 5 miles of farmland countryside. Anglers enjoy 3 small ponds a 3 minute walk from our backyard.
My parents had five kids--back in the day--now they are empty nesters. We have four bedrooms to spare with four waterbeds. One of the rooms has a normal bunk and a waterbed. The rate is based on a per room basis. The only places off limits are my parents rooms and potentially my dad's Man Cave (unless you can convince him of your honor). My parents still live here and can help as needed.
The rate is based on a per room basis.
I felt right at home at Silver Street Garden Patch home. Communication with Evelyn was wonderful the week of through my departure. I didn't have the opportunity to meet Evelyn and Paul however it didn't feel like it. Evelyn and I spoke and texted frequently to the point it felt as if I knew her! I met Casey, their son, and he was very sweet. Overall this is a place I will visit again for sure!
Nathalie
September 2016
Evelyn and Paul are congenial hosts and warmly welcomed us to their home. They are great hosts, allowing us to share their Wi-Fi, television and lovely home. We were on RAGBRAI, and they allowed us the use of their washer for our jerseys. Thanks Evelyn and Paul!
Rob
July 2016
Lamoni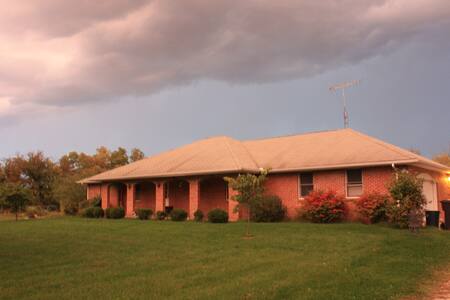 Includes 3 rooms connected by a hall on the upper floor of the Maple Street Inn. You are getting 2 bedrooms one with a King Bed and another with a Queen bed. Shared bath with tub and shower combined. Sleeps 4 people.
Lamoni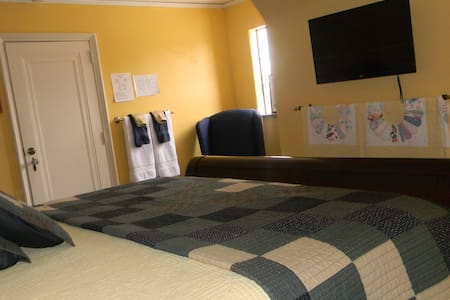 This retreat sits on the west edge of Creston, Iowa 1/2 mile west of McKinley lake. It is a beautiful setting of ponds and rolling hills. The Inn keeper Sandra Harris will be there to greet you and make you feel at home. Please call 641-344-5478.
The lodge and guesthouse are a place where you can feel at home. Comfortable leather furniture, fireplaces, and large screen TVs will encourage you to relax. Internet, dish network, grills, whirlpool, and sauna. The retreat sits on 80 acres, with 2 large fishing ponds, 2 decks, lounge chairs,and 3 kitchens. Any questions please ask.
I am outside city limits, so it is a country setting. Just 1/2 mile is McKinley Park and Lake. I am 2 miles west of the downtown of Creston. On weekends, there is a two night minimum stay.
克萊斯頓(Creston)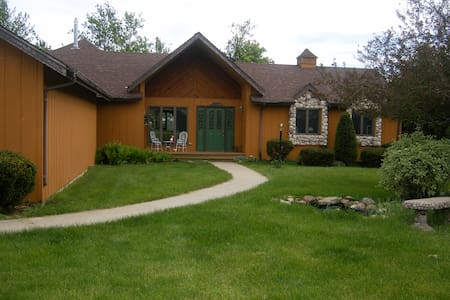 Queen Bed, Shared bath, tub and shower combination, free full breakfast in the Am, free wi fi, cable tv,
Lamoni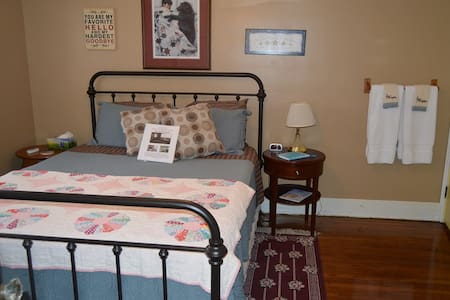 The Graceland Room is our largest room. It is our only room with a King Sized bed, 32" LCD TV with Cable. The bathroom is just outside the door, it is not on suite but is close. If an Airbnb person rents this room the bathroom may be shared.
This room is our only room with a King bed and is decorated with Graceland University colors. Guest can use or hang out in the share gathering area downstairs or use the yard or patio area furnished with comfortable seating. Several tines daily
For 14 years running Lamoni was named one of the best 100 cities to raise children. No public transportation in the small University town. Guests are not allowed to use the kitchen. However there is a refrigerator and microwave available for guest use.
Lamoni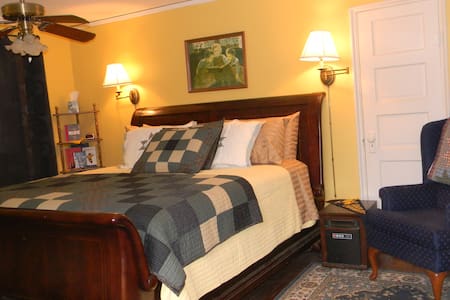 The Shalom Room is one of our larger rooms, with a Queen bed, private bath with shower. Bathroom is also large. Our most comfortable room is located on the ground floor.
Lamoni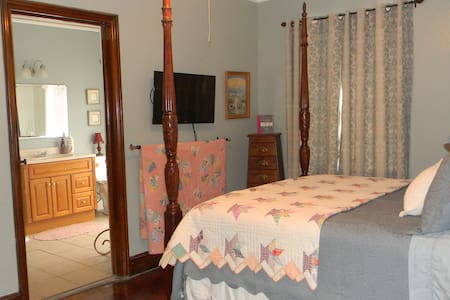 The Maple Street Bed and Breakfast has 4 bedrooms. 2 upstairs and 2 down. Three rooms have queen beds and one room has a king bed. Our state licence does not allow guest usage of the Kitchen. Microwave and Frig avaliable
Lamoni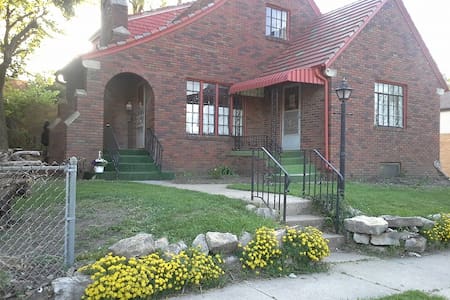 A great home, recently remodeled, on the edge of Lamoni in a nice neighborhood. One King, one Queen and one Single bed with another single size mattress available. Wifi available and a smart TV with cable and dvd player. There is a large backyard. It's a lovely 5 minute walk to Graceland University. A perfect place to get away--and stay connected.
Lamoni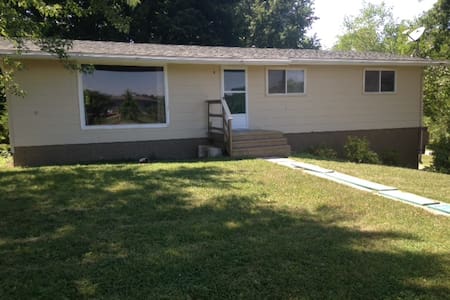 The Journey Room is located at the Maple Street Inn, 108 N Maple St, Lamoni IA 50140. Room has a Queen sized be with an on suite private bath with a large shower.
Breakfast excellent. Bed ZZZZZ. Room awesome. Say yes!
Marcy
August 2016
Lamoni