Quiet area close to city centre. Bus stop 50 meters from the house.
Neat and tidy room with one bed. Fresh sheets and a clean towel.
Nice family area. Close to convenient stores (open until 22:00).
boende var väldigt fint, stort och rent. jag är Patricks första gäst, han är väldigt trevlig , social och hjälpsam, jag rekommenderar honom starkt
Ali
2017-03-31T00:00:00Z
Skövde, Västra Götalands län, 瑞典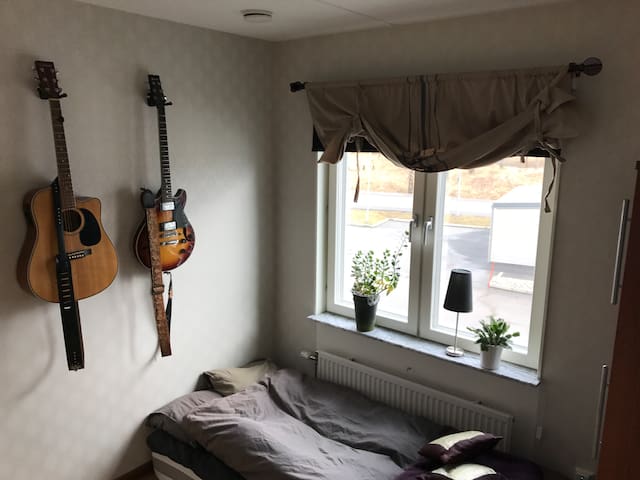 The apartment is located in the center of Skovde near Skövde University, Skövde Arena, restaurants, public transportation and a lot of different kinds of activities. The apartment's fine interior, atmosphere and the central location in Skövde will be appreciated by you.
Skövde, Västra Götalands län, 瑞典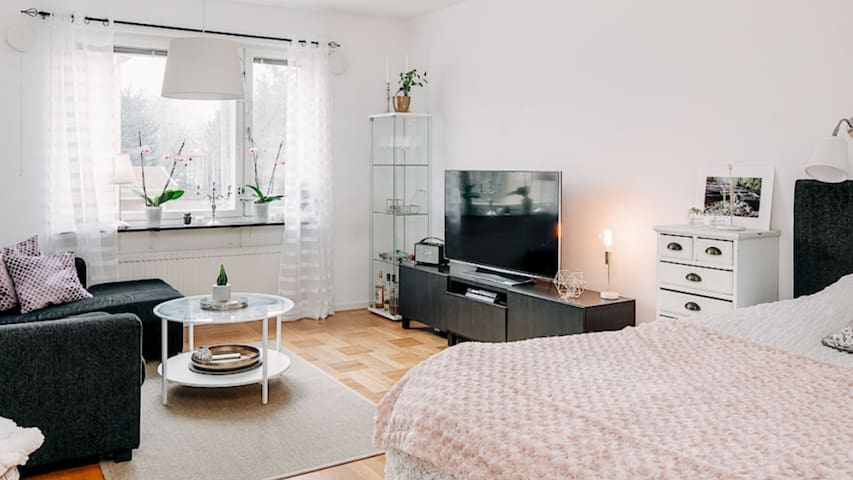 The apartment is located in the center of Skovde near Skövde Arena, restaurants, family activities and mountain Billingen. You'll love my place because of my fireplace, fine decor and cozy atmospheric. It is a great apartment to suit couples, business travelers, four-legged friends, and a third person who likes to sleep on the air mattress. You have to rent a big fancy room and share remaining flat. Breakfast is not included. Warm welcome.
The room was quite sizable and the living room area is amazing, just like the kitchen. We also really loved the dining area with the wall decal! The apartment has everything one might need when travelling. The location is quiet, but you can get to the city center within 5 minutes on foot. All in all my parents had a great stay at Andre's apartment! :)
Katrin
2017-01-11T00:00:00Z
Mycket trevlig värd, tillgång till gemensamt kök, vardagsrum, fräscht. Centralt, enkelt att parkera. Kände mig välkomnad! Lugnt o sov skönt.
Lena
2017-01-25T00:00:00Z
Really nice apartment, André was really helpful and nice host. Love the city and the surroundings
Lísbet
2017-03-30T00:00:00Z
The host canceled this reservation 7 days before arrival. This is an automated posting.
Amir
2016-12-19T00:00:00Z
Det var egentlig lidt held i uheld at jeg faldt over denne bolig, da jeg havde fundet et andet sted at overnatte, men det blev aflyst. Så fandt jeg denne plads, og det var vældig hyggeligt og jeg nød mit ophold der. André gør lidt ekstra for at man skal nyde sit ophold der og er meget imødekommende, så stedet kan varmt anbefales!
Per
2017-03-25T00:00:00Z
Otroligt bra och trevligt. Rent och fräscht!
Anders
2016-11-05T00:00:00Z
Ingen kommentar. Fick ordna annat boende då vi blev för många för att få plats hos André
Tjelvar
2017-02-11T00:00:00Z
Helt OK men inget extra
Eva
2017-02-21T00:00:00Z
Skövde, Västra Götalands län, 瑞典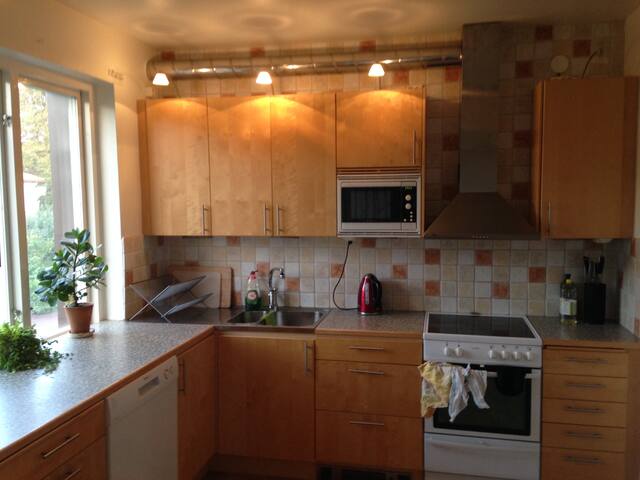 Nicely venerable rooms with private shower and toilet. Microwave, refrigerator and sink are in the spacious room has bed, sofa, table and two large closets. 100 m to the bus stop and grocery store, 500 m to the park and lake
Nicely architect-designed house at the end of the road
Nice quiet area at the end of the road
Rummet fyllde sin uppgift dvs ett ställe att sova på. Jag sov gott i en bra säng. Vackert hus i lugnt område, där dock rummet ger ett visst källarintryck med sina betongväggar. Trevlig värdinna.
Kerstin
2016-08-22T00:00:00Z
Kohteen kuvaus ei ollut tarkka, mutta olimme positiivisesti yllättyneet majoituksen laadusta. Kertakaikkiaan ei mitään huonoa sanottavaa
Petteri
2016-07-31T00:00:00Z
I booked the room for my parents. The room was what they had expected and they felt very welcome. The surrounding area is quiet, yet close to downtown skövde.
Katrin
2016-08-17T00:00:00Z
Skövde, Västra Götalands län, 瑞典
Newly renovated small cottage on icelandichorse farm in Skövde. Compact living with all you need. Very cosy. Two bed in comfortable bedsofa. You can transform the bedarea to a livingroomarea daytime if you like. 13 minutes drive to city center.
Old farm with small red cottages about 200 years old. The cottage has been renovated with high standard during 2016. Area of the cottage 21 m2.
Fantasic cosy little farm with icelandichorses, some sheep, icelandic sheepdog and the cat Humlan. You can walk out in the forrest from the farm. Good roads for driving in to Skövde center. Alot of horse acivities in the area.
The cottage is gorgeous and had everything we needed. It was our favorite place out of all the placed we stayed in Sweden and we wished that we could've extended our time there!
Anne
2017-03-24T00:00:00Z
房間類型
整套房子/公寓
---
房源類型
家庭式旅館
---
可住人數
2
---
卧室
Skövde, Västra Götalands län, 瑞典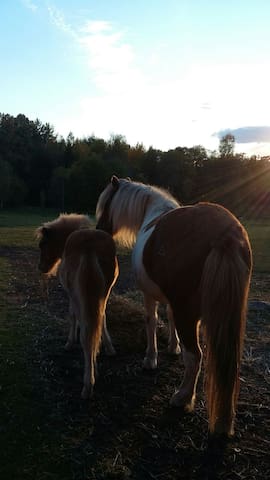 A cosy childfriendly 3 floored house with four bedrooms. Here you have a big terrace with possibilty to have a barbecue and right outside the garden you have a huge space of grass with two playgrounds. We have
Il y a une grande terrasse et un balcon.
You have a supermarket just 200meters from the frontdoor. Golfcourt 500m. Bathing lake just 5minutes away with your car. And you have theme park, Skara sommarland just 20minutes away, (URL HIDDEN) Just 10 min away you have a beautiful nature reserv with a outside bath, possibility to fish or just take a hike.
Ricard reageerde snel op e-mails en er lag een welkomsbrief klaar. Het huis voldeed prima aan onze verwachtingen; gezin met twee pubers. Het overdekte zwembad in de buurt was uitstekend.
Peter
2016-08-07T00:00:00Z
Veldig flott hus, vi trivdes veldig. Og en hyggelig vert. Et sted jeg ville ha leid igjen.
Patrisya
2016-07-31T00:00:00Z
The place was very nice and cozy. Everybody in our family liked it very much
Tarvet
2016-07-20T00:00:00Z
Very nice house and very Child friendly. We liked it very much. Ricard was helpful.
Margrét
2016-07-24T00:00:00Z
Enkelt att komma på plats, trevligt boende och en väl inramad gräsyta där barnen kunde röra sig fritt.
Fredrik
2016-08-08T00:00:00Z
Vi hade mailkontakt som fungerade bra. Tydlig information när vi kom in i bostaden. Mycket bra.
Madeleine
2016-07-21T00:00:00Z
Vi är supernöjda med boendet. Lagom långt bort från Skara sommarland, nära till affären och ett mkt hemtrevlig radhus som passade vår familj jättebra!
Karla
2016-07-26T00:00:00Z
Ett mysigt boende med direkt anknytning till en stor gräsmatta och lekplats för barnen. Ett perfekt utgångsläge för besök på Skara Sommarland och/eller Skövde Arena.
Tony
2016-07-26T00:00:00Z
房間類型
整套房子/公寓
---
房源類型
連棟房屋
---
可住人數
7
---
卧室
Skövde, Västra Götalands län, 瑞典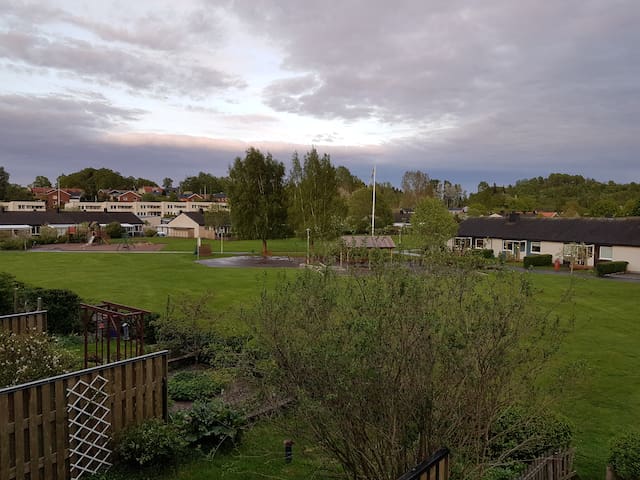 WloveU is for those who want to live well in Skovde, also suitable for events!
Skövde, Västra Götalands län, 瑞典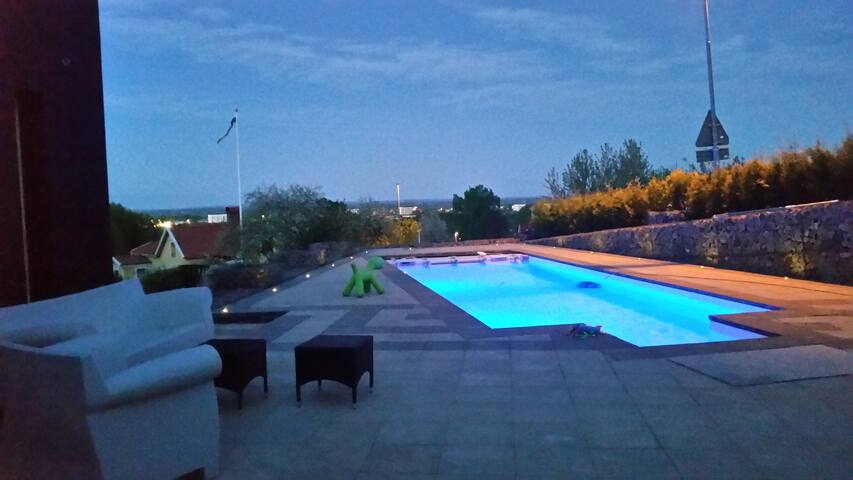 The apartment has two floors, a room with double bed (2 meters x 1.80), bathroom and a small studio on the top and living room, bathroom and kitchenette on the ground floor. In total there are about 80 m2 Approx. It is located on the outskirts of Skövde, with forests and lakes within 5 minutes walk. two bicycles would be left.
Skövde, Västra Götalands län, 瑞典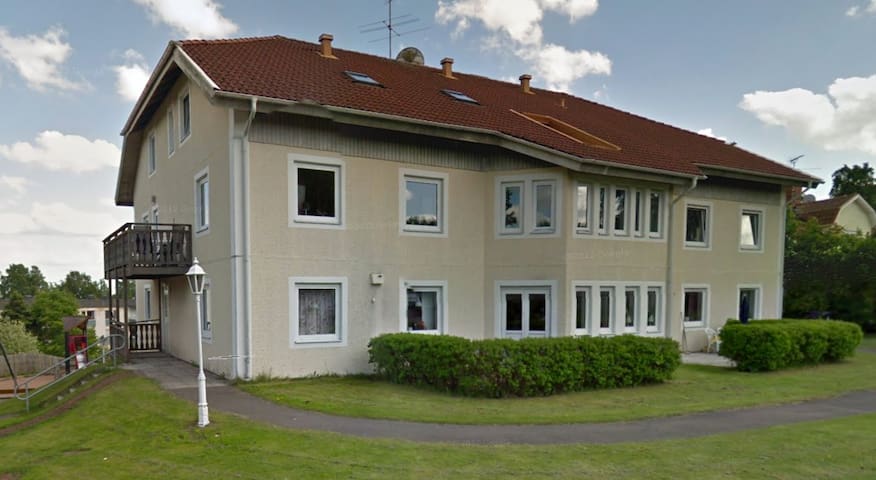 在该国独特的住宿。在转换的旧马厩别墅标准。可用的整个上层楼。 接近两个高尔夫球场和萨默兰
生活在国内改装旧马厩。别墅标准。
Hus med härlig karaktär. Generösa utrymmen. Fin miljö för hund.
Leif
2017-04-04T00:00:00Z
Skövde, Västra Götalands län, 瑞典
The cottage has a kitchen, bathroom with shower and washing machine, double bedroom, TV room with sofa bed. The cottage is located in the scenic Höjentorp nature reserve outside the historically interesting Varnhem. The surrounding area has Skara Summerland and Hornborgasjön.
Proximity to Skara (10 min), Varnhems abbey café (2 km), Skovde Arena bath, Skara and much more.
Es war ein sehr schöner und gemütlicher Aufenhalt bei Tomas und seiner Familie. Die Bilder entsprechen der Realität. Die Verständigung mit ihm war sehr einfach. Die Umgebung lädt zum entspannen ein und in der Küche kann man hervorragend Karten spielen. Ich würde gern wieder vorbei schauen.
Josi
2016-07-11T00:00:00Z
Our stay was great! The cottage was a lovely quaint stuga. It was clean and well looked after, pretty spacious (for a couple / small family), and the owners were very friendly, helpful and quick to respond to any queries. The location was beautiful; on a small farm surrounded by fields with paths in the nature reserve close by. Only 2 minutes drive from Varnhem it was a great base from which to explore the Skaraborg region. We hope to come back at some point!
Paul
2016-08-09T00:00:00Z
Schönes, altes Haus mit guter Ausstattung. Sehr ruhig. Geschützter Sitzplatz auf der Rückseite mit Blick in den Sonnenuntergang. Mitten in einem kleinen Wandergebiet gelegen. Ausflüge zu Vättern und Vänern mit Stränden und Sehenswürdigkeiten und zu den umliegenden Städten möglich. Schönes Cafe am Kloster in Varnhem. Karin hat auf uns gewartet, als wir ankammen, und uns alles gezeigt. Sie und Tomas waren immer ansprechbar, wenn wir Fragen hatten. Im Haus war eine Menge Material, um sich über die Gegend zu informieren. Uns hat es gut gefallen! Vielen Dank noch einmal!
Frieder
2016-08-28T00:00:00Z
Vi var veldig fornøyde med oppholdet hos Tomas. "Stugan" var ren og pen. Den ligger i landlige og idylliske omgivelser. Stedet svarte til forventningene. Rimelig overnatting:-)
Monica Olseng
2016-08-07T00:00:00Z
Ledsgarden was great! Tomas and Karin were awesome hosts, always around if we needed anything but gave as much privacy as we wanted. It is a beautiful property with hiking trails everywhere. A great area for exploring and relaxing, but still close enough to cities to do that too. We really loved our weekend here.
Jordan
2016-08-14T00:00:00Z
Naturskjønt område, veten hva veldig diskret og hyggelig!
Bjørn
2017-03-04T00:00:00Z
Helt underbar stuga och fantastisk omgivning! Supertrevlig mottagning när vi skulle checka in och många kunniga tips på sevärdheter under veckan. Nära till Skara Sommarland om man gillar det och härlig natur direkt utanför. Rekommenderas!
Roger
2016-07-31T00:00:00Z
Nous avons passé un merveilleux séjour dans le "stuga" de Tomas et Karin. La localisation en pleine réserve naturelle est superbe et invite à la ballade. Le cadre est bucolique à souhait! L'intérieur est très propre et bien équipé. La déco est un mix entre modernité et une touche 'rétro' de bon goût. Le jardin est très bien entretenu et les enfants ont eu beaucoup de plaisir à couper la rhubarbe et faire une délicieuse compote mais aussi goûter aux cerises et framboises. Tomas et Karin sont très aimables et ont bien pris le temps de nous accueillir. Encore merci!
Agnès
2016-07-24T00:00:00Z
Varnhem, Västra Götalands län, 瑞典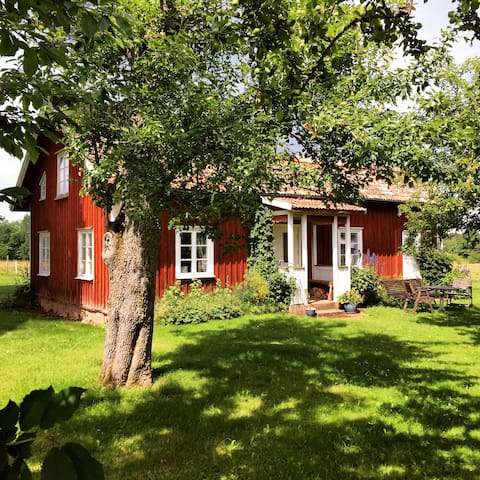 A house close to Lake Hornborga, Billingens trails and Varnhems monastery. Here you wake up and take their coffee on the terrace in the south. Or sleep for a long time, it is almost completely quiet, just open landscape and birds in all directions. The house is a newly renovated 1800 century but with all the modern amenities including. wi fi. 155 sqm on two floors, two double beds but extra mattresses are available if you are more.
Broddetorp, 西約特蘭省(Västra Götaland County), 瑞典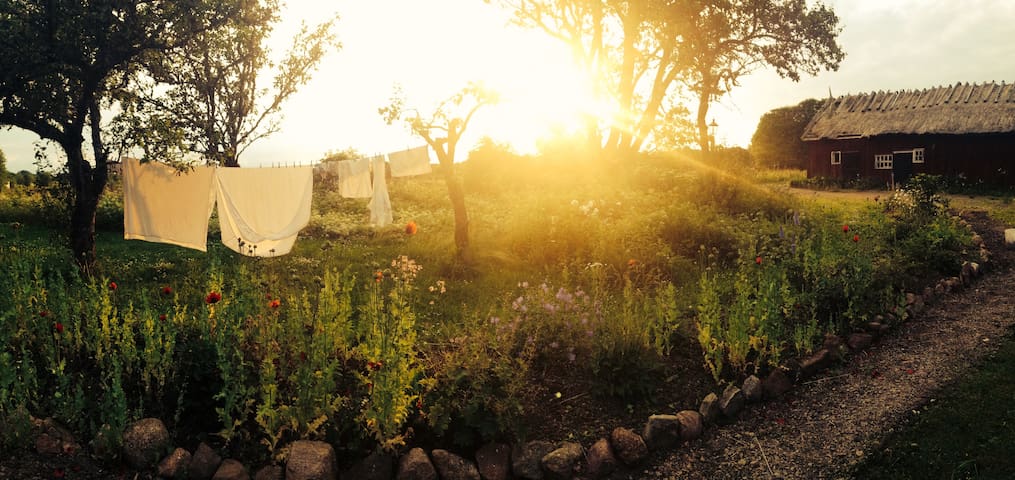 Unique accommodation at the end of the road with mils view.Very private cabin with natural garden plot.The cabin stands on the very edge of Billingens northeastern side.Must be experienced! Search vimeo, search nolberget !!!
Unique accommodation at the end of the road with mils view .Very private cabin with natural garden plot.The cabina stands on the very edge of Billingens northeastern side.About 10-15 minutes to Skövde.The cabina consists of four sleeping rooms with bunk beds + 1 extra mattress, blankets and pillows are available to all persons, linens! Large living room with fireplace, fitted kitchen, bathroom with dusch.hall and roofed porch and a large wood decking.Free wood to the fireplace
Animals, Nature, views and sunsets, the private mode, the tranquility mm mm.
Perdue au milieu de la forêt et surplombant la plaine, cette maison est parfaite pour y séjourner à plusieurs ! Le plus : d'énormes haut parleurs et une jolie cheminée dans la pièce à vivre pour profiter.
Marie-Alice
2014-11-25T00:00:00Z
Nous avons trouvé ce logement en dernière minute, pour une dernière nuit avant de reprendre l'avion et nous ne l'avons pas regretté !! Super logement dans un lieu magnifique! Très confortable et calme, il nous a permis de passer une formidable dernière soirée, en terrasse, devant le coucher de soleil et avec une vue imprenable ! Niklas a été patient et nous a attendu ,malgré notre retard ,pour nous accueillir et nous faire visiter les lieux. Il a été plein d'attention pour nous, bien que nous ne restions qu'une seule nuit. Nous recommandons vivement ce logement ! Merci encore Niklas !
Nathalie
2015-08-10T00:00:00Z
Niklas is the perfect host. We where late, when we arrived and had problems to find the house, but Niklas was waiting for us and picked us up on the road because we passed the place… We felt very welcome, Niklas invited us for a drink and we had a nice evening with interesting conversation. He is a friend of the wild animals and birds and loves the nature and is a very careful person. The place is really great, and when you love nature, an amazing view over the landscape and the lake, sunsets and green lonesomeness, its the right place for you. The House is really nice, the fireplace, the kitchen, the shower…everything fits... – Thank you Niklas, for sharing that wonderful place! Once we will return...
Karin
2015-06-14T00:00:00Z
Very cool house in the Middle of the forrest with a Fire place and a beautiful view. Niklas is very Kind and did all historischen Best to help us
Jennifer
2015-08-28T00:00:00Z
After a day on y bike I was too tired to make it up the last hills to Niklas's, so he picked me up and we arrived just in time for the epic sunset over the Kinnekulle mountain- indeed an awsome welcoming! He lit his fireplace for me and I spent the rest of the evening enjoying both the fire and the breath-taking panorama from his classy couches. It is a heavenly little house he's got there on top of the hill! The following day I biked through the area with many natural reserves and blossomimng cherrry trees. It was a perfect weekend in nature for me. Thank you Niklas for offering this unique house on airbnb! I'll definitely want to come back!
Ola
2015-05-16T00:00:00Z
Vår vistelse hos Niklas Sportstuga på Nolbeget var fantastisk. Vacker utsikt och fräscha rum. Välstädat och inget att klaga på. Vi var 4 vuxna och 3 barn, och alla fick fint plats. Lite svår att hitta men när vi körde "rätt" var det lätt!! :)) Niklas var en otroligt vänlig värd och inga konstigheter när vi ringde om vägbeskrivning. Vi kände oss riktigt välkomna! Kommer vi tillbaka till Skövde kommer vi absolut ta kontakt med Niklas och se om stugan är ledig. Hälsningar Maria, Tina, Benny, Annika och 3 glada barn som för övrigt pratade glatt med korna nere i dalen☺️ TACK igen!!
Maria
2015-06-29T00:00:00Z
We had a wonderful stay. The place was clean and cozy. The flag was risen to welcome us. Before our stay, Niklas called us give us directions to the place, as it isn't easy to find on the satnav, which was very helpful. The view from the place is amazing and although we were unlucky with the weather, the log fire ensured that we could relax happily indoors. We would definitely recommend this place to anybody who loves being close to nature and all our contact with Niklas was a pleasure.
Liam
2015-07-31T00:00:00Z
A great spot to relax and to enjoy nature. The best place is to sit on the deck and to hear the silence. Niklas was a wonderful host - communication before arrival was perfect . He showed us some hiking trails and must see spots around. We will come back ....
Markus
2016-08-11T00:00:00Z
房間類型
整套房子/公寓
---
房源類型
小木屋
---
可住人數
9
---
卧室
Berg, 西約特蘭省(Västra Götaland County), 瑞典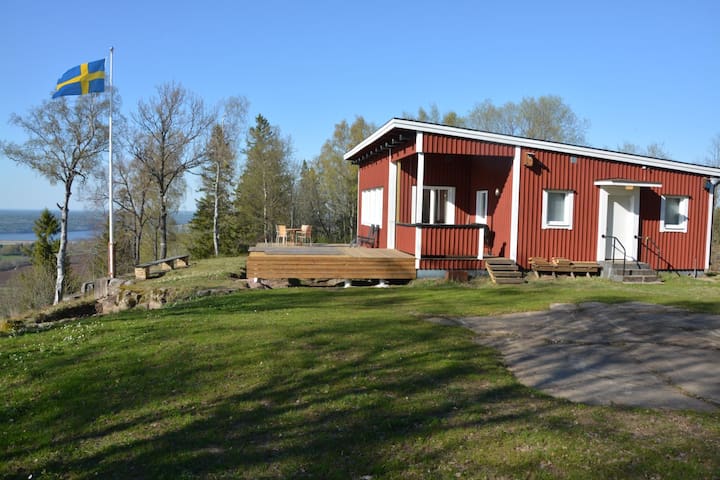 Mitt boenede passar par, ensamäventyrare, affärsresenärer, familjer (med barn) För er som vill komma ut på landet, njuta av tystnaden och fågelsång. Har ni barn med er, kan de springa fritt.
Vi har så många bra saker omkriing oss. Skara sommarland 17km ca 22 min körtid Hornborgarsjön 10 km. Skövde 17 km ca 20 min körtid skövde golf 8.5 km knistad gols 27 km falköping golf 17 km billinge friluftsområde. 19 km olika bad sjöar 3 km 5km 6km hjo 38 km mariestad 50 km trelleborg 410 km 369 km Det finns massor av olika vandringsleder runtomkring.
Häggum, Västra Götalands län, 瑞典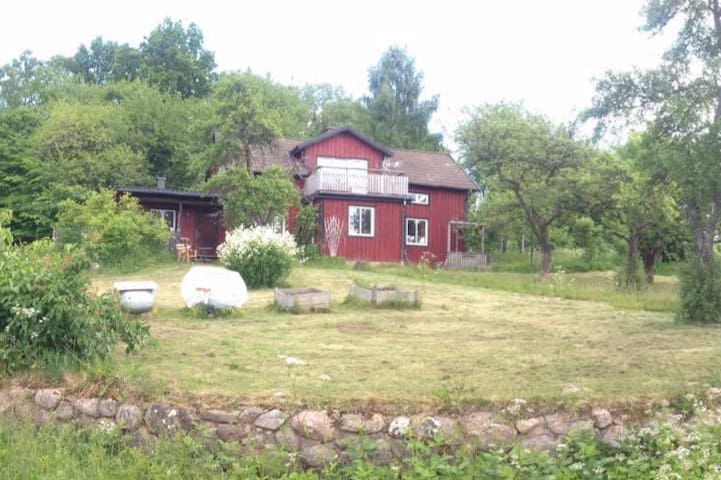 Stugan ligger ca 1 mil från Skara Sommarland. Det är även nära till flera intressanta turistmål såsom Varnhems klosterkyrka, Skara Hus mm. En golfbana och flera allmänna badplatser ligger också i närheten. Stugan ligger mitt i Vallebygden som är känt för sina 400 sjöar, den fantastiska naturen, de många vandringslederna och ett stort antal naturreservat. Några hundra meter från stugan ligger Flämsjön som erbjuder fiske och bad. Stugan är ej vinterbonad. Mulltoalett i badrummet (ej WC).
房間類型
整套房子/公寓
---
房源類型
小木屋
---
可住人數
6
---
卧室
Skara Ö, Västra Götalands län, 瑞典
2-rums fullt möblerad lägenhet i del av villa på landet vid Hornborgasjön uthyres för längre eller kortare tid. Egen ingång, dusch och WC, wi-fi samt tillgång till tvättstuga/trädgård. Belägen 20 km från Skövde, 7 km från Axvall/Sommarland.
2-bedroom fully furnished apartment beatifully located in shared villa situated in the countyside 20 km from Skövde C, 7 km from Axvall/Skara Sommarland, 5 km from Varnhem for rent during longer or shorter time. Private entrance, shower and WC, wi-fi and access to wash mashine and large garden. Very close to relaxing nature areas with good possibilities for fishing, hiking or other outdoor and cultural experiences - and of course lake Hornborga with its rich bird life. Sheets and towels for rent.
This living is situated in the center of Skaraborg and close to Skövde, Skara and Falköping. There are alot of things to see and do very closeby - both in Winter and summer. For activitys and events going on, see following web site: (URL HIDDEN) / Skaraborg /
Jag värdesatte värdens mycket imötekommande attityd, och att han berättade om saker som var värda att att veta om omgivningen, som konstateljer, och fågeltorn, att han hjälpte till att ordna med transport, (eftersom jag inte själv hade telefon) och var almänt trevlig, hjälpsam, och välvillig mao kort och gott serviceminded på alla möjliga sätt. Han var bra på att informera, och komunicera. Stället var rent snyggt och iordningsställt med alla nödvändiga faciliteter, så man kunde laga mat, surfa på nätet, och det var stort välfungerande utrymme, som faktiskt hade kunnat rymma även min flickvän, och vårt barn utan att de skulle känts trångt.
Lena
2016-04-06T00:00:00Z
Sören had been a very warm and nice host, doing his best to make us feel confortable and happy with our stay. The apartment is located in a fairly isolated, natural and relaxing environment. A small correction to the description maybe: the two rooms look more like one big room as their is no door in between. Thank you for your hospitality Sören!
Elodie
2016-03-31T00:00:00Z
Axvall, 西約特蘭省(Västra Götaland County), 瑞典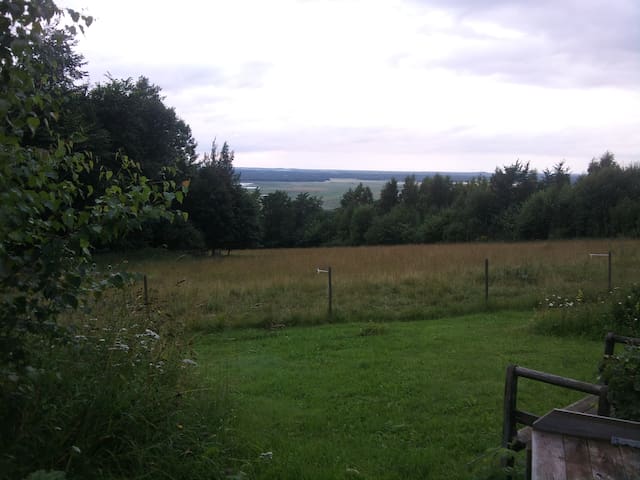 Our place is close to nature, lakes, art and culture. You'll love my place because of the views, the location, the people, the outdoors space, and the ambiance. The house has approx. 140 sq.m and is newly renovated with a big garden. 5 min walk to bathing place, 5-7 min drive to Billingen golfcourse, 5-7 min drive to Skara Sommarland water park and 15-20 min to the famous nature reserve lake Hornborga. Our place is good for couples, solo adventurers, business travelers, and families.
Då jag är mycket nöjd med Clase som värd och boendet är det min andra gång som jag bokar detta boende. Detta boende är perfekt för mina affärsresor i Skaraborg. Clase är en mycket trevlig värd som är flexibel och tillgänglig. Mån om att jag trivs under min vistelse.
Sofia Jeridi
2016-10-17T00:00:00Z
Claes är en enormt trevlig värd. Han var mån om att jag skulle trivas under min vistelse. Han var snabb på att återkoppla och mycket flexibel. Boendet är fantastiskt med närheten till den vackra naturen och städerna Skara och Skövde. Jag rekommenderar detta boende och denna värd varmt.
Sofia Jeridi
2016-10-06T00:00:00Z
Een prachtig huis, op een prachtige plek in Zweden. Het contact met de verhuurders was prettig, zowel voor als tijdens het verblijf. Het huis is ruimer, als de foto's doen vermoeden. De tuin is geweldig, inclusief boomhut!
Erik
2016-08-14T00:00:00Z
Eggby, 西約特蘭省(Västra Götaland County), 瑞典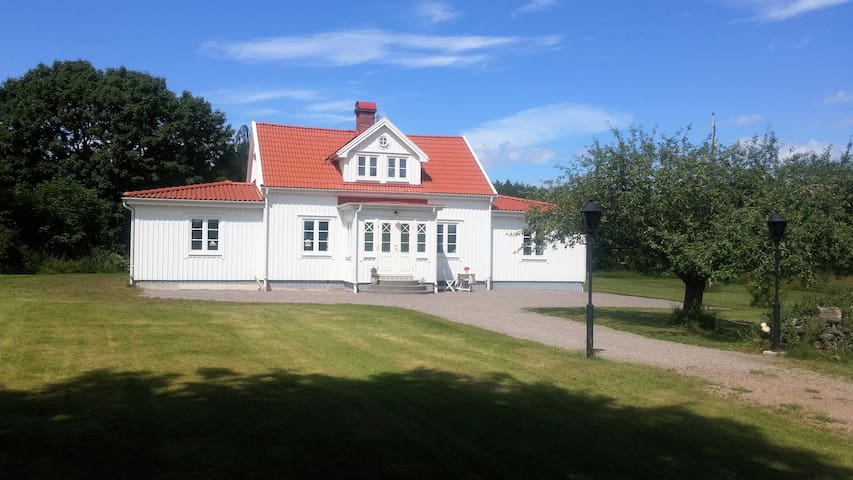 Sjöbacken Gård är omgiven av öppna, böljande hagmarker. En stor ek utgör blickfång på väg ner mot sjön. "Storstugan" ligger i ett renoverat gårdshus med två smakfullt inredda rum; sovrum och allrum. TV, gratis wifi. Kök och bad delas med annat rum.
Sjöbacken Gård är ett gammalt soldatboställe med gamla anor. Det ligger avskilt vid vägens slut, omgiven av böljande ängar. Här är lugnt och tyst och långt från trafik. Ändå bara drygt 20 min bilresa till såväl Skövde som Skara. Frukost lagar du själv, vi ser till att kylen är fylld.
Unikt böljande landskap med kullar och sjöar. Nära till Billingen och flera vandringsleder.
Niklas is a a nice and decent host. If you have a wish, you can ask, if not he won´t disturb you. His property lies at the end of a small country road, you don´t expect something coming still... The surrounding is a quite pristine rural area...small lakes, many hedges, forrest, hills...Nice to hike a litt(URL HIDDEN)e.
Haiko
2016-07-13T00:00:00Z
Axvall, Västra Götalands län, 瑞典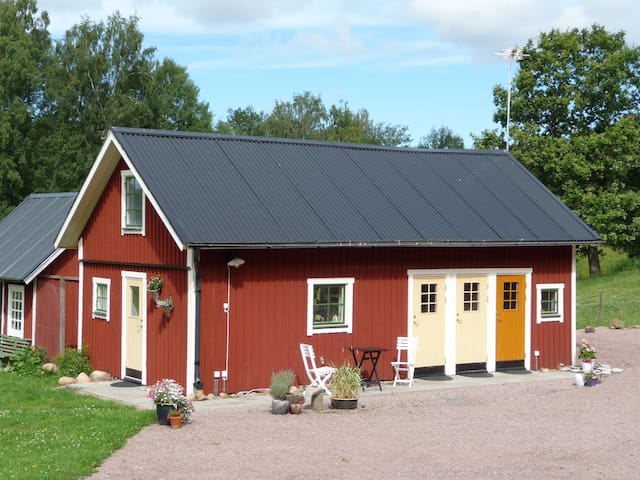 輸入日期以查看總價格,包括其他費用,可能會加收稅費。